Paleo Sloppy Joes (AIP)
This paleo sloppy joe sweet potato skillet has all of the nostalgia of sloppy joe, but with real food ingredients! It can also easily be modified to be AIP.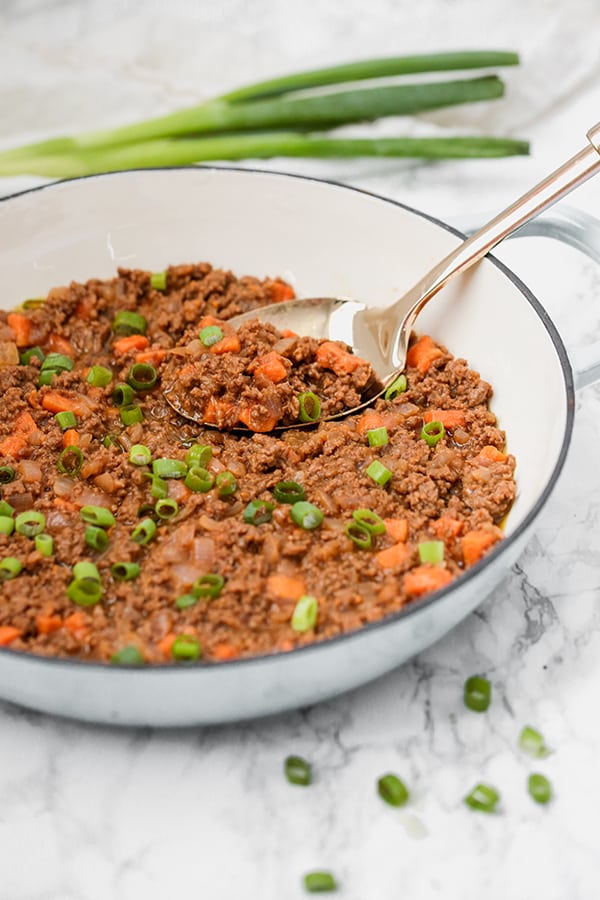 Who remembers sloppy joes?! Back when I was a kid and hated eating meat, I never really got the appeal of sloppy joe. Sure it was between two slices of bread which was always a plus to carb-loving kiddo like myself, but I just didn't get the hype. It wasn't until I got older and realized that there was sugar and a yummy sauce did I understand why people liked it so much!
Sloppy joe may be nostalgic and comforting, but nothing about it really seems healthy. It's loaded with sugar, likely artificial colors, and is usually eaten with white bread. It's not exactly a salad. So, how do you turn this classic into a better for you dinner?
This sloppy joe skillet is made with a homemade sauce, veggies, and is yummy enough to stand alone without a bun! The addition of sweet potatoes to this skillet makes it more satiating and rounds it out to a more complete meal. My husband and I both enjoyed this on its own and didn't need a bun substitute!
Paleo Sloppy Joes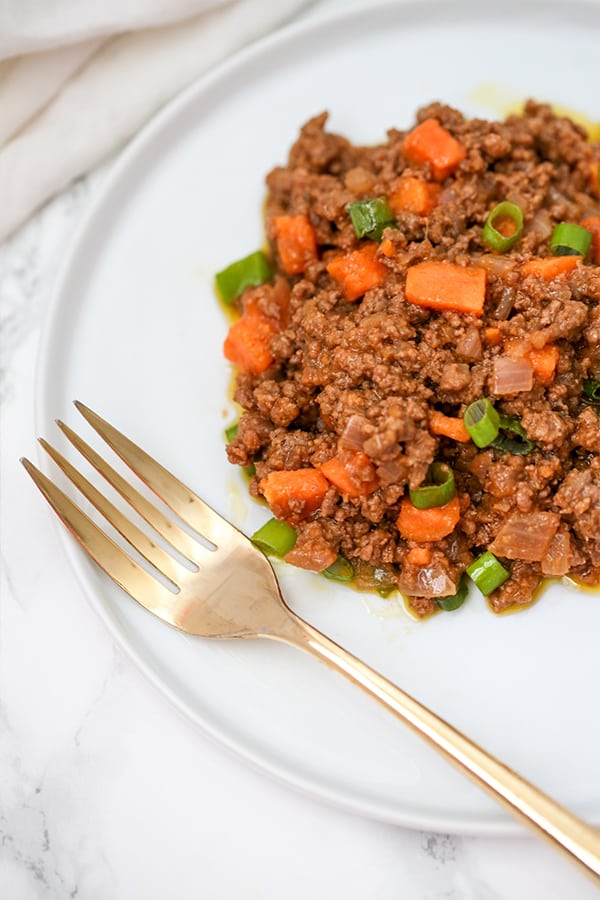 Of course, you always could go ahead and stuff this sloppy joe skillet into sweet potatoes, or use sweet potato buns as a bun substitute, but it really does stand on its own. And honestly, why would you go through the whole extra step of prepping sweet potatoes separately when you can combine them with the sloppy joe to make it a one-pan meal? I'm always looking for ways to cut down on extra steps!
To round out the complete meal, you can try to pair it with a side salad, or a roasted veggie like broccoli.
The Ingredients You'll Need For the Paleo Sloppy Joes Skillet
Ground beef
I highly recommend using high-quality grass-fed ground beef to get the most nutrient mileage out of this sloppy joe skillet. Grass-fed ground beef is more humane, nutrient dense, and it even tastes better. If you go for conventional ground beef, go for something that's lower fat as toxins are stored in the fat.
Sweet potato
Rather than going for a bun substitute for this sloppy joe, I chose to combine diced sweet potato in with the sloppy joe. Not only does this make it a one pot meal, but it adds a bit more natural sweetness to the sloppy joe! Plus, I'm all for more veggies.
White onion and green onion
Tomato sauce/ nomato sauce
Traditionally, there's a tomato base to a sloppy joe, but as someone with a nightshade intolerance, I used nomato sauce. You can totally go with tomato instead if you tolerate it!
Coconut sugar and coconut aminos
Coconut sugar gives the sauce the signature sweetness of a sloppy joe without spiking your blood sugar up too high. Coconut aminos gives it that tang of worschecuir sauce.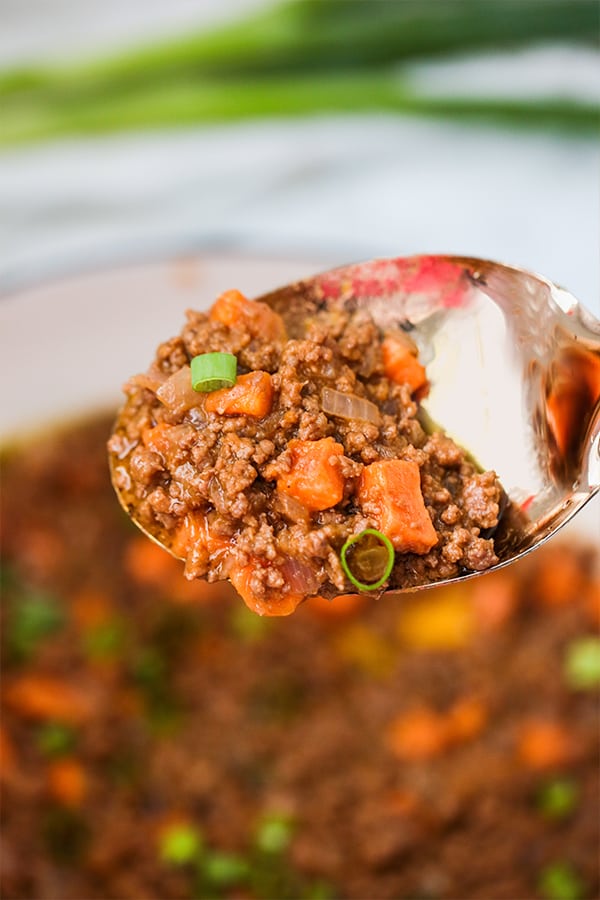 If You Like This Recipe, Check These Out…
Print
Paleo Sloppy Joe Skillet (AIP)
---
Author:
Total Time: 35
Yield: 4 servings 1x
Description
This paleo sloppy joe sweet potato skillet has all of the nostalgia of sloppy joe, but with real food ingredients! It can also easily be modified to be AIP. 
---
For the sloppy joe skillet
1 tbsp coconut oil/sub avocado oil
1 small sweet potato, peeled and diced
1 lb ground beef
1 onion, diced finely
3–4 tbsp green onion
For the sauce 
1 cup nomato sauce for AIP/tomato sauce for non AIP
1/2 cup water
2 tbsp coconut sugar
1 tbsp coconut aminos
2 tsp apple cider vinegar
1 tsp garlic powder
1/2 tsp sea salt
---
Instructions
For the sloppy joe skillet
Using a large skillet, melt the cooking fat over medium heat and saute the sweet potato for 10 minutes, or until softened. Set aside and drain the fat from the pan.
Add the chopped onion and ground beef to the clean pan and saute on medium heat. Use a wooden spoon or spatula to break up the ground beef into small crumbles. Stir until browned. Remove from heat and drain the majority of the fat from the pan.
Add the sweet potato back to the beef and onion mixture and combine with the sauce. Stir until well combined. Simmer for 8-10 minutes.
Remove the skillet from the heat and add green onion. Allow to cool and season further to taste.
For the sauce
Combine all of the ingredients in a high-speed blender and blend until well combined. Set aside.
Notes
If you're not nightshade free or AIP, feel free to add bell peppers to the skillet as well!
All nutrition facts are estimates.
Prep Time: 5
Cook Time: 30
Category: one pot meals
Method: stove top
Cuisine: American
Nutrition
Serving Size: 1 serving
Calories: 256
Fat: 7g
Carbohydrates: 20.5g
Fiber: 2.7g
Protein: 27g
Keywords: sloppy joe, dinner, paleo