Paleo Spaghetti Squash Nuggets (AIP, Low Carb)
These spaghetti squash nuggets are a delicious veggie-packed snack! They're paleo, AIP, low carb, and an exclusive preview from my new e-book, Autoimmune Makeover!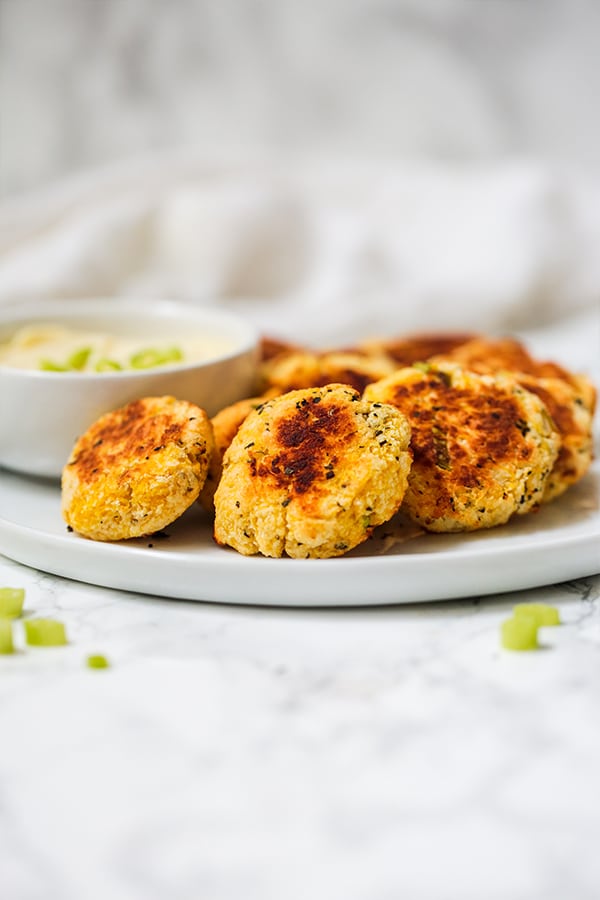 You guys know that your girl loves a veggie nugget… and chicken nuggets. Okay, really just any nugget! I love how easy they are to make, how easy and fun they are to eat, and that they're perfect for dipping into yummy sauces. How could you not love nuggets? But let's face it… most nuggets aren't actually healthy. Chicken nuggets from fast food restaurants are far from healthy, and things like store bought frozen tater tots don't have many redeeming qualities either. So how do you get all of the flavor and nostalgia of nuggets but healthier? These spaghetti squash nuggets are just the thing!
Paleo spaghetti squash nuggets are made with all real food, they're simple to make, and they're basically just a veggie in disguise as a crispy snack. Sign me up!
These nuggets taste delicious and don't smack you in the face with an earthy flavor like you may think they would. They basically taste like spaghetti squash, but are crispy and snackable! In my opinion, one of the things that hold me back from making more spaghetti squash is that it can get pretty mushy and liquidy. These nuggets completely fix that problem!
Spaghetti Squash Nuggets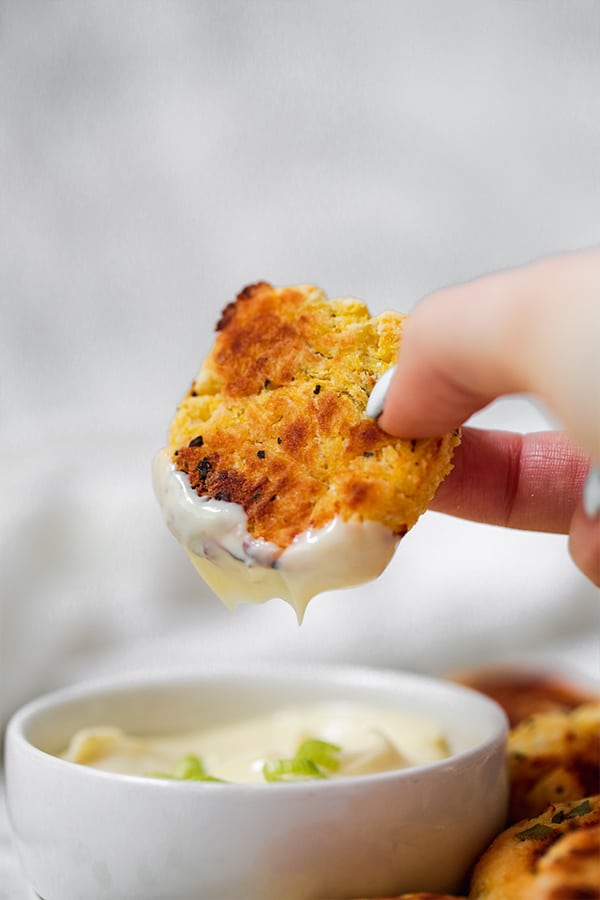 These nuggets are kid-friendly, picky adult friendly, or even veggie loving adult friendly. I love vegetables as much as the next health food lover, but it's nice to mix it up every now and then!
Serve these by themselves with a dip like the recipe here, or my mint basil pesto.  They're great as a little veggie snack, or can be served as a side with lunch or dinner.
If you want more guidance for a healing lifestyle, and even more delicious recipes like this one, check out my new e-book, The 30 Day Autoimmune Makeover Guide!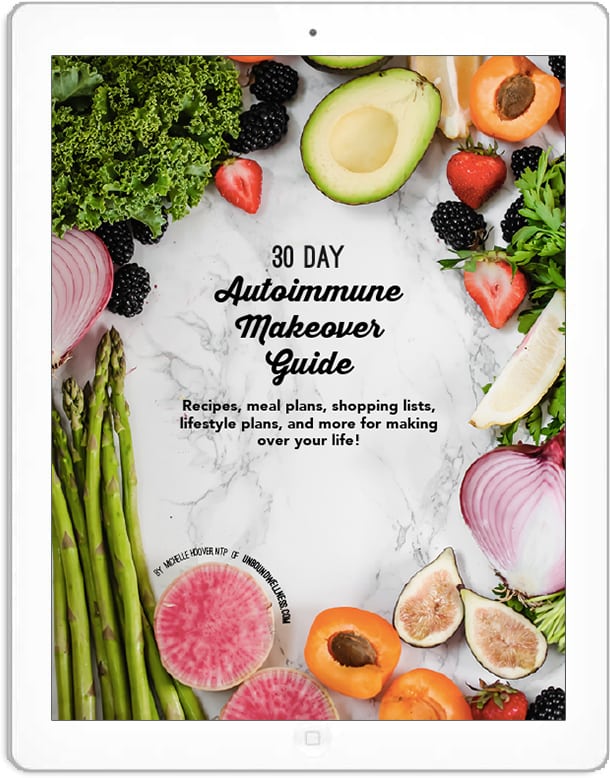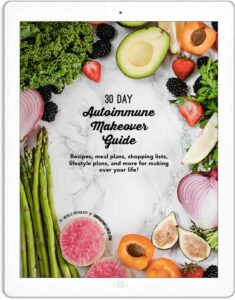 This easy to use e-book is packed with tasty AIP recipes like this one as well as a full 30-day guide to a healing lifestyle with autoimmunity including meal plans, shopping lists, lifestyle guides, and more!
Get your copy of the e-book here! 
The Ingredients You'll Need for the Spaghetti Squash Veggie Nuggets
Spaghetti squash
You'll need cooked spaghetti squash and you can do this however you'd like. I find that cooking it in the instant pot is the fastest and best method.
Coconut flour & arrowroot starch
These help to bind the nuggets don't they don't fall apart. You can likely swap tapioca for tapioca, but other than that, I haven't tried any other flours and can't recommend any swaps. 
Grass-fed gelatin
I use Vital Proteins to make gelatin eggs for recipes like this as I'm egg free. However, you can likely use a real egg if you tolerate them!
Green onion & basil
Mild but flavorful herbs to give some more flavor to the nuggets!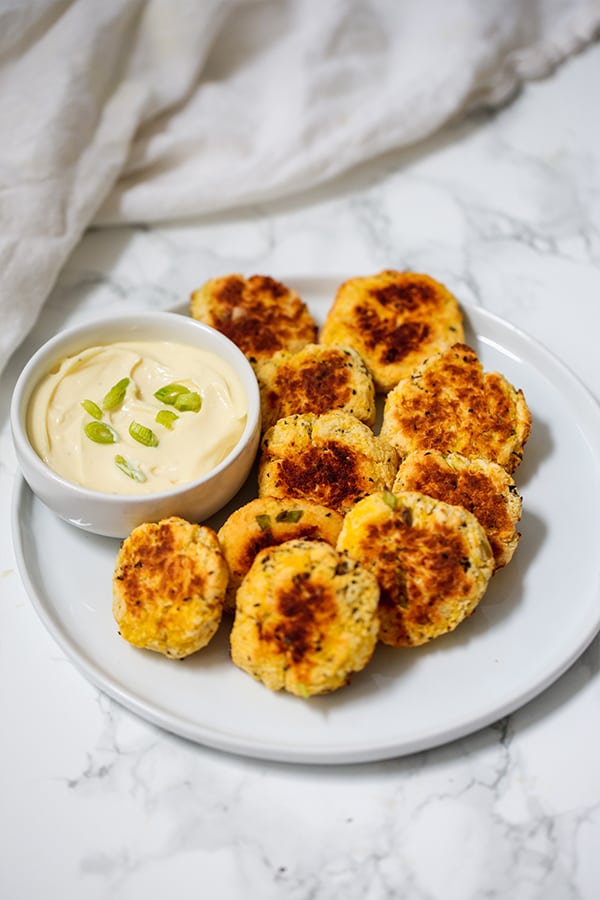 If you like this recipe, check these out…
Print
Paleo Spaghetti Squash Nuggets (AIP, Low Carb)
---
Author:
Total Time: 30
Yield: 2-3 servings 1x
Description
These spaghetti squash nuggets are the perfect healthy snack!
---
1.5 cups spaghetti squash, cooked (baked in the oven, cooked in an Instant Pot, etc.)
1/3 cup coconut flour
2 tbsp arrowroot starch
2 tbsp coconut oil
2 tbsp green onion, chopped
1 tsp dried basil
1 tsp sea salt
For the gelatin egg (sub 1 regular egg if tolerated and not AIP)
1 tbsp gelatin
1/4 cup water
---
Instructions
Preheat the oven to 400 F and line a baking sheet with parchment paper

Using a food processor or a knife, roughly chop the spaghetti squash. You want the strands to be shorter, but not have the squash mushy. Use a cheesecloth or paper towel to remove any excess liquid.

Mix the spaghetti squash with the coconut flour, oil, arrowroot, and seasonings until well combined.

To make the gelatin egg, pour the water into a small pot and sprinkle the gelatin over top. Let it sit for 2-3 minutes until the mixture hardens. Set the pot on a burner set to low for 1-2 minutes until the gelatin melts (be careful not to burn it). Remove the pot from the heat and vigorously whisk until the mixture becomes frothy. Immediately add it to the spaghetti squash mixture and stir to combine.

Form the mixture into nuggets and place on the baking sheet. Bake in the oven for 20-25 minutes, flipping halfway through.

Remove from the oven and allow to cool. Serve with mint basil pesto recipe found here, garlic mayo found here, or other dips of choice.
Notes
All nutritional information are estimations and will vary. Estimations do not include optional ingredients.
Prep Time: 5
Cook Time: 25
Category: snacks
Method: oven
Cuisine: Global
Nutrition
Serving Size: 1 serving
Calories: 178
Fat: 10.6g
Carbohydrates: 16.4g
Fiber: 5.5g
Protein: 5g