Low Carb Cauliflower Veggie Nuggets (Paleo, Keto, Whole30, AIP)
I believe in the healing power of vegetables! But, I also believe in fun, unique recipes to keep things interesting. As much as I love big plates of vegetables, stir-fries, and veggie dense soups, I also want something fun every once and awhile. Like these delicious Low Carb Cauliflower Nuggets!
My baked veggie nuggets are easily one of the most popular recipes on my blog, and we eat them often in my house. However, I get a lot of requests to make something that's a bit lower carb. Maybe you're on a ketogenic diet, maybe you're dealing with diabetes, or maybe you're just trying to eat a bit higher fat and lower carb. That's why I revisited the veggie nugget recipe to create a lower carb version that's just as delicious.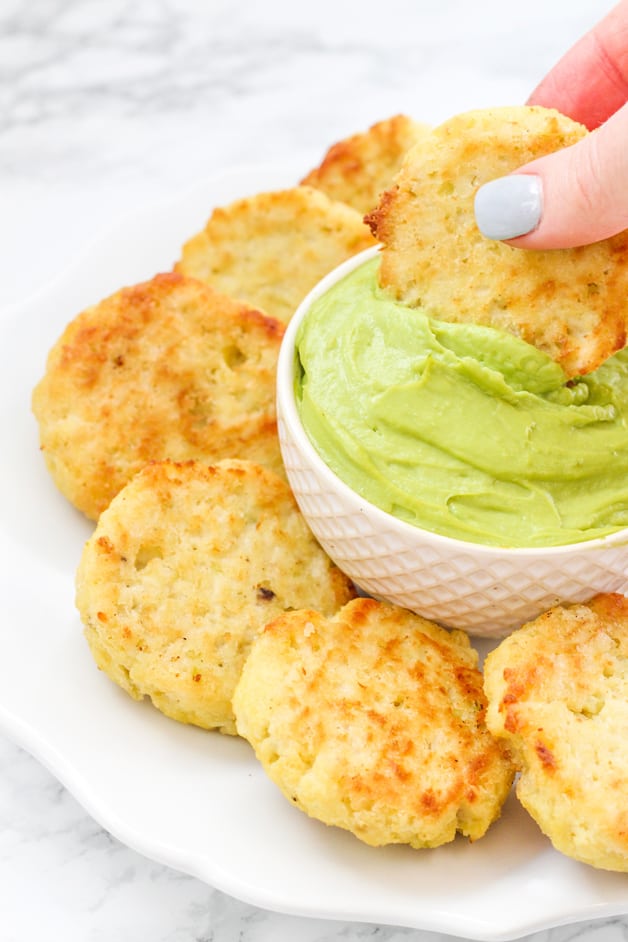 These nuggets are paleo, keto friendly, AIP, whole30 and notably dairy free! Yep, no cheese and no high carb flours. The biggest issue that I find with cauliflower based recipes is that they're loaded with cheese to help bind it. Sometimes there can be whole packages of cream cheese in recipes like this, which just isn't really going to work for me, and for many of us who are in the paleo world. These nuggets are totally cheese free… a rare find in the cauliflower recipe realm!
Even without the added cheese, these cauliflower nuggets are still crispy, and delicious! Plus, they taste amazing dipped in my cilantro avocado  lime sauce, or a guacamole of your choice. Yum!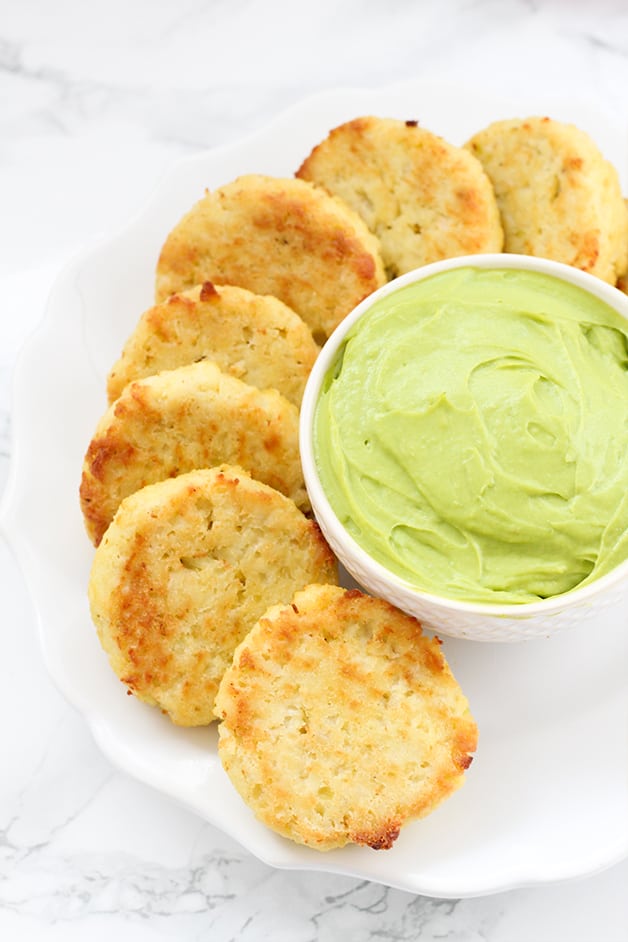 The Ingredients for the Cauliflower Nuggets
Riced cauliflower
You can either use a food processor to rice your cauliflower, or buy it pre-riced. I often get it at Whole Foods and Sprouts, but I've even seen pre-riced cauliflower at Target!
Coconut flour
This helps absorb moisture as well as bind the recipe. I have not tried other flours and cannot recommend good swaps here.
Eggs
Real eggs work best for this recipe. They bind the nuggets really well and give them a nice golden color. However, you can sub gelatin eggs too! You'll find instructions in the recipe card, and more questions answered on it below.
Coconut oil
I haven't tried other fat sources, but would suggest avocado oil for a sub.
Onion and garlic
These help flavor the nuggets! You can use other herbs or spices, but this is just what I've found works well.
Some Questions Answered…
Can you make these low fodmap?
Adapting these for low fodmap would totally change the recipe, so no, this particular recipe can't be made low-fodmap. However, it would be easier to adapt my veggie nugget recipe by trying to swap out the cauliflower for more carrot/zucchini!
Can you make it coconut free?
Coconut flour absorbs moisture as well as binds, so it's not an easy flour to swap. If you do try it with an alternative, let me know, but I can't recommend any that would work as well.
How do I make it AIP?
The eggs swap for 2 gelatin eggs here! Note that your nuggets will look much more white in color rather than this golden, yellow here in the photos. I used regular eggs here in the photos which gives that golden color and does hold the nuggets together better, but the gelatin eggs do work.
Find the gelatin egg instructions in the recipe.
If I'm AIP, what gelatin should I use? Can I sub collagen?
Do not sub collagen or it will not work. You can use the brands Great Lakes or Vital Proteins for a grass fed gelatin source.
Do they freeze well?
I haven't frozen them yet myself.. my husband keeps eating them all 😉 However, I would recommend trying to freeze them!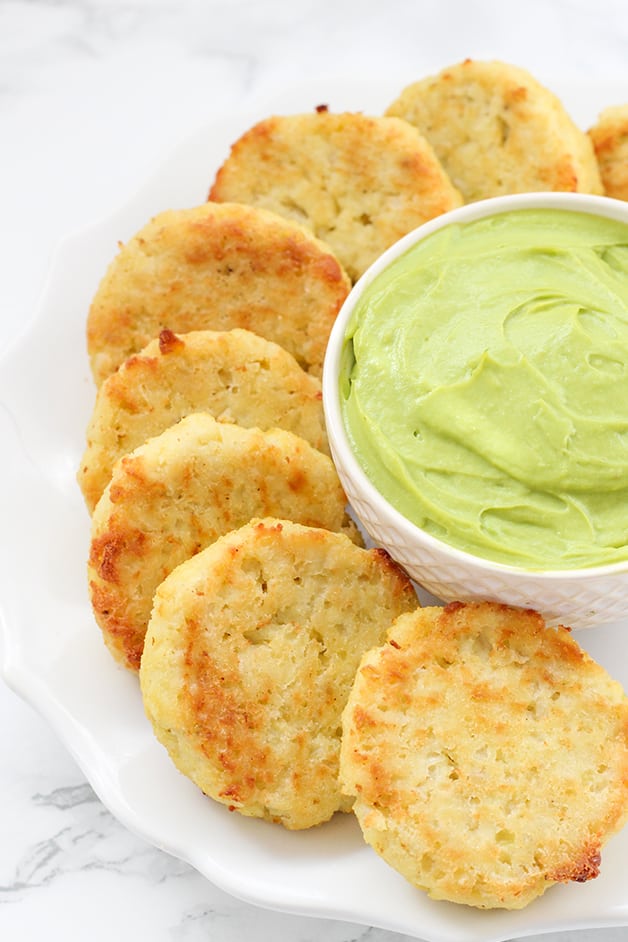 Print
Low Carb Cauliflower Veggie Nuggets (Paleo, Keto, Dairy Free)
---
1 and 1/2 cups riced cauliflower (pre-riced, or using a food processor)
1/3 cup coconut flour
2 eggs (see notes for AIP gelatin egg)
2 tbsp coconut oil
1/8 tsp baking soda
2 tsp onion powder
2 tsp garlic powder
1 tsp sea salt
---
Instructions
Preheat the oven to 400 F and line a baking sheet with parchment paper that's very lightly greased with coconut oil
Using a cheese cloth or paper towels, squeeze the excess water from the cauliflower rice
Pour the cauliflower rice in a bowl along with the coconut flour, baking soda, seasonings, and coconut oil. Stir to combine.
Stir in the eggs (see below for gelatin egg instructions) and mix well
Immediately begin forming the mixture into lightly flattened nuggets (you'll have 7-8 nuggets) and place them on the baking sheet
Bake the nuggets for 15 minutes, and very carefully flip them. After flipped, bake for another 5-8 minutes or until golden brown (AIP version may need more time)
Remove from the oven and allow to cool
Serve with guacamole, cilantro avocado lime sauce , or another dip
Notes
*For AIP, sub the 2 eggs for 2 gelatin eggs. Here are the instructions –
FIRST, Add 1/2 cup of water to a small sauce pot and slowly pour over 2 tbsp gelatin. You don't want any clumps, so lightly mix if needed. Allow the mixture to rest and bloom over 2-3 minutes. Place the pot on the stove and turn in on low heat. Slowly melt the the gelatin (this will take just a few minutes) and remove from heat.
NEXT, Once removed from the stove, vigorously whisk the gelatin egg until it becomes frothy. If it's too watery, the nuggets will not work. Add the gelatin egg to the mixture immediately and mix to combine. *
All nutritional information are estimations and will vary. Estimations do not include optional ingredients.
Nutrition
Serving Size: 1 nugget
Calories: 78
Fat: 5.1g
Carbohydrates: 5.1g
Fiber: 2.2g
Protein: 3.1g