Cabbage Roll Dumplings (Gluten & Soy Free)
These cabbage roll dumplings are a veggie-forward take on a classic! They have all of the flavors you love about dumplings but use cabbage for a gluten and grain-free wrapper. They're also soy free!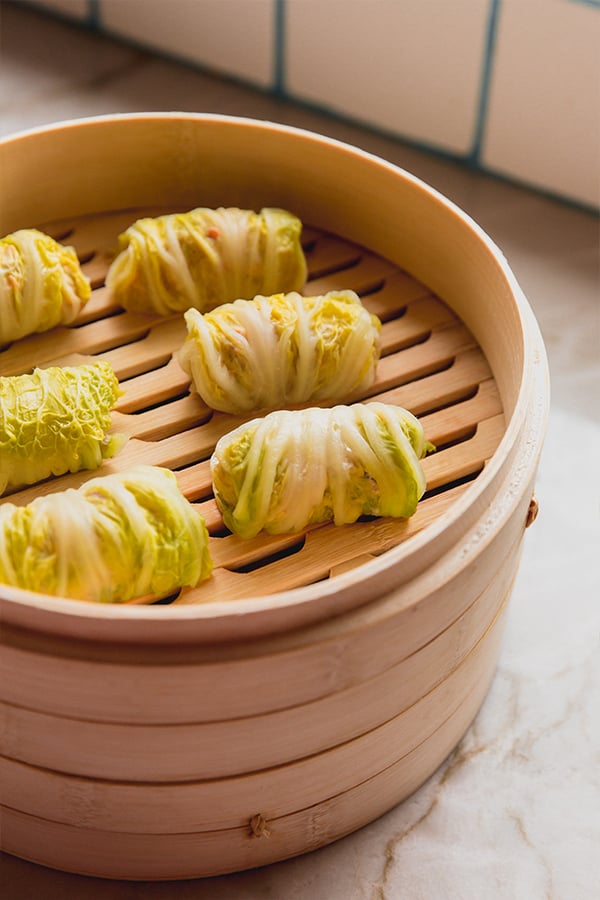 Dumplings are just the best! They come in so many shapes and sizes, and they're all equally as delicious. I'm of Polish descent, and pierogies were always very popular in my house, but so were Chinese dumplings! I love the flavors in Chinese dumplings and have missed them ever since going gluten and soy free.
This recipe is inspired by Chinese dumplings but crossed with a cabbage roll. They're gluten and soy-free, and so fun to eat and make.
Why you'll love this recipe…
Dumplings, but grain-free! I love the flavors of Chinese dumplings and love that these are grain free.
They are perfect with a dipping sauce! I love a good dipping sauce and made this one with coconut aminos, coconut sugar, ginger and garlic or if you can tolerate it then use chili oil.
The Ingredients for Cabbage Roll Dumplings
Ground Chicken. I love chicken dumplings, but this recipe would also be good with ground pork.
Carrots, Yellow Onion, Garlic, Ginger, Green Onions, Coconut Aminos, Arrowroot Starch, Salt, and Pepper. These ingredients plus the ground chicken make the delicious dumpling mixture.
Napa Cabbage Leaves. Green cabbage would also work.
The Tools
Steamer basket or bamboo steamer. I love using a bamboo steamer, but you can also use a stainless steel steamer basket inside a pot or large pan.
Tongs. You'll definitely need tongs to handle this recipe.
Meat thermometer. This is super helpful to ensure the dumplings are cooked through.
How to make Gluten Free Cabbage Roll Dumplings
Step One. Make the dumpling filling.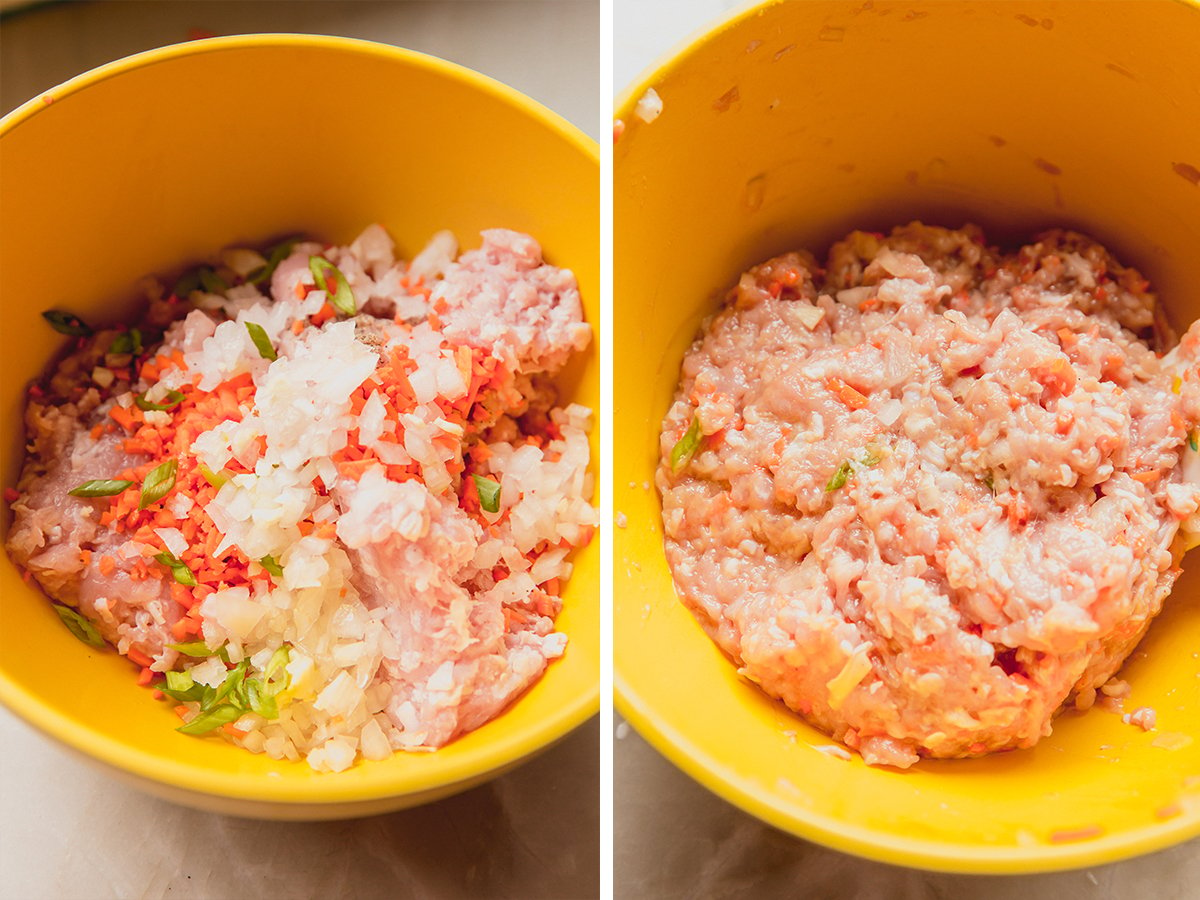 Step Two. Prep the cabbage leaves.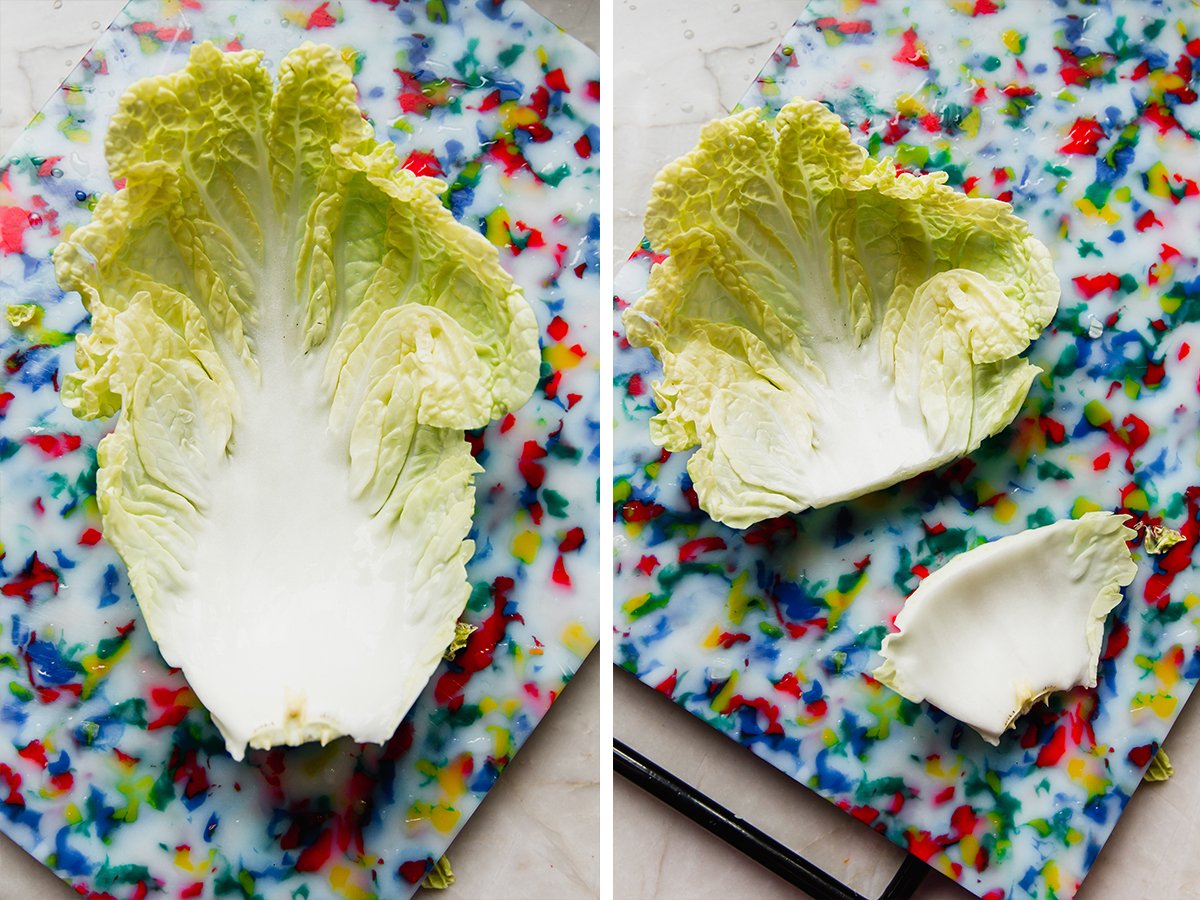 Step Three. Make each dumpling by rolling a cabbage leaf with chicken dumpling mixture and add to the steamer.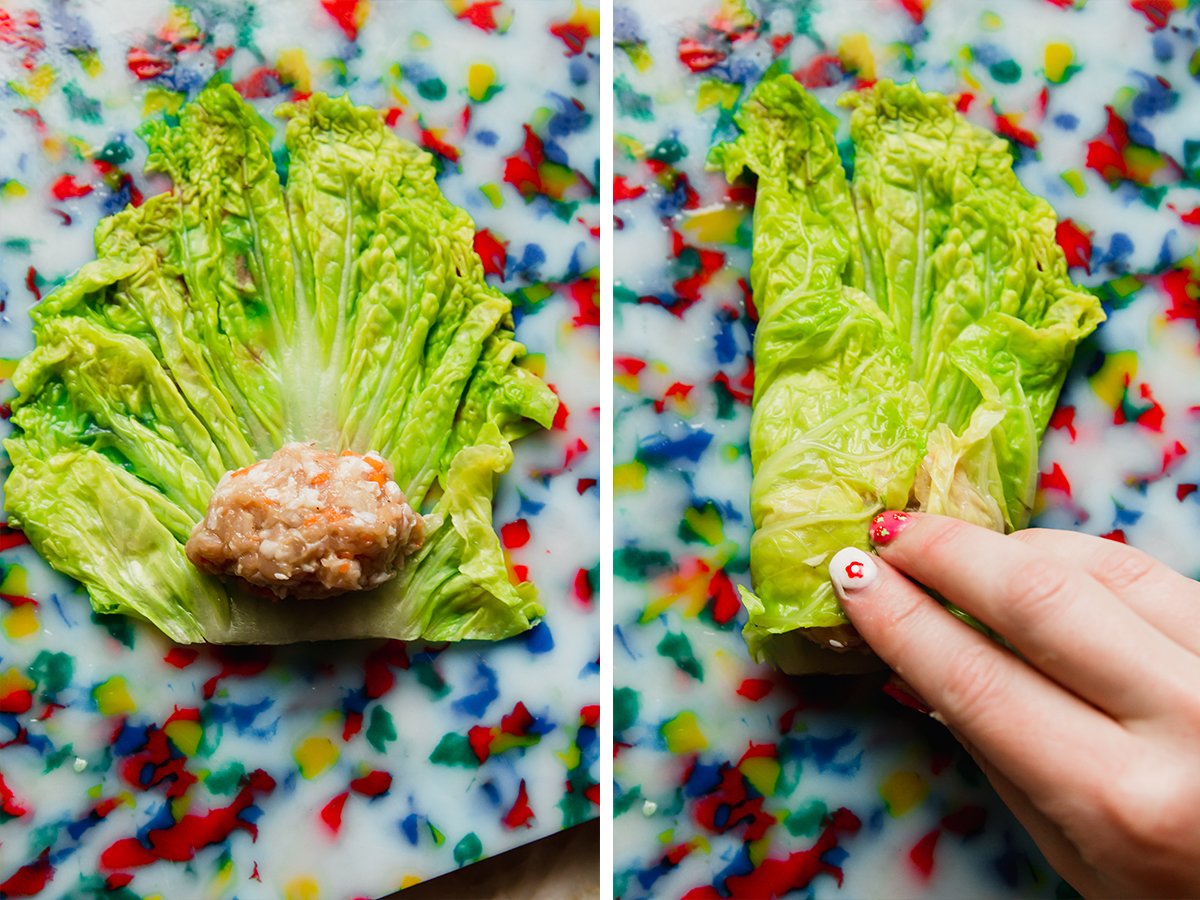 Step Four. Bring water to boil and place steamer on top to steam for 12-15 minutes.
Step Five. Crisp in a pan if desired
Step Six. Enjoy topped with green onions and dipping sauce!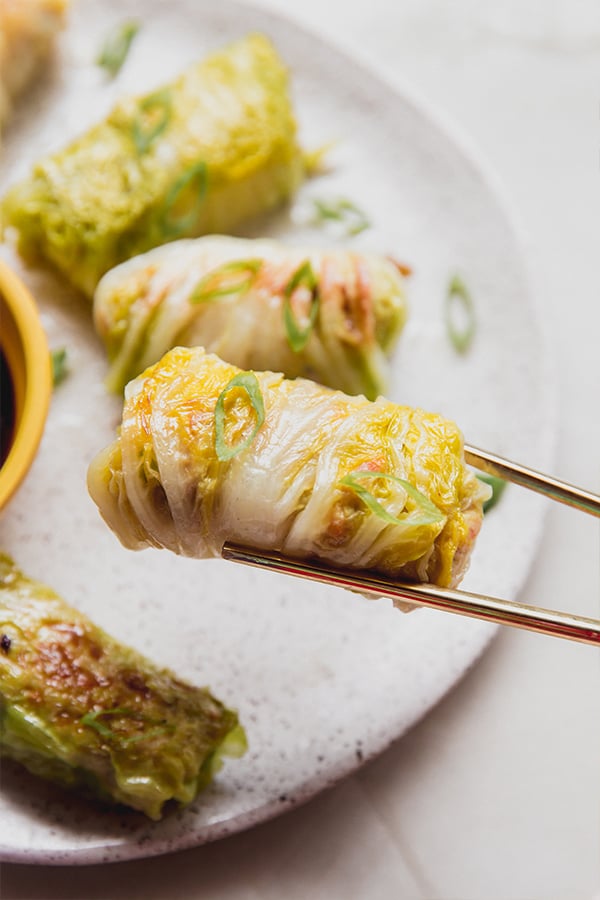 Tips & Tricks
Switch out napa cabbage for green cabbage. This will still work either way! You just want to cut out the white stems.
Use pork instead of chicken. I love chicken dumplings, but you can easily make this recipe with pork as well.
Dipping sauce options
You can easily make a spicy dipping sauce with chili oil and coconut aminos!
For me, since I'm nightshade-free and can't do chili oil, I made a sauce with about 1/4 cup coconut aminos, a pinch of coconut sugar, and some ginger and garlic.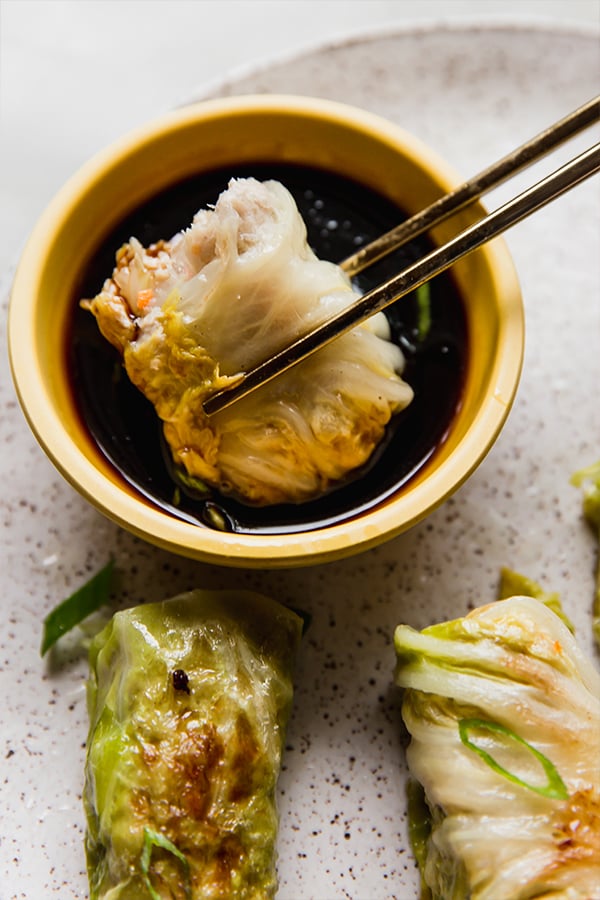 You'll also like…
Print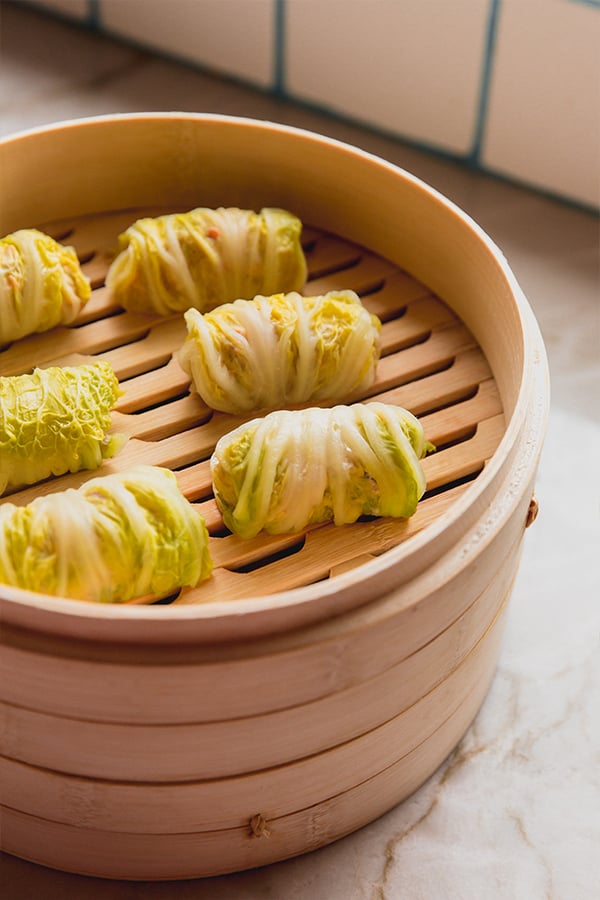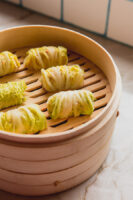 Cabbage Roll Dumplings (Gluten & Soy Free)
---
Author:
Total Time: 35 minutes
Yield: 3 servings 1x
Diet: Gluten Free
1 lb ground chicken
1/4 cup carrots, finely chopped
1/4 yellow onion, finely chopped
2 cloves garlic minced
1 thumb-grated, ginger
1 tbsp green onion, chopped
1 tbsp cococnut aminos
2 tsp arrowroot starch
Salt & pepper (omit pepper for AIP)
12 napa cabbage leaves
---
Instructions
Using a large deep pot or pan, fill about half of the way with water and begin to bring to a boil, moving onto the rest of the prep while the water comes to a boil.
To make the filling for the dumplings, combine the chicken, carrots, onion, garlic, ginger, green onion, coconut aminos, arrowroot starch, and salt and pepper. Stir well to combine and set in the fridge while you prep the cabbage leaves.
Break off a dozen cabbage leaves off of the napa cabbage and wash well. Using a knife, chop the bottom third off of the cabbage pieces to remove the thick white stem. Place the cabbage leaves in the boiling water for about 2-3 minutes or until soft. Remove from the water and pat dry.
To prepare the dumplings, prep a station with the bamboo steamer, a plate with the cabbage leaves, and the chicken dumpling mixture. Use your hands or a cookie scoop to scoop out about 2 tbsp of the chicken mixture at a time. Roll into an oblong shape and place at the base of a cabbage leaf. Fold in the edges of the cabbage leaf to over the chicken mixture, and roll up, into a tight dumpling. Place the dumpling in the steamer. Repeat with all of the ingredients, evenly spacing the dumplings.
Bring about 1-2 inches of water in a large pot or skillet that the steamer can hover over. Place the steamer on top and allow to steam for 12-15 minutes or until a meat thermometer inserted reads 165 F.
If desired, you can crisp the dumplings by bring about a tablespoon of oil to medium-high heat in a pan. Crisp the dumplings for 2-3 minutes on each side or until they have a nice crisp.
Serve topped with green onion and a dipping sauce of your choice!
Prep Time: 20 mins
Cook Time: 15 mins
Cuisine: Global
Nutrition
Serving Size: 1 serving
Calories: 293
Fat: 12.9g
Carbohydrates: 16.2g
Fiber: .7g
Protein: 31.2g