Bacon Broccoli Veggie Nuggets (Paleo, AIP)
If I've learned anything in my last two years of blogging at Unbound Wellness, it's this… everyone loves nuggets. They're fun to eat, easy to make, and they're perfect for kids and the kids in each and everyone one of us. I've been blown away over how much everyone loves the Sweet Potato Chicken Poppers which are essentially healthy chicken nuggets, and the Veggie Nuggets! So, I wanted to bust out another variation which just as many veggies, and lots of flavor… Bacon Broccoli Nuggets!
I've shared before how much I love chicken nuggets, veggie fritters, and all things nuggets. However, conventional nuggets that you get at a restaurant or even many recipes online are full of bread crumbs, white flour, and can be fried in inflammatory oils like canola oil or soybean oil. No thanks! I'll take these savory broccoli nuggets any day over those.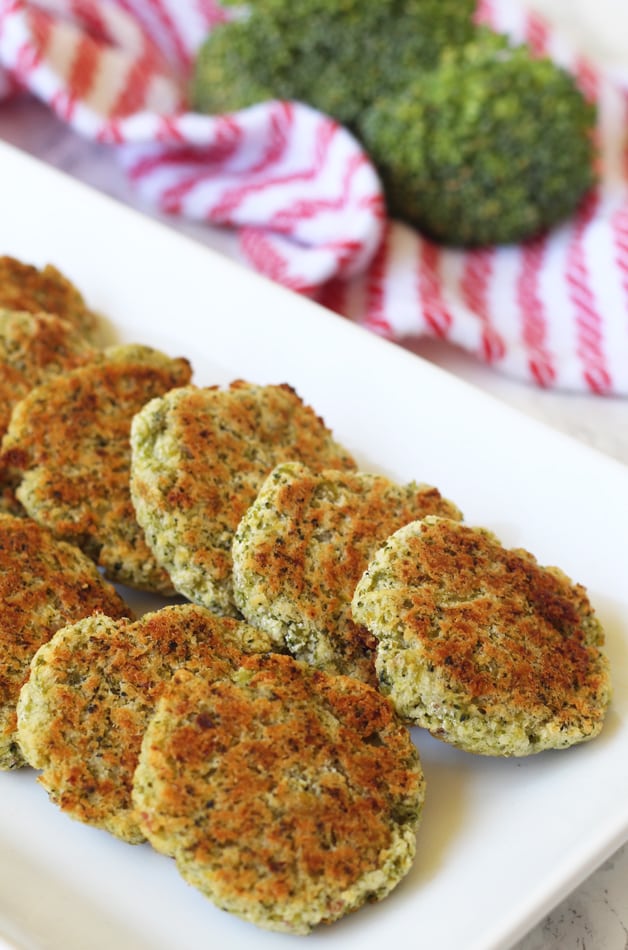 Why I Love These Bacon Broccoli Nuggets
They're full of veggies
These are the perfect way to hide veggies for picky eaters, or those looking to mix it up. For as much as I love roasted vegetables and fresh salads, we could all use some variety now and then.
These nuggets have both broccoli, and zucchini which are full of tons of fiber, phytonutrients, and vitamins!
They're made with healthy fats 
Conventional nuggets are fritters are likely going to be fried in a canola or soybean oil which are both incredibly inflammatory and the opposite of health-promoting. These nuggets are made with high-quality coconut oil which is far more favorable fat than canola oil.
They're Paleo and AIP
No common allergens here! No corn, gluten, eggs, soy, or dairy. You can confidently bring them to parties without the worry of not being able to share.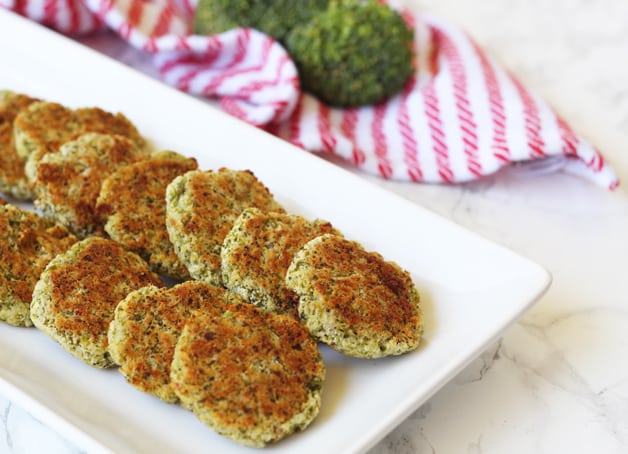 Let's Talk About The Necessary Ingredients (and what you can and cannot substitute)….
Riced Broccoli
I've been seeing riced broccoli pop up more and more in stores like Trader Joes, Sprouts and Whole Foods. However, riced broccoli can easily be made in your food processor, or by hand when chopped very fine!
Zucchini
Zucchini helps add more veggies to these nuggets, but you can also sub more broccoli if you'd like to try that.
Coconut Flour & Oil
Coconut oil adds healthy fat to these nuggets, and coconut flour helps bind them and absorb moisture from the veggies are they bake. You can likely sub the coconut oil for another solid fat (like butter, ghee, or tallow) but I would not sub out the coconut flour as it's needed to keep these nuggets together.
Tapioca Starch
Tapioca starch is another binder to hold these nuggets together. I would not sub corn starch if you do eat corn, but you can try subbing arrowroot starch if needed.
Gelatin Egg
Seeing as these are AIP, which means egg free as well, the original recipe uses a gelatin egg. However, you can try to use an actual egg if you have these in your diet! I can't vouch for a flax egg, but let me know if you try and it works!
Bacon 
Bacon helps add an amazing flavor to these nuggets! I highly, highly recommend using a pasture raised bacon as conventional bacon is indeed very inflammatory.
If you don't eat bacon, you can indeed sub it out of the recipe and just add a bit more fat. I purposely only used a small amount of bacon in the recipe so it can easily be removed.
Bacon Broccoli Nuggets (Paleo, AIP)
Print
Bacon Broccoli Veggie Nuggets
---
2 cups riced broccoli
1/2 cup shredded zucchini
2 slices of uncooked, sugar free bacon, very finely chopped (I use a food processor)
1/3 cup coconut flour
1/4 cup tapioca starch
2 tbsp coconut oil
2 tsp onion powder
2 tsp garlic powder
1 tsp salt
For the gelatin egg (can also sub an actual egg)
1 tbsp gelatin
1/4 cup water
---
Instructions
Preheat the oven to 400 F and lightly grease a parchment lined baking sheet with coconut oil
Add the zucchini and broccoli to a mixing bowl and thoroughly combine
Wrap the broccoli and zucchini in a cheese cloth or paper towel and squeeze to remove excess liquid
Add the mixture back to the bowl
Mix in the uncooked chopped bacon
Add in the coconut flour, coconut oil, tapioca starch and seasonings, and combine
Set the mixture aside
For the gelatin egg, add the water to a small sauce pot and slowly pour over the gelatin
Allow it to bloom over 2-3 minutes
Place the pot on the stove and turn in on low heat
Slowly melt the the gelatin (this will take just 2-3 minutes) and remove from heat
Vigorously whisk the gelatin egg until it becomes frothy
Add the gelatin egg to the mixture immediately and combine
Start forming patties and place them onto the baking sheet (you should have about a 12-14)
Bake for 20 minutes
Very carefully flip them over and bake for another 10-15 minutes (depending on how crispy you like them)
OPTIONAL: To crisp further, put until the broiler for 1-2 minutes
Remove from the oven and allow to cool
Serve with a compliant ranch dressing, ketchup, or guacamole