Turkey & Sweet Potato Breakfast Hash (Paleo, Whole30, AIP)
This turkey & sweet potato breakfast hash is an amazing egg free breakfast! It's packed with veggies, protein, healthy fat, and is simple to make in one pan. It's paleo, whole30 compliant, and AIP.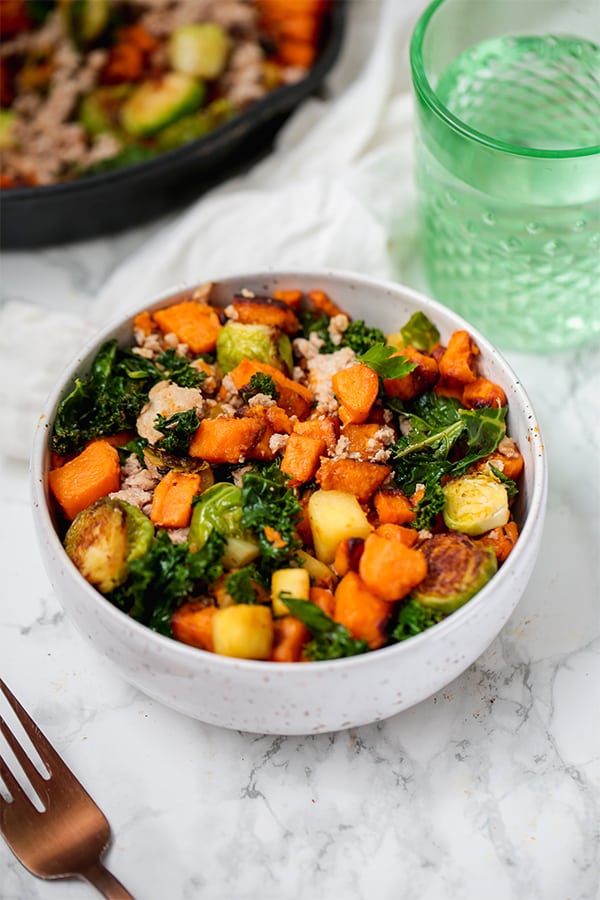 Egg free breakfasts can be hard! I get a ton of questions asking how in the world you can sustain a healthy diet without eggs for breakfast. Honestly, I thought that exact same thing for years. I love eggs, and I never wanted to live without them. However, after coming to terms with the reality that I was sensitive to them, I had to figure out what in the world I was going to do without eggs!
Eggs are actually one of the most common food allergies, so egg free breakfasts are far more necessary than I initially realized. Egg allergies are incredibly common, especially among young children, and many with autoimmune disease find them to be inflammatory. Regardless of whether or not you're actually sensitive to eggs, mixing it up and taking a break from eggs every once is a while is always a good idea!
This breakfast hash egg free, and is a serious breakfast of champions! Move over cold cereal and skim milk, step aside oatmeal, and don't even bother applying, breakfast pastries. This breakfast hash is loaded with everything you need for a healthy breakfast, and to start your day off with a bang.
Paleo Sweet Potato & Turkey Breakfast Hash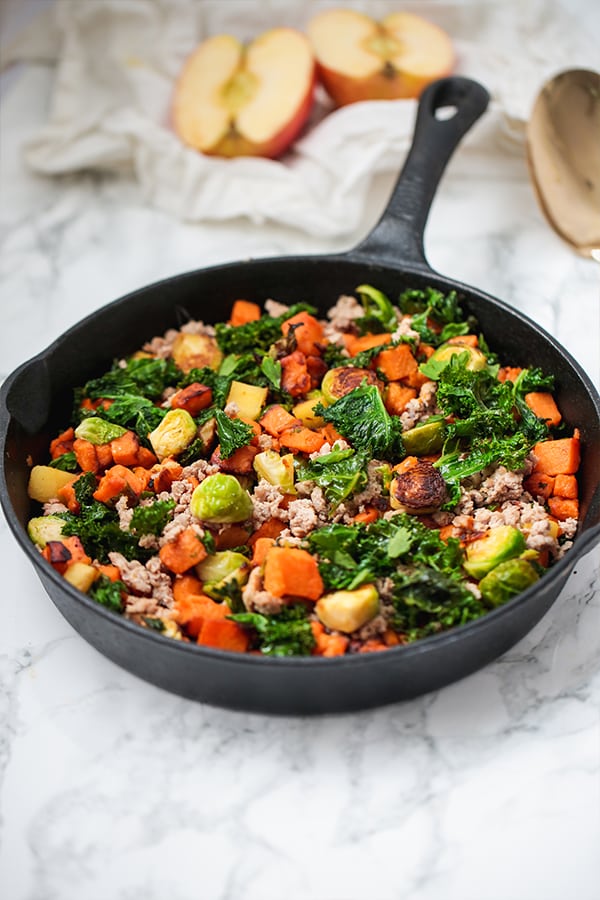 This sweet potato & turkey breakfast hash is made with three different kinds of vegetables, and protein-packed ground turkey to start the day off right! No sugar bombs, no processed carbs, and no nutrient poor breakfasts here.
Along with sweet potato, the hash is also made with apple, which adds a bit of natural sweetness and really ties the flavors together. If you're trying to transition away from sweeter breakfasts to more savory, nutrient dense dishes, this is an awesome stepping stone.
Plus, it's easily made in one pan, which makes for easy cleanup and much less fuss. Yes, please! It's great for batch cooking at the start of the week for easy breakfasts in a pinch, or make on a lazy weekend.
The Ingredients You'll Need For This Paleo Turkey & Sweet Potato Breakfast Hash
Ground turkey
Turkey makes for a great breakfast protein. It's really neutral, and filling! However, you can use other proteins like ground chicken or ground pork in this recipe.
Sweet potato
I used orange sweet potato, but you can use other varieties as well.
Apple
Apple adds just a bit of sweetness to the hash without being overwhelming. I used pink lady apples, but granny smith or gala would work here as well.
Brussels sprouts
They may be an acquired taste for some, but they're super nutrient dense!
Kale
You can swap the kale for spinach if that's more your scene.
Rosemary, sage, and salt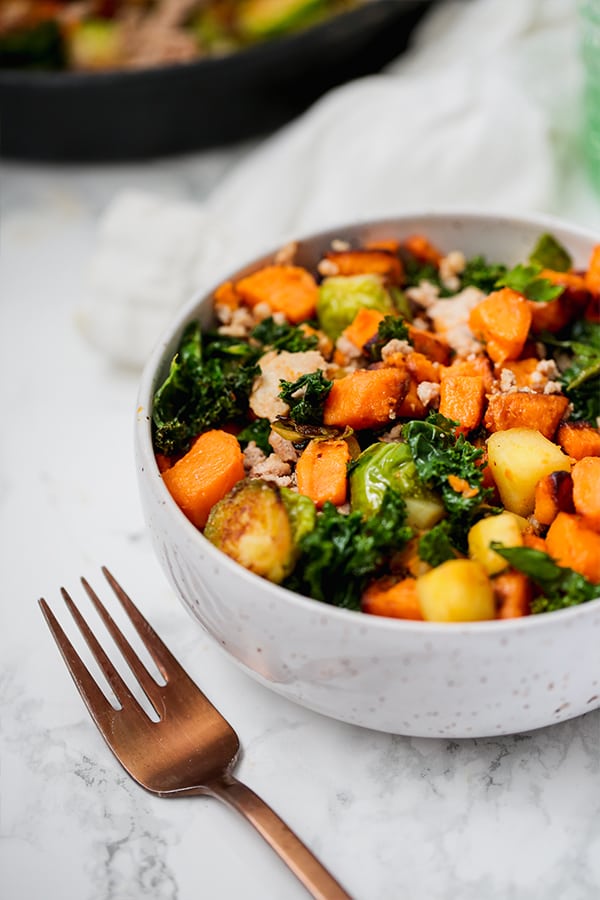 If You Like This Recipe, Check These Out!
Print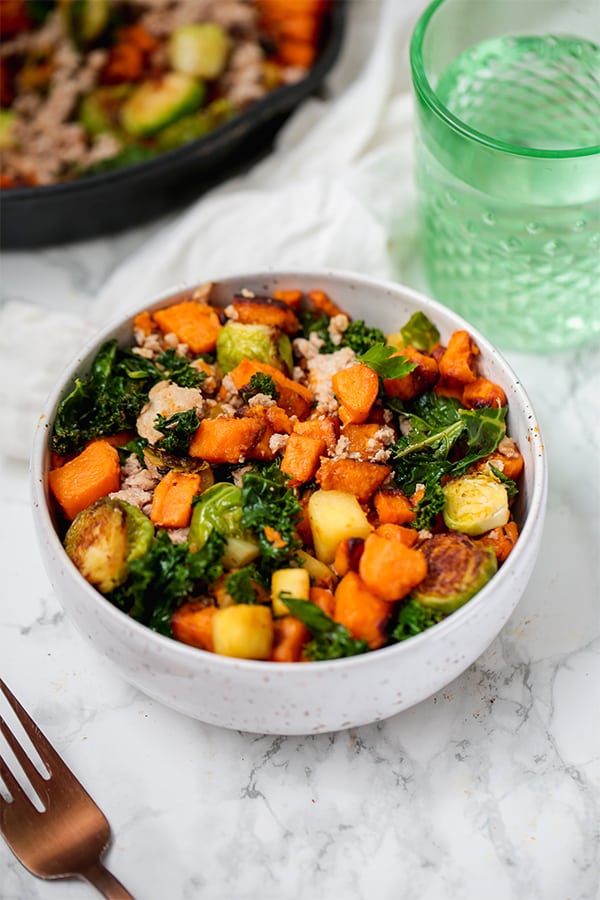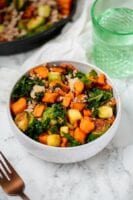 Sweet Potato & Turkey Breakfast Hash (Paleo, Whole30, AIP)
---
Author:
Total Time: 35
Yield: 4 servings 1x
Description
This sweet potato & turkey breakfast hash is a filling and delicious option for breakfast!
---
1 tbsp coconut oil or avocado oil
1 lb ground turkey
1 medium sweet potato, diced
1.5 cups brussels sprouts, halved
1 pink lady apple, diced
2 cups kale, chopped
2 tsp rosemary
2 tsp sage
1 tsp sea salt
---
Instructions
Using a large cast iron skillet, or a pan, cook the ground turkey on medium heat until cooked through, lightly seasoning with some of the seasonings (reserve the majority for later). Set aside, reserving some of the fat in the pan.
Add in the coconut/avocado oil and saute the sweet potato for 5 minutes, before adding in the brussels sprouts. Saute for another 15 minutes until the veggies have softened and crisped to liking.
Add in the diced apple and kale and saute for another 4-5 minutes or until slightly softened.
Reincorporate the ground turkey, and add the remainder of the seasonings. Stir until fully combined, and season further to taste.
Serve warm and enjoy!
Notes
Exact cooking times of the vegetables vary depending on size.
All nutrition information is an estimation and will vary.
Prep Time: 5
Cook Time: 30
Category: breakfast
Method: stove top
Cuisine: Global
Nutrition
Serving Size: 1 serving
Calories: 297
Fat: 12.5g
Carbohydrates: 24.1g
Fiber: 4.7g
Protein: 24.6g
Keywords: breakfast hash, breakfast