Cauliflower Breadsticks (Paleo, AIP, Gluten & Dairy Free)
These cauliflower breadsticks are perfect for snacking and dipping! They're paleo, AIP, dairy free, gluten free, and nut free.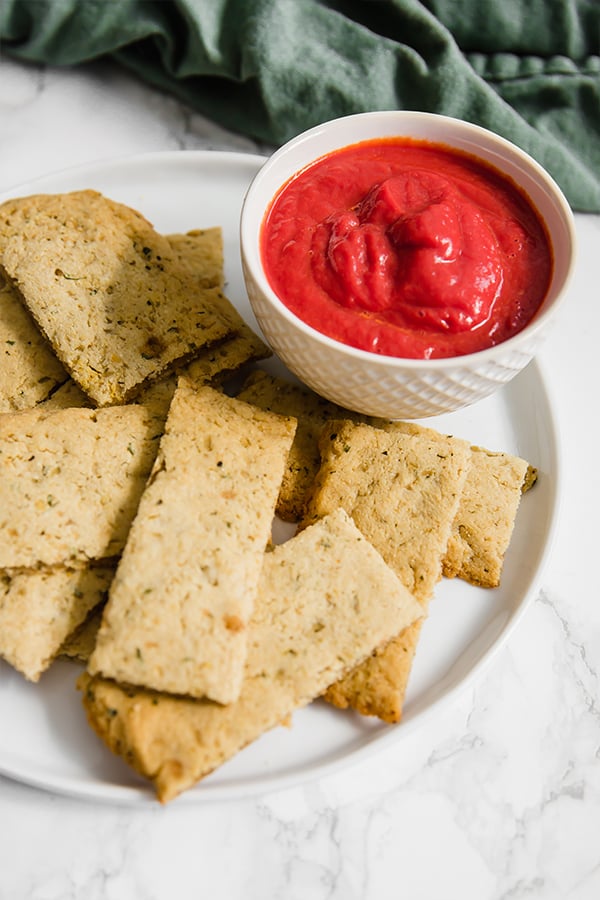 Guys. Breadsticks. Breadsticks are life. Well, breadsticks were life. I used to order from pizza places just so I could get breadsticks sometimes. Some well seasoned, cheesy, soft yet crispy breadsticks dipped in marinara sauce are just so good! Breadsticks are one of the things that I miss most!
There are a lot of recipes out there for gluten-free cauliflower breadsticks made with lots of cheese. It helps to hold the breadsticks together and makes it taste like pizza. But what about those of us who are dairy free? We still want gluten and dairy free breadsticks!
That's why I made these! These cauliflower breadsticks are dairy free, grain free, nut free, and easy to make egg-free and AIP. They're perfect for dipping in nightshade free marinara sauce, serving as an appetizer on Italian night, and a great super bowl snack!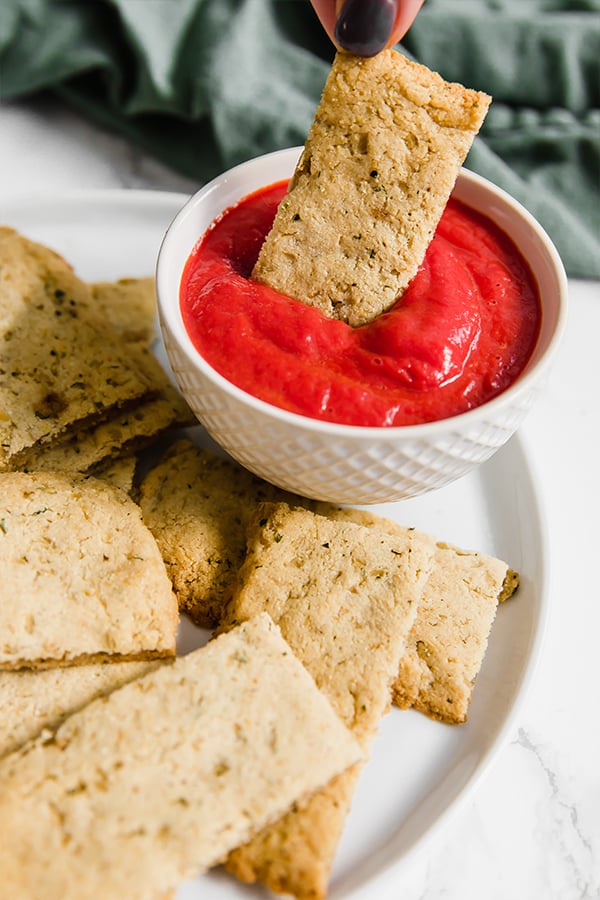 The Ingredient's You'll Need for the Cauliflower Breadsticks
Riced cauliflower
I always buy cauliflower pre-riced and frozen from Whole Foods or Trader Joes for convenience. However, you can easily rice your own cauliflower by adding florets to the food processor.
Arrowroot starch and coconut flour
Though I prefer arrowroot starch here, you can use tapioca as well. I would not suggest swapping the coconut flour.
Nutritional yeast
This helps make the breadsticks taste cheesy!
Olive oil
You can likely use avocado oil but olive oil has a much better flavor here.
Egg (or a gelatin egg)
If you're egg free, you can use a gelatin egg substitute. You'll find the instructions in the recipe.
Basil, oregano, garlic, and parsley
For flavor!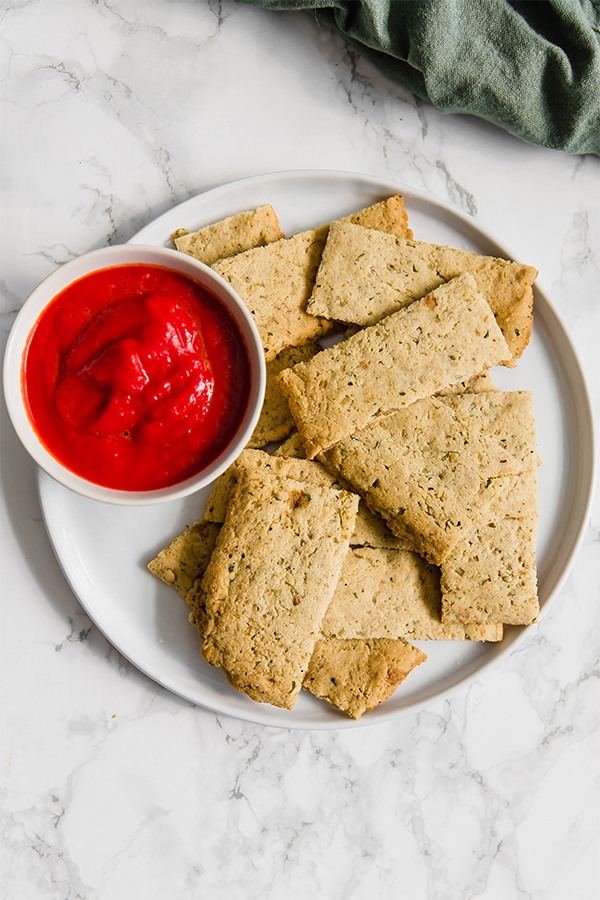 If you like this recipe, you may also like…
Print
Cauliflower Breadsticks (Paleo, AIP, Gluten & Dairy Free)
---
Author:
Prep Time: 20
Cook Time: 30
Total Time: 50 minutes
Yield: 3 servings 1x
2 cups cauliflower, riced
1/2 cup arrowroot starch
1/4 cup coconut flour
3 tbsp nutritional yeast 
2 tsp garlic powder
2 tsp dried parsley
1 tsp dried basil
1 tsp dried oregano
3/4 tsp sea salt
1/4 tsp baking soda
3 tbsp olive oil
2 tsp apple cider vinegar
1 egg (substitute gelatin egg for AIP, see notes)
---
Instructions
Preheat the oven to 375 F and line a baking sheet with parchment paper.
Add the riced cauliflower to a medium pot and cover with water. Bring to a simmer and cover for 7 minutes to steam the cauliflower. Remove the lid, strain the excess water and allow the cauliflower to cool before using a cheesecloth or nut milk bag to remove all water from the cauliflower.
Combine the dry ingredients in a large mixing bowl and mix well.
Add the riced cauliflower and stir.
Incorporate the olive oil, apple cider vinegar and egg (or gelatin egg) and stir until a dough forms.
Flatten the dough on the baking sheet and form into a large rectangle.
Bake in the preheated oven for 15-20 minutes or until lightly golden brown and crispy.
Remove from the oven and use a pizza roller to slice into 14-16 slices. Serve warm with tomato sauce or nightshade free marinara. 
Notes
For the gelatin egg substitute – Add 1/4 cup water to a small sauce pot and slowly sprinkle in 1 tbsp of gelatin. Use a fork to gently mix in any clumps. Set aside and allow the mixture to harden for 2-3 minutes. Place the pot on the stove and turn the heat on low heat. Slowly melt the gelatin over 1-2 minutes. Immediately remove from heat once the gelatin has melted and the mixture has returned to liquid. Vigorously whisk the liquid until it becomes frothy. Pour it into the breadstick mixture immediately to swap for an egg.
All nutritional information is an estimation and not exact.
The photos of this recipe and all written content on my website are copyright protected and cannot be copied or shared. Please do not copy this recipe or photos and share it on your own website, Instagram, or other written materials. If you'd like to tell people about this recipe on social media, your own website, or elsewhere please link back to the recipe here rather than copy and pasting.  Thank you so much!!
Category: Snacks
Method: Baked
Cuisine: Italian American
Nutrition
Serving Size: 1 serving
Calories: 472
Fat: 18.1g
Carbohydrates: 70.2g
Fiber: 7g
Protein: 9.1g