Turmeric Chicken Curry (Paleo, Whole30, AIP)
Thank you to Sprouts for sponsoring this post! All opinions are my own.
This turmeric chicken curry is flavorful, filling, and packed with anti-inflammatory ingredients! It's paleo, whole30, and AIP compliant.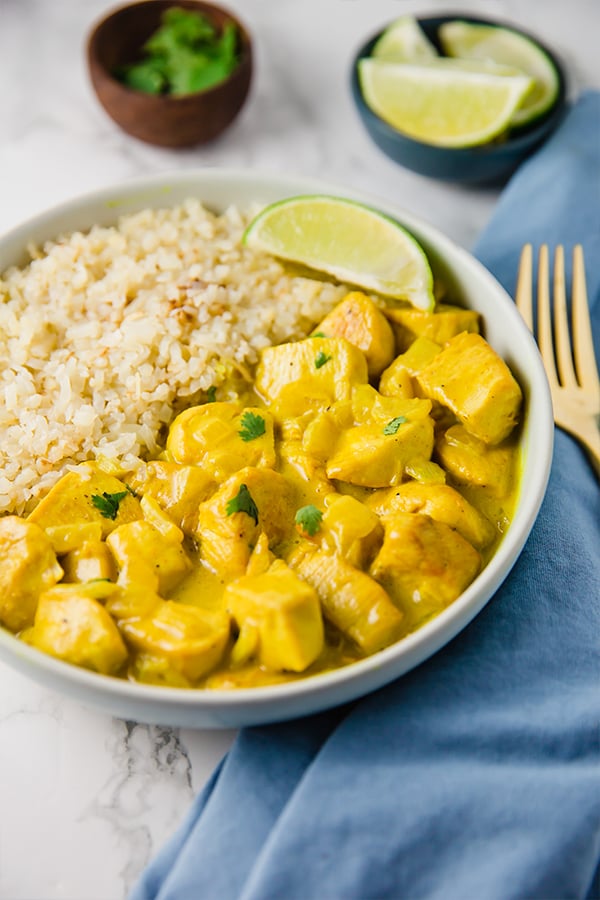 If you're looking for a nourishing and warming dinner option, look no further than curry! It's made with flavorful herbs and spices, dairy-free coconut milk, and can be fairly simple to make.
However, traditional curry can sometimes sneak in sugar, dairy, and almost always has nightshade spices. Though there's nothing inherently wrong with nightshade spices for most people (read about why it may be an issue for some here),  it's still nice to mix it up with a different option. That's why I made this turmeric chicken curry that's nightshade free along with being paleo, whole30 and AIP!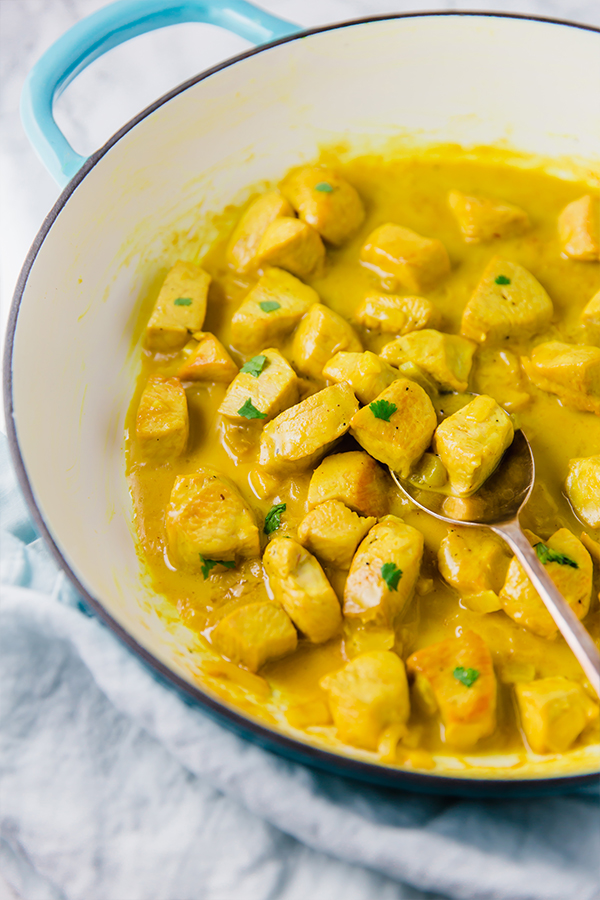 I had planned to share this curry with a family member who was sick, but when I went to go get it on my way out the door to their house I discovered that my husband ate the rest of it! If my spice and dairy loving husband loved this curry, I knew it was a winner!
Every ingredient in this turmeric chicken curry was purchased at Sprouts, which is a store that I really love shopping at! I remember having a Sprouts first open near my parent's house when I was still in high school, and it's been a huge staple in my life ever since. Sprouts carries a myriad of organic produce, paleo & AIP approved pantry staples and more that really make eating healthy simple to help you start fresh in the New Year, and beyond! Here are just three of my favorite ingredients that I used in this recipe…
My Three Favorite Paleo Ingredients from Sprouts used in this recipe…
Turmeric Powder
I never let myself run out of turmeric! Turmeric is a powerhouse anti-inflammatory spice that's nightshade free and has such an amazing color and flavor. I use it in soups, drinks, and more, and have found it to be one of my favorite staples while following a healing diet.
Coconut oil
Another great paleo staple, and one that I can't be without! Coconut oil is amazing for higher heat cooking, baking and it's perfect for recipes like curry.
Cece's Cauliflower Rice
Don't like the extra step of making your own cauliflower rice? I love buying pre-riced cauliflower rice like Cece's when I want a shortcut!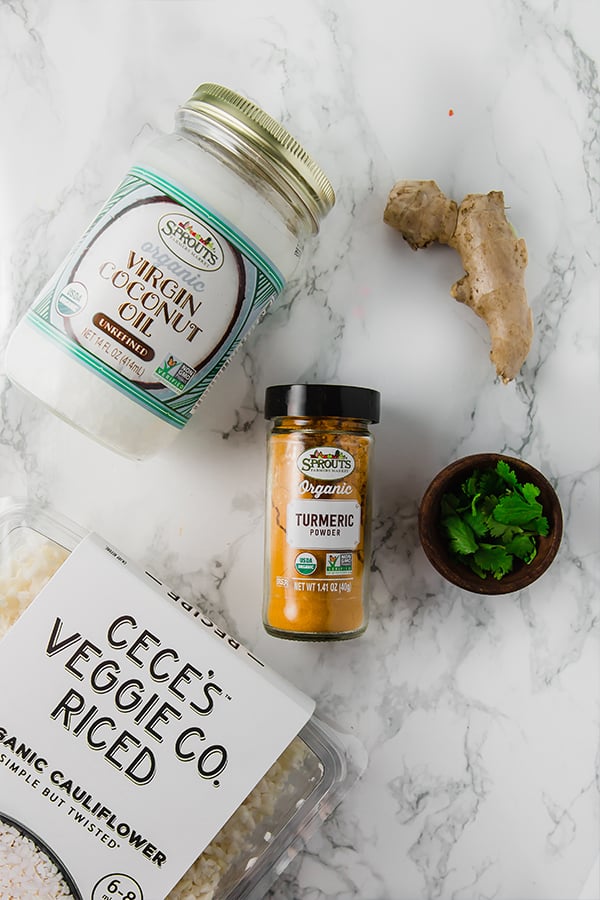 The rest of the ingredients in the curry…
Chicken breast
Boneless and skinless chicken breast is best for curry.
Onion & garlic
Coconut aminos
This is a soy sauce substitute that you can easily find at Sprouts!
Fresh ginger
Ginger is another anti-inflammatory spice that adds some more heat to the dish.
Coconut milk & cream
Traditional curry has coconut milk and yogurt, so coconut cream is the dairy free alternative to yogurt in this recipe.
Cilantro & Lime
Fresh cilantro and lime give a hint of freshness.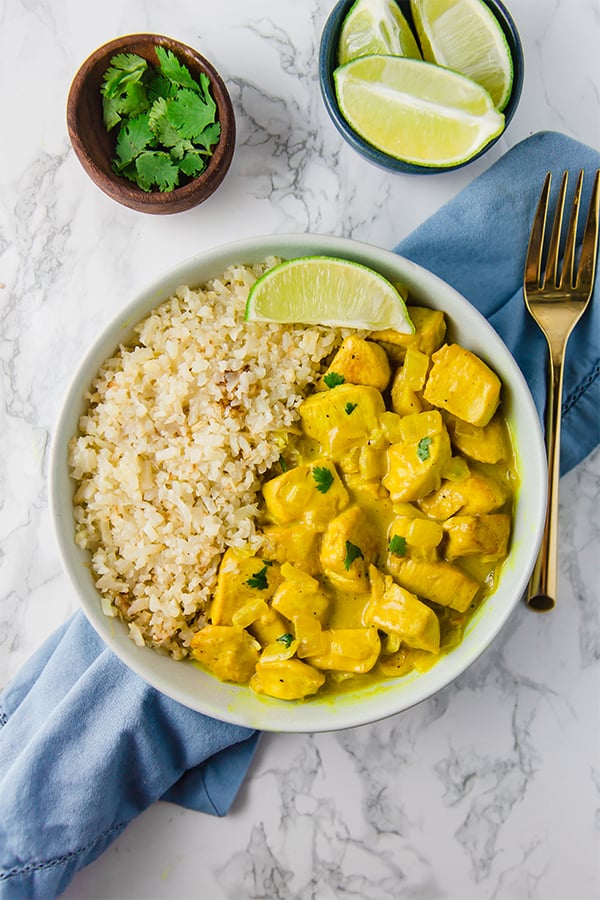 Print
Turmeric Chicken Curry (Paleo, Whole30, AIP)
---
Author:
Total Time: 30 minutes
Yield: 4 1x
For the cauliflower rice
2 tbsp Sprouts Virgin Coconut Oil
16 oz. (about 3 ¾ cups) Cece's Veggie Co. Riced Cauliflower
½ tsp sea salt
For the chicken curry
2 tbsp Sprouts Virgin Coconut Oil
1 white onion, diced
1-inch ginger, grated
2 cloves garlic, chopped
1 lb. chicken breast, cubed
½ cup coconut milk
½ cup coconut cream
2 tbsp coconut aminos
Juice of half a lime (reserve the other half to serve)
1 tsp sea salt
½ tsp Sprouts organic turmeric powder
¼ tsp black pepper (omit for AIP)
2 tbsp fresh cilantro, chopped
---
Instructions
For the cauliflower rice
Using a large deep pan, melt the coconut oil on medium heat. Add the cauliflower rice and lightly salt. Sauté for about 6-8 minutes or until tender. Set aside to serve with chicken curry.
For the chicken curry
Using a large pan, melt the coconut oil on medium heat. Add the diced onion, ginger, and garlic and sauté for 3-4 minutes or until the onion is translucent. Remove from the pan and set aside, reserving the coconut oil in the pan.
Add the chicken to the pan and lightly salt. Sauté until the internal temperature reads 165 F.
Add the onion back to the pan along with the coconut milk, coconut cream, coconut aminos, lime juice, and seasonings to the pan (reserving the fresh cilantro) and stir. Simmer and stir for about 5 minutes to allow the flavors to combine and the sauce the thicken.
Season further to taste and top with fresh cilantro and lime wedges. Serve with cauliflower rice and enjoy!
Prep Time: 5
Cook Time: 25
Category: One pot meals
Method: Stove top
Cuisine: Indian
Nutrition
Serving Size: 1 serving
Calories: 511
Fat: 38.3g
Carbohydrates: 15.8g
Fiber: 3.9g
Protein: 29.9g