Paleo Caulirice & Salmon Bowl (AIP)
My husband and I made the switch from predominately plates to mostly bowls a while ago. It was one of the best decisions we've ever made in all of the years that we've been married. I mean, we've been married for like 2 years, but still. I love bowls.
There's something about eating a meal out of a bowl versus a plate that just seems to elevate the fun to it. Maybe that comes from years of eating cereal or ice cream sundaes, but I love it.
Being on a restricted healing diet, we don't always get to eat out a lot, thus losing that fun experience that restaurants can often offer. From unique presentation to daring flavors, to just perfectly composed meals, I can't say I don't miss it.
At the end of the day, I'm a huge fan of sharing recipe components rather than full recipes as I love the flexibility to just make different meal combinations. However, there's obviously something special about composed dish recipes as well! The way that they just blend and leave out the guess work.
That's why I love this nourishing, nutrient dense salmon bowl. I find myself enjoying this combination often and wanted to share the bases as well as the entire dish itself.
The Bases
Caulirice
I don't know about you, but I'm not sick of caulirice yet. Even though it seems like it's everywhere, it's popular for a reason… because it's amazing.
Cauliflower rice is an awesome substitute for those who are grain-free and can't tolerate rice, or are just trying to control their blood sugar with a bit less carbs. Though I've reintroduced white rice myself and am not at all a carb hater by any means, eating this much white rice at once just isn't for everyone.
Not to mention that caulirice is also far more nutrient dense than white rice. Cauliflower is a sulfur rich vegetable that's packed with nutrients!
You can make cauliflower rice at home in a food processors or vitamix, or you can be lazy like me and buy (/hoard) it from Trader Joe's. The frozen stuff is organic, easy, and basically cauli-crack.
Purple Cabbage
Another favorite of mine, purple cabbage is rich in vitamin K, folate, and is a super cheap way to add variety to your meals and get more nutrition. Cabbage is typically only 99 cents a lb in my neighborhood, so I love using it to bulk up meals without breaking my grocery budget.
Coconut Aminos
Ahh, coconut aminos. Let me count the ways…
Before I was watching my grocery budget more closely, I would go through a bottle of this thing a week. It's that good. It's also not the cheapest, so I'm a bit more careful with it these days. I recommend just using a tsp at a time to add flavoring to meals such as this. The flavor is strong and a little bit goes a long way!
I know that coconut isn't a good choice for everyones gut health (including my own at one point) as it's high in FODMAPS and can be irritating to many, so it can easily be skipped in this dish.
The Protein
Wild-caught Salmon
Salmon is one of those super versatile proteins that can be eaten in tons of different dishes and seasoned in a myriad of different ways.
When buying salmon, always make sure to source it wild caught and preferably from a sustainable source as often as possible. Just like all other properly raised protein, wild caught salmon is rich in Omega 3 fatty acids which help support our natural inflammatory/anti-inflammatory pathways in the body. Our bodies anti-inflammatory capabilities all depend on the food we consume, so salmon is a great option to enjoy often.
I try to eat roughly 14-16 oz of fatty fish like salmon and even sardines weekly (when my budget allows). Whenever I have it, I savor every second! This bowl is no exception…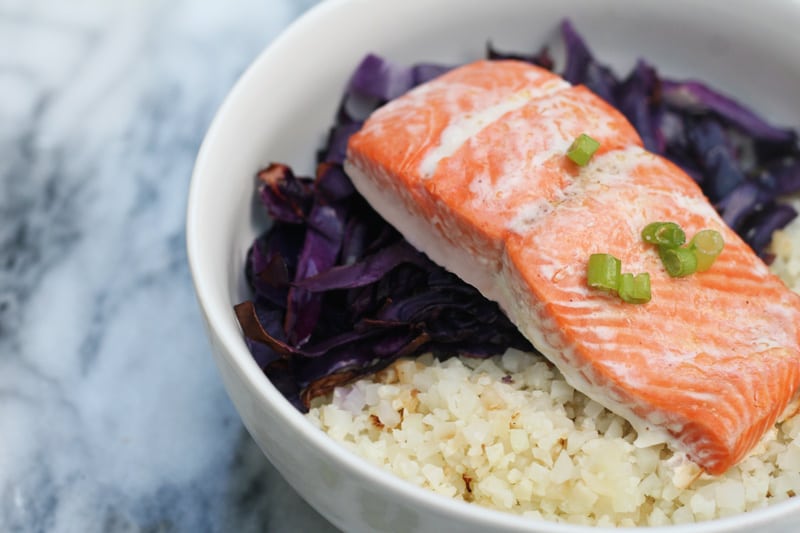 Print
Paleo Caulirice & Salmon Bowl (AIP)
---
– 1 salmon filet
– 1/2 cup cauliflower rice
– 1/3 serving oven roasted cabbage
– 1 tbsp coconut oil
– 2 tsp coconut aminos
– 1 tsp sea salt
– Juice of 1/4 lemon
– 1/2 sprig on green onion, chopped
---
Instructions
For the salmon:
1. Preheat the oven to 375 F.
2. Add the salmon filet to a baking sheet and top with juice of lemon, 1 tsp coconut aminos, salt and 2 tsp coconut oil.
3. Bake in the oven for 12-14 minutes or until the salmon easily flakes.
For the cauliflower rice:
1. Melt 2 tsp of coconut oil in a pan on medium heat.
2. Add the cauliflower rice and season with coconut aminos, sea salt and lemon, cooking until soft.
Build the bowl:
1. Add the cabbage, and caulirice to a bowl as the base and top with salmon. Add green onions for garnish and more coconut aminos if desired.