Paleo Chocolate Raspberry Scones (AIP, Valentine's Day)
There's something so beautiful and thoughtful about homemade baked goods. It shows thought, time, attention, and care, and the creativity only multiplies when you make something like scones. Not that there's anything wrong with chocolate chip cookies or cupcakes, but homemade scones adds a different layer of fun. Especially when they're as delicious as these Paleo Chocolate Raspberry Scones!
I first made scones when I shared my Orange Cranberry Scone recipe during the holidays. They were a serious hit with my family, and an even bigger hit with you guys! When Valentines day started creeping up, I knew that I had to recreate the scones with more of a Valentines flair.
These paleo chocolate raspberry scones are rich, chocolate-y, and just the right amount of tart with raspberries! They're also easy to make AIP compliant, and are the perfect treat to make for sharing on Valentines day.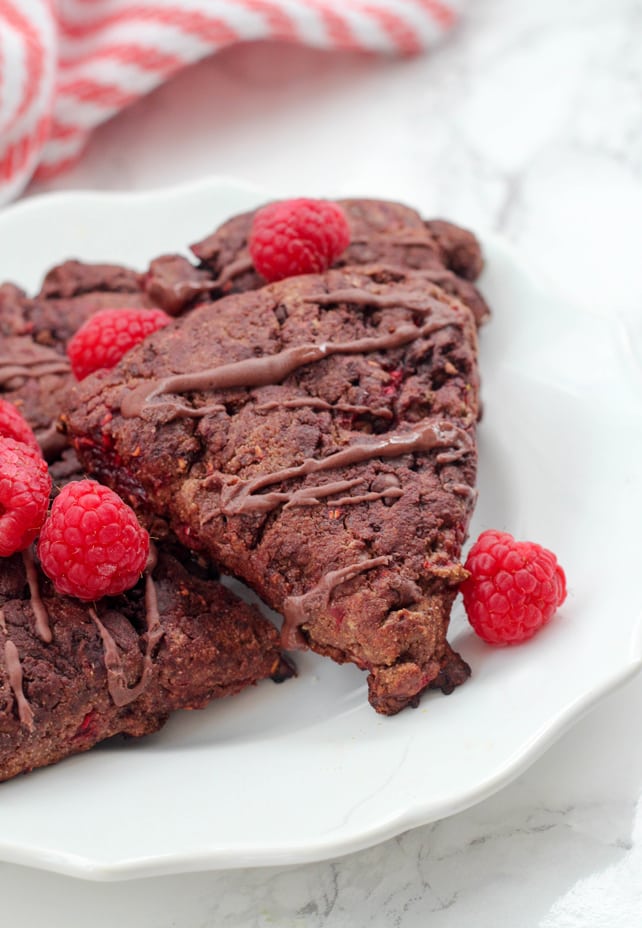 The Ingredients You'll Need For The Chocolate Raspberry Scones
Tigernut flour
Tigernut flour is one of my new favorite flours for baking. It just makes amazing baked goods. It's not a nut, but a tuber, so it's nut free and AIP compliant. If you can have almonds, you can try subbing almond flour here, though I can't guarantee it will work the same.
Tapioca starch
This helps bind a bit more in the recipe. You can also sub arrowroot.
Coconut oil
Coconut oil is what I use for my scones, but if you want to go coconut free, you can try substituting lard. I haven't tried this yet, but if you do, let me know how it turns out!
Maple syrup
You can also sub honey here.
Fresh raspberries
Fresh raspberries add some of that Valentine's day look, and some tart flavor.
Cocoa powder or carob powder for AIP
Carob makes this AIP compliant, but I use regular cocoa as well.
1 Egg (or a gelatin egg)
You can use one egg if you tolerate it, or an egg substitute like a gelatin egg, which is what I use.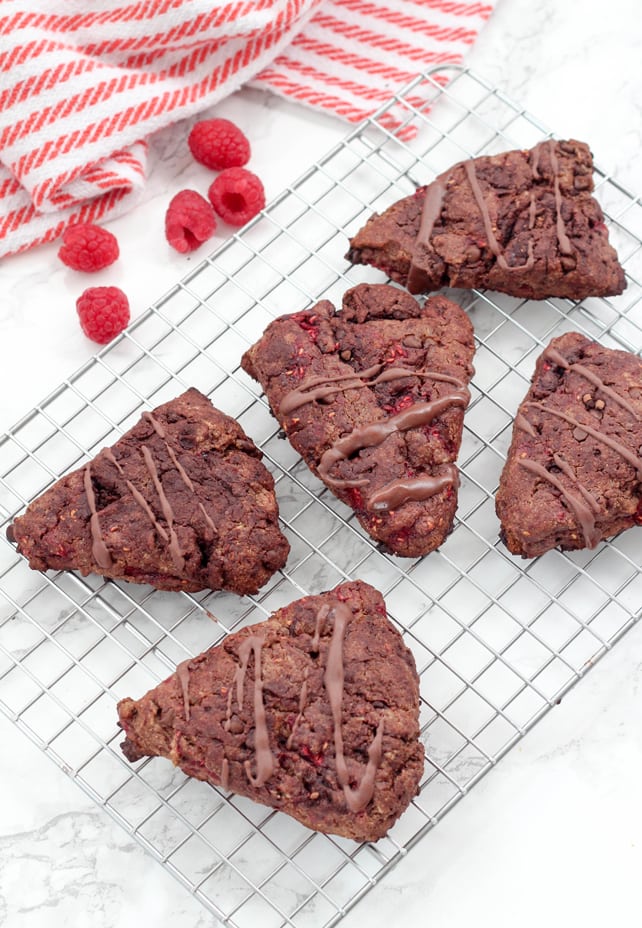 Print
Paleo Chocolate Raspberry Scones (AIP, Valentine's Day)
---
1 1/4 cup tigernut flour
1/4 cup tapioca starch
2 tbsp. cocoa powder (sub carob for AIP)
1/4 cup coconut oil, softened
1/4 cup maple syrup
1/3 cup fresh raspberries
2 tbsp dairy free soy free chocolate chips (sub this for AIP )
1/4 tsp baking soda
1 tbsp melted dairy free/soy free chocolate (optional for topping.. sub carob mixed with melted coconut oil for AIP)
FOR THE GELATIN EGG (sub 1 regular egg)
1 tbsp gelatin (great lakes or vital proteins)
1/4 cup water
---
Instructions
Preheat the oven to 350 F and line a baking sheet with parchment paper that's lightly greased
Sift the tigernut flour, tapioca starch and cocoa/carob powder together and set aside
Add in the coconut oil, maple syrup and stir
Stir in the baking soda, chocolate chips and fresh raspberries
For the gelatin egg (sub 1 regular egg if tolerated) add the water to a small sauce pot and slowly pour over the 1 tbsp gelatin. You don't want any clumps, so lightly mix if needed. Allow the mixture to rest and bloom over 2-3 minutes. Place the pot on the stove and turn in on low heat. Slowly melt the the gelatin (this will take just a few minutes) and remove from heat.
Once removed from the stove, vigorously whisk the gelatin egg until it becomes frothy. If it's too watery, the scones will not work. Add the gelatin egg to the mixture immediately and mix to combine.
Once the dough in thoroughly combined, place it onto a cutting board and form it into a large circle, keeping it about an inch in height.
Use a pizza roller or a knife to slice the dough into 6 triangular scones
Bake in the oven for 20-25 minutes
Remove from the oven and cool. Add the optional melted chocolate drizzle and serve.
Notes
All nutritional information are estimations and will vary. Estimations do not include optional ingredients.
Nutrition
Serving Size: 1 scone
Calories: 313
Fat: 16.2g
Carbohydrates: 21.8g
Fiber: 2.2g
Protein: 5.1g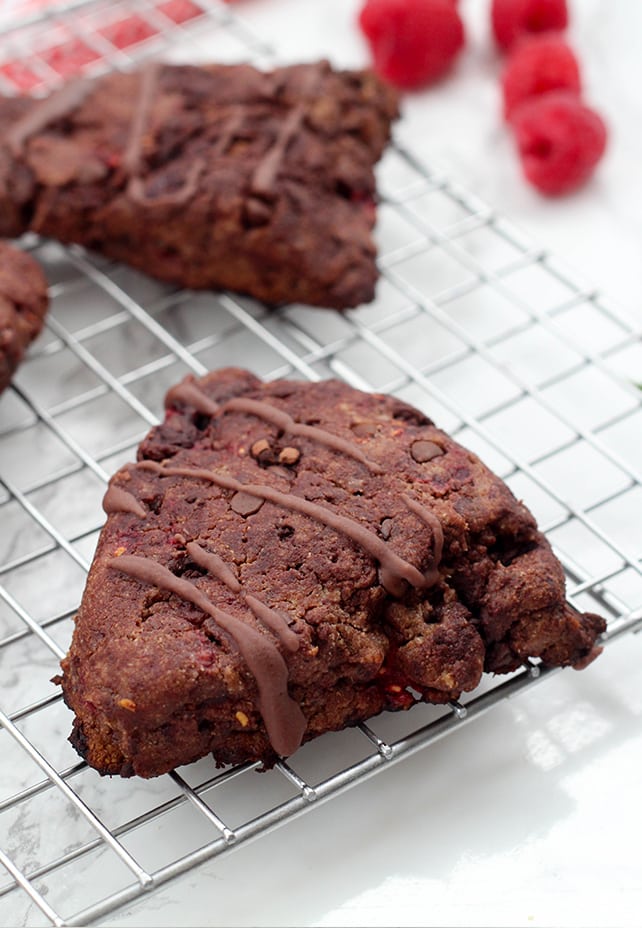 These scones are so decadent! Make these for your significant other, friends, or for a Valentines party and everyone will shocked that you actually made them from scratch. Little do they know that they're fairly simple to make 😉
Enjoy the scones, and have a happy Valentines day!