Instant Pot Beef Pho (Paleo, Whole30, AIP)
Pho started getting cool here in Dallas, TX when I was about 20 years old. I went from never really hearing about it to seeing tons of restaurants popping up, and dozens of friends posting their pho photos on social media. I first decided to join in on the fun several years later when my then boyfriend now husband, and I both came down with the flu and were looking for something hearty. We both loved pho… the flavor, the experience, and how nourishing it was. Since taking my health more seriously and going Paleo and AIP, I haven't been back to a pho restaurant… mostly for fear of nightshades. Seeing as it's such a fun date night type experience, and delicious meal, I decided to recreate this favorite with Paleo Instant Pot Beef Pho that's also AIP and Whole30 compliant.
With Valentines day right around the corner, this instant pot beef pho is the perfect meal to serve! Set out all of the fixings, and let your date, friend, family, or dinner guests build their own perfect bowl. It's easy to customize, and so much fun.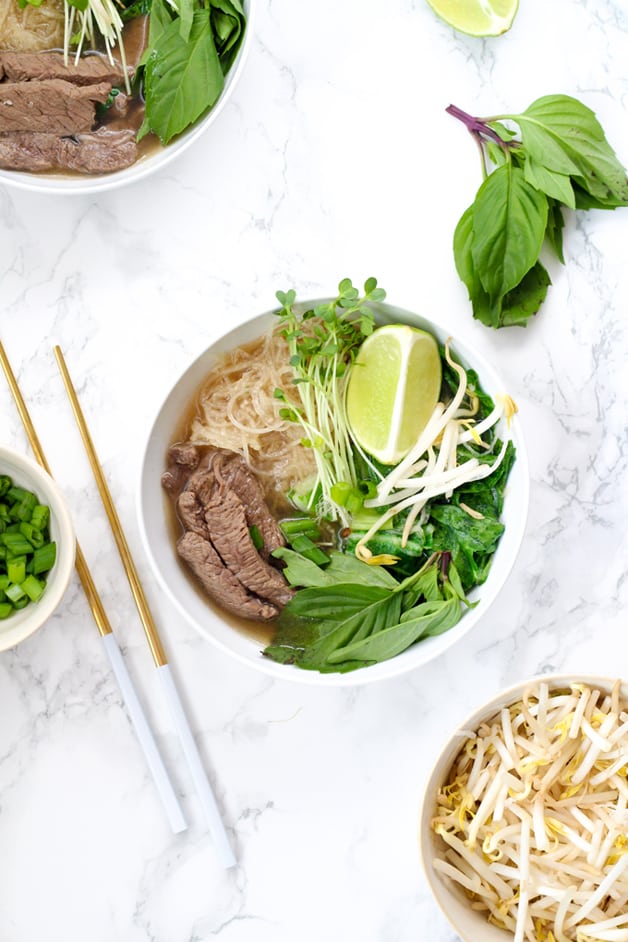 When I first tried pho I thought that it would be a lot of work. So many components, so much prep work. But in reality, it's a breeze when you use the Instant Pot! I use my instant pot for a ton on the meals I make every week, and am always grateful for how it cuts the cooking time in half, and then some.
If you don't have an instant pot, you can adapt the recipe for stove top by extending the broth cooking time, but I highly recommend getting an Instant Pot if you don't already own one!
The Main Ingredients
Beef bones
You can use a mix of soup bones, marrow, and joint bones. These are easily available at most butchers, Whole Foods, and local farmers.
Onion, carrot, ginger, coconut aminos, apple cider vinegar, cloves and star anise.
These flavor the broth. Omit the cloves and star anise if you're AIP.
Sirloin Steak
A thin, easy to slice sirloin steak.
Daikon radish
Traditionally, pho has some sort of rice noodle in it. However, to keep this grain free, the recipe calls for spiraled daikon radish! It's much easier than it sounds. Daikon radish is fairly easy to find, and the perfect shape to spiralize. I used this spiralizer, and recommend using a larger one like it. You can also sub zucchini noodles.
Bok choy
You can use either large bok choy, or baby bok choy.
Thai basil, green onion and lime
Flavors that you done want to miss in pho!
Optional – Radish Sprouts and Mung Sprouts if tolerated
These are really just to spice up the flavor and make it more like traditional pho, but you don't need these. Radish sprouts are safe for AIP. However, mung sprouts are from legumes and not AIP, and are debatable for Paleo and Whole30 protocols. I've seen different people say different things, so only add this if you know you tolerate it.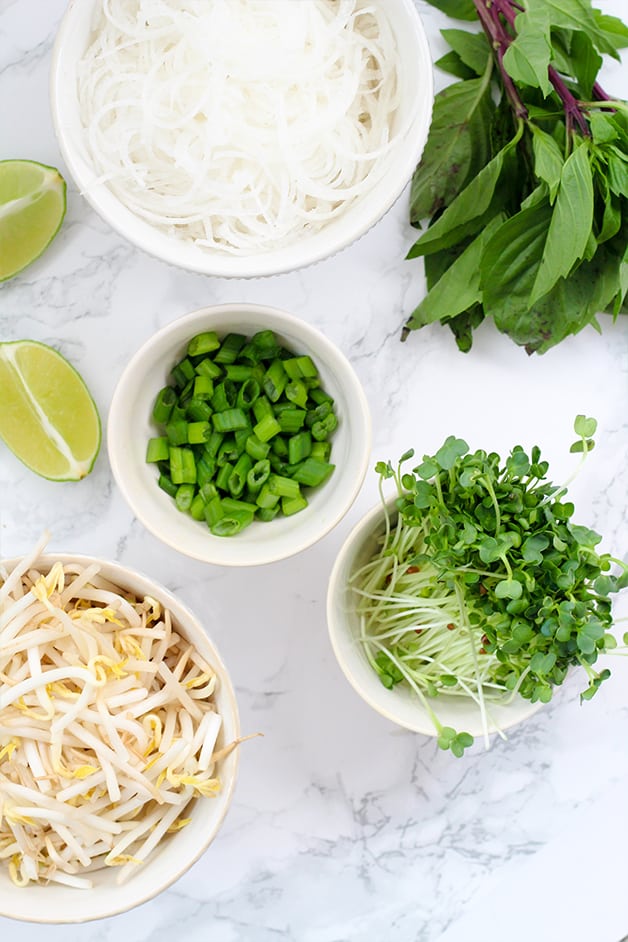 All of the add-in's are really what give the pho flavor, and add to the experience as a whole. Serve with as many as you'd like, but I highly recommend making the basil, lime, daikon noodles, and green onion a priority!
You can add in or leave out as much or as little as you'd like, making the pho completely your own, and customizable for different tastes and diet protocols.
Print
Instant Pot Beef Pho (Paleo, Whole30, AIP)
---
FOR THE BROTH
3 lbs beef bones (soup bones, marrow bones, joint bones, etc.)
1 medium yellow onion, roughly chopped
2–3 carrots, roughly chopped
1 thumb ginger, roughly chopped
2 cinnamon sticks
2–3 pieces star anise (omit for AIP)
2 cloves (omit for AIP)
1 tsp sea salt
2 tsp apple cider vinegar
1 tbsp coconut aminos
8–9 cups water
FOR THE PHO
1 tbsp coconut oil
1 lb sirloin steak, sliced
3 cups daikon radish, spiralized (using spiralizer like this )
1 large head of bok choy, chopped
ADD INS FOR SERVING
1 bunch thai basil
1/2 cup radish sprouts
1 cup mung bean spouts (if tolerated… not AIP)
2–3 limes, sliced
4–5 green onions, sliced
---
Instructions
Set the oven to broil and prepare a baking sheet
Place the bones, onion, ginger and carrot under the broiler for 8-10 minutes
Remove from the broiler and set aside
Set the instant pot to sauté and add in the cinnamon, clove, star anise, and ginger and saute for 2-3 minutes
Turn off the sauté function and place the bones, onion, and carrot into the instant pot
Cover the bones with water, and pour in the coconut aminos, apple cider vinegar and salt
Place the lid on the instant and cook at high pressure for 45 minutes, allowing the pressure to release naturally for 15 minutes
Once the broth is finished, strain it through a fine strainer and set aside in a bowl
Set the instant pot to sauté and melt 1 tbsp coconut oil
Add in the sirloin steak and cook until no longer pink
Leave the instant pot on sauté and pour the broth back in
Stir in the radish noodles and bok choy and allow to soften for 4-5 minutes
Turn off the instant pot and serve the pho in bowls with the add ins
Notes
All nutritional information are estimations and will vary. Estimations do not include optional ingredients.
Nutrition
Serving Size: 1 serving
Calories: 191
Fat: 6.3g
Carbohydrates: 11.7g
Fiber: 3.3g
Protein: 22.4g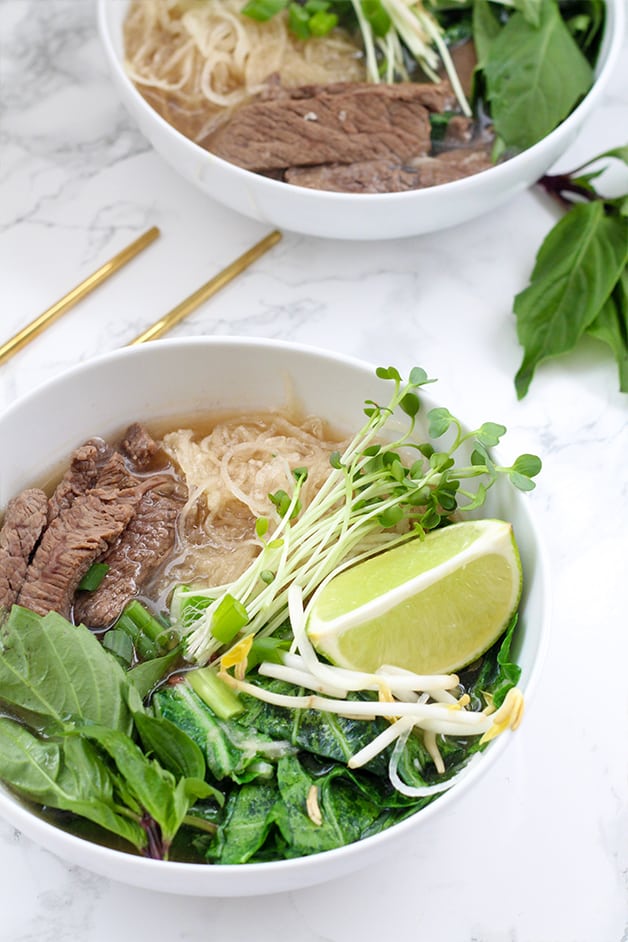 A fun, customizable dinner date dish that everyone will love! It's rich, yet light and so nourishing and filling.
Serve this with a spoon and chop sticks, and fill your own bowl with all of your favorite add ins.