Paleo Lemon Bars (AIP, Egg Free, Nut Free)
These paleo lemon bars are impossibly good! With a delicious crust and a creamy lemon curd, they're a tasty and unique dessert. Plus, they're totally egg-free, nut free, and AIP compliant.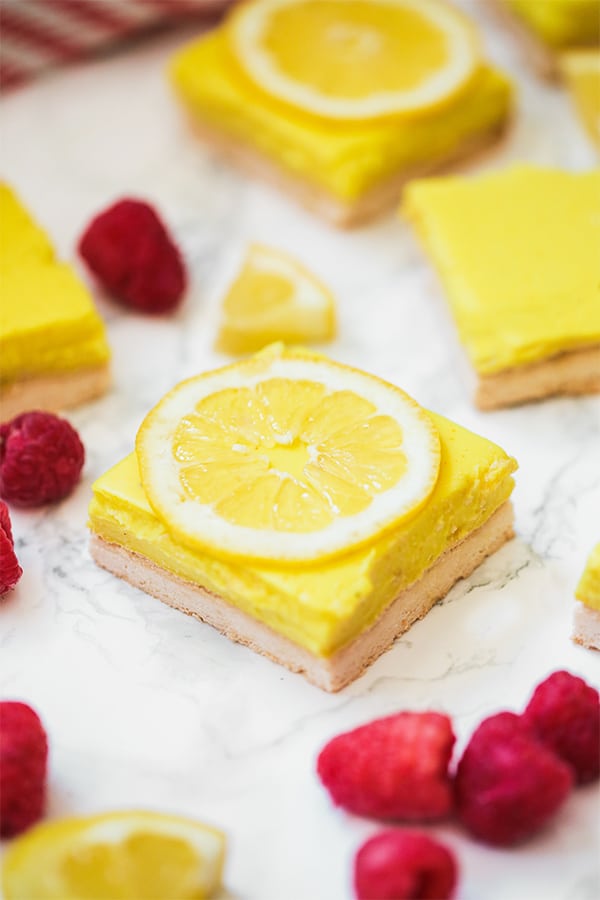 Growing up, my little brother was always the lemon dessert fan, whereas I was the chocolate lover. I was too busy making chocolate chip cookies to ever even notice the lemon tarts or lemon bars that he always wanted around his birthday. As I've grown up and learned to appreciate real food ingredients more, I love lemon desserts, and really, anything lemon flavored. It's always fun to combine two flavors that technically shouldn't go together like sweet and sour and still come out with a delicious treat!
When I decided that I wanted to make lemon bars, I thought it would be next to impossible to do it grain free, refined sugar-free, and the biggest elephant in the room… egg free! The height and color of lemon curd come from eggs, so how the heck was I going to do without?!  I even surprised myself when these lemon bars came out absolutely perfect.
The shortbread crust is spot on, and the curd has a creamy, sweet, and sour flavor that's perfect for lemon bars. I shared these with my mom and my husband, and we finished the batch in no time.
They're great for sharing with friends who are gluten-free, grain-free, lactose intolerant, or have egg allergies, all while still being totally delicious.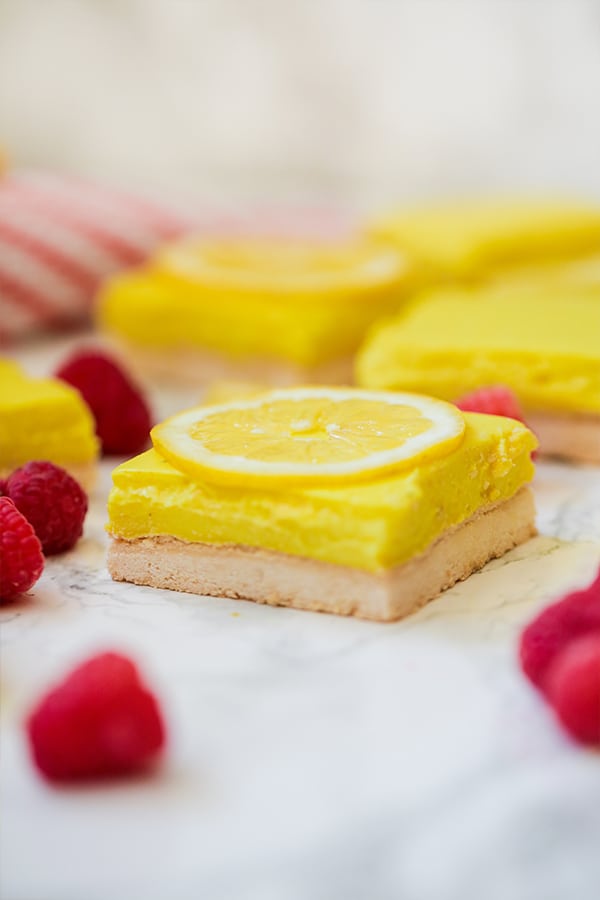 The Ingredients You'll Need For the Paleo Lemon Bars
Coconut flour
This is the main flour in the crust. I have not tried any others flours and can't recommend a substitution.
Arrowroot starch
This goes in both the crust and the lemon curd. I haven't tried this with tapioca starch and can't guarantee it would come out the same.
Coconut oil
Coconut cream
This is the main ingredient for the lemon curd. This is the brand I recommend. 
Fresh lemon juice
Turmeric
What actually gives traditional lemon bars their yellow color is the egg yolks. Since these are egg-free, we're using just a bit of turmeric for coloring. I promise you won't taste it!
Maple Syrup & Coconut Sugar
I highly recommend using golden coconut sugar.
Gelatin
The gelatin helps act as an egg in the curd. I use Vital Proteins grass-fed gelatin.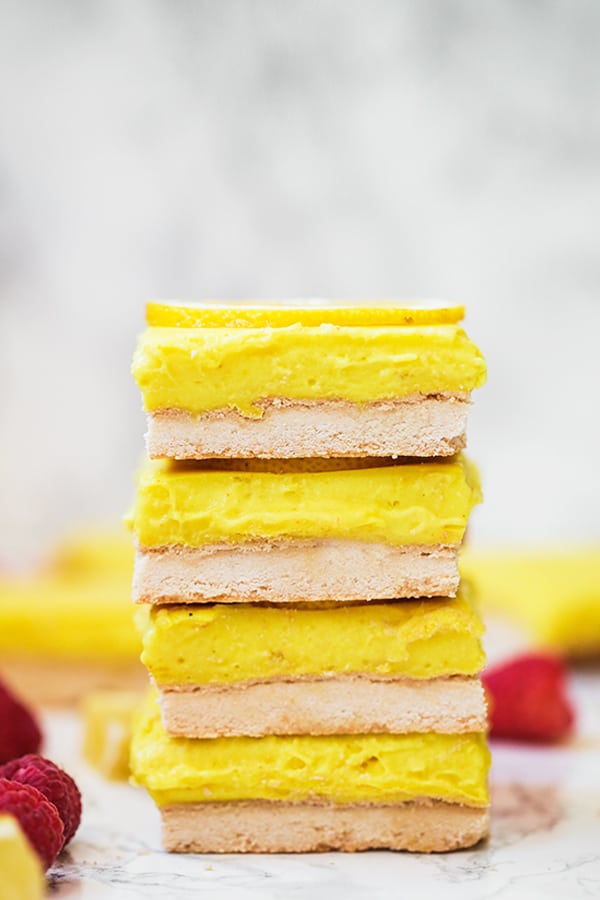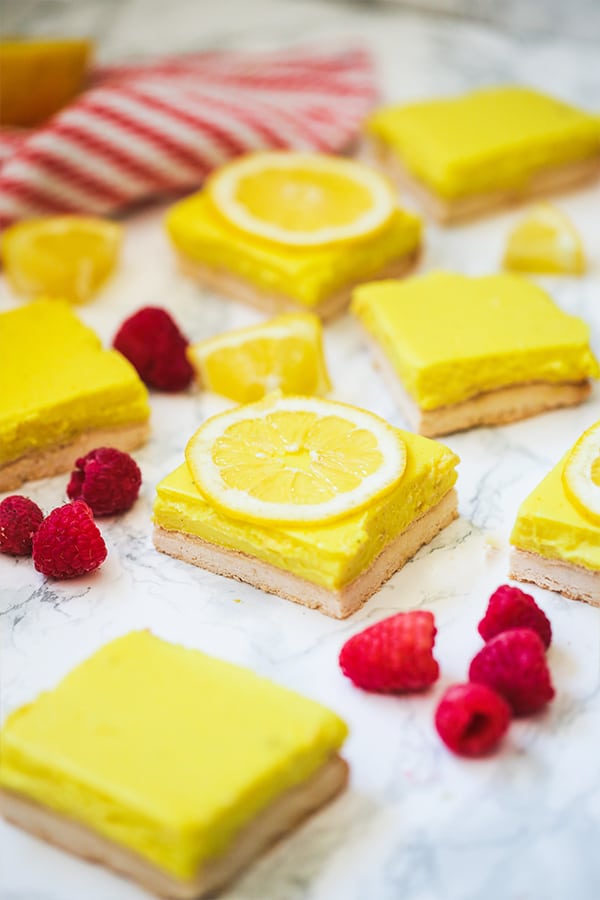 Print
Paleo Lemon Bars (AIP, Egg Free, Nut Free)
---
For the crust
3/4 cup coconut flour
1/4 cup arrowroot starch
1/2 cup coconut oil, softened
1/4 cup maple syrup
1/2 tsp vanilla extract
For the lemon curd
1 & 1/2 cup coconut cream
2 tbsp coconut oil
1/2 cup fresh lemon juice (about 4–5 lemons)
3 tbsp maple syrup
2 tbsp coconut sugar (preferably golden)
1/4 tsp turmeric powder
4 tbsp arrowroot starch
1 tbsp gelatin
1/4 cup of water
---
Instructions
Preheat the oven to 325 F and line an 8×8″ baking pan with parchment paper
Start with the crust by mixing together the two flours, and then stirring in the wet ingredients until well combined.
Evenly flatten the crust in the bottom of the pan and puncture the crust with a fork about 10-15 times.
Bake the crust until lightly golden brown for about 25-30 minutes. Set aside and allow to completely cool.
Place a large pot over medium heat and stir together all of the ingredients (reserving the gelatin and water). Stir while the curd thickens for about 5 minutes. Turn off the heat and allow the curd to slightly cool.
In a smaller pot, add the water and sprinkle over the gelatin. Allow the mixture to sit until it hardens. Melt the gelatin on low heat for 2-3 minutes, being careful to not let it burn or boil. Vigorously whisk and stir the gelatin egg into the lemon mixture. Let the curd cool.
Once cooled, pour the curd over the crust and place in the fridge for 3-4 hours, once the curd solidifies. Carefully remove from the pan and slice into 9 bars. Be aware that the curd may separate from the crust if handled too hard.
Garnish with lemon slices or lemon zest and enjoy!
Notes
All nutritional information are estimations and will vary. Estimations do not include optional ingredients.
Nutrition
Serving Size: 1 bar
Calories: 323
Fat: 16g
Carbohydrates: 26.3g
Fiber: 3.6g
Protein: 2.6g