Paleo Pumpkin Chocolate Chip Cookie Skillet (AIP, Gluten Free)
I'll never forget when I first learned about the existence of cookie skillets. One of my friends had a birthday dinner planned at BJ's Brewhouse where they're known for their pizookies (essentially just cookie skillets) and I lost it with excitement. I remember going on tumblr (this was before Instagram was as big as it is) and looking up photos of pizookies to amp myself up. And of course, the cookie skillet did live up to the hype. It was warm, gooey, sweet, and so delicious!
Needless to say, it's been a hot minute since I've had a BJ's pizookie, or any cookie skillet for that matter. Making one that's grain-free, lower in sugar, egg-free, and dairy-free seemed like no easy feat. But what can I say? I was up for a challenge! Fall always inspires me to get creative with baked goods.
This paleo pumpkin chocolate chip cookie skillet is just as delicious as any other you've had, plus it's gluten-free, grain-free, nut-free, dairy-free, lower in sugar, and it's paleo and AIP compliant. Can I get an amen?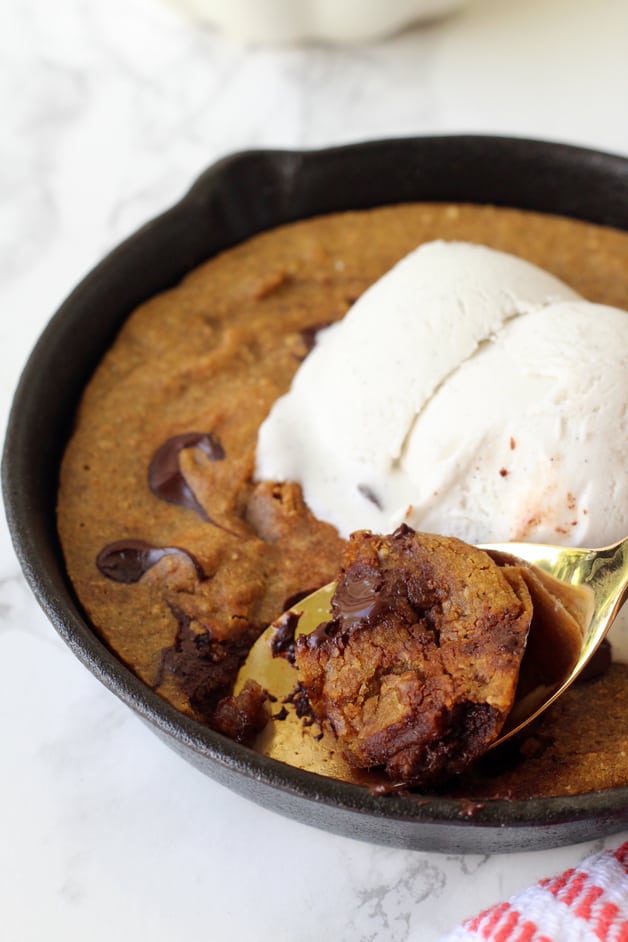 With the holidays coming up and Halloween just a few days away this is the perfect way to satisfy a sweet tooth!
The Ingredients You'll Need For The Paleo Pumpkin Chocolate Chip Cookie Skillet
Tigernut Flour
Tigernut is indeed nut-free, as tigernuts are actually a tuber. It's a grain free flour that's similar to almond flour. If you can have almonds, you can try subbing almond flour as well, though I haven't tried this recipe with other flours.
Tapioca Starch
Tapioca helps bind this cookie together. You can also sub arrowroot starch.
Pumpkin Puree
It is October, right? Gotta have the pumpkin! Pumpkin puree really helps the flavor and texture of this cookie skillet and helps keep it moist and gooey.
Chocolate Chips
This cookie skillet has lots of flavor without the chocolate chips, so you can easily leave them out. If you're AIP, I would use this recipe instead.
Gelatin egg (or 1 real egg)
Gelatin is a great egg substitute and one that I always need as I react to eggs. You can try other options like flax eggs if you tolerate, or you can easily just use one real egg. I use vital proteins, but great lakes also work.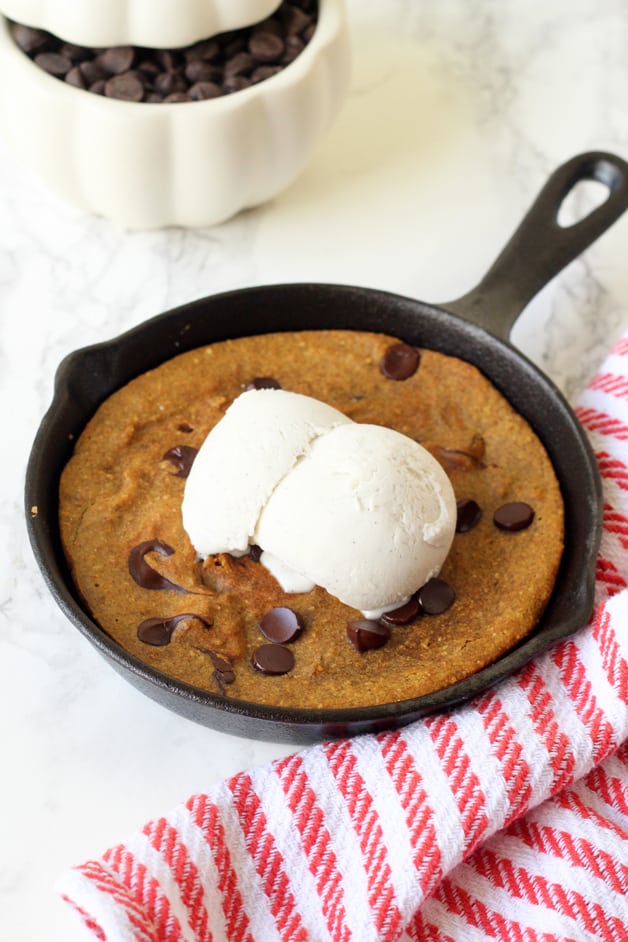 The Skillet You'll Need
I didn't use a big cast iron to make this cookie skillet. Rather, I just used a 6″ mini cast iron skillet! It's perfect for a little cookie skillet to share! I got it from World Market, here.
If you don't have a 6″ skillet, you can easily use any other pan you have that's a similar size and just scale the recipe accordingly. A skillet is fun, but not necessary!
Print
Paleo Pumpkin Chocolate Chip Cookie Skillet (AIP, Gluten Free)
---
2/3 cup tigernut flour (see above for substitutions)
1/3 cup tapioca flour
1/3 cup pumpkin puree
2 tbsp maple syrup
2 tbsp coconut oil (plus extra for greasing the pan)
2–3 tbsp chocolate chips (sub this recipe for AIP)
1 tsp cinnamon
1/4 tsp baking soda
FOR THE GELATIN EGG (sub 1 regular egg)
1/4 cup water
1 tbsp gelatin
---
Instructions
Preheat the oven to 400 F and grease a 6″ skillet (like this ) or a baking pan with coconut oil
Sift the two flours together until well combined. Mix in the remainder of the ingredients (reserving the egg/gelatin egg) and combine
For the gelatin egg (sub 1 regular egg if tolerated) place a small pot on the stove with 1/4 cup of water and lightly sprinkle in the 1 tbsp of gelatin. You don't want any clumps. Allow the gelatin to bloom for 2-3 minutes.
Turn the stove on low heat to let the gelatin melt. This will take 1-2 minutes. Don't let it burn!
Remove the mixture from the stove and use a whisk or immersion blender to vigorously whisk the mixture until it's frothy.
Add the gelatin egg (or regular egg) to the cookie dough and stir together immediately.
Pour the cookie dough into a well greased 6″ skillet/pan and smooth it out with the top of a spoon
Bake for 15-18 minutes or until baked through. The cookie will be soft and gooey!
Top with coconut milk ice cream if desired, or serve by itself. Remember to be careful with the hot skillet!
Notes
All nutritional information are estimations and will vary. Estimations do not include optional ingredients.
Nutrition
Serving Size: 1 serving
Calories: 138
Fat: 6.5g
Carbohydrates: 12.1g
Fiber: 0.9g
Protein: 1.7g
How to enjoy this cookie skillet…
This is definitely the ultimate treat… don't dinner 😉 Here's how I recommend enjoying it!
Top with coconut milk ice cream or extra chocolate chips
Share with a friend for a movie night or after dinner dessert
Serve slices at a party
However you choose to have it, I hope you enjoy!! Be sure to tag me on Instagram to let me know how you like it!