How To Easily Prep Meals For the Week
Thank you to Sprouts for sponsoring this post! All opinions are my own.
Meal planning stressing you out? I got you! This sample meal plan, shopping lists, and more will help you learn how to simply prep meals for the whole week.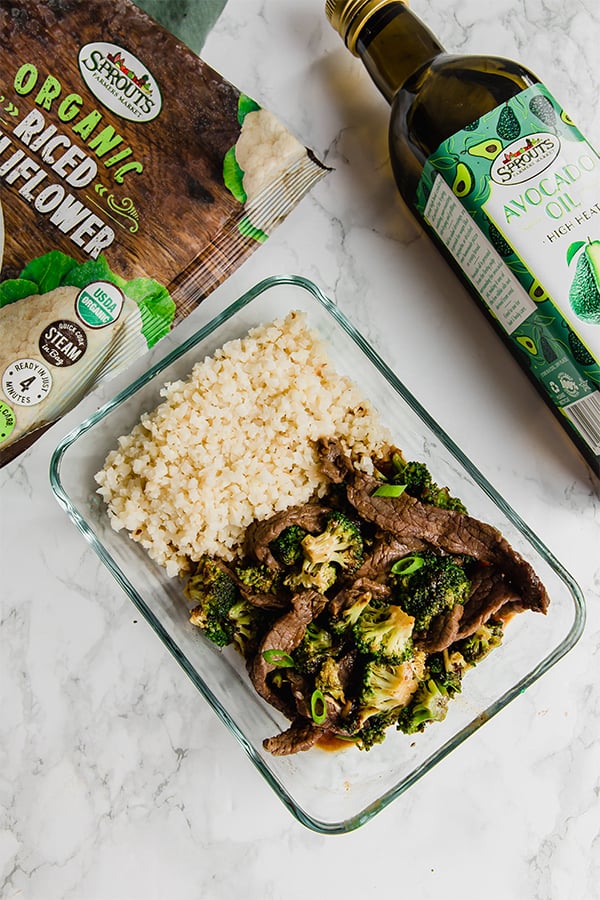 When I first started transitioning my diet, it was a huge adjustment in more ways than one. Not only was all of the actual food different, but I couldn't just stop anywhere and grab a bite to eat without thinking twice about how it would make me feel. I used to always just drive through somewhere or get a candy bar, and really had to rethink my habits!
Meal prepping has been my saving grace for years since changing to a more paleo, real food diet. Going into each week with my meals prepped and ready to go takes so much guesswork out of eating healthy, and it saves me so much time in the kitchen.
I wanted to share a few of my favorite recipes scaled up to 5 servings so you can prep them to have food for 5 days during the week! Not only does this sample meal plan save you time in the kitchen, but it also saves time shopping as everything is available at Sprouts grocery store!
Let's start with a few meal prep tips…
Meal Prep Tips
Get your shopping done in one spot
When I think about meal prepping, I always include the time spent shopping in the whole process. If you're running from store to store, it definitely adds to the overall time that you spend each week on meals.
All of the ingredients for all of the recipes in this meal plan are available at Sprouts! Sprouts is such an amazing spot for getting everything you need in one place like pantry staples, bulk items, and produce. Not only is it convenient, but it's definitely cheaper to shop at Sprouts as well!
Allocate time to get it all done at once (or split it up in two if you prefer)
Honestly, this is all about personal preference on a Sunday. Some people love getting meal prep done in one go, and others prefer to split it up and do some on Saturday and some on Sunday. For me, it all depends on how I feel and what my weekend looks like. Regardless, it's still much easier to do it in one batch or two rather than cook every single day.
Set aside a couple of hours on the weekend to really focus on getting things prepped and ready to go so you can enjoy having your evenings back during the week!
The 5 Day Meal Plan Recipes
Breakfast- Breakfast Sausage Chicken Poppers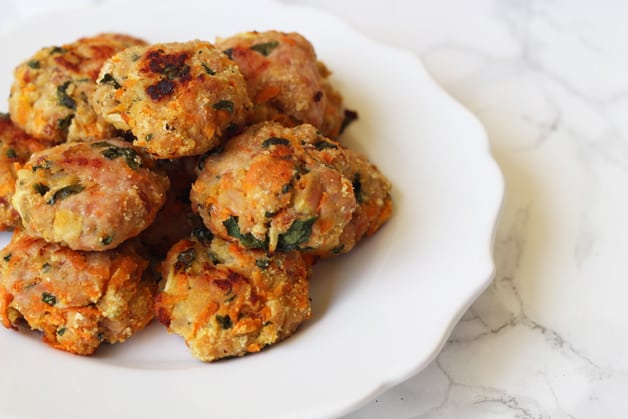 Ingredients for 5 servings:
1 1/4lb ground chicken
1 1/4 cup shredded sweet potato
1/2 cup spinach, finely chopped
1/2 cup apple, finely diced
3 slices of bacon, finely diced
2 tbsp + 2 tsp coconut oil
2 tbsp + 2 tsp coconut flour
1 tsp ground sage
1/2 tsp sea salt
1 tsp rosemary
Find the full recipe & instructions here!
Lunch- Beef & Broccoli Meal Prep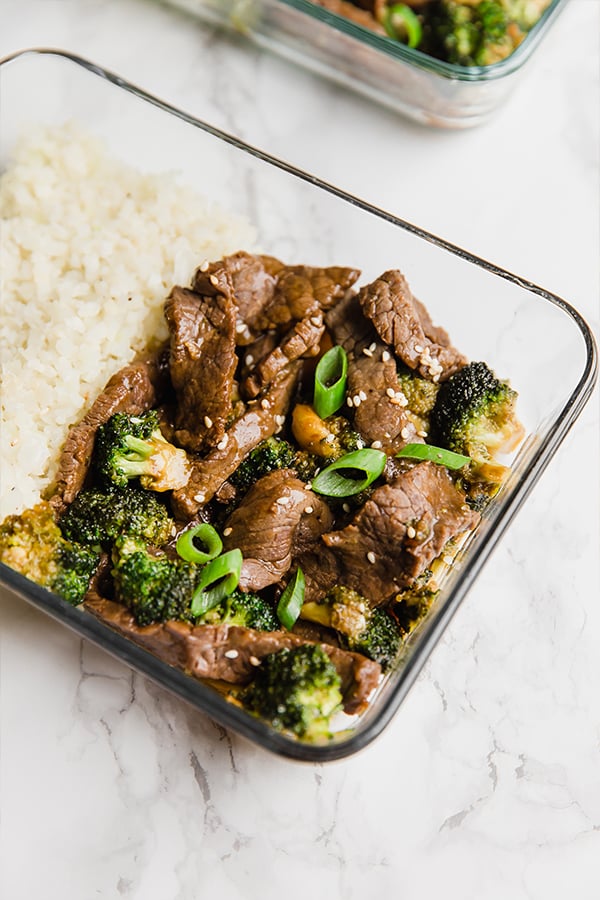 Ingredients for 5 servings-
1 1/4lb flank steak
1 tsp sea salt, divided
1/4 tsp black pepper
1/2 cup+ 2 tbsp coconut aminos
2 tbsp lime juice
2 tsp coconut sugar
1 tbsp arrowroot starch
4 tbsp avocado oil, divided
5 cups cauliflower, riced
5 cups broccoli florets
3 cloves garlic, minced
1thumb ginger, grated
Find the full recipe & instructions here!
Dinner- Egg Roll Soup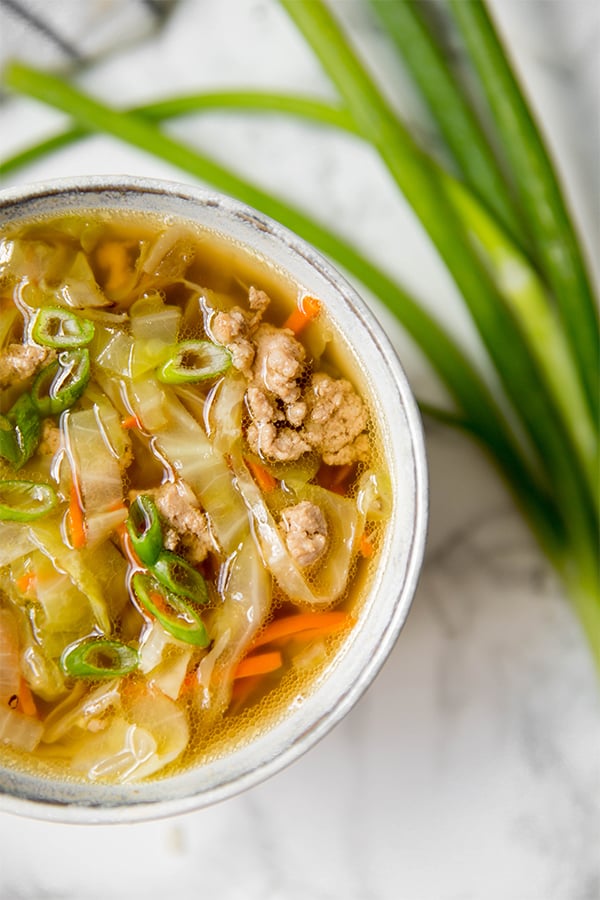 Ingredients for 5 servings-
1lb ground pork
2 tbsp coconut oil
1 white onion, diced
1 cup carrots, shredded
1 small green cabbage, sliced into strips
6 cups chicken broth
1 tbsp coconut aminos
1 tsp garlic powder
1 tsp ginger powder
1/2–1 tsp sea salt
2 tbsp green onion, chopped
Find the full recipe & instructions here!
Snack- Grain-Free Granola Bars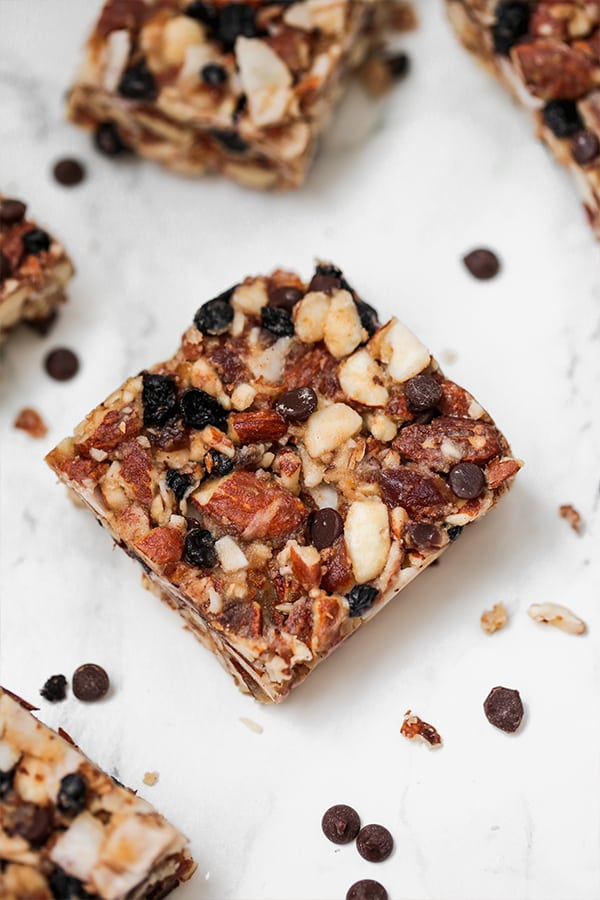 The Ingredients for 5+ servings:
8 dates, pitted
2 cups almonds
1 cup coconut chips
1/3 cup coconut butter, melted
1/4 cup coconut oil, melted
2 tbsp maple syrup
1/4 cup dried blueberries
2 tbsp dairy-free chocolate chips
4 tbsp collagen
1 tsp cinnamon
Find the full recipe & instructions here!
The Shopping List
Produce
1 1/4 cup sweet potato (about 1 medium sweet potato)
1/2 cup spinach
1/2 cup apple (about 1 apple)
1 white onion
1 bag shredded carrots
1 small green cabbage
1 lime
2 bags sprouts cauliflower rice (frozen section)
5 cups broccoli florets (about 2 heads of broccoli)
3 cloves garlic
1 thumb ginger
1 tsp rosemary
Pantry & Bulk Items
Collagen peptides
8 dates, pitted
2 cups raw almonds
1 cup coconut chips
Maple syrup
1/4 cup dried blueberries
Dairy-free chocolate chips
Coconut flour
Coconut butter
Arrowroot starch
Sprouts Coconut oil
Sprouts Avocado oil
Coconut aminos
Ground sage
Ginger powder
Garlic powder
Ground cinnamon
Salt
Pepper
Chicken broth (6 cups)
Proteins 
1 lb ground pork
1 1/4 lb ground chicken
1 1/4 lb flank steak
3 slices bacon
Meal Prep Plan
Prep the vegetables and fruit. Get the sweet potato shredded, dice the apple and onion, get the cabbage sliced, chop the broccoli florets, and do any other produce prep. This will help make the rest of the process go easier!
Prep and bake the breakfast poppers. The poppers are easy to mix in one bowl! Form them into poppers and bake in them in the oven.
Cook the soup and beef and broccoli on the stovetop. The soup and beef and broccoli are both easy one-pan meals, so all you'll need is two burners! Start with the soup, and then cook the beef and broccoli while the soup simmers.
Prep the granola bars and refrigerate. Get the ingredients combined and store in these no-bake bars in the fridge to set.
Store everything in glass and you're good to go! 
I hope that the sample meal prep plan was helpful! Let me know if you try it out!
Also, don't forget that there's a special contest going on right now that ends Thursday, Jan 16th! You can win groceries for a year from Sprouts! To enter, text "Sprouts" to 777688. Plus you'll get other special deals and promotions, too. Find the details here!