This recipe contains affiliate links.
These DIY apple cider vinegar power shots are a nutrient powerhouse! They make perfect DIY gifts and are a must-have to store in your fridge. They're sugar-free and are easy to make at home!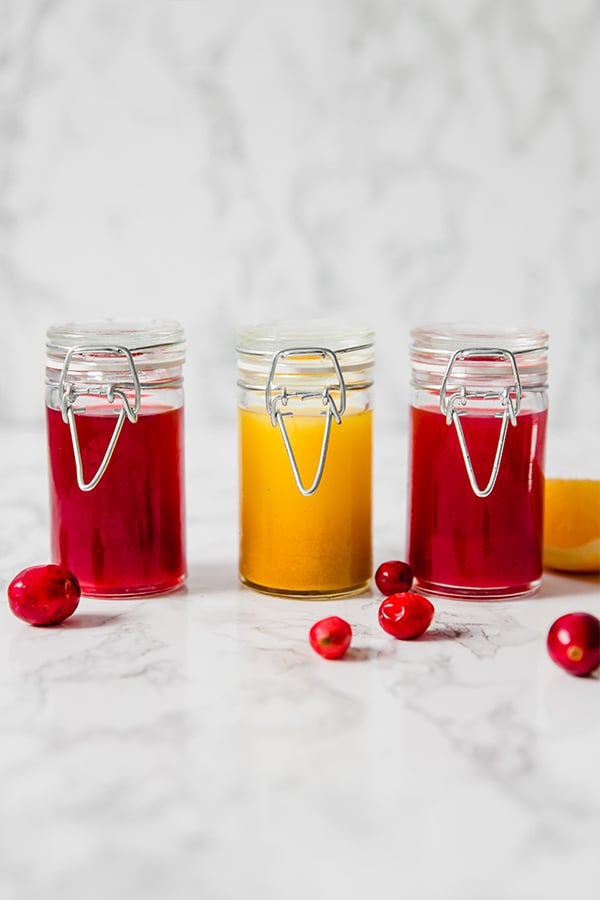 Health enthusiasts love apple cider vinegar. And what's not to love? Taking shots of apple cider vinegar has been popular for quite some time and is only continuing to grow in popularity as it picks up on social media. So why not make it a fun DIY gift, and add some extra flavor with these DIY Apple Cider Vinegar Power Shots?!
These apple cider vinegar power shots make the perfect little gift for that health enthusiast in your life. Maybe your sister is new to a healthy diet, maybe your work bestie is a runner, or maybe you want to give a little gift to your yoga teacher? Whoever it is, they'll love these cute and customizable little shots!
But these shots can be so much more than just a one time gift. They're an all-around great recipe to make for yourself any time of year to experience the myriad of benefits of apple cider vinegar! So, what are they?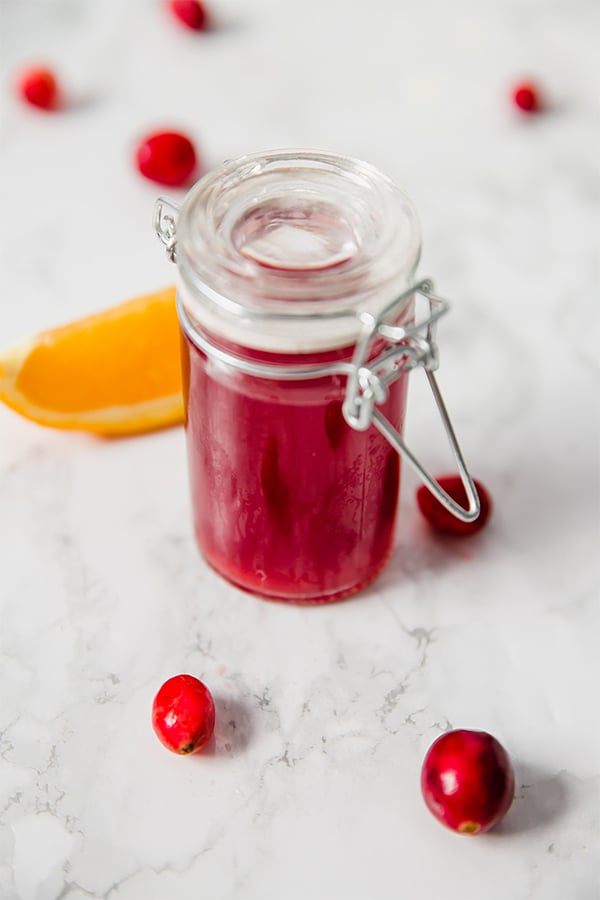 Benefits of Apple Cider Vinegar
It's a fermented food rich with probiotics!
ACV is fermented, thus is has probiotic benefits that help feed your good gut bacteria.
It supports digestion.
Taking one of these shots in water before a meal can help boost your gastric juices which allows you to better absorb nutrients from your food.
It has many topical benefits.
This particular recipe is for consumption, but ACV has tons of topical uses as well. It works great as a toner for your skin, and I use it to remove product build up from my hair with this ACV hair wash!
Very Important… You Must Dilute These Shots in Water!
This is a very important note about these shots, and every ACV shot… YOU MUST DILUTE IT. You cannot take ACV straight or it will burn your esophagus and cause inflammation.
These shots are a bit more diluted as they're flavored with other juices and not just straight ACV, however, they still need to be diluted. You can make it nice and fancy with sparkling water, or keep it simple with still water.
Now that that's out of the way… let's talk about the flavors of these shots!
The Flavors of These Shots…
These DIY ACV shots are not just straight ACV! They're flavored with other fruits and spices to add more flavor and nutrients!  While fruit juice in excess isn't necessarily a health food, these shots only feature a few tablespoons of fresh juice and no added sugar.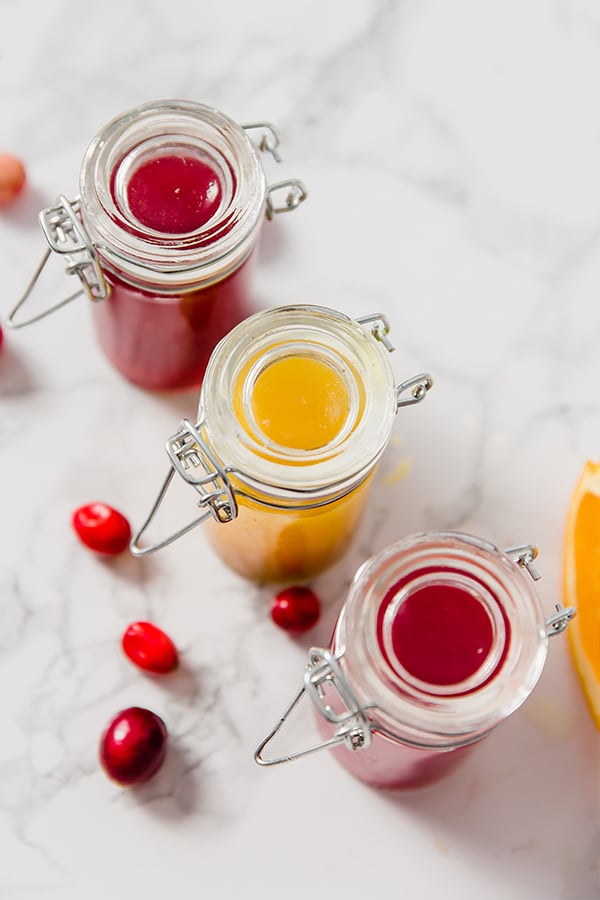 From left to right in the photo above…
Orange Cranberry. A classic flavor combination for this time of year!
Orange Turmeric Ginger. Turmeric and ginger are anti-inflammatory powerhouses that pair perfectly with the benefits of ACV.
Pomegranate Lemon. Pomegranate juice is super nutrient dense and antioxidant rich. The lemon flavor pairs well with the pomegranate and ACV.
Print
DIY Gift Apple Cider Vinger Shots
---
Author:

Prep Time:

5

Total Time:

5

Yield:

1 shot

Category:

Drink

Cuisine:

Global
Description
These DIY apple cider vinegar power shots are a nutrient powerhouse! They make perfect DIY gifts and are a must-have to store in your fridge. They're sugar-free and are easy to make at home!
---
Ingredients
For the orange turmeric ginger
1 tbsp apple cider vinegar
4 tbsp orange juice
1/4 tsp turmeric powder
1/4 tsp ginger powder
Pinch of black pepper (omit for AIP)
For the orange cranberry
1 tbsp apple cider vinegar
2 tbsp orange juice
2 tbsp cranberry juice
For the pomegranate lemon
1 tbsp apple cider vinegar
1 tbsp lemon juice
3 tbsp pomegranate juice
To serve
---
Instructions
Combine the ingredients in a small glass jar with a lid (like this). Scale the recipe up to fill multiple jars.
Store in the fridge and save for yourself or gift to friends.
Important – you must dilute each shot in 6-8 oz of regular water or sparkling water!
Keywords: apple cider vinegar shot, acv shot