DIY Collagen Hot Cocoa Mix & Peppermint Marshmallow Gift Jars (Paleo & AIP)
Thank you Vital Proteins for sponsoring this post! All opinions are my own.
This DIY collagen hot cocoa mix with peppermint marshmallows is the perfect gift to give to friends and coworkers, or keep for yourself! It's paleo, AIP, and simple to make at home.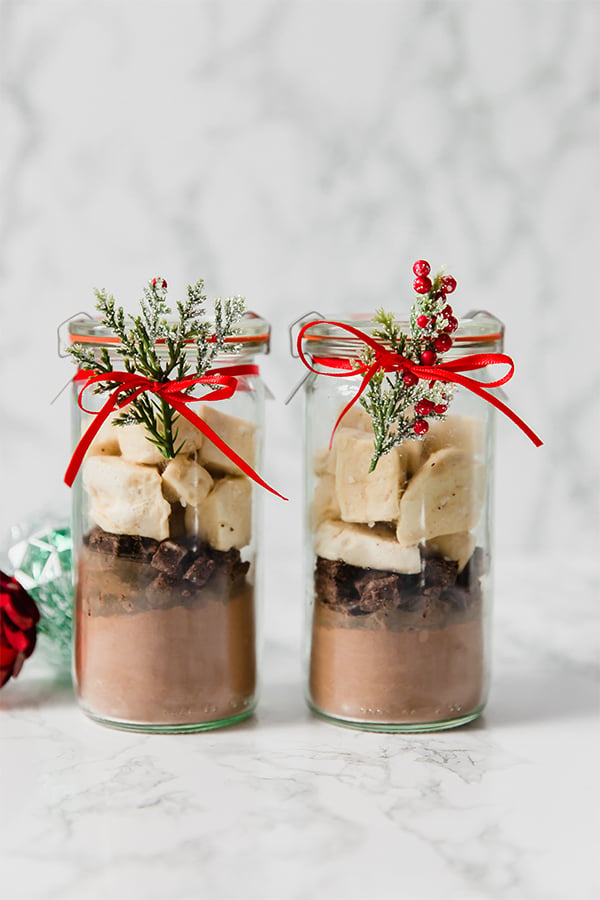 It's not the holidays without a big mug of hot cocoa, am I right? Hot cocoa just strikes a chord with everyone this time of year. It's fun, comforting, warming, and just straight up delicious. Hot cocoa packs are perfect gifts to grab at a drug store and pass out to friends for easy holiday gifts, but what if you want something that's a bit more personalized, and allergen-friendly?
This DIY collagen hot cocoa mix with peppermint marshmallows is the perfect gift for both your friends who are healthy food lovers and even those who aren't as into healthy food and just love a yummy treat. It's packed with superfoods but is fun and tasty enough for everyone to love.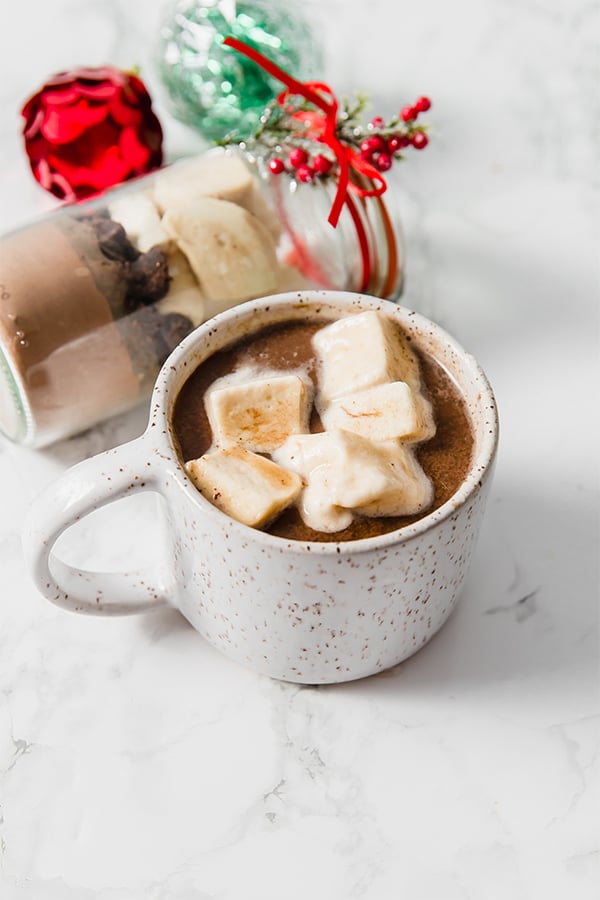 What You'll Need For the DIY Hot Cocoa Mix & Peppermint Marshmallows
Cocoa powder (or carob for AIP)
Use a high-quality cocoa powder of your choice, or use carob powder if you're following AIP.
Coconut sugar
Since this is a dry mix that is stored in a jar, we're using a dry sweetener rather than one like maple syrup or honey. You can also use maple sugar in place of coconut sugar.
Vital Proteins Collagen
This isn't just any hot cocoa mix… it's a collagen boosted hot cocoa with Vital Proteins Collagen! I'm never without this collagen, and I love how easily it dissolves in hot liquid, like this hot cocoa. It's the perfect superfood to just slip into a hot cocoa mix 😉
I use Vital Proteins in recipes like hot drinks, warm soups, and even baked goods. It ups the protein content of any dish and it comes with the added benefit of supporting your hair, skin, nail, and gut health.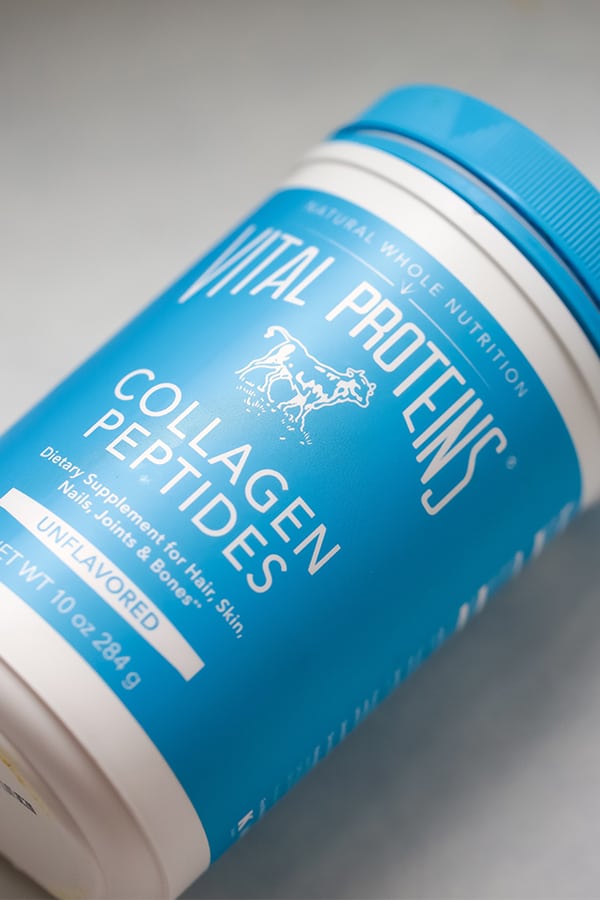 Honey, water, Vital Proteins Gelatin, and peppermint extract
These are the ingredients to make the marshmallows! Marshmallows are easily made with minimal ingredients, including Vital Proteins Gelatin (which is different than collagen) and honey. To make marshmallows, you need a full cup of honey. You can't scale back the amount in the recipe, but you can moderate your sugar intake by choosing to use fewer marshmallows.
Though gelatin and collagen are made from the same source and have similar benefits, they cannot be swapped for each other. Collagen will dissolve in liquid, thus why it's in the hot cocoa mix and gelatin will make recipes gelatinous like gummies and marshmallows! They each have a very unique result and both are needed.
Dairy-free chocolate chips (or AIP swap)
You can use dairy and soy free chocolate chips, or you can use my recipe for Hannukah Gelt and just use a different mold and chop it into carob chunks!
Glass jars
I used larger, 11 oz jars for this recipe, but you can easily use any sized jar you like and just adjust the amounts you add!
Ribbon and other decorations for the jars
You can make this as fancy or as simple as you'd like! I just went to a local craft store and bought some red ribbon and other decorations to make the jars look cute.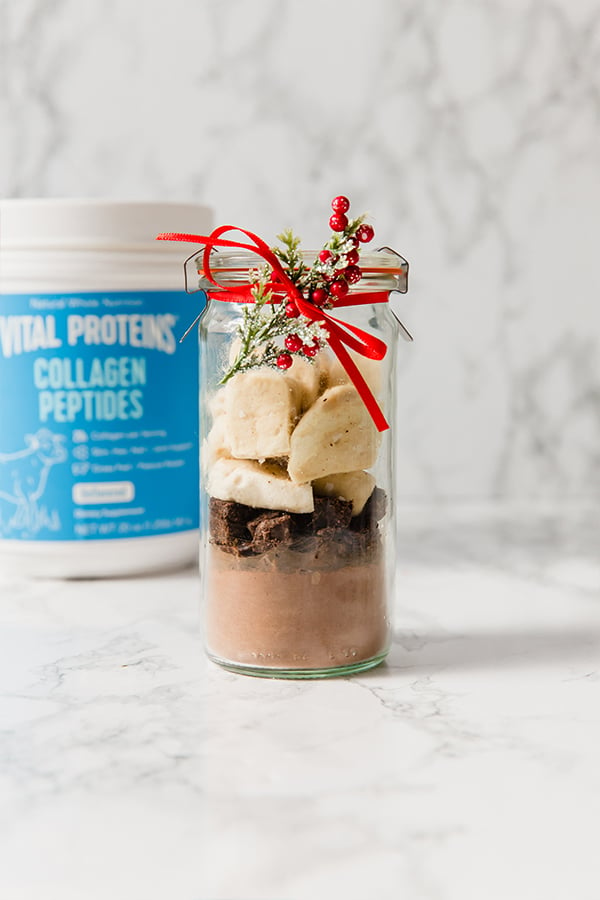 Video Tutorial
Print
DIY Collagen Hot Cocoa & Peppermint Marshmallow Gift Jars (Paleo & AIP)
---
For the hot cocoa mix 
For the peppermint marshmallows
1 cup water (divided)
3 tbsp Vital Proteins Gelatin
1 cup honey
1/2 tsp peppermint extract
2–3 tbsp arrowroot starch
For assembling the jars
4–8 tbsp dairy free chocolate chips (sub this recipe and use a rectangular glass mold to chop into chunks for AIP)
4 eleven oz glass jars (or 8 five–six oz jars)
---
Instructions
For the hot cocoa mix
Combine all of the ingredients in a large mixing bowl. Mix well until there are no clumps of coconut sugar or cocoa powder. Set aside.
For the peppermint marshmallows
Prepare an 8×8″ (or slightly larger) baking pan by lining with parchment paper and coat with arrowroot starch.
Pour 1/2 cup of water into a small bowl and sprinkle the gelatin over top. Stir gently to ensure the gelatin is combined. Set aside.
Using a medium-sized pot slowly heat the honey combined with the other 1/2 cup of water. Slowly bring the temperature to 235-240 F degrees on low heat. Remove from heat immediately once the mixture comes to temperature.
Slowly add in the honey mixture into gelatin mixture as you whisking with either with an electric hand mixer or in a stand mixer. Continue whisking for 10-12 minutes. Add the peppermint extract towards the very end. The marshmallow mixture should be lukewarm, thick, and marshmallow peaks should start to form.
Pour the mixture into the prepared pan and place in the fridge to harden for at least 4 hours.
After the marshmallow solidifies, carefully remove from the pan and place on a cutting board. Use a sharp knife to slice into small squares. Add more arrowroot starch as needed while slicing.
Store the marshmallows in the fridge.
To assemble the jars
Divide the hot cocoa mix among the jars and layer in the chocolate chips and marshmallows. Decorate as desired and store in the fridge before gifting.
To make the hot cocoa
Combine 2 tbsp of the hot cocoa mix with 8 oz of non-dairy milk. Top with chocolate chips and marshmallows.
Notes
All nutritional information are estimates and will vary.
Nutrition
Serving Size: 1 jar
Calories: 869
Fat: 7.6g
Carbohydrates: 195.6g
Fiber: 7.3g
Protein: 20.3g