Baked Avocado Fries (Paleo, AIP, Vegan)
This post contains affiliate links.
These crispy avocado fries are the perfect snack! They're paleo, gluten free, nut free, egg free, AIP, and vegan.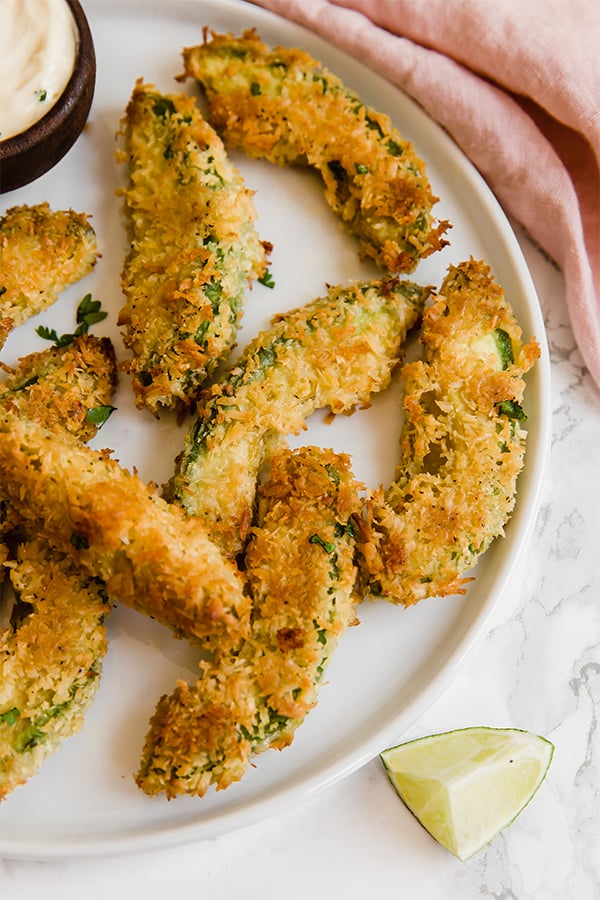 Have you ever heard of fried avocado? Or avocado fries? I've always been intrigued by the idea! Really, anything that's a fry I'm game for, but avocado? Sign me up! Avocado is a huge part of most peoples diets who follow something like a gluten-free, paleo, or vegan lifestyle these days and for good reason! It's delicious.
I've done a lot of research on avocado fries, and if they're not made in a fryer with a traditional flour and egg batter, they're usually made with either almond flour, or still with eggs. What about everyone who is egg and nut free? I've got the perfect baked avocado fries for you that paleo, AIP, and vegan!
So, how do you make avocado fries without breadcrumbs and eggs?
Coat them in arrowroot starch. This helps give it a crispy base to build off of.
Dip them in coconut milk. This makes the coating stick.
Coat them again in shredded coconut. Yes, coconut! Coconut isn't actually a nut, but a fruit, so those with nut allergies (like myself) can often tolerate it.
That's it! No grains, no nuts, and no eggs. Yes, it works! Yes, it's super yummy!
How do you make avocado fries in the oven?
Avocado fries in the oven are really easy! All you have to do is make sure they're evenly spaced, and add lots of oil so they get a nice crisp. You'll definitely want to use parchment paper to keep them from sticking to the baking sheet.
I haven't tried to make this recipe in an air fryer, but trust me, they taste really great baked!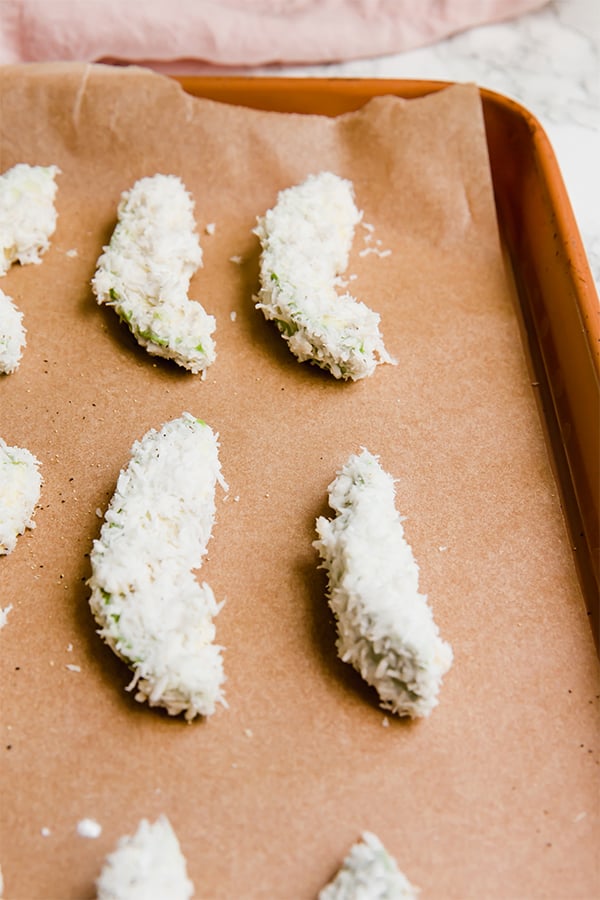 What do you eat with avocado fries?
Avocado fries are a great side dish for something like a burrito bowl! They taste great dipped in chipotle mayo, cilantro lime mayo, or a salsa.
What is the texture like for avocado fries?
I was very skeptical about the texture of fried avocado, but the texture of these fries is so good! They're crispy on the outside and nice and soft and creamy on the inside.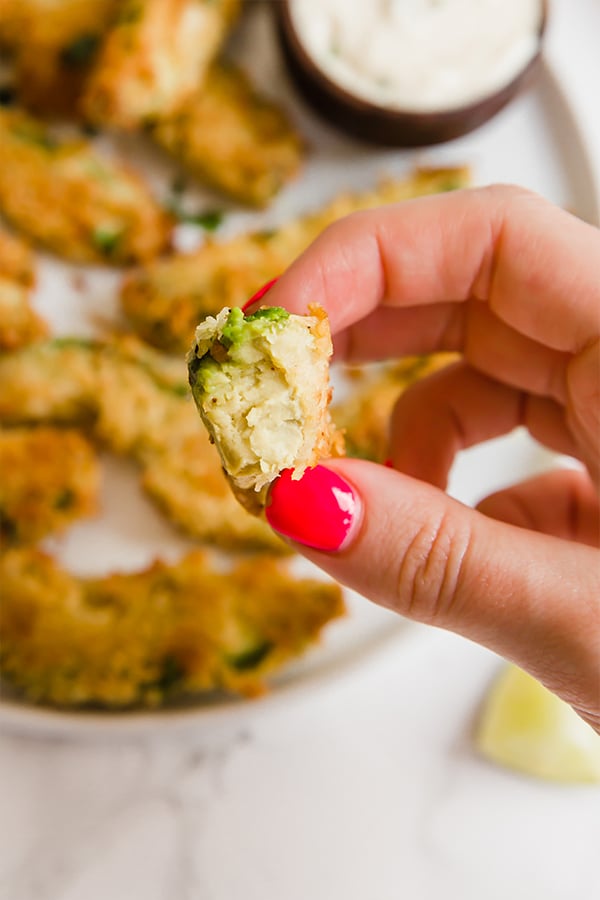 The Ingredients for the Avocado Fries
Avocado
Getting avocados that are the right stage of ripeness is crucial! You want avocados that are just barely ripe, and not necessarily soft yet. They're easier to work with this way and will soften in the oven.
Arrowroot starch
Coating the fries in arrowroot first helps to give them a nice crisp base. I haven't tried any other flours, but the best swap would likely be tapioca starch.
Coconut Milk
Coconut milk helps the shredded coconut stick. It essentially acts as the egg would in a recipe like this.
Shredded Coconut
Make sure to use unsweetened coconut that's finely shredded!
Garlic powder, salt, and pepper
You can add more spice and flavor to this recipe by adding onion powder, or other spices that you like.
Avocado oil
Avocado oil helps to really crisp these up!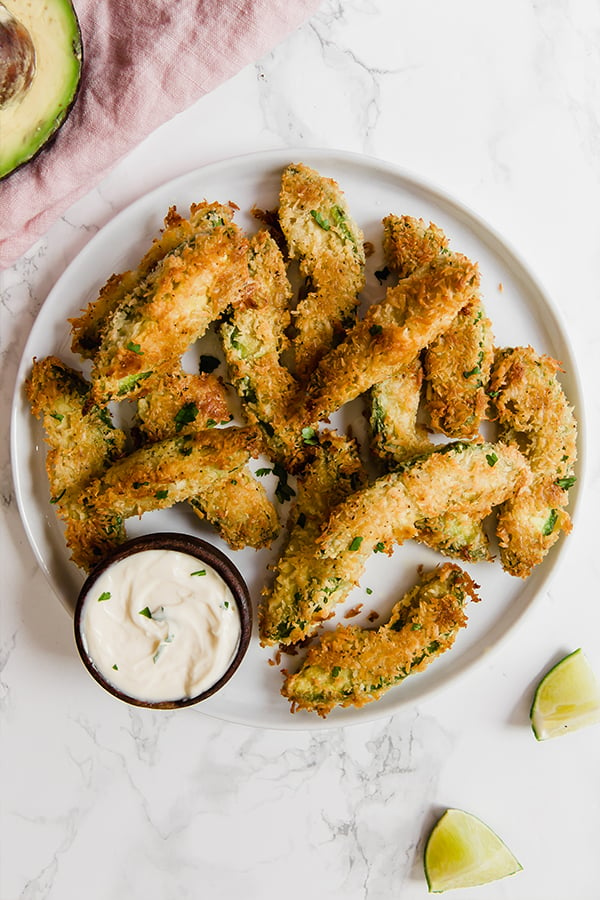 You'll also love…
Print
Avocado Fries (Paleo, AIP, Vegan)
---
Author:
Total Time: 35 minutes
Yield: 3 servings 1x
Description
These crispy avocado fries are the perfect snack! They're paleo, gluten free, nut free, egg free, AIP, and vegan.
---
1 1/2 avocado, barely ripe
1/4 cup arrowroot starch
1/3 cup coconut milk
3/4 cup shredded coconut
1 tsp sea salt
1/4 tsp black pepper (omit for AIP)
2 tsp garlic powder
2 tbsp avocado oil
1 tbsp cilantro, chopped
Juice of half a lime juice
Dipping sauce (optional)
1/3 cup compliant mayo (use this for AIP)
2 tsp cilantro, chopped
Juice of half a lime juice
---
Instructions
Preheat the oven to 375 F and line a baking sheet with parchment paper.
Using a sharp knife, carefully cut the avocado in half, and then into fourths.
Carefully peel back the skin and slice the avocado in fries/spears. Set aside.
Prepare a station to coat the fries with a bowl of arrowroot starch, a bowl of coconut milk, and a bowl with the shredded coconut, salt, black pepper, and garlic powder.
Dip an avocado piece in the arrowroot starch and rotate to coat. Next, submerge it in the coconut milk and allow the excess milk to drip off. Finally, coat it in the coconut mixture. Place on the baking sheet and repeat with all of the avocado slices.
Drizzle the avocado oil onto the avocado slices and bake in the preheated oven for 13-15 minutes, carefully rotating about 8 minutes in.
Remove from the oven and top with fresh cilantro and lime juice.
Combine the ingredients for the optional dipping sauce and serve together, or serve the fries by themselves.
Notes
All nutrition facts are estimations.
The photos of this recipe and all written content on my website are copyright protected and cannot be copied or shared. Please do not copy this recipe or photos and share it on your own website, Instagram, or other written materials. If you'd like to feature a photo in a roundup, please contact me. If you'd like to tell people about this recipe on social media, your own website, or elsewhere please link back to the recipe here rather than copy and pasting.  Thank you so much!!
Prep Time: 20
Cook Time: 15
Category: Sides
Method: Baked
Cuisine: American
Nutrition
Serving Size: 1 serving
Calories: 225
Fat: 17.9g
Carbohydrates: 18.3g
Fiber: 1.2g
Protein: 1.2g