No Mayo Potato Salad (Paleo, Whole30, AIP)
This easy potato salad made without mayo is perfect for picnics, cookouts, and potlucks. It's paleo, whole30, and AIP compliant.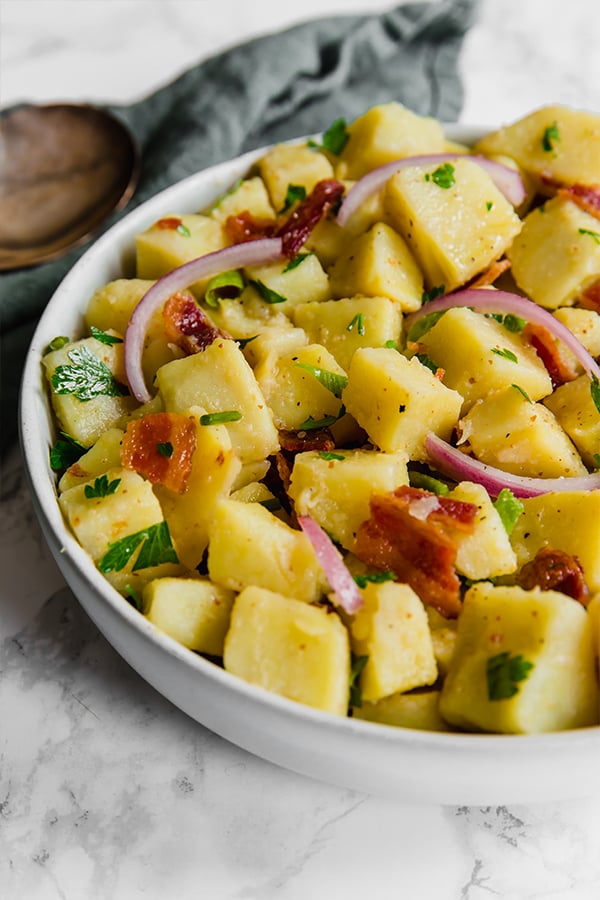 It's not summer without potato salad! Seriously, who doesn't love a good potato salad? Not all potato salads are good, but when they are, it's really good. With the right herbs, a good dressing, and of course, bacon, it's a seriously good side dish.
Most potato salads that you'll find at a cookout are going to be made with mayonnaise, and likely not good mayo either. It almost seems like you wouldn't be able to make a good potato salad without it, but I promise it's possible!
This no mayo potato salad is made with a delicious and easy dressing and is versatile enough to be made AIP, paleo, and whole30. You can even omit the bacon to make it vegan and vegetarian!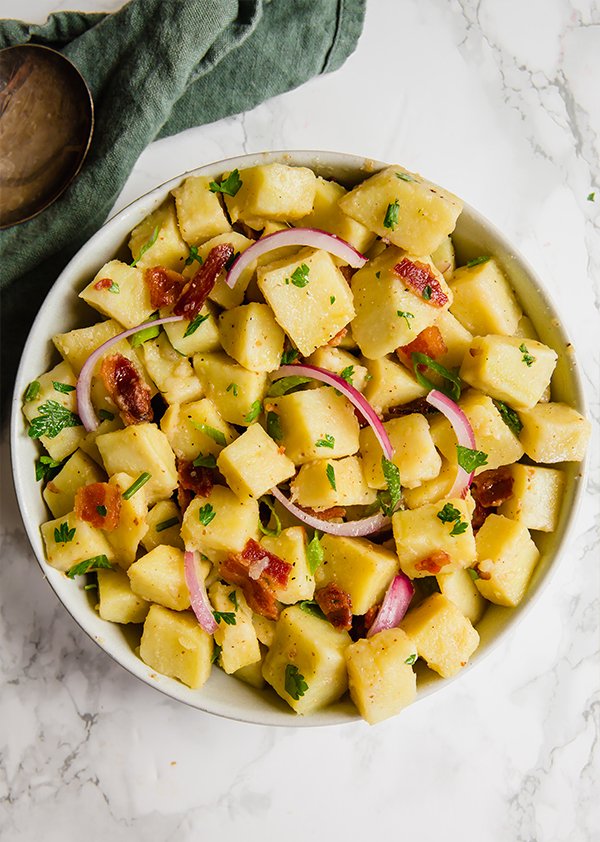 Can you eat this potato salad cold, or warm?
I think that it's best cold as a yummy side at a picnic or barbeque, but you can easily eat it slightly warm as well.
How long does this potato salad keep in the fridge?
It's best eaten within a day or so, but it will keep for up to two days… if you can wait that long!
So, why no mayo in the potato salad? What do you use as a dressing?
Well first, it's fun to mix it up from the typical potato salad with mayo! Regardless of whether or not you can tolerate mayo, having something different is always nice.
However, a lot of people (myself included) have egg intolerances and avoid mayo. That doesn't mean that you can't enjoy potato salad! This potato salad is similar to a German potato salad that's made with olive oil, red wine vinegar, and mustard. You can easily omit the mustard if you're AIP.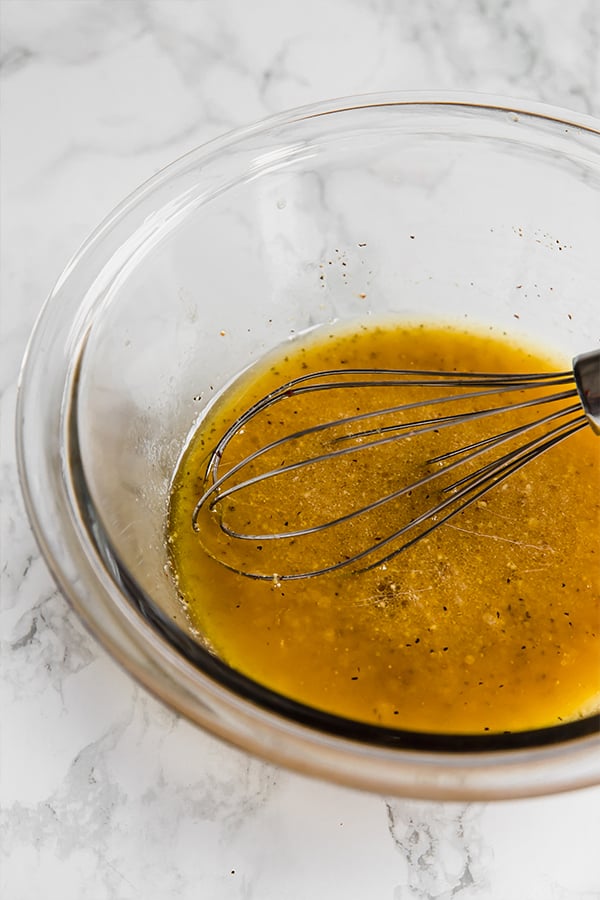 The Ingredients You'll Need for the No Mayo Potato Salad
White potato or white sweet potato for AIP
I use Hannah white sweet potatoes to keep this potato salad nightshade free and AIP, and that is what is shown in the photos. Look like the real deal, right? However, if you can tolerate potatoes, something like red potatoes would be great in this recipe.
Olive oil, red wine vinegar, and dijon mustard
This dressing is the substitute for the mayo in this recipe. If you're AIP, you can easily leave out the mustard. It's just as yummy without!
Red onion
These add a nice crunch to the potato salad.
Bacon
The smokey bacon flavor really elevates this potato salad and helps to make it more satiating. However, you can keep this potato salad vegan and vegetarian by leaving out the bacon.
Parsley, green onion & chives
These fresh herbs add a lot of freshness to the potato salad.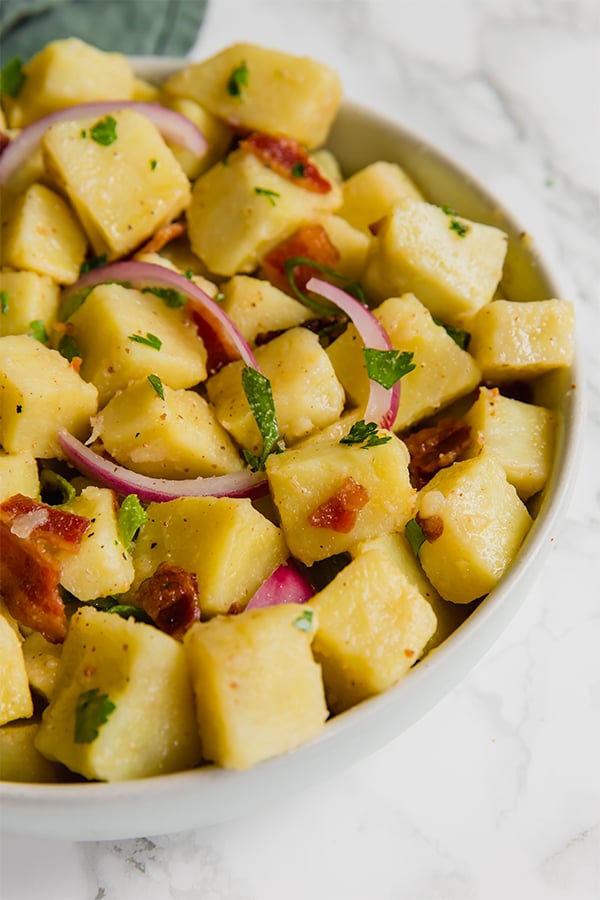 You'll also love…
Print
No Mayo Potato Salad (Paleo, Whole30, AIP)
---
Author:
Total Time: 35 minutes
Description
This easy potato salad is made without mayo! It's paleo, whole30, and AIP compliant.
---
2 lbs Hannah sweet potato, chopped (see notes)
1/2 red onion, sliced
4 slices bacon, cooked and chopped
2 tbsp parsley, chopped
2 tbsp green onion, chopped
2 tsp chives, chopped
1/2 cup olive oil
1/4 cup red wine vinegar
1 tbsp compliant dijon mustard (omit for AIP)
1/2 tsp sea salt
1/4 tsp black pepper (omit for AIP)
---
Instructions
Fill a large pot two-thirds of the way with water and bring to a low boil. Lightly salt the water.
Add the chopped sweet potato/potato and cook for 12-15 minutes or until fork tender.
Strain well and set aside to cool.
Using a large mixing bowl, combine the sweet potato/potato, red onion, bacon, and herbs. Set aside.
Combine the olive oil, red wine vinegar, mustard, salt, and pepper in a small bowl and whisk well to combine.
Pour the dressing mixture into the potato salad mixture and mix well to combine.
Serve chilled (or slightly warm) and enjoy!
Notes
For AIP, I recommend Hannah white sweet potatoes. Orange sweet potatoes will also work. If you tolerate potatoes, you can use something like red potatoes.
Prep Time: 20
Cook Time: 15
Category: Sides
Method: stove top
Cuisine: American