Baked Prosciutto Wrapped Chicken Saltimbocca (Paleo, Whole30, Keto, AIP)
This baked prosciutto wrapped chicken is next level delicious. It's paleo, whole30, keto, and AIP.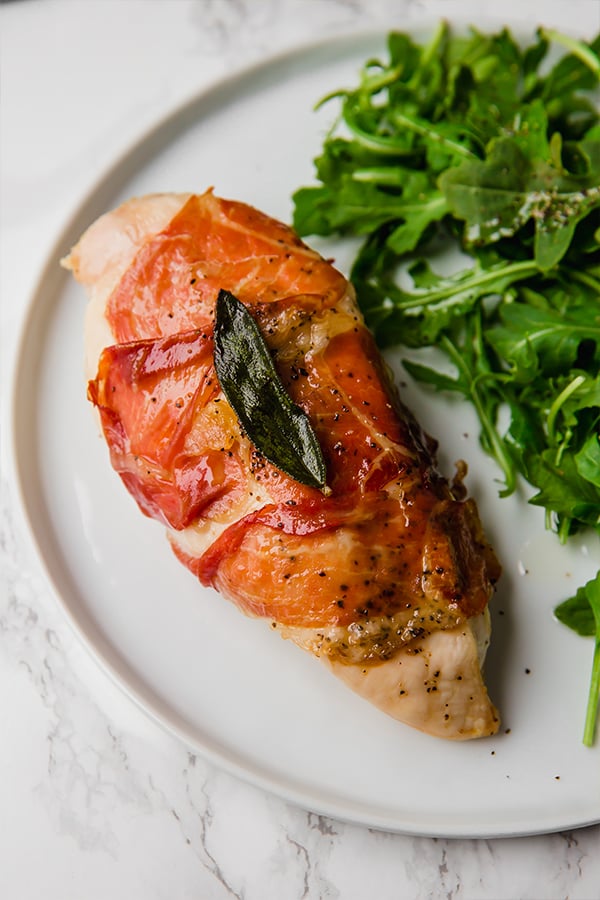 It's pretty widely accepted that if you wrap anything in bacon, it's going to taste better! Dates, asparagus, shrimp, you name it. The same thing goes for prosciutto! Proscuitto is an Italian thinly sliced dry-cured ham, and it's just as yummy as bacon. When you get good prosciutto, it's buttery, soft, and melts in your mouth. And that's just when you eat it straight… after you crisp it in the oven or in a pan, it instantly becomes more delicious!
Prosciutto has always been a favorite of mine, and that's why I've always been drawn to chicken saltimbocca. It's essentially prosciutto-wrapped chicken that's topped with crispy sage, and sometimes cheese. Of course, it tastes yummy with cheese, but you really don't need it… there's so much flavor without it!
This paleo version of chicken saltimbocca is made dairy-free but still sticks to basics of what makes this dish so yummy. It's crispy, flavorful, and quite easy to make.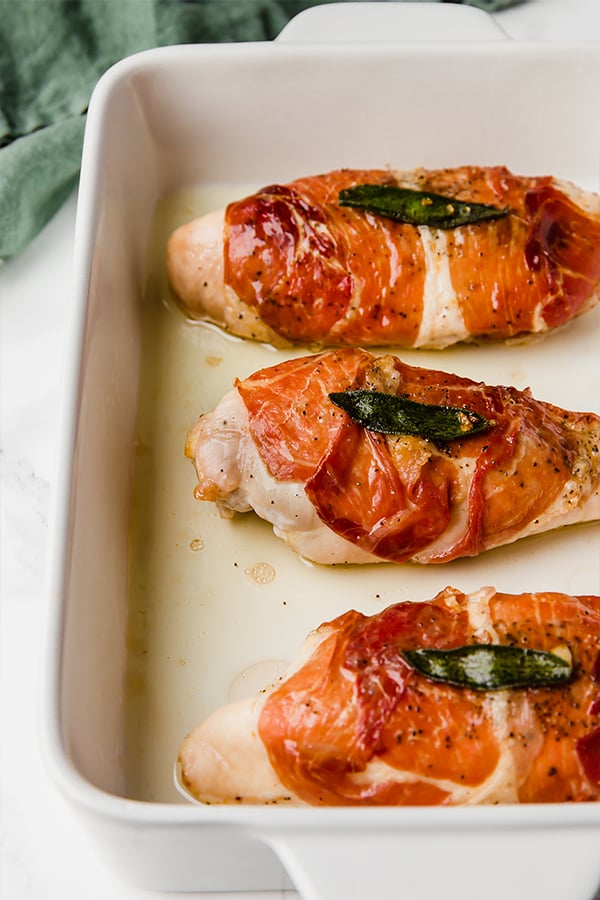 This prosciutto wrapped chicken tastes so yummy by itself! But if you're looking for a side dish to have with it, I suggest a simple side salad, an Italian vegetable medley, something like these zucchini fries, or oven baked artichokes.
How to Make Prosciutto Wrapped Chicken
Add salt and pepper to the chicken breasts on both sides
Wrap the chicken breasts in 2-3 slices of prosciutto and top with extra pepper and avocado oil
Bake in the oven until fully cooked
Crisp sage in a pan and top chicken with crispy sage and lemon juice
Tips & Tricks for Great Prosciutto Wrapped Chicken
Use good quality chicken breast
This can make all of the difference between have a juicy chicken breast or a dry one. I love using pastured chicken breast when I can access it.
Salt to taste
The amount of salt you use will vary depending on the prosciutto you use, so be sure to taste it and salt further to taste.
The Ingredient's You'll Need for the Prosciutto Wrapped Chicken
Chicken breast
You can also use thighs, but I'm used to just classic chicken breast and prosciutto. I suggest using about 1.5 lbs for this recipe, but you can easily scale up or down.
Prosciutto
The quality of prosciutto that you use in this dish does really matter. Poor quality prosciutto can be a little bland and stringy, when a better quality one is buttery and crisps up amazingly! My favorite prosciutto to get it La Quercia and I always find it at whole foods. Of course, other brands will work, as long as they taste good!
Olive oil & lemon
The acid of the lemon really adds a pop to this dish.
Garlic & sage
You'll actually crisp the fresh sage in this dish. When I made it for my husband he was confused as to whether or not he was supposed to eat it, like a dried bay leaf. Yes, you most definitely want to eat the sage!! It's so yummy!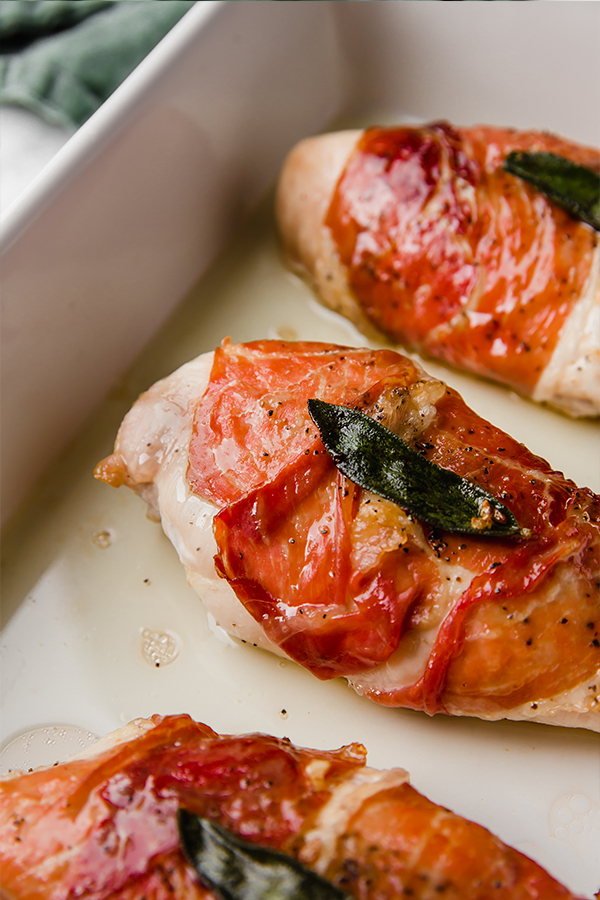 If you like this recipe, you may also like…
Print
Baked Prosciutto Wrapped Chicken Saltimbocca (Paleo, Whole30, Keto, AIP)
---
Author:
Total Time: 40 minutes
Yield: 3-4 servings 1x
1.5 lb chicken breast (about 3 chicken breasts)
1/4–1/3 tsp salt (salt further to taste, see notes)
1/4–1/3 tsp black pepper (omit for AIP)
6–9 slices of prosciutto
3 tbsp avocado oil
2 tbsp olive oil
2 cloves garlic, minced
3–4 fresh sage leaves
Juice of 1/2 a fresh lemon
---
Instructions
Preheat the oven to 415 F and line a baking dish with parchment paper. Set aside.
Using a clean surface, lightly season the chicken breast and wrap in 2-3 slices of prosciutto, making sure to evenly disperse. Top with additional seasoning.
Set the chicken in the baking dish and top with avocado oil, salt, and pepper.
Bake in the preheated oven for 30 minutes or until the prosciutto is crispy, and the chicken is an internal temperature of 165 F.
Remove from the oven and set aside.
Using a small saute pan, heat the olive oil on low heat.
Add the garlic and lightly saute until fragrant.
Add the sage leaves to the saute pan and cook for 1-2 minutes on each side to lightly crisp the sage.
Pour the olive oil, garlic and sage over the chicken and top with fresh lemon juice. Serve warm.
Notes
The amount of salt you use will vary depending on how salty the prosciutto is. I recommend tasting the prosciutto beforehand to gauge how much salt you'll need.
All nutritional facts are estimations and may vary.
Prep Time: 10
Cook Time: 30
Category: Main Dish
Method: Baked
Cuisine: Italian
Nutrition
Serving Size: 1 serving
Calories: 467
Fat: 25.7g
Carbohydrates: 1.3g
Fiber: 0.3g
Protein: 55.2g