Baked Onion Rings (Paleo, Vegan, AIP)
These baked onion rings are the real deal! They're paleo, AIP & even egg free and vegan-friendly.
Healthy, healing and nourishing foods always come first when you're on a health journey. But, if you can make compliant and better versions of junk food and treats that you used to love, I am all about that too! Yes, food is nourishment, but food is fun too! And when I think of fun foods, onion rings are pretty high on my list.
I've tried to make an egg free, grain free, nut free version of onion rings for a while now and have failed several times. I've tried to fry lots of battered onion rings that have just come out gummy and not at all crispy. So I really dove into my onion ring research and discovered tons of recipes for potato chip crusted onion rings! That's when I realized that I could totally replicate that to be paleo, AIP and vegan.
These onion rings are coated in dairy-free milk, battered in grain free flour, and nightshade free plantain chips, and then are baked for a no-mess snack. Yes, yes, and yes.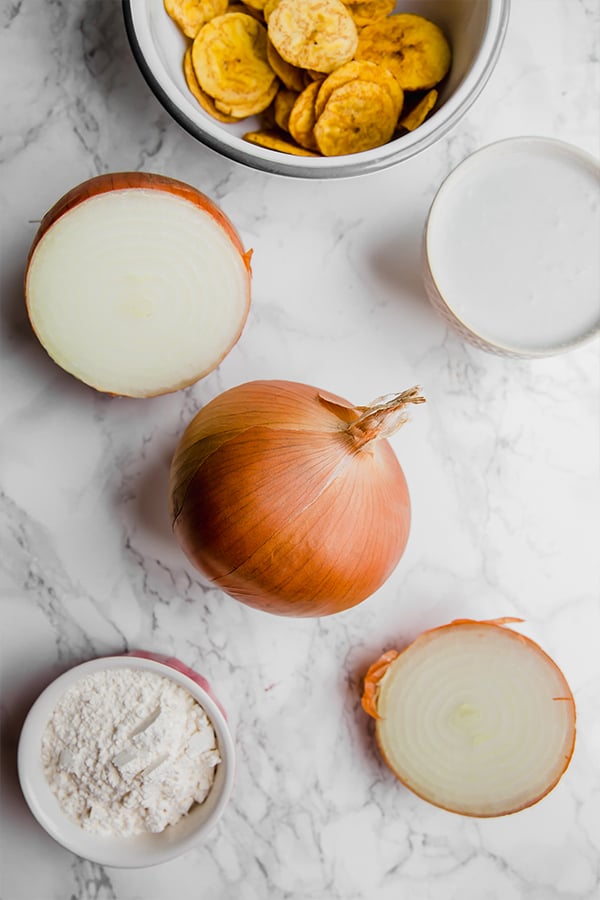 The Ingredients for the Baked Onion Rings
Yellow onions
These are the best onions to use for onion rings. Save the skins to make bone broth later!
Coconut milk
This is a dairy and nut free milk that basically acts as an egg would in traditional onion rings to help the batter stick. I use native forest canned simple coconut milk or Thrive Market brand canned coconut milk. You can likely use almond milk as well.
Cassava flour
Cassava is a great all-purpose flour substitute that is also grain free. I have not tried other flours in this recipe.
Plantain chips
This is what makes the onion rings extra crispy without the regular flour and eggs! I used two 4oz bags of plantain chips, but you can easily scale up or down.
What I did was use a food processor to grind down the plantain chips to small crumbles and used those to coat the onion rings. This process goes quickly, and you can use any food processor!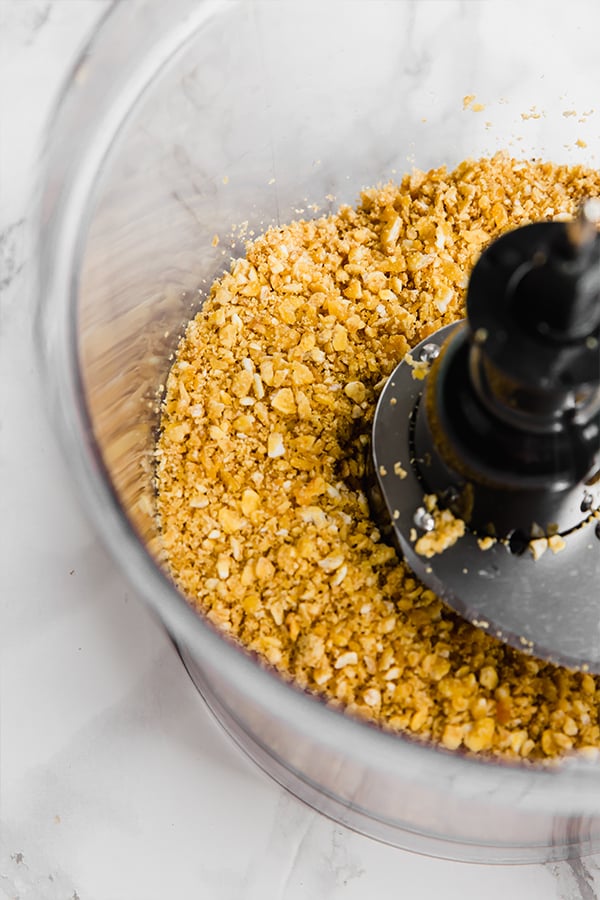 The trick to this recipe is keeping the plantain chips crispy. You want to work with a small amount of plantain chips at a time and keep them from getting too wet from the batter. Once they get too wet, they won't stick and you won't have crispy onion rings. The process I use is spooning the plantain chips over the onion rings one by one to avoid dipping them and getting the chip crumbles too wet. It's a bit more of a process, but it's worth it!
Avocado oil
This is my favorite oil to use in recipes like this, and because they're baked you don't have to use as much oil and can keep the cost lower!
If you like this recipe, you may also like…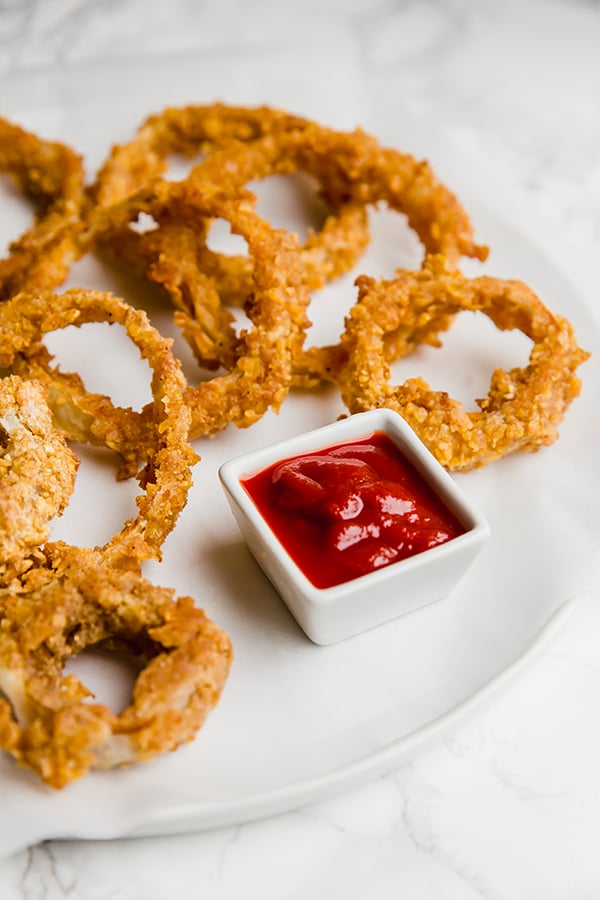 Print
Baked Onion Rings (Paleo, Vegan, AIP)
---
Author:
Total Time: 45 minutes
Yield: 4-6 servings 1x
2 yellow onions
3/4 cup cassava flour (divided)
1 cup coconut milk
1 tbsp apple cider vinegar
2 4oz bags of plantain chips
1 tsp garlic powder
1/4 tsp black pepper (omit for AIP)
3 tbsp avocado oil
Salt to taste
---
Instructions
Preheat the oven to 415 F and line two baking sheets (or one large baking sheet) with parchment paper lightly greased with avocado oil. Set aside.
Peel and wash the onions and slice into thick rings 1/4-1/2″ rings. Separate the layers of the onion and set aside on a plate.
Set out 1/4 cup of cassava flour in a bowl.
Pour the coconut milk and apple cider vinegar into another bowl and mix. Whisk in 1/2 cup of cassava flour and stir until a thick batter is formed. Set aside.
Using the food processor, process the plantain chips with garlic powder and black pepper until well crushed. Prepare a small plate near the plantain chips for coating the onion rings, and a spoon to sprinkle the chips over the onion rings.
Prepare the onion rings one onion slice at a time by dipping in the cassava flour, then dipping in the liquid batter.
To coat with plantain chips, hold the coated onion ring over the small plate and sprinkle over the plantain chips crumbles over the onion, rotating to coat it. Swirl the onion in any of the dry plantain chips that have fallen onto the plate to further coat. The key to crispy onion rings is dry plantain chips, so if the plate gets wet, wipe it off to keep it dry.
Place the coated onion ring on the baking sheet and repeat the process.
Once the onions are coated, top with the additional avocado oil and transfer to the oven.
Bake in the preheated oven for 15-20 minutes, carefully flipping halfway through with tongs or a fork.
Remove from the oven and allow to cool before serving with a dip of your choice.
Notes
All nutritional facts are estimations and may vary.
Prep Time: 25
Cook Time: 20
Category: Snacks
Method: Baked
Cuisine: American
Nutrition
Serving Size: 1 serving
Calories: 439
Fat: 29.3g
Carbohydrates: 40.8g
Fiber: 8.2g
Protein: 5.5g