Chickpea Tofu (Soy-free, Burmese Tofu)
This post contains affiliate links.
This chickpea tofu is the perfect solution if you're soy-free but love the crisp texture of fried tofu! It's made with chickpeas, and simple spices, and is gluten and dairy-free.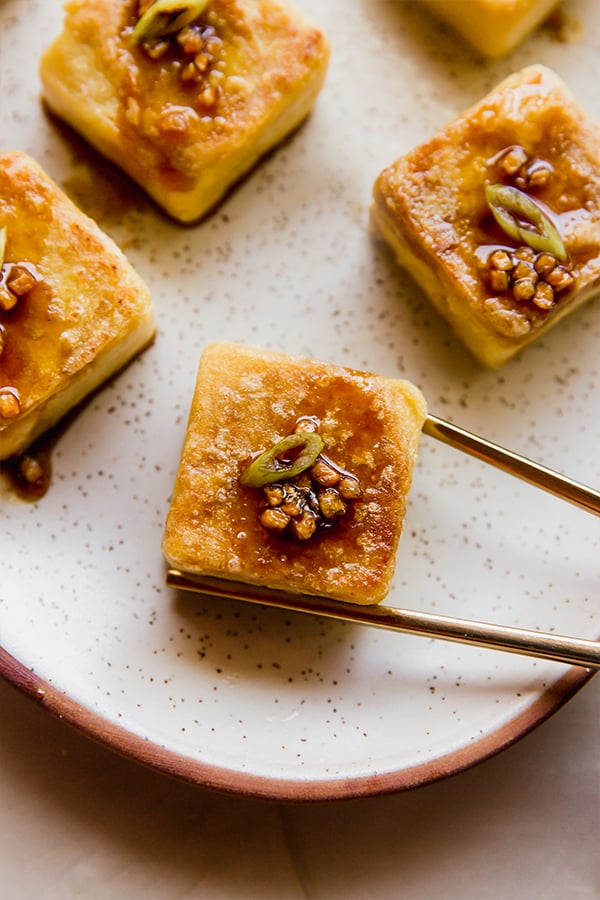 What is Burmese Tofu?
Despite the name, this isn't the soy tofu that you're thinking of. It's made from chickpea flour, water, turmeric, and salt, and it's a traditional dish that originates from the Shan State of Myanmar.
It could not be easier to make, and it tastes amazing straight out of the fridge once it's set, but I like it even better coated in arrowroot starch and fried. Top it off with a sauce, or eat it however you would regular tofu, and you have the perfect soy-free alternative to tofu.
The Ingredients for Chickpea Tofu
Chickpea Flour. You can also make your own chickpea flour with dried chickpeas that are soaked overnight and blended, but I like to take the shortcut with ready-made chickpea flour.
Water.
Turmeric, Garlic, Onion and Salt.
The tools for Chickpea Tofu
Food processor or blender. I've tried this recipe with just a whisk, and it doesn't get as smooth. I highly recommend adding the batter to a food processor or blender.
Loaf Pan, 8×8″ pan, or Mold. There are three options for setting your tofu. If you want thinner tofu, you can go for an 8×8″ pan. If you want something thicker, you can use a loaf pan. If you want very uniform pieces you can use a silicone mold. I used this, but any of these three will work… it's just about what you have on hand and what shape you're going for!
How to make Chickpea Tofu
Step One. Blend the ingredients until fully combined.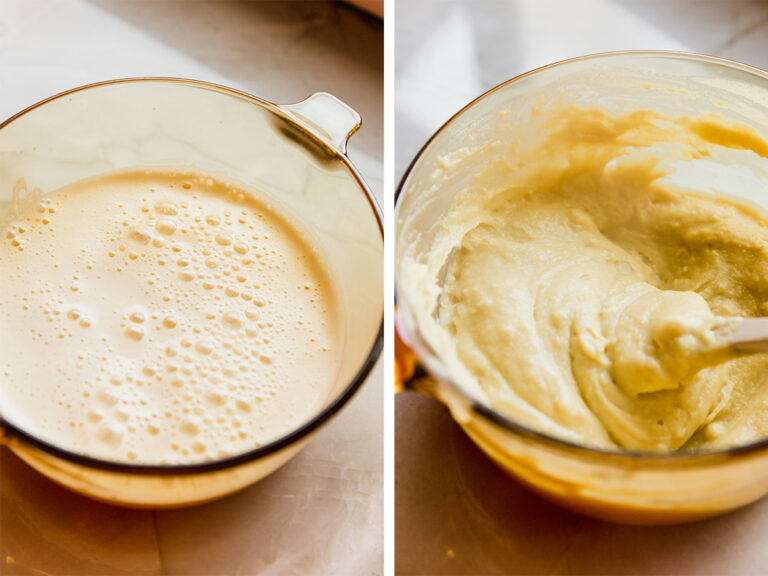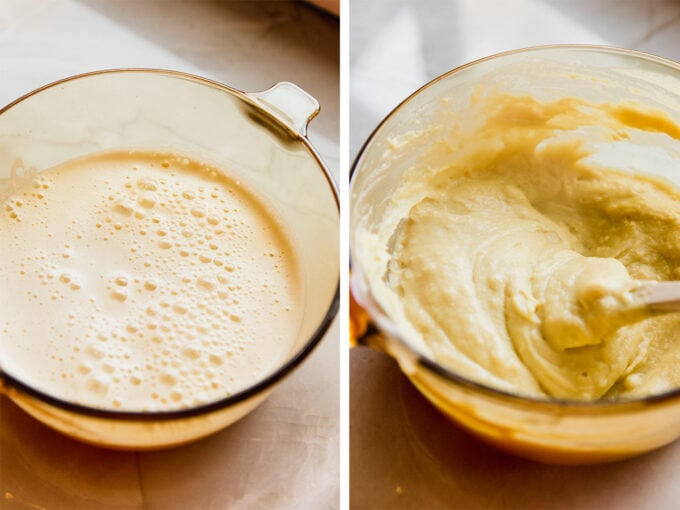 Step Two. Pour the batter in a saucepan to cook until the batter is thick.
Step Three. Transfer the tofu to a greased pan and allow to set in the fridge.
Step Four. Slice into desired sizes.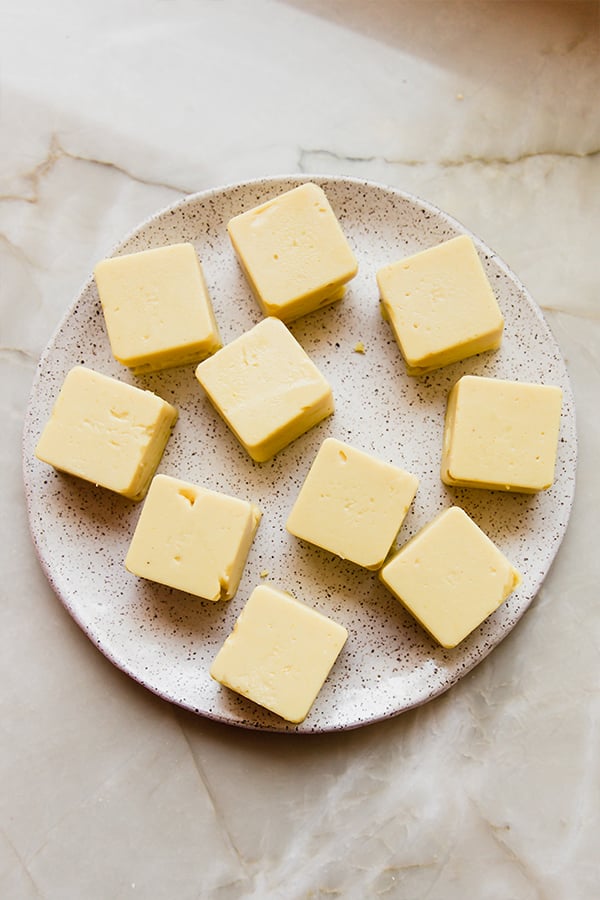 Step Five. If making crispy, toss with arrowroot starch and crisp in a pan.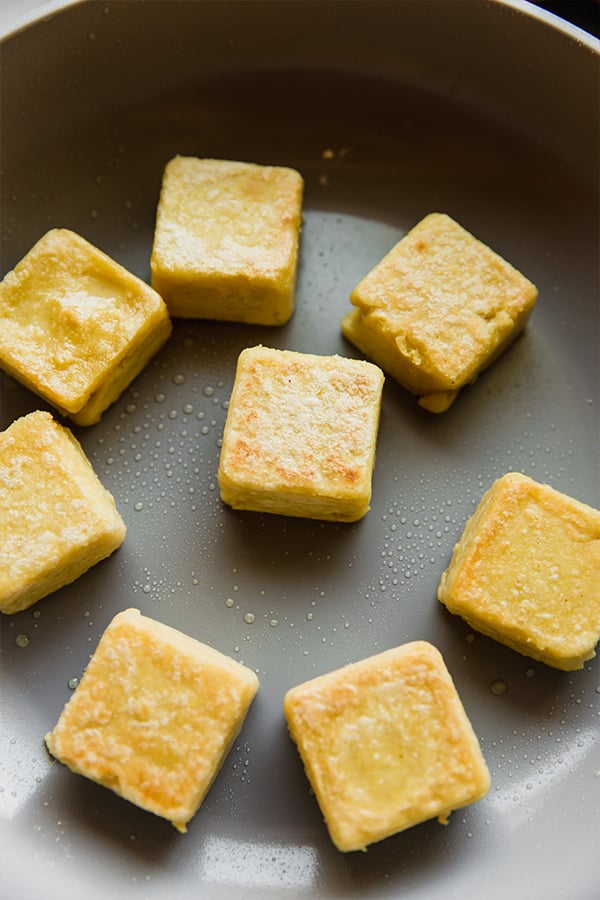 Step Six. Make the optional sauce and enjoy!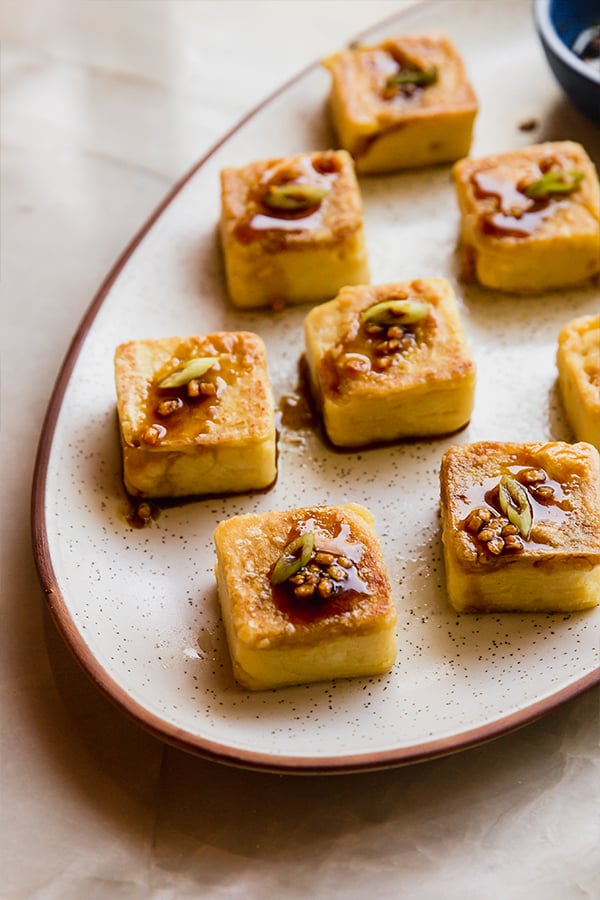 Tips & Tricks
Work quickly when transferring the tofu to a pan. The tofu can set quickly, so make sure you don't let it sit in the pot!
Add a sauce! The chickpea tofu has a good flavor on it's own, but a sauce really puts it over the edge.
Is chickpea tofu healthy?
Healthy is subjective, but personally, I find this to be a great healthy alternative to regular tofu if you're soy free.
What does chickpea tofu taste like?
I tend to not love chickpea flour recipes like cookies or brownies as the flavor can be too strong. But this one is different! Crisping it in a pan and adding a sauce really changes it. It does still have a chickpea flavor but it has more of a tofu vibe than you would expect by looking at the ingredients list.
How to serve chickpea tofu
By itself as an appetizer. It's great as pictured with sauce! It's a really filling and nourishing app.
Over a salad or nourish. This chickpea tofu would be perfect over some grains and veggies! Add a sauce and you're good to go.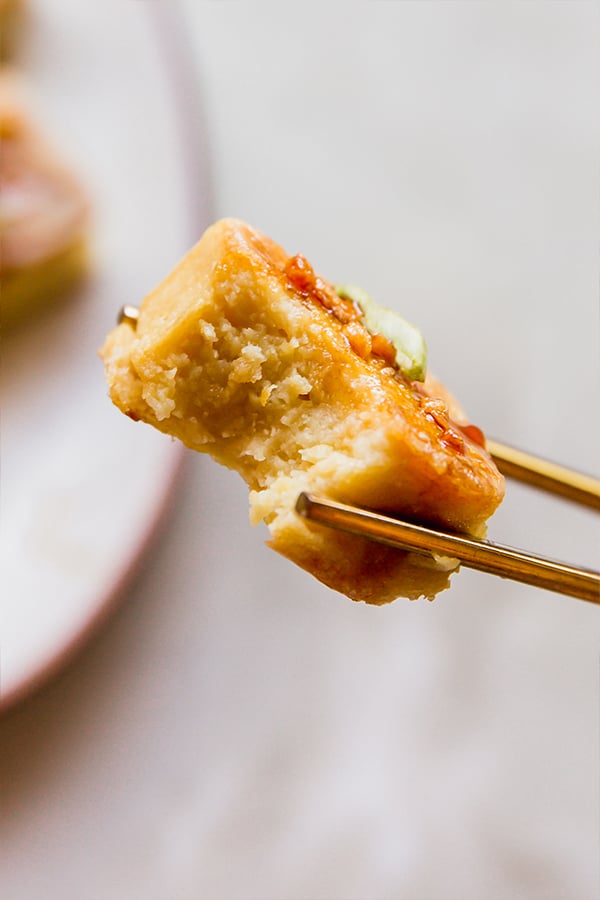 You'll also like…
Print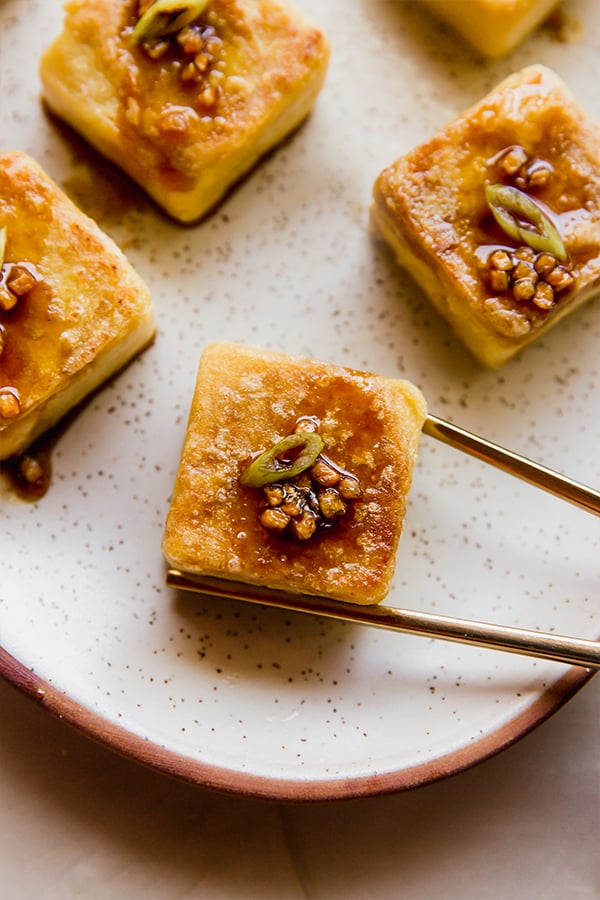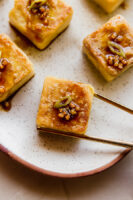 Chickpea Tofu (Soy-free, Burmese Tofu)
---
Author:
Total Time: 20 minutes
Yield: 4 servings 1x
Diet: Gluten Free
1 cup chickpea flour
1/4 tsp turmeric
1/2 tsp garlic powder
1/2 tsp onion powder
1/2 salt
2 3/4 cup water
For crispy tofu (optional)
1 tbsp arrowroot starch
2 tbsp avocado oil
For the sauce 
---
Instructions
Add the chickpea flour, seasonings, and water to a blender (or food processor with a puree setting) and blend until fully combined. No chunks of flour should remain.
Pour the batter in a saucepan and set over low-medium heat for 8-10 minutes, stirring until the batter is thick and clings to the side of the pan.
Working quickly (the chickpea tofu sets fast) add the tofu to a greased 8×8″ pan (for thin tofu) or a loaf pan for thicker tofu. You can also use a mold for uniform sizes… I used this mold. Transfer to the fridge and allow to set for an hour.
Carefully remove it from the pan and slice into desired sizes.
If making crispy, lightly toss with arrowroot starch. Set a large pan over medium-high heat and add avocado oil. Add the tofu to the pan and crisp for 3-4 minutes on each side or until crispy. Remove from the pan and set aside. Combine the ingredients for the sauce and serve over the tofu.
Notes
All nutritional information are estimations and will vary. Estimations do not include optional ingredients.
Prep Time: 10
Cook Time: 10
Category: Main Dishes
Method: Stove Top
Nutrition
Serving Size: 1 serving
Calories: 109
Fat: 1.6g
Carbohydrates: 21.1g
Fiber: 2.6g
Protein: 5.4g