Gluten-Free Beef Chow Fun
This recipe contains affiliate links. 
This gluten-free beef chow fun is the perfect comfort food! It's made with tender steak, vegetables, rice noodles and an amazing sauce. It's gluten-free, soy-free, and I've included modifications for grain-free.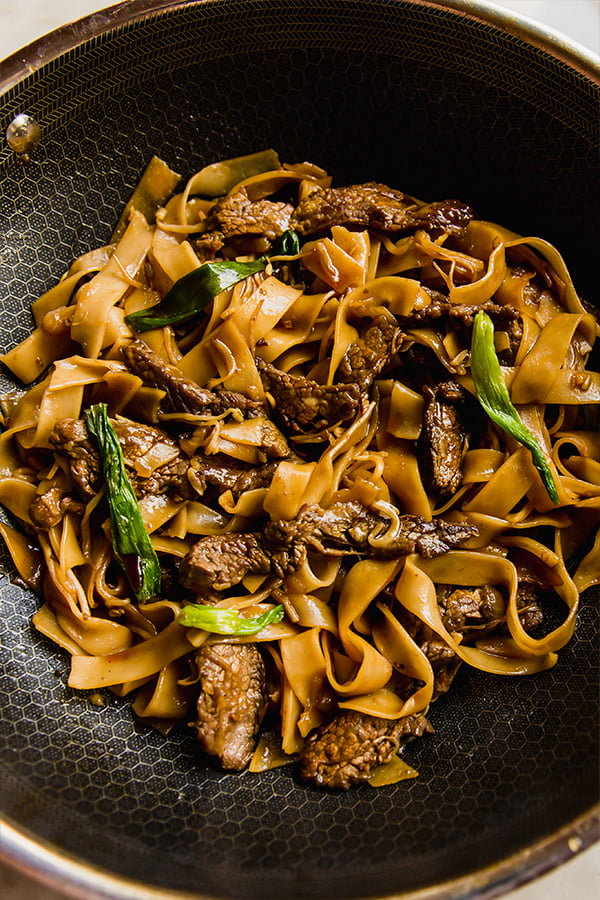 What is beef chow fun?
Beef chow fun is a Cantonese dish with thinly sliced steak, bean sprouts, green onions, chewy rice noodles, and a sauce made with soy sauce and oyster sauce. It's a rich and flavorful stir-fry that will leave you feeling so full and satisfied!
This version is gluten and soy free and easy to make in one pan. The whole family is going to love this one, and it makes amazing leftovers.
Why you'll love this beef chow fun
It's one pan. It's hard to beat an easy, delicious one pan meal that makes great leftovers!
It's takeout made healthier. This is a delicious take out meal made gluten and soy free, while keeping the delicious flavor.
The ingredients for beef chow fun
Flank Steak.
Onion, Garlic and Ginger
Rice Noodles. I use these!
Beans Sprouts. You can find these in the vegetable section near salad mixes in the store!
Arrowroot Starch, Rice Vinegar, Coconut Aminos, Fish Sauce, and Coconut Sugar. Traditionally, this dish uses dark soy sauce and oyster sauce which both have gluten and soy. Coconut aminos is the soy and gluten-free swap for soy sauce, and oyster sauce and coconut sugar together make a quick swap for oyster sauce. Together these ingredients make the sauce.
Onion, Garlic, Ginger, and Green Onions.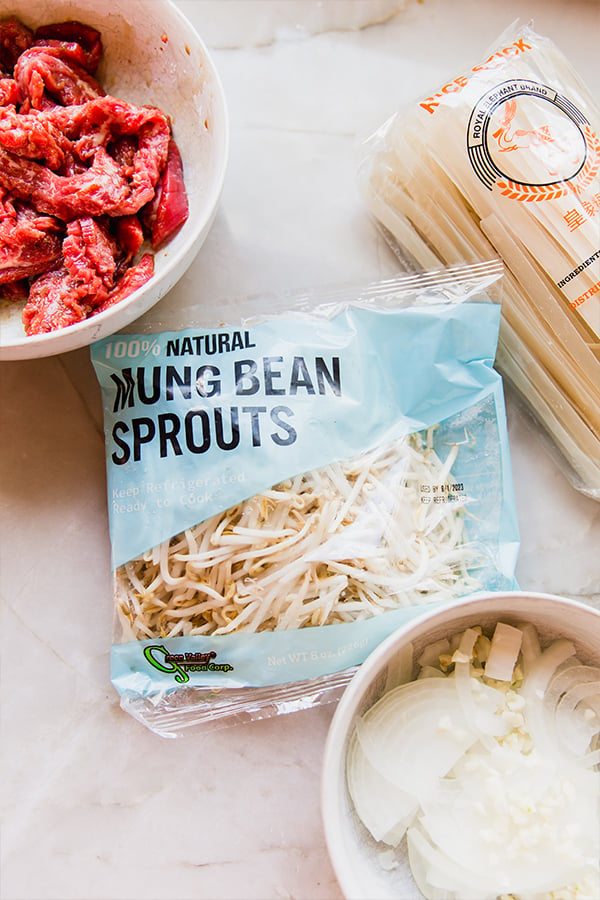 How to make gluten-free beef chow fun
Step One. Combine ingredients to make the sauce.
Step Two. Cook the rice noodles until al dente and then strain and set aside.
Step Three. Allow steak to marinate
Step Four. Cook the steak in the wok and then aside.
Step Five. Saute the garlic, onion, ginger, bean sprouts, and green onions.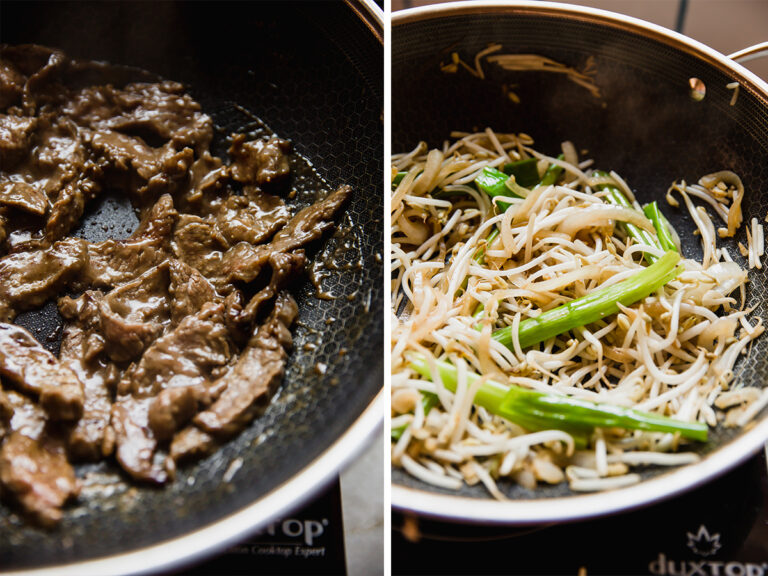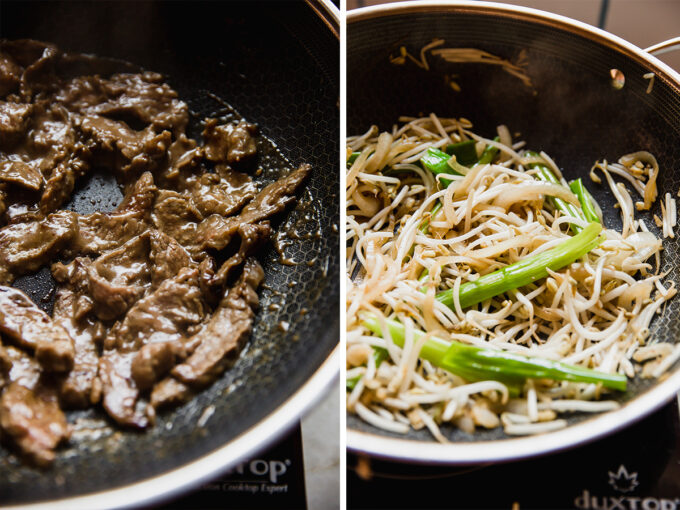 Step Six. Add the cooked steak, softened noodles, and sauce to the pan and stir.
Step Seven. Enjoy!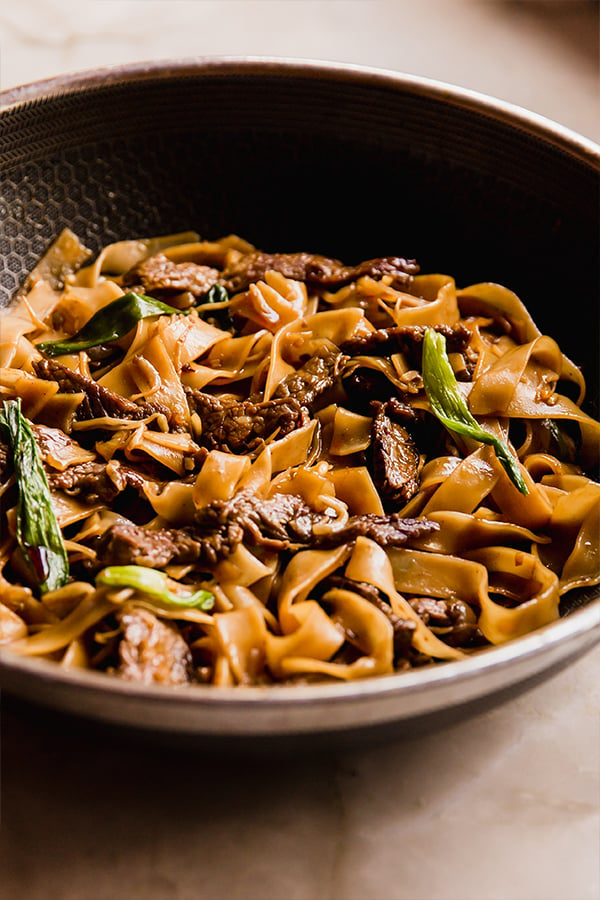 Tips & Tricks
Use a wok if possible! If you have a wok, that's definitely the best pan to cook this recipe in. If you don't, opt for whatever large, deep pan you have instead.
Don't overcrowd the pan when cooking the beef. If you want crispy beef, the best way to achieve this is to avoid overcrowding the pan! If your pan is on the smaller side, fry the beef in two batches.
Can you make this recipe ahead of time? How do you reheat it?
This recipe holds up fairly well in the fridge for up to 3 days. I like to reheat it in a pan with a bit of extra coconut aminos as the noodles can soak it up the sauce in the fridge.
Can you make this recipe grain-free?
This recipe definitely relies on the rice noodles to keep it authentic, but if you're grain free and still really want something similar, you can use sweet potato glass noodles or cassava noodles. The mouthfeel and texture will be different, but the flavors will still be yummy!
Can you add other vegetables?
Traditionally, this dish is made with more simple vegetables but you can easily add more to bulk it up a bit! I like to add shredded carrots and broccoli to my leftovers to make them last longer.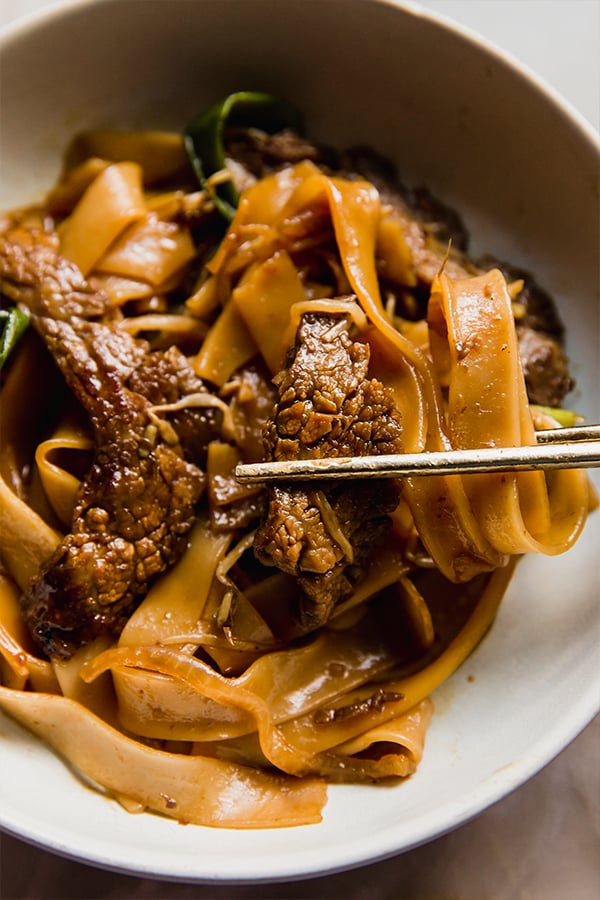 You'll also like…
Print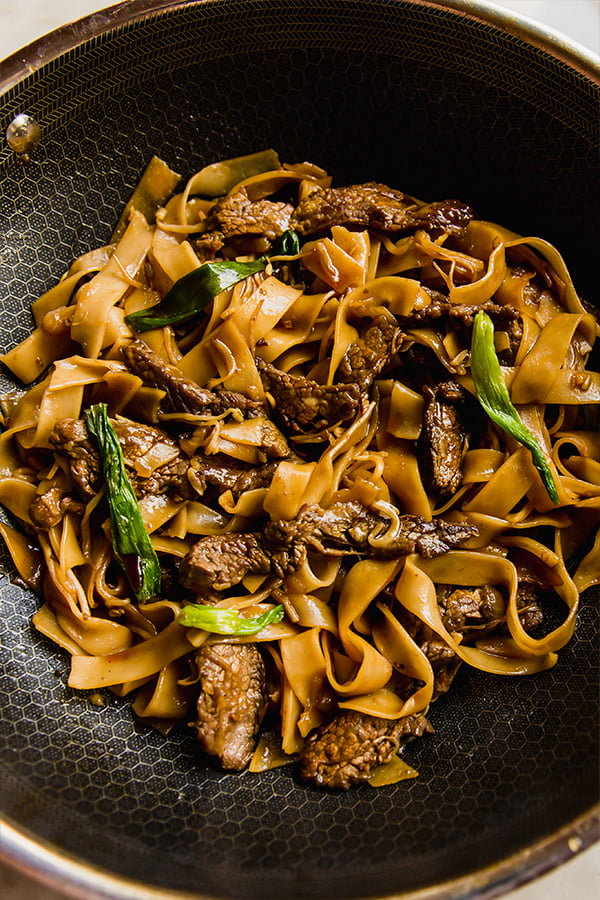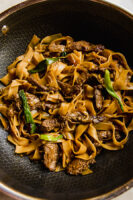 Gluten-Free Beef Chow Fun
---
Author:
Yield: 4 servings 1x
Diet: Gluten Free
For the sauce
3 tbsp coconut aminos
1 tbsp rice vinegar
2 tsp fish sauce
2 tsp coconut sugar
2 tsp arrowroot starch
For the stir fry
12 oz rice noodles
3/4 lb flank steak, sliced thin against the grain
1 tbsp arrowroot
1/8 tsp baking soda
1 tbsp coconut aminos
1 tsp fish sauce
2 tsp coconut sugar
Salt and pepper
2 tbsp avocado oil
1 onion, sliced thin
3 cloves garlic, minced
1 thumb ginger, sliced into large pieces
3/4 cup mung bean sprouts
5–6 green onions, sliced into 1" pieces
---
Instructions
Using a small bowl, combine the ingredients for the sauce and whisk well. Set aside.
Add the rice noodles to a large, deep bowl and soak in very hot water to soften. Set aside, using tongs to separate and stir every few minutes to allow to soften. Once softened but still lightly al dente, strain and set aside.
Add the steak to a bowl and toss in arrowroot starch, baking soda, coconut aminos, fish sauce, coconut sugar and salt and pepper. Toss and set aside to marinate for 10 minutes.
Using a wok or large deep pan, heat the avocado oil over medium-high heat. Add the steak (working in batches if your pan is smaller) and cook for 2-3 minutes on each side or until crisp. Cook for 2-3 minutes on each side, and repeat until all of the steak is cooked. Set aside.
Reduce the heat to medium and add more oil to the pan if needed. Add the garlic, onion, and ginger pieces and saute until the onion is translucent. Remove the ginger from the pan. Add the bean sprouts and green onion to the pan and saute for about 3 minutes or until soft. Lightly season with salt and pepper.
Add the cooked steak, softened noodles, and sauce to the pan. Lightly stir to allow the sauce to thicken and coat the stir fry for about 2 minutes.
Remove from the heat and season further to taste.
Notes
All nutritional information are estimations and will vary. Estimations do not include optional ingredients.
Nutrition
Serving Size: 1 serving
Calories: 556
Fat: 12.9g
Carbohydrates: 85.8g
Fiber: 2.8g
Protein: 19.7g