Butternut Squash Zig Zag Fries (in the Air Fryer)
This recipe contains affiliate links.
These butternut zig-zag fries are the perfect way to enjoy butternut squash this fall! They're made with fresh butternut squash, and are crisped in the air fryer.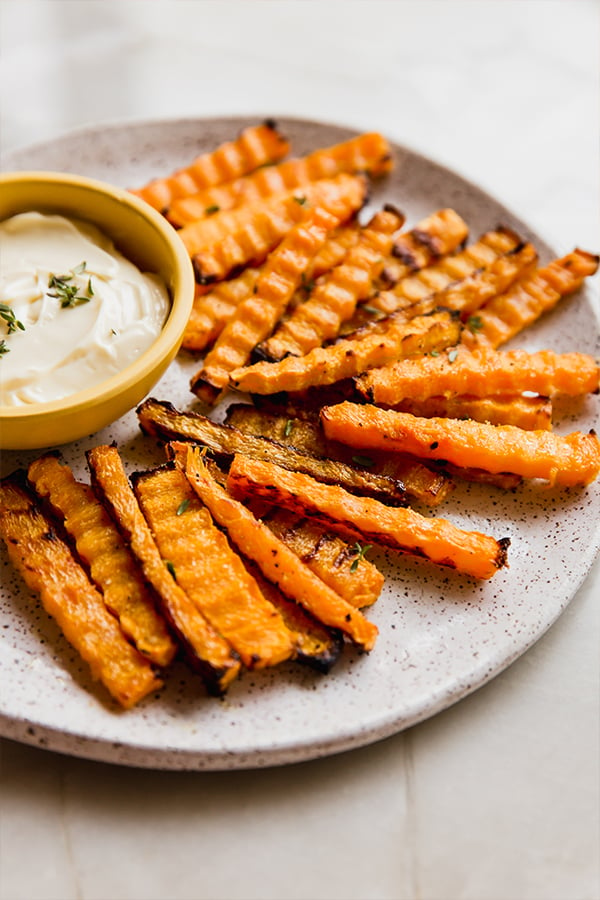 I love butternut zig-zags! I used to buy them at the store and cook them at home for an easy veggie side. However, the pre-cut version goes bad really fast. A couple of days in the fridge and they're soggy and slimy.
This year, I wanted to learn how to make my own, and I'm so glad I did! This recipe turns a whole butternut squash into fun zig-zag fries that are perfect for kids, and kids at heart who love a crispy fry and a fun shape.
Why you'll love these butternut squash zig-zag fries
They are so fun! The zig-zag shape makes the butternut squash so much fun to eat!
They crisp up so well in the air fryer. These fries get so crispy and delicious in the air fryer!
The ingredients for butternut squash zig-zag fries
Butternut Squash. 
Salt, Black Pepper, Garlic Powder, Onion Powder, and Fresh Thyme. These seasonings add flavor to the butternut squash fries.
Avocado Oil.
The tools for butternut squash zig-zag fries
Large Vegetable Peeler. A regular apple peeler won't cut it for squash so make sure you get something stronger.
Crinkle Cutter. I love using this to make fun shapes for both veggies and fruits!
Air fryer. I actually don't have an air fryer at the moment, I just have an air fryer setting on my oven and use an air fryer basket to achieve the right texture!
How to make butternut squash zig-zag fries
Step One. Clean and slice the butternut squash.
Step Two. Slice the butternut squash with the crinkle cutter.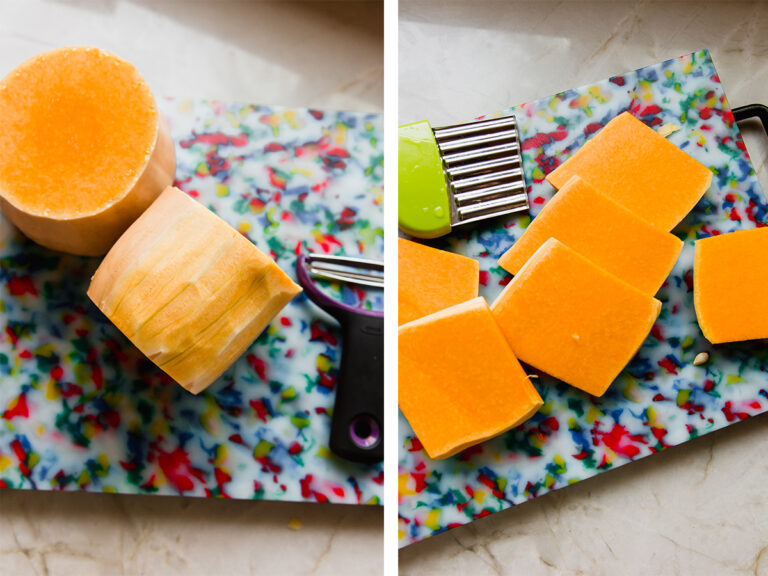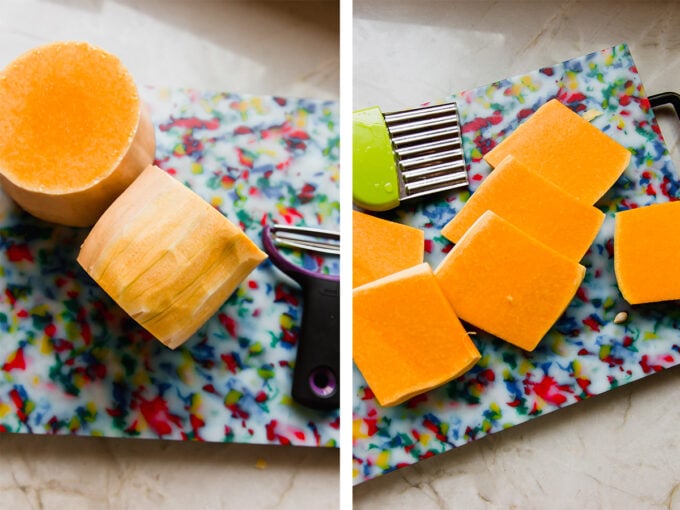 Step Three. Coat the fries with avocado oil and seasonings.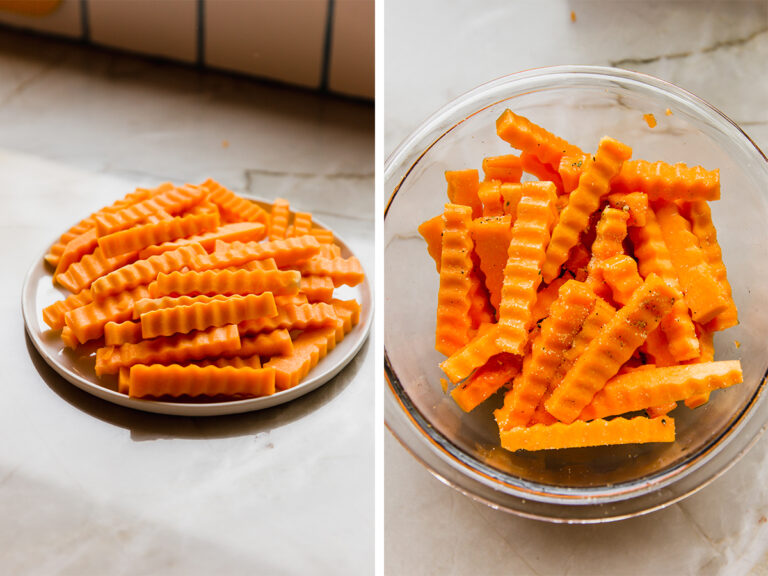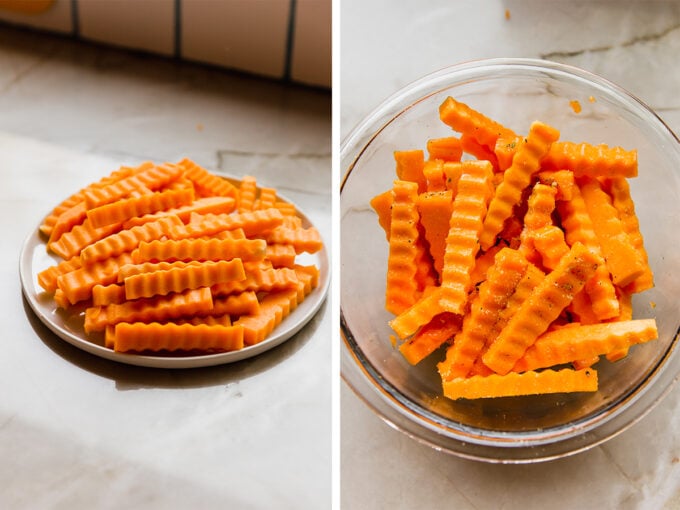 Step Four. Air fry the butternut squash fries.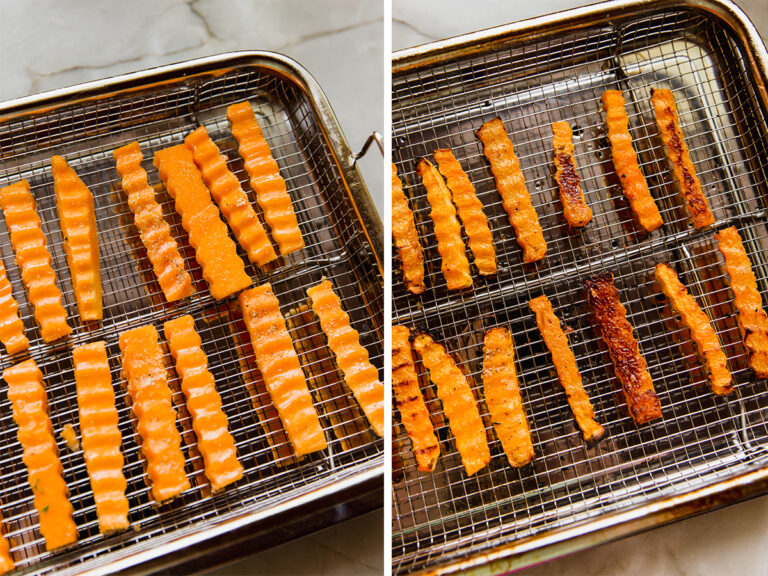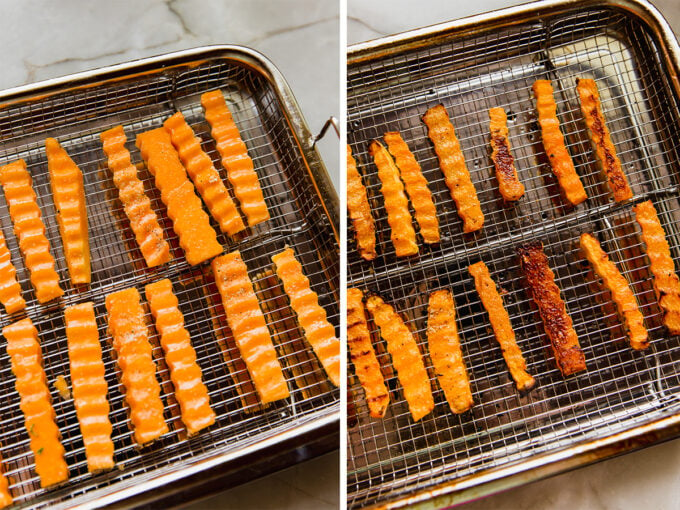 Step Five. Enjoy with dip of your choice!
Tips & tricks
Don't overcrowd the pan or air fryer basket. This will prevent them from getting crispy. Air fry in two batches if needed!
Save the scraps! The crinkle-cut process will create a lot of extra scraps. Don't toss them! Butternut squash freezes great, so throw them in a freezer safe bag to adds to soups throughout the fall and winter.
What to serve as a dip
Hummus
A green dip like pesto
Ketchup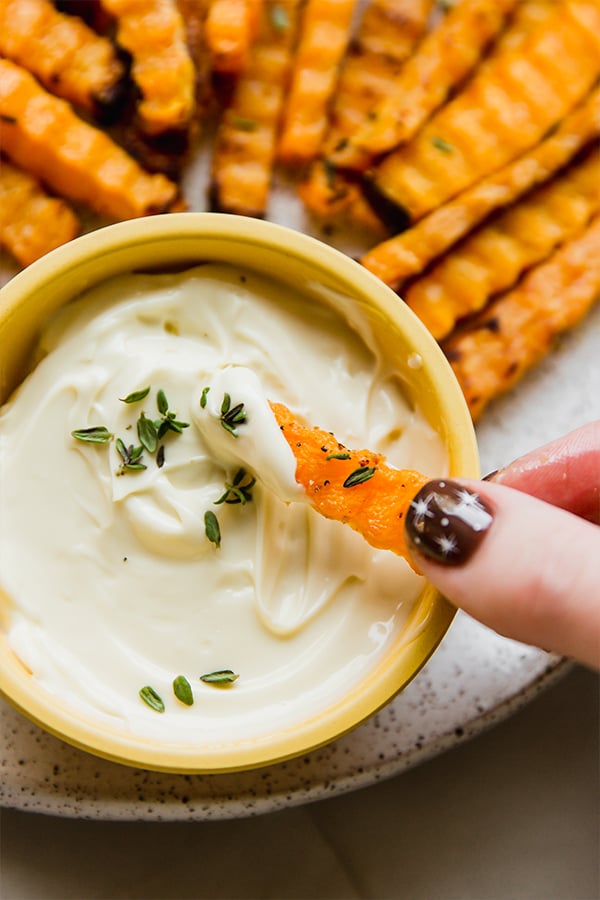 You'll also like…
Print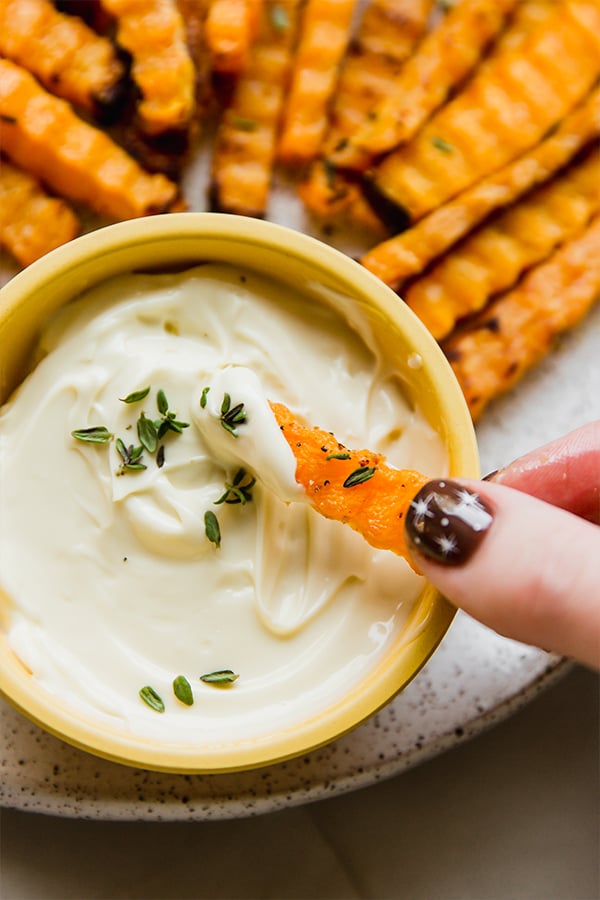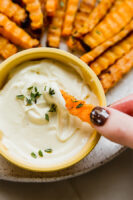 Butternut Squash Zig Zag Fries (in the Air Fryer)
---
Author:
Yield: 2 servings 1x
Diet: Gluten Free
1 large butternut squash
1 tsp salt
2 tsp garlic powder
1 tsp onion powder
1 tsp fresh thyme
1/4 tsp black pepper
1 tbsp avocado oil
---
Instructions
Wash the squash well. Slice the stem and the base off of the squash, and then slice it again, separating the neck and the base. Use a large vegetable peeler to peel the tough skin. Slice the base of the squash in half and spoon out the seeds.
To cut the fries, slice the butternut squash into large sheets with a chef's knife. Then use a crinkle cutter on all sides of each fry to slice into zig zags. Save and freeze the scraps to make soup!
Add the fries to a bowl and top with avocado oil, and seasonings. Toss to coat.
Preheat the air fryer to 400 F and add the butternut squash zig-zags to the basket. Cook for 10 minutes, remove the basket, and toss to rotate the butternut squash. Cook for another 8-10 minutes, or until lightly crisp and soft.
Serve with a dip of your choice as a side for a fall meal!
Notes
All nutritional information are estimations and will vary. Estimations do not include optional ingredients.
Nutrition
Serving Size: 1 serving
Calories: 140
Fat: 7.2g
Carbohydrates: 19.9g
Fiber: 3.4g
Protein: 2.1g