Gluten-Free Cauliflower Manicotti (Vegan)
This gluten-free manicotti is made with a plant-based cauliflower filling for the perfect dairy-free-filled pasta!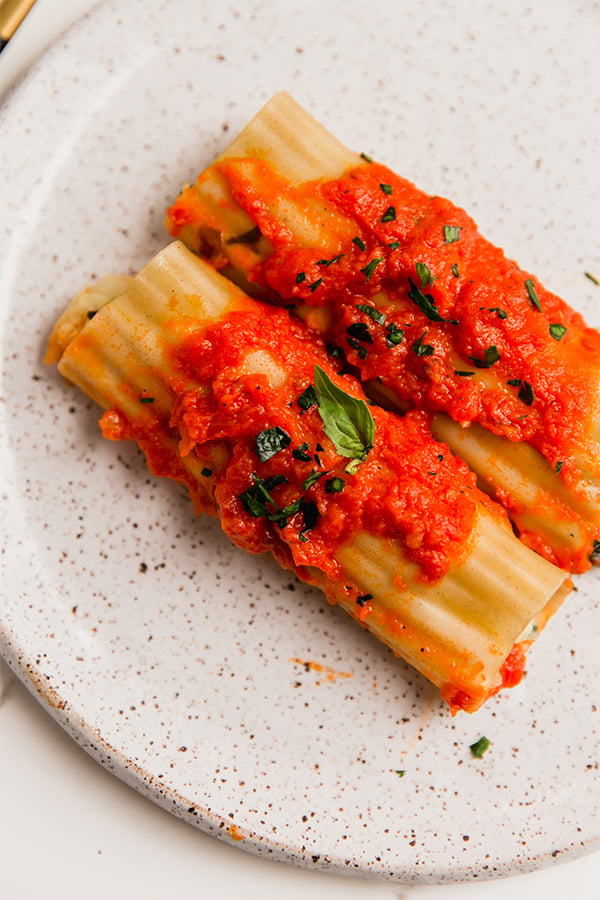 What is manicotti?
Manicotti is a filled pasta made with a large fluted tube-shaped pasta shell and filled with a ricotta filling. It's then baked with marinara sauce and topped off with cheese. What's not to like?!
Manicotti is one of those foods that you feel like you'd never be able to eat again if you're gluten and dairy-free which is why I made this gluten and dairy-free version! It's made with gluten-free shells and a plant-based "cheese" filling for the ultimate comfort food experience without the gluten or dairy.
The Ingredients for Cauliflower Manicotti
Cauliflower. This is the base of the "cheese" filling.
Spinach.
Olive Oil.
Sea Salt, Garlic Powder, and Onion Powder.
Nutritional Yeast. This adds the cheesy flavor to cauliflower cheese.  You can leave it out if you prefer, but your dish will taste less cheesy.
Apple Cider Vinegar.
Manicotti Shells. I use Jovial manicotti shells to keep this recipe gluten-free.
Marinara Sauce. I made the recipe in the photos with a regular marinara sauce, however, I've also made this with my nightshade-free marinara and it's still delicious!
Fresh Herbs.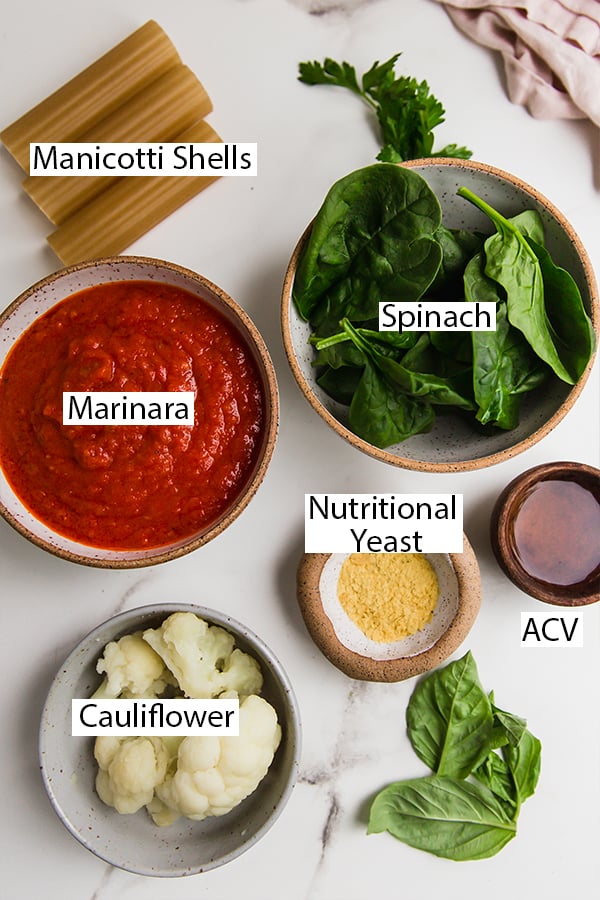 How to make Cauliflower Manicotti
Step 1: Make the cauliflower cheese.
Step 2: Boil the manicotti shells.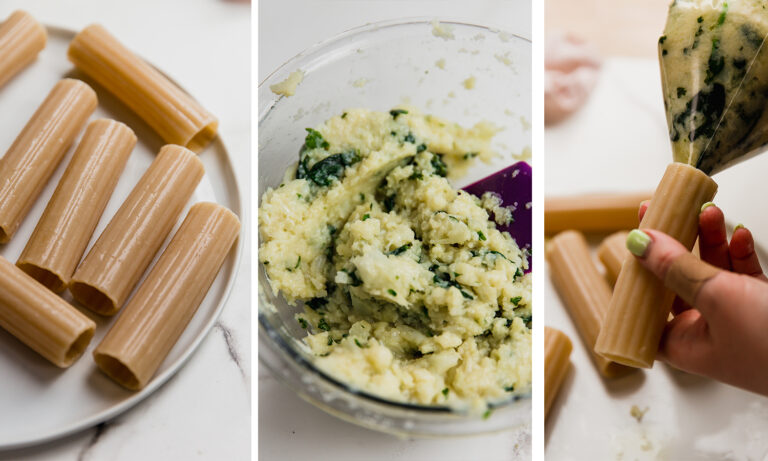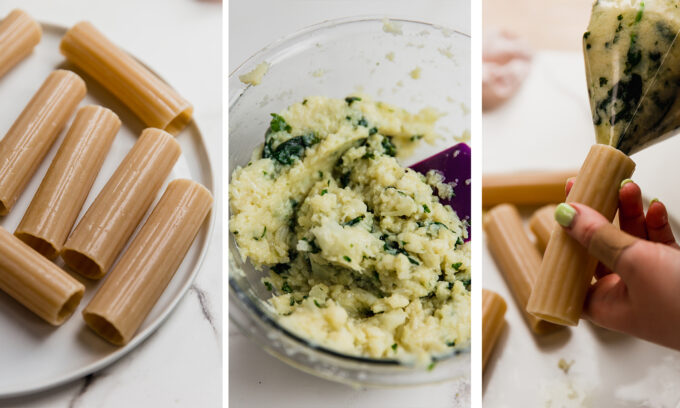 Step 3: Fill the manicotti with the filling. 
Step 4: Cover with marinara sauce and bake.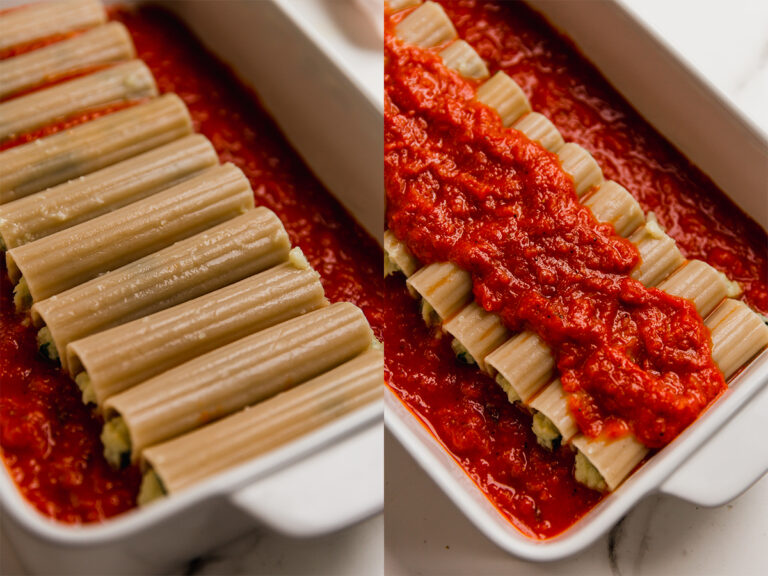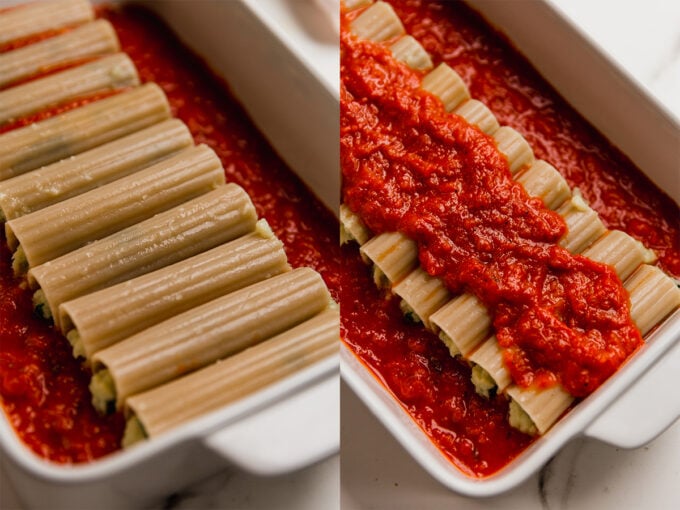 Can you use another cheese filling like dairy-free ricotta?
Almond milk ricotta like the one from Kite Hill is also a great option for this recipe. I just prefer the cauliflower filling and like how it adds more vegetables.
Can you make this cauliflower manicotti ahead of time? How do you reheat it?
You can! I stored these in the fridge for 3 days and heated them up in the oven for a few minutes.
Can you add protein to this manicotti?
If you'd like to add protein, you can add cooked ground beef or turkey to the filling.
If you want an AIP version…
This pasta isn't AIP, but I recommend checking out my zucchini ravioli if you want filled pasta vibes!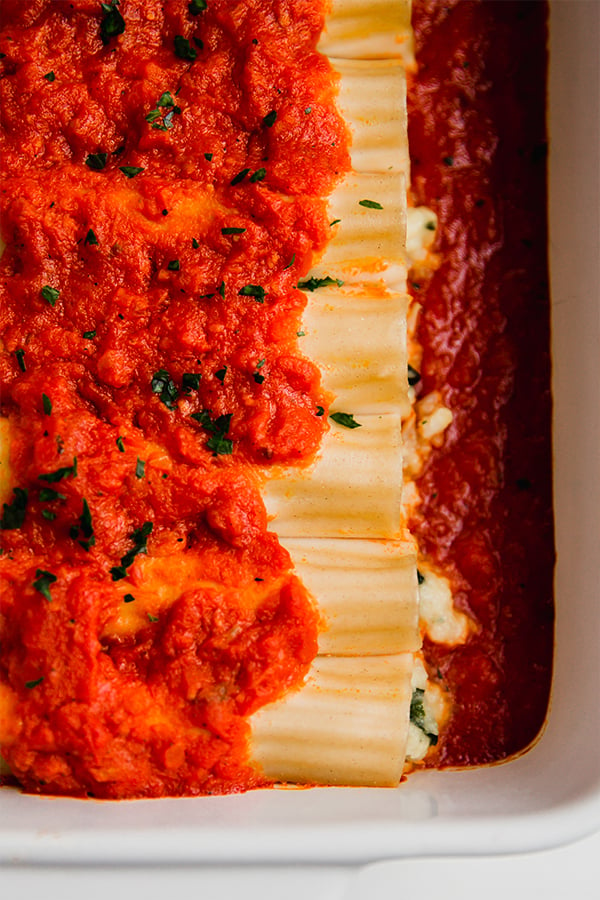 You'll also like…
Print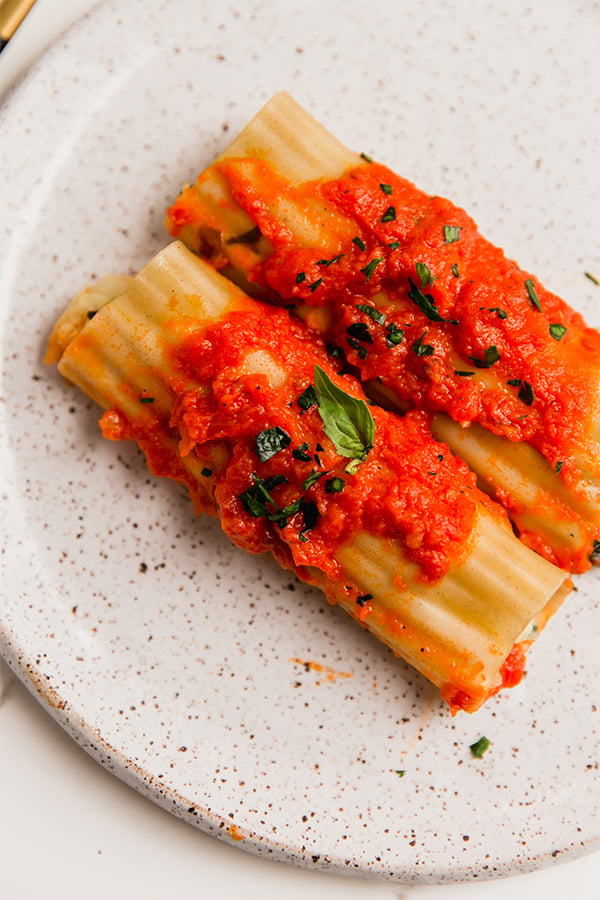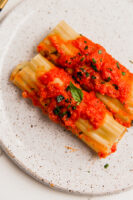 Gluten-Free Cauliflower Manicotti (Vegan)
---
Author:
Yield: 8 servings 1x
For the cauliflower "cheese"
2 cups cauliflower, steamed
2 tbsp olive oil (divided)
2 tsp apple cider vinegar
2 tbsp + 2 tsp nutritional yeast
1/2 tsp sea salt
1 tsp garlic powder
1 tsp onion powder
1 cup spinach, chopped
For the manicotti
8 gluten-free manicotti shells (I use the Jovial brand)
1 1/2 cup marinara sauce (I use this for nightshade-free)
1 tbsp parsley, chopped
1 tbsp basil, chopped
---
Instructions
For the cauliflower cheese
Using a nut milk bag or paper towel, lightly strain the cauliflower to draw out some (but not all) of the excess water.
Add the cauliflower to a food processor and blend with 1 tbsp of olive oil, apple cider vinegar, salt, garlic powder, onion powder, and nutritional yeast. Blend until smooth and set aside. Alternatively, you can mash with a potato masher for less clean-up.
Using a small saute pan, heat 1 tbsp of olive oil on low heat. Add the spinach and allow to wilt over 1-2 minutes. Remove from the heat.
Stir the spinach into the cauliflower mixture and set aside, allowing it to cool.
For the manicotti
While the cauliflower cools, bring a large pot of water to a boil and generously salt. Add the manicotti shells and cook for 4-5 minutes or until lightly tender. Carefully transfer the cooked shells to a bowl filled with cool water to stop the cooking process. Strain after a few minutes and transfer to a plate.
Preheat the oven to 350 F and lightly grease a 9×13″ casserole dish. Add 1 cup of marinara sauce to the bottom of the baking dish.
Add the cooled cauliflower mixture to a large ziplock bag or piping bag. Cut the tip. Insert the tip into one of the manicotti shells and squeeze to fill the shell. Add the filled shell to the baking dish. Repeat with all of the shells.
Spoon the remainder of the marinara sauce over the shells and cover the baking dish.
Bake in the preheated oven for 45 minutes covered. Remove the cover and bake for another 5-10 minutes or until cooked though (adding dairy-free cheese on top if you'd like).
Serve topped with fresh chopped herbs.
Notes
All nutritional information are estimations and will vary.
Nutrition
Serving Size: 1 serving
Calories: 284
Fat: 6.2g
Carbohydrates: 51g
Fiber: 7.4g
Protein: 10.4g