Gluten Free Kit Kat Bars (Dairy free)
These kit-kat bars are a paleo, homemade alternative to the candy classic! They're gluten-free, dairy-free, and easier to make than you'd think.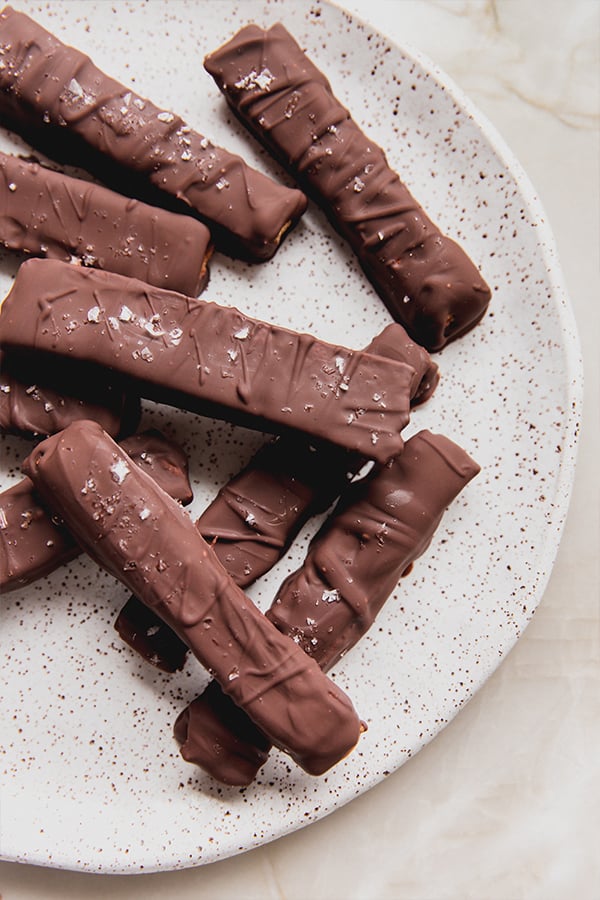 Kit Kat bars used to be one of my favorites back in the day. They seemed like one of those things that I would never have again, but surprisingly, it's easier than you'd think to put together. All you need is a simple grain-free wafer cookie layered with melted chocolate and you have a copycat kit kat bar!
Why you'll love these copycat Kit Kat bars
A healthier take on the classic! Kit Kat Bars are such a classic candy and this recipe allows all of us to enjoy the treat without gluten or dairy.
The recipe is forgiving. Even if your wafers aren't even or flat, the melted chocolate will make sure the Kit Kat bars still come out well!
The ingredients for copycat Kit Kat bars
Egg. You can sub flax egg. See notes below.
Coconut Oil.
Coconut Sugar. 
Vanilla Extract and Baking Soda.
Almond Flour and Arrowroot Starch. This forms the perfect grain-free base for the wafer cookies.
Dairy-Free Chocolate Chips. Chocolate chips melted with coconut oil coats all the cookies to make the Kit Kat Bars. For chocolate chips, I use this brand.
How to make copycat kit kat bars
Step One. Make the wafer dough.
Step Two. Roll the wafer dough into a thin large rectangle.
Step Three. Bake the wafer dough.
Step Four. Allow the wafers to cool and then cut into individual pieces.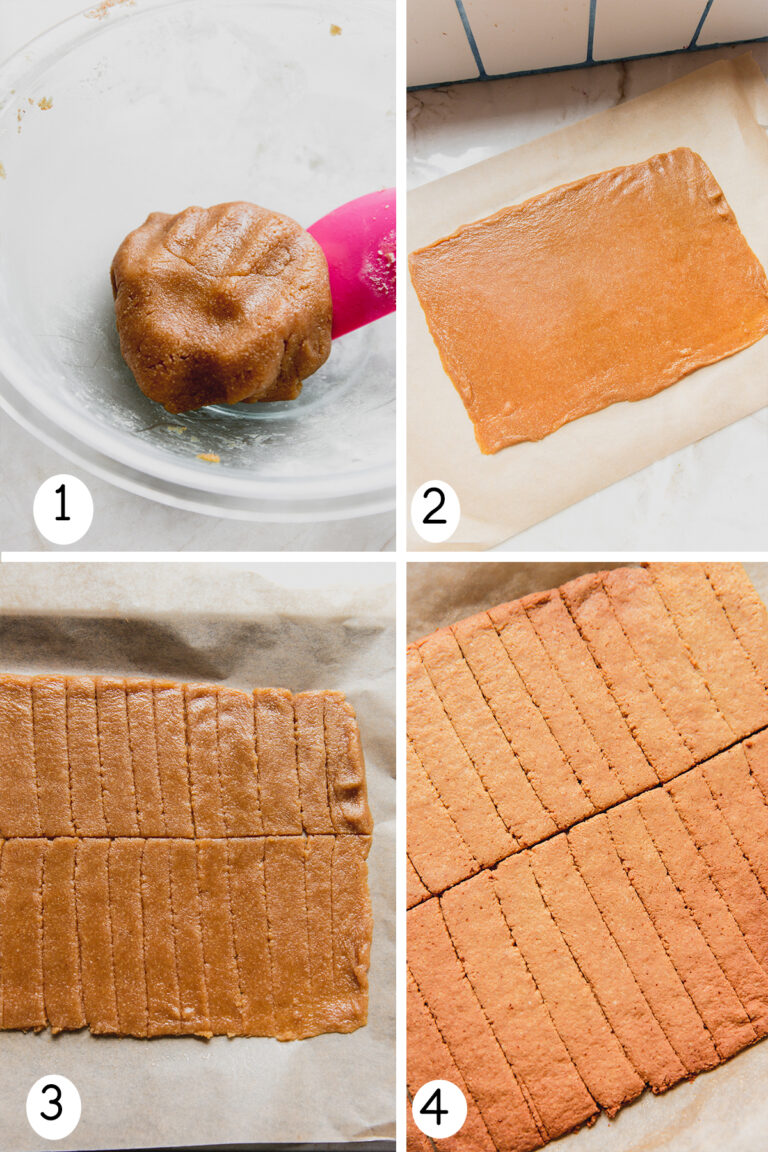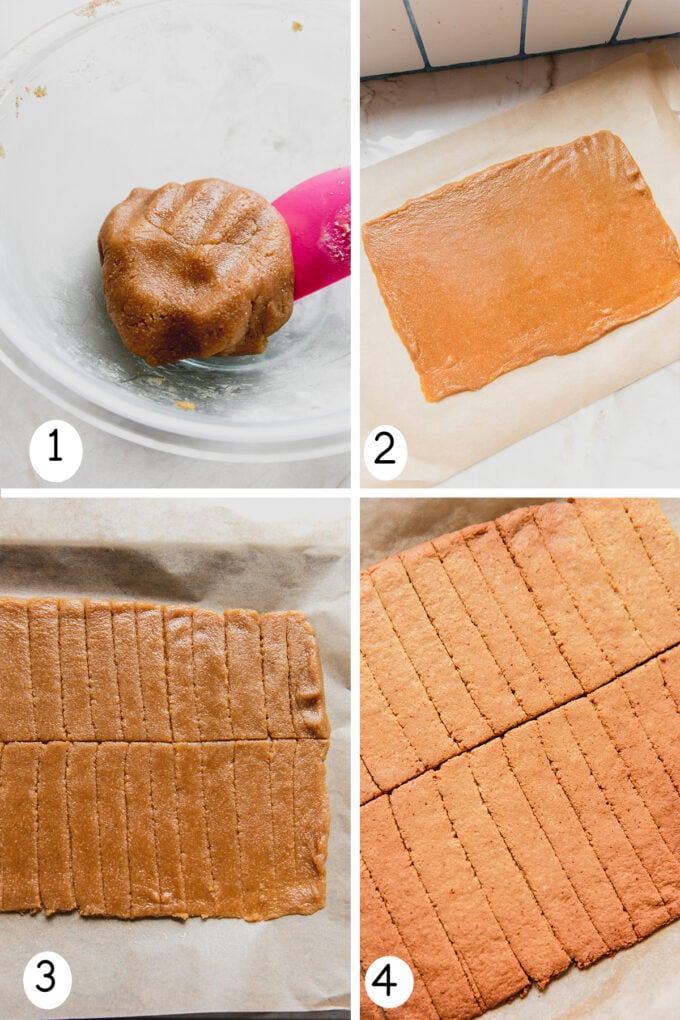 Step Five. Melt the chocolate.
Step Six. Take each wafer and add chocolate and another wafer on top. Do for all wafers and transfer to freezer to set.
Step Seven. Carefully dip each layered cookie into the melted chocolate to coat.
Step Eight. Allow to set in the fridge and enjoy!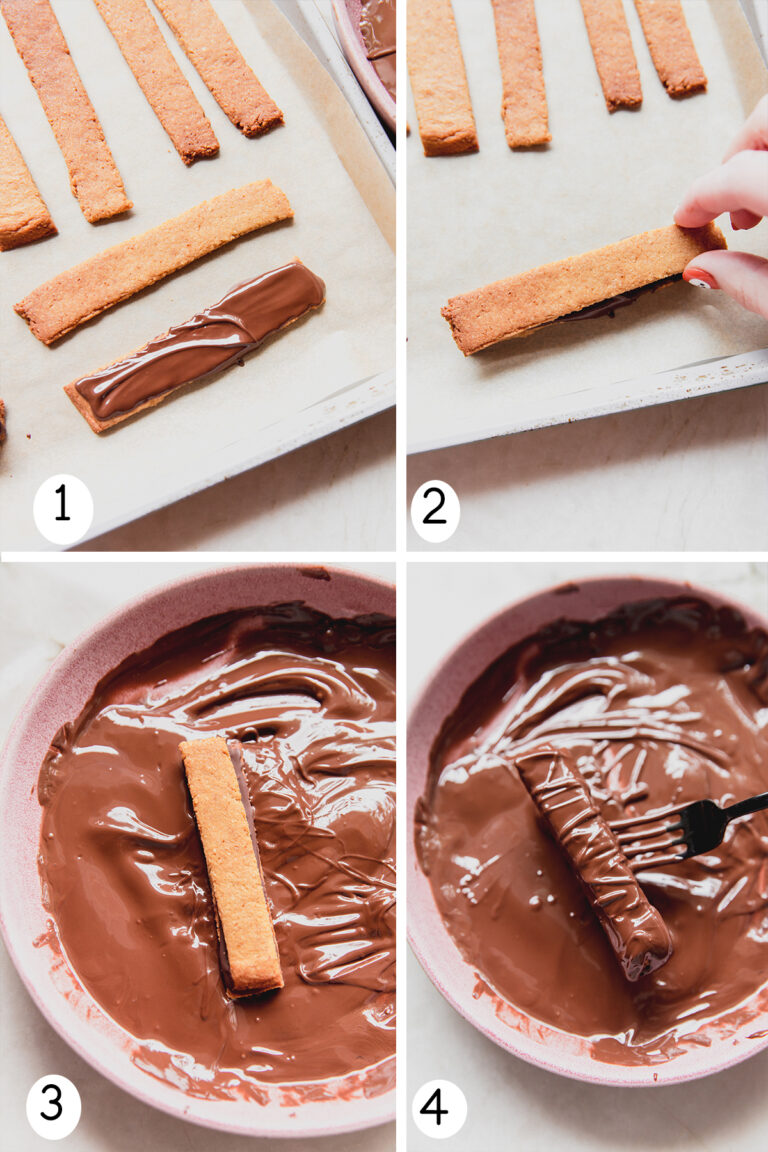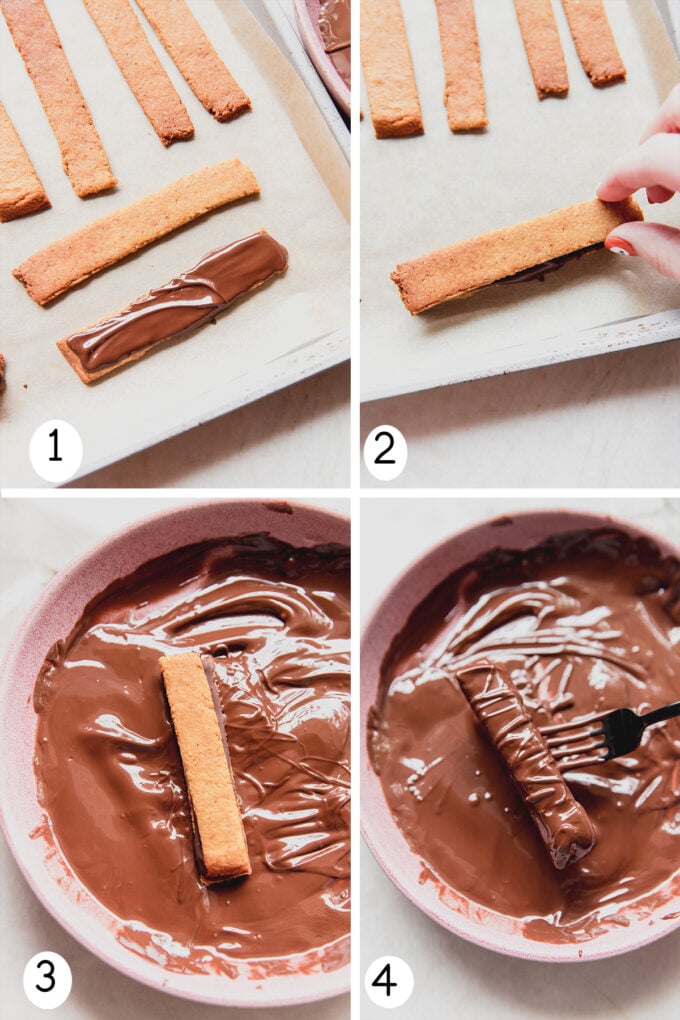 Tips & tricks
These can be imperfect! The cookies don't have to be perfectly even! After you coat them in chocolate, any size differences are pretty forgiving.
Use a shallow bowl for the chocolate. You'll need a lot of space for dipping the cookies, and I find that a large shallow bowl works best.
Can you make this recipe nut-free?
I haven't tried to make these wafers without the almond flour, but you can easily replicate this method with a nut free wafer cookie.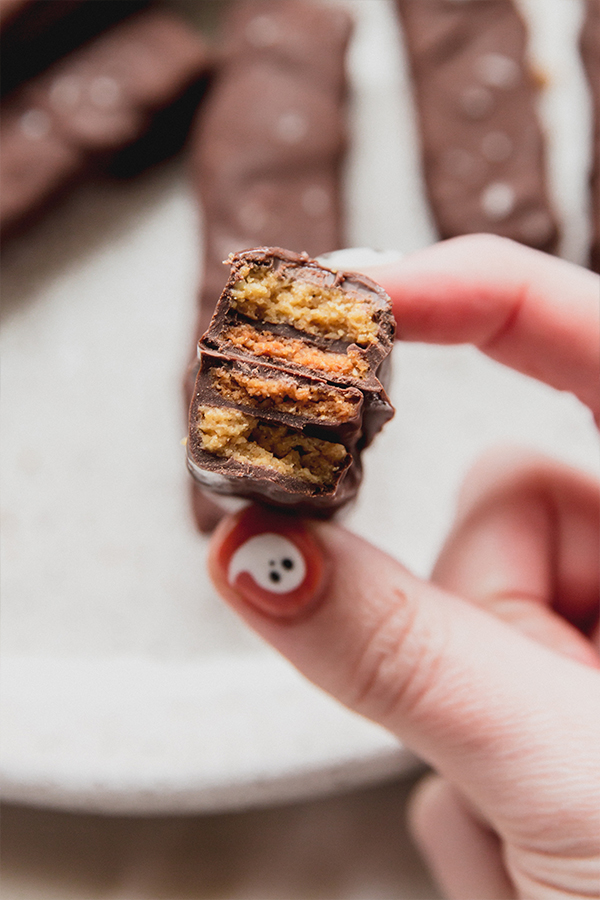 You'll also like…
Print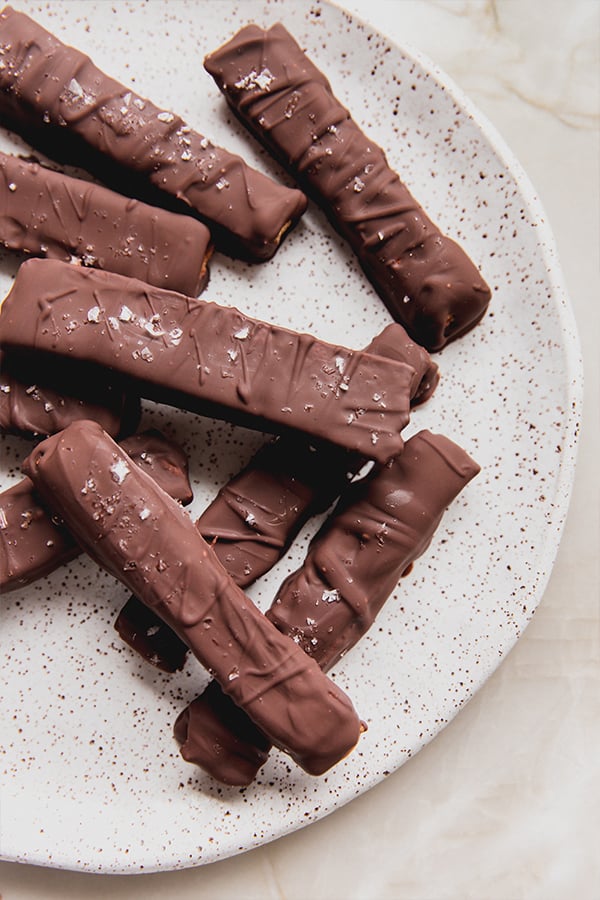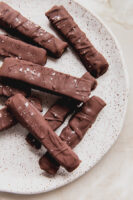 Gluten Free Kit Kat Bars (Dairy free)
---
Author:
Yield: 12 servings 1x
For the wafer
1 egg (sub flax egg, see notes)
3 tbsp coconut oil, melted
3 tbsp coconut sugar
1/2 tsp vanilla extract
1 cup almond flour
2 tbsp arrowroot starch
1/4 tsp baking soda
For the chocolate
---
Instructions
Preheat the oven to 325 F.
To prep the wafer dough, combine the egg, coconut oil, coconut sugar, and vanilla extract. Whisk well. Fold in the almond flour, arrowroot, and baking soda. Stir until a dough forms.
Add the dough to a greased sheet of parchment paper and roll it into a thin, large rectangle about 1/4″ thick. Using a sharp paring knife, score the dough in half horizontally, and then slice thin vertical strips.
Transfer to the oven and bake for 12 minutes or until lightly golden brown. Remove from the oven and allow to cool before carefully breaking up the wafers into individual pieces.
Using a method of your choice (I prefer a double boiler method) melt the chocolate and coconut oil together until fully liquid.
Working with one wafer at a time, add a thin layer of chocolate to the top and sandwich another wafer on top. Transfer to a parchment-lined baking sheet. Repeat for all of the wafers. Transfer to the freezer for about 10-15 minutes or until set.
Remove from the freezer. Working with one layered cookie at a time,  carefully dip each one into the melted chocolate, using a fork to allow the excess chocolate to run off. Set the coated cookie back onto the parchment paper and repeat. Use any leftover chocolate to drizzle over the top of the cookie. Top with salt if desired.
Return to the fridge until the chocolate is set. Serve chilled, and store in the fridge for 3-4 days or in the freezer for a month.
Notes
To make a flax egg, combine 1 tbsp ground flaxseed and 3 tbsp water. Allow to sit for 5 minutes to thicken.
All nutritional information are estimations and will vary. Nutritional information does not include optional ingredients.
Nutrition
Calories: 207
Fat: 11.5g
Carbohydrates: 17.9g
Fiber: 1.7g
Protein: 3.2g