Hasselback White Sweet Potato (Paleo, AIP, Whole 30)
I've been seeing hasselback potatoes around a lot more recently… and I was intrigued. I'm a big fan of getting creative with sweet potato (enter sweet potato chicken poppers) and this seemed like a great opportunity to have a little fun! So I broke out a sharp knife, my favorite sweet potato (Japanese, white sweet potato) and a creamy sauce for this Hasselback White Sweet Potato Recipe!
So, first what is hasselback? It's essentially the method of making lots of little slits in a potato (or another veggie) and roasting it. But, why hasselback a sweet potato? Aren't fries or baked potatoes enough? What's so special about it, and why is everyone doing it? Here are just a few reasons why I'm loving the hasselback method…
It's unique!
It's easier than it looks
It helps the flavors permeate the sweet potato more than a baked potato
It's crispy like a french fry, but soft like a baked potato… basically the best of both worlds
It makes for a pretty presentation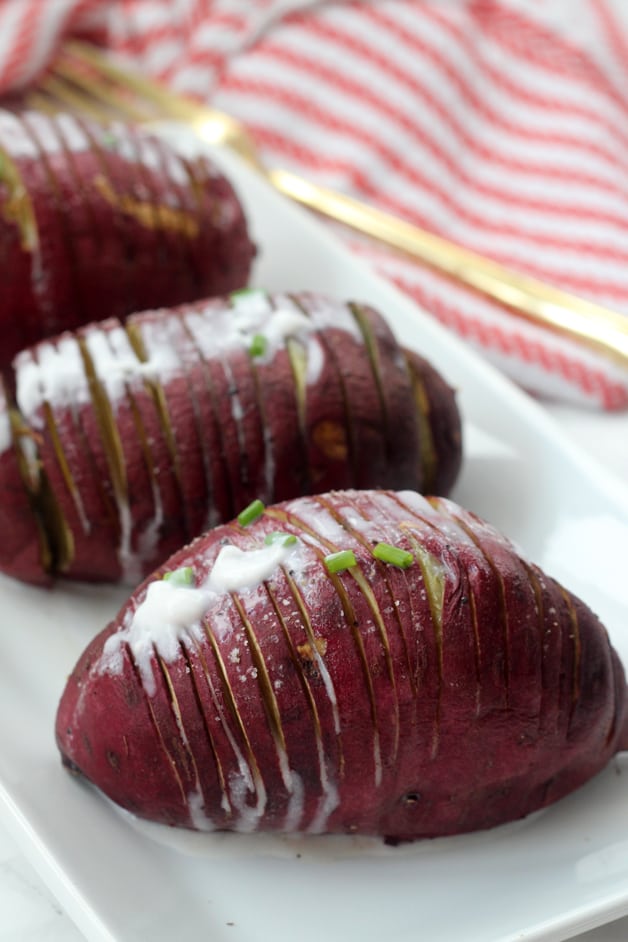 So, do I have your attention? Here's what you'll need…
The Ingredients You'll Need for the Hasselback White Sweet Potato
White Sweet Potato
This is my personal favorite variety, and the closest to an actual potato in my opinion. But, where do you get it? I buy mine at Natural Grocers or Whole Foods. Can you sub other varieties? Yes! This is just what I like to use.
Coconut oil
Coconut oil is the cooking oil for this recipe, but you can sub other cooking fats like butter or ghee if you tolerate it.
Chives, sea salt and pepper (omit for AIP)
Fresh chives really round out the flavor as do salt and pepper (omit the pepper for AIP).
For the optional sauce…
For the sauce, you'll need coconut cream, coconut milk, apple cider vinegar, and salt. This is an optional sauce.
Cookware You'll Need…
A sharp knife
These suckers can be hard to cut!
Chopsticks
Wooden chopsticks are the secret weapon to slicing these guys! You'll see the method below…
Print
Hasselback White Sweet Potato (Paleo, AIP, Whole 30)
---
3 white sweet potato (sub other varieties, and see above for where to buy these)
2 tbsp coconut oil, melted (or ghee for non-AIP)
2 tsp fresh chives
1 tsp sea salt
1/2 tsp black pepper (omit for AIP)
FOR THE OPTIONAL SAUCE
1/4 cup coconut cream
1/8 cup coconut milk
1 tsp apple cider vinegar
Pinch of sea salt
---
Instructions
Preheat the oven to 400 F and line a baking sheet with parchment paper
Wash the sweet potatoes well, and line them up on a cutting board. Place a chopsticks on both sides of the sweet potatoes, and make 15-20 slits in them. You can do this without chopsticks, just be careful and controlled!
Top the potatoes with coconut oil, salt, and pepper if using.
Bake in the oven for for 50 minutes to an hour or until sweet potatoes are baked to liking. Remove to the oven and allow to cool slightly before serving. Top with fresh chives.
For the sauce, combine the coconut cream, coconut milk, apple cider vinegar and salt and whisk well. Serve the sauce over the sweet potatoes. Note that it will melt if the potatoes are too hot!
Notes
All nutritional information are estimations and will vary. Estimations do not include optional ingredients or sauce.
Nutrition
Serving Size: 1 serving
Calories: 193
Fat: 9.1g
Carbohydrates: 26.2g
Fiber: 3.9g
Protein: 2.1g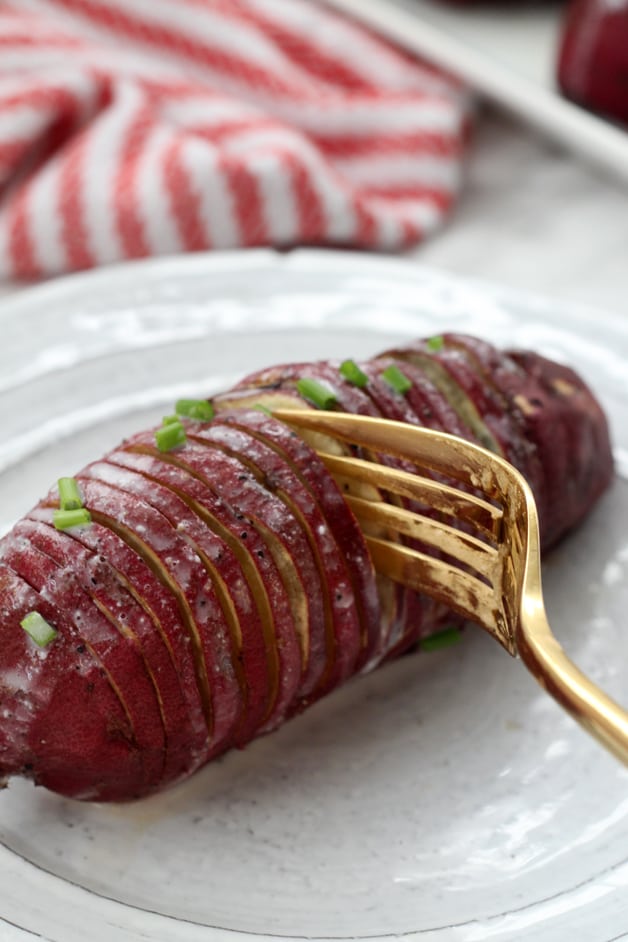 That's all there is to it! Easy, right?
These sweet potatoes are the perfect weeknight side dish, or will be sure to impress guests at holiday dinners. My husband I have been eating them with a variety of different toppings!
Here are some more topping ideas…
Crispy bacon
Fresh herbs like cilantro
Diced avocado
etc.
I hope you love these fun little potatoes!