Healing Favorites | October
I've had the urge for quite some time now to share more about my actual day to day life on my blog. How I really live with Hashimoto's and heal, and how my job as a nutritional therapist is, and the like. But, to be perfectly honest, I'm not that exciting on a day to day basis. So, I compromised and have decided to start sharing my healing favorites every month!
My Healing Favorites series is going to be a monthly installment of what products I'm loving, what recipes I'm eating, what other influencers I'm watching, and more tips and tricks for what I actually do to support my ongoing healing lifestyle.
I constantly stress that healing from autoimmune disease and chronic gut issues has been a lifestyle for me. It may have started with a 30 day commitment, but it's evolved into so much more than that to make sure that I never get back to a place of being unwell again. So, I hope that these monthly healing favorites will inspire you to keep trying new things to support your healing!
So, here's some of what I've been loving for healing in the month of October…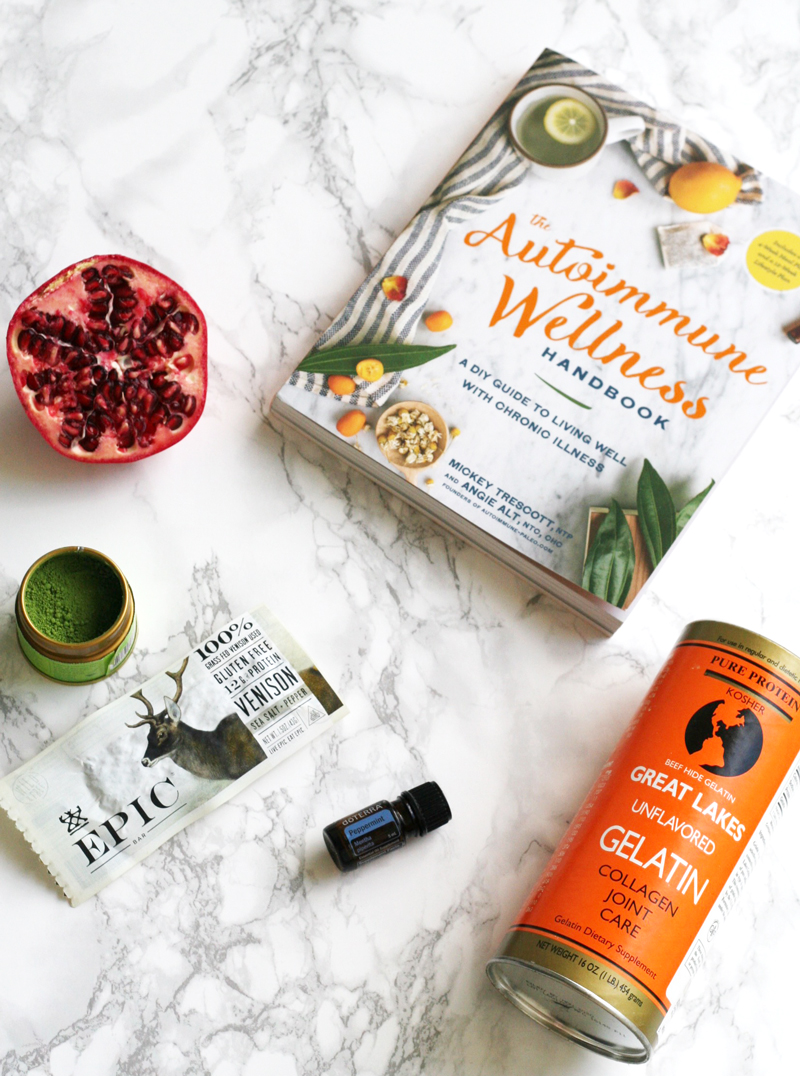 Favorite Healing Foods
This month, I've been trying to cut back on the sugar-y treats like dark chocolate and have opted for more homemade fruit based treats. That's where Great Lakes Gelatin has come in. Great lakes gelatin from grass-fed cows is an amazing source of gut healing gelatin! I used it to make my Pumpkin Turmeric Gummies and have also made some mixed berry lemon gummies with it… yum!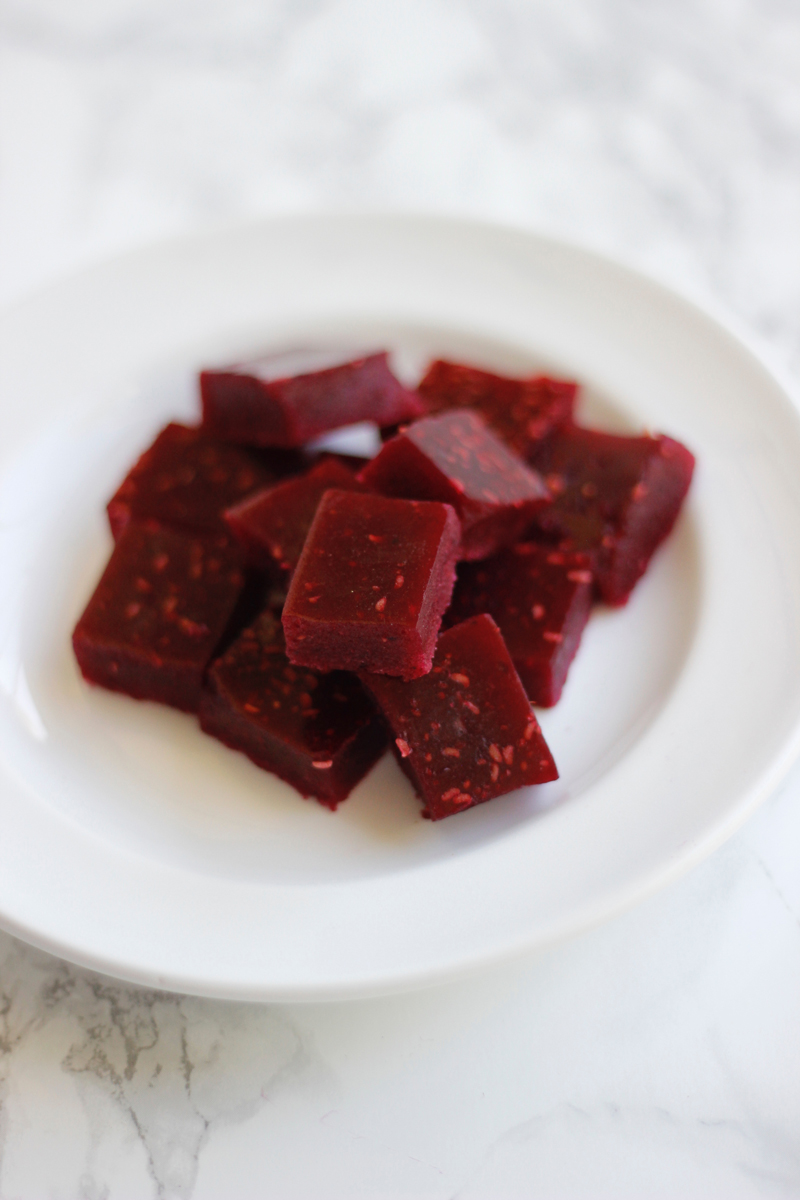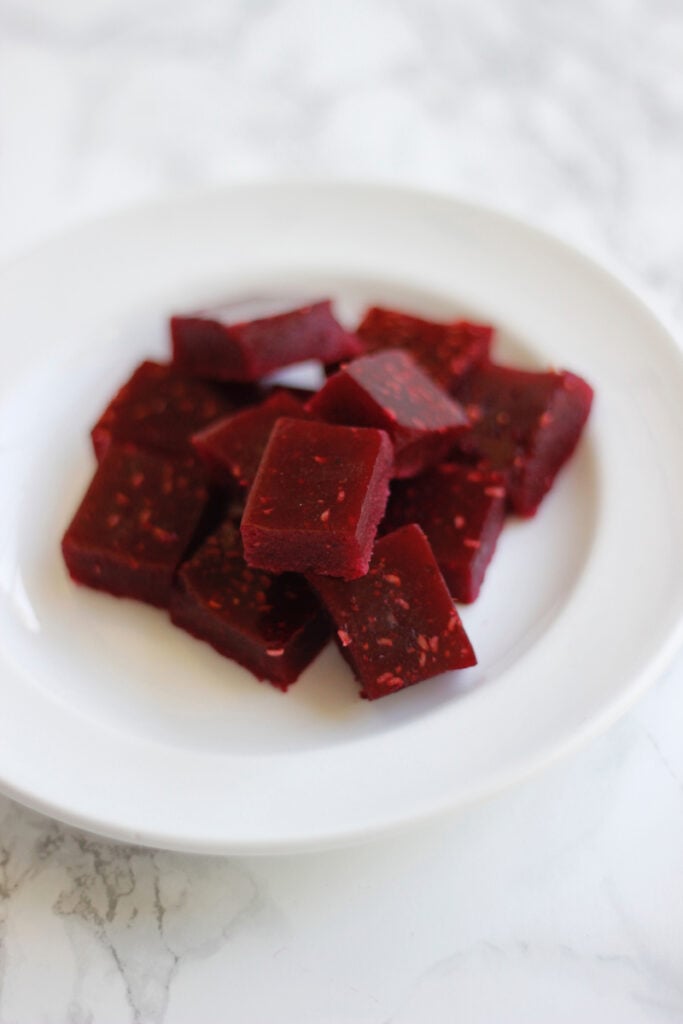 Recipe for these gummies pictures to come, and photo by @mydallasobsession.
Also, I have a new favorite EPIC bar… Venison! Oh my gosh. It's not totally AIP as it's pretty pepper-y, but it's delicious! During my short trip to Colorado earlier this month, I stocked up on EPIC bars for hiking and took a chance on the Venison, and fell in love instantly. There's zero added sugar, and it's the perfect convenience grab n' go type food.
I'm also loving pomegranates recently! They're right at the peak of their season right now, and the seeds are perfect for adding to salads or to the top of warm vegetable pureed soups.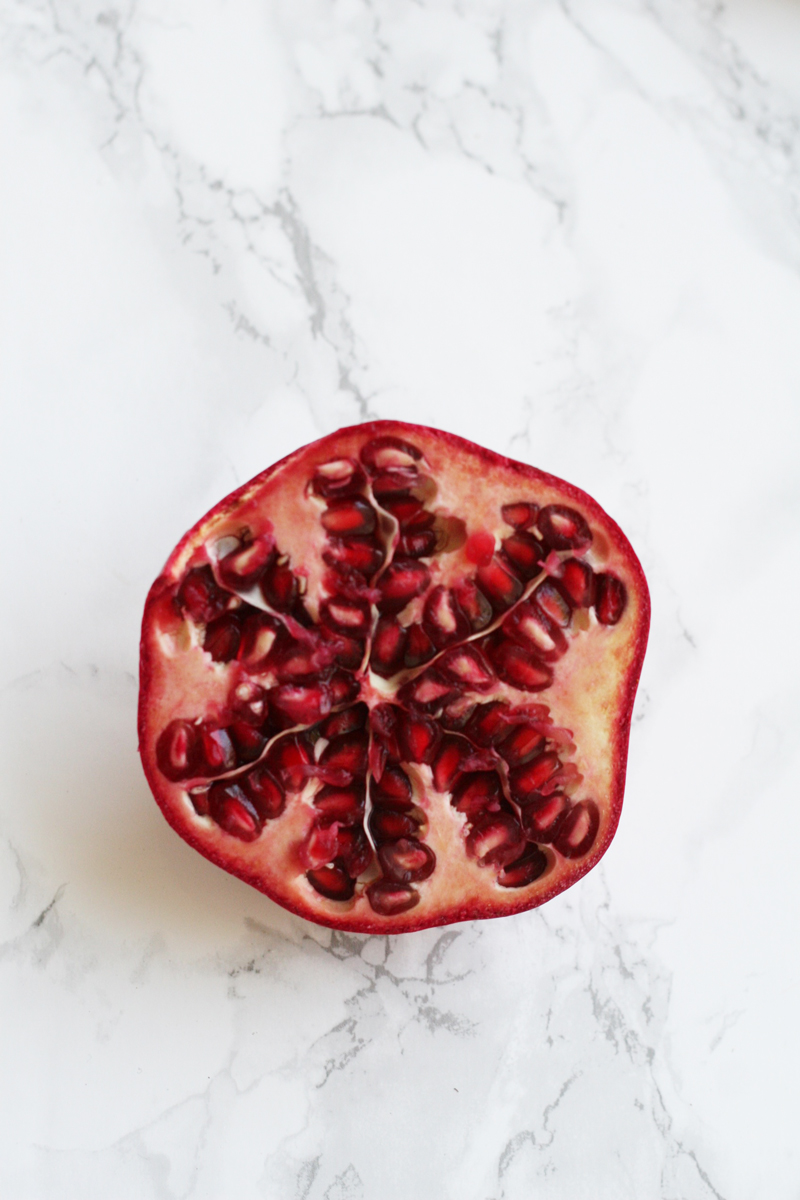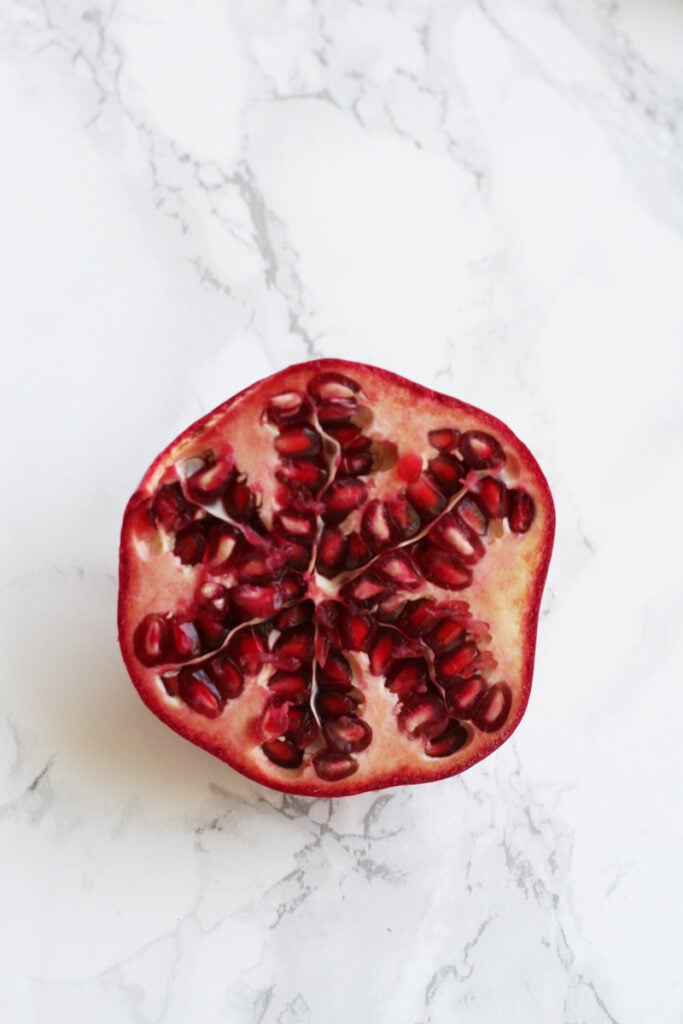 Favorite Healing Drinks
Of course, my favorite healing drink is always going to be bone broth. But this month, I've really gotten into matcha!
Matcha is a whole green tea leaf and is a potent antioxidant. It is caffeinated, but it provides a steady and balanced caffeine boost rather than a spike and crash like coffee. I'm super sensitive to caffeine in coffee, and I can have matcha just fine in moderation.
You can make matcha into a latte with coconut or almond milk, use it in cooking, or drink it as a straight tea. I've been loving matcha lattes with homemade date sweetened almond milk. Swoon.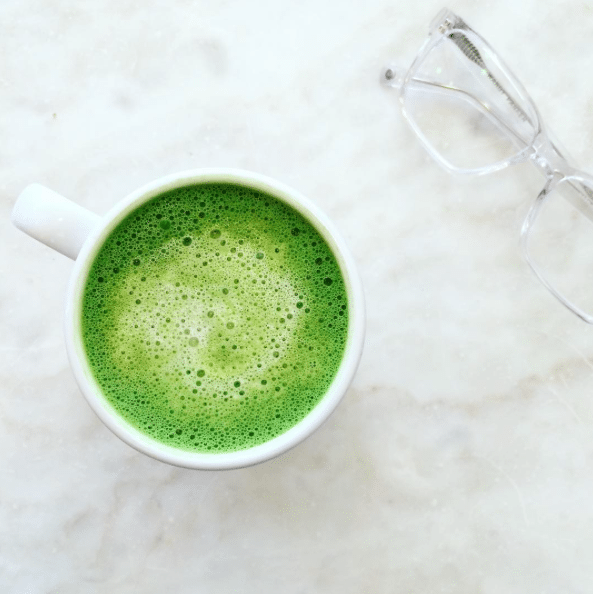 I got this particular matcha latte from Local Press + Brew here in Dallas. If you haven't been, I highly, highly suggest it!
Favorite Healing Reads
This is huge in healing reads as The Autoimmune Wellness Handbook officially released!!
Mickey and Angie sent me a copy a few weeks ago, and I've been dying over this book. It's a must have for anyone who just got diagnosed with an autoimmune disease, or even seasoned folks like myself.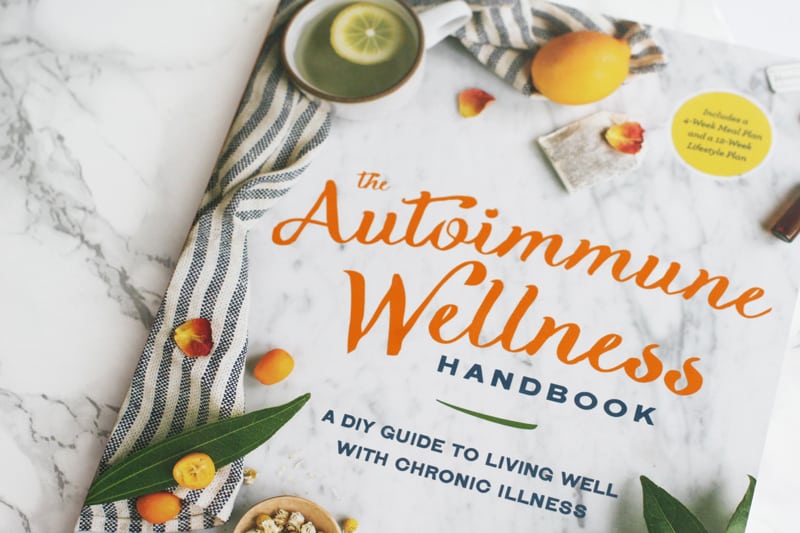 The Autoimmune Wellness Handbook has healing recipes, lifestyle guides, and tons of information on living well with autoimmune disease by finding your own path to living well with autoimmune disease. It's not about following one cookie cutter approach, but personalizing your diet, your exercise, your social interaction, and so forth. This book totally opened my eyes to so many gaps in my own healing lifestyle, and I'm so grateful to be able to have it and have something so amazing to refer my nutritional therapy clients to!
Favorite Healing Influencers
I'm just as obsessed with finding new influencers on Instagram as the next gal for inspiration, ideas, and just for fun. This month I've been loving @NourishingLolaAndSage . She's a primal Queen and mother of two gorgeous little girls, and feeds her girls 100% real food. Liver, bone broth, vegetables, egg yolks, you name it. Not a single Goldfish cracker, sugary cereal bowl, or juice box. I'm not a mom (yet) but seriously… #momgoals.
Favorite Healing Downtime
One of my favorite ways to have some downtime recently is defusing some peppermint oil! I'm a recovered candle addict…. I loved the smell, how it made me feel, and how it makes everything all nice and seasonal. However, I hate how candles are endocrine disruptors. So peppermint oil has been one of my favorite natural ways to have a relaxing, nostalgic scent in my office while I'm working.
Speaking of which, I'm teaming up with Jewl Hinton on Instagram for a giveaway of three essential oils, peppermint being one of them! Find out more details here on how to enter until November 4th!
I was also incredibly blessed to spend three gorgeous days with my Husband in Estes Park, Colorado. We haven't taken any time off together in a year, so it was over due.
We flew into Denver and spent our first day in Boulder (which I loved), and then drove up to the mountains where we went hiking in Rocky Mountain National Park which was a dream.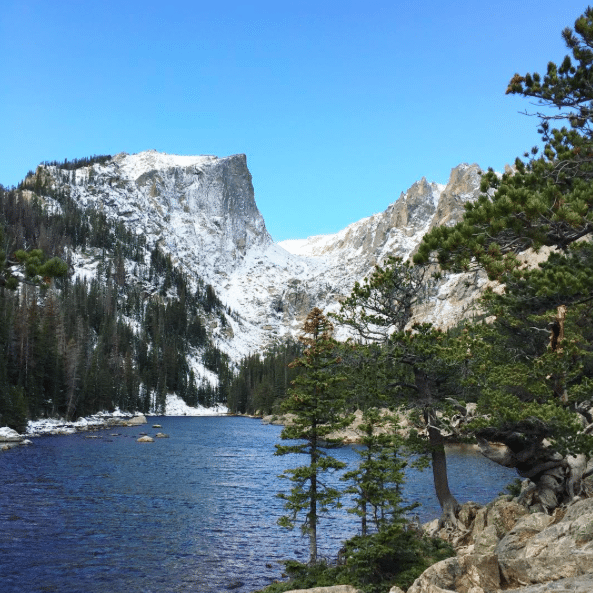 Yup, Dream Lake was casual. The hike up the mountain to this lake was listed as easy, but was pretty challenging in the cold with the elevation. Seriously, Dallas is FLAT y'all. I am not used to climbing mountains. But clearly, it was worth it.
We also did all of the touristy things like walking around the town, sitting by the fire in our cabin, and even getting a massage. It was just the healing retreat I needed before entering into a super busy holiday season. I even got to wear cold weather clothes!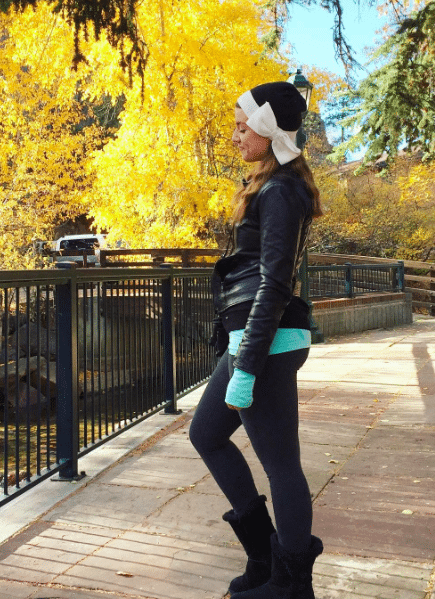 Yeah, totally not pulling out that leather jacket yet in Dallas.
Needless to say, October was an amazing month filled with lots of favorites and smiles. I hope this round up helped inspire you!
What were your October healing favorites?
---
This post contains affiliate links. Learn what that means, here.