Healing Halloween Pumpkin Turmeric Gummies (AIP, Paleo)
The words "Healing" and "Halloween" typically don't go anywhere near each other. Halloween is literally all about sugar (or alcohol if you're a drunken college student dressed as a mouse… duh) which is anything but healing. However, not everyone has the option to binge on sugar, and in my opinion, nobody really needs to do so.
Halloween is fun, I get it. Candy is fun, I know. I've done it, and I get it, and I don't think you should stop doing it completely. Everyone needs a little treat now and then. It's fun and it helps keep things balanced. However, I just can't binge on M&M's. I literally have to abstain or I'm looking at a flare of my autoimmune disease, and I know many others who can relate.
But let's face it… social pressures are there and traditions are a thing, so even a grumpy nutritionist with an autoimmune disease like me wants to join in on the fun of treats. So, how about turmeric pumpkin gummies?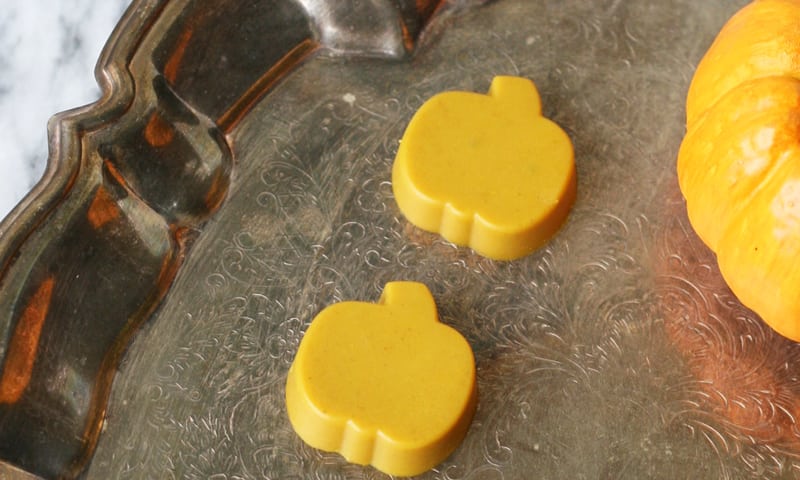 These guys are cute, festive, delicious, easy to make and have all of the benefits of a healing food! How can you go wrong? So, what are some of the benefits of these ingredients?
The Healing Benefits of Turmeric
Turmeric is a hot topic these days, and seems like a big food trend. My anti-inflammatory coconut turmeric bites have quickly become my most popular recipe on my blog. However, it's anything but a fad. Turmeric has been used in aryuvedic medicine for centuries, and the active ingredient, curcumin in known as an anti-inflammatory aid.
So, what are the healing benefits of turmeric?
Anti-inflammatory
Increases antioxidant count
Can potentially help fight cancer
Improves arthritis symptoms in many
Helps reduce cholesterol (by lessening inflammation)
It's important to know that turmeric is fat soluble, and black pepper can help the bioavailability. Black pepper isn't allowed on the elimination stage of AIP, so leave it out if needed.
Turmeric has a deep orange color which can easily overtake a dish, but they're perfect for these pumpkin gummies as the pumpkin is already orange!
The Healing Benefits of Gelatin
I used to think that gummies were made from some sort of nasty, gelatinous mystery ingredients. And conventional gummies still aren't ideal. However, gummies made from grass-fed gelatin are an amazing healing food that make incredibly fun little snacks.
Everyone in the paleo world brags hard on gelatin.. and for good reason.
What are the benefits of gelatin?
Promotes healing of the gut lining
Aids the elasticity of skin, and support healthy hair and nails
Supports joint and bone health
So, basically… pumpkin turmeric gummies are the best halloween candy ever, right?
I think yes.
I don't know if you can even call these candy, but for our purposes… they're candy.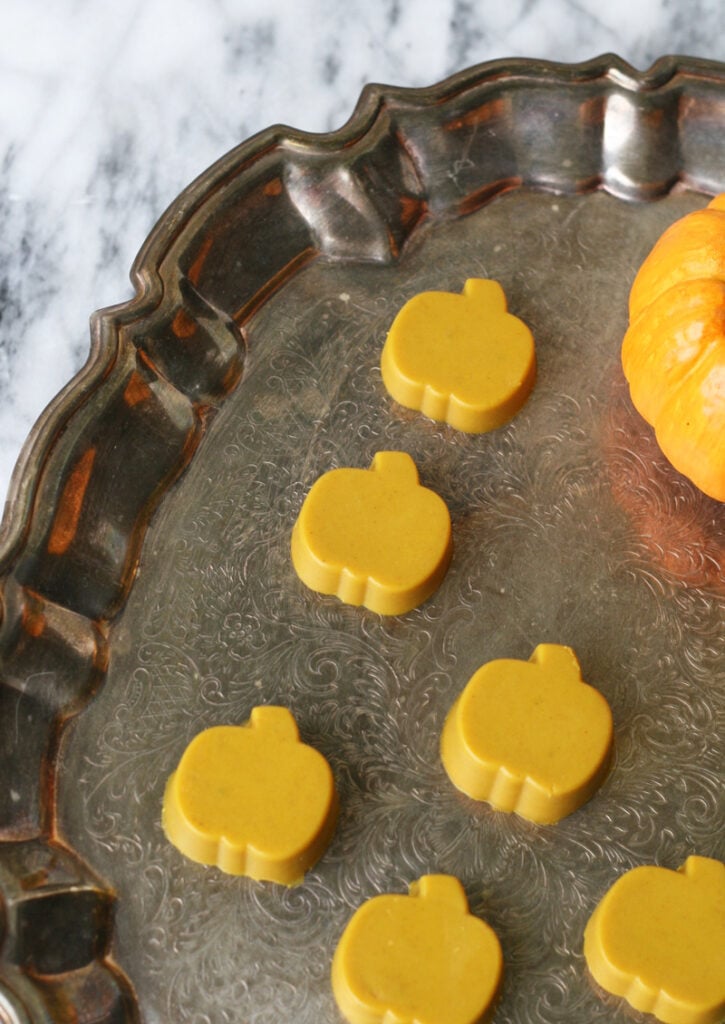 Print
Healing Halloween Pumpkin Turmeric Gummies
---
1 cup coconut milk (full fat)
1 cup pumpkin puree
1/4 cup grassfed gelatin
1 tbsp turmeric
1 tsp vanilla extract (alcohol free)
1 tbsp raw honey
1 tsp cinnamon
1/2 tsp pumpkin pie spice blend (use an AIP version without nutmeg for strict AIP)
A pinch of black pepper (omit for strict AIP)
---
Instructions
In a high speed blender like a vitamix, mix all of the ingredients, reserving the gelatin, on high and blend until combined.
Pour the mixture into a sauce pan and heat on medium heat. Add the gelatin little by little, stirring in to make sure there are no clumps and heating on medium for about 5 minutes.
Remove from heat and allow to cool.
Add the mixture to pumpkin molds and refrigerate for at least an hour.

Have a happy halloween, friends!