Pomegranate Beet Fall Salad (AIP, Paleo & Vegan)
Can I be real for a second? Desserts, treats and starches tend to get the most likes on my blog. And for good reason… they're delicious! We tend to load up on treat recipes and then completely overwhelm ourselves with making creative meals for dinner. I'm guilty of stressing and overcomplicating as well and just focusing on avoiding the bad stuff. However, real food doesn't have to be complicated. And, when it comes to a healing diet, I believe that what we do eat is just as important if not more than what we do. We need nutrient dense, simple meals and sides, so here I am sharing a tasty pomegranate beet salad!
So, it only took until the first week of November, but it finally feels like fall here in Dallas, TX. 60 degrees, flannels, and all of the feels. Typically, this weather has me craving beef stew or pot roast before anything else, but since I joined a local CSA, I've been all about fresh veggies and refreshing salads! Fresh seasonal vegetables that are suitable for salads don't go away when it gets colder. In fact, fall veggies like arugula, beets, and fruits like pomegranates are some of my absolute favorites for salads! I've been spotted eating this pomegranate beet salad with a homemade dressing often on my Instagram, and am so in love with it that I wanted to share it here on the blog.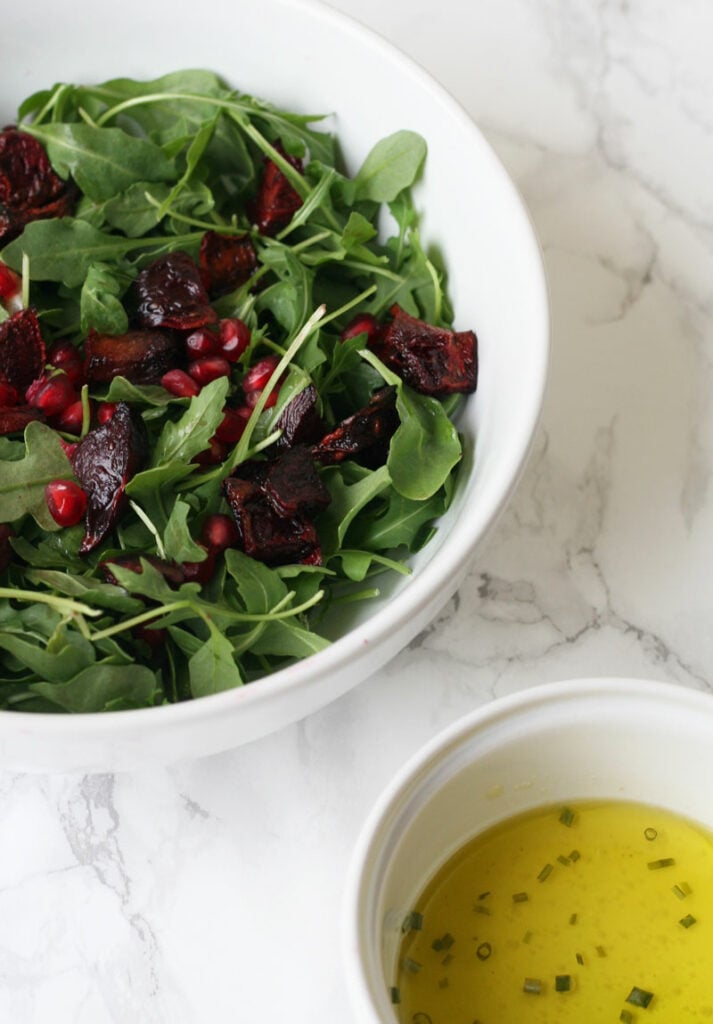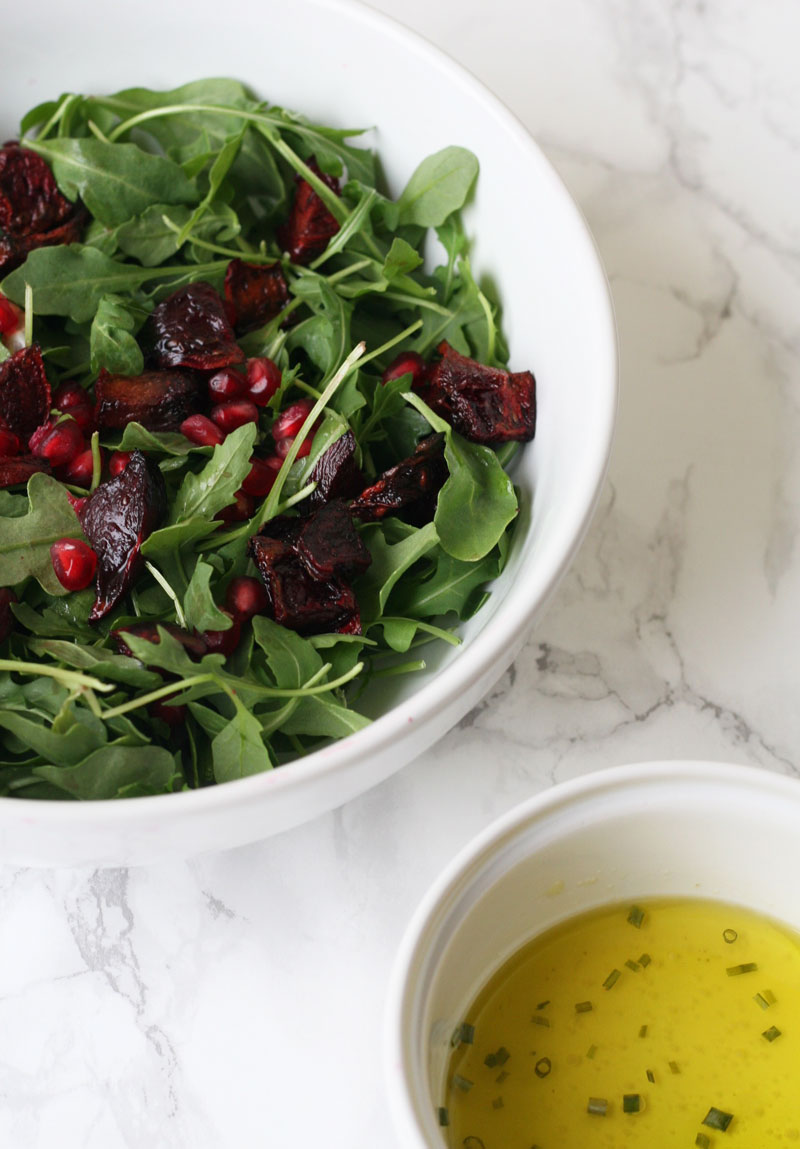 I'm a huge advocate of eating local, fresh foods that are in season as actual paleo cavemen did. Cavemen didn't have the opportunity to pop into whole foods whenever they wanted for a bag of plantain chips. I mean, I'm guilty of going for these convenience foods here and there, but it's important to do the best that we can as often as possible!
This salad features two of my current favorite local veggies… arugula and beets! Arugula is a super peppery leafy green that I was skeptical of at first, but have become a big fan of. I'm also really into beets and love how they taste roasted.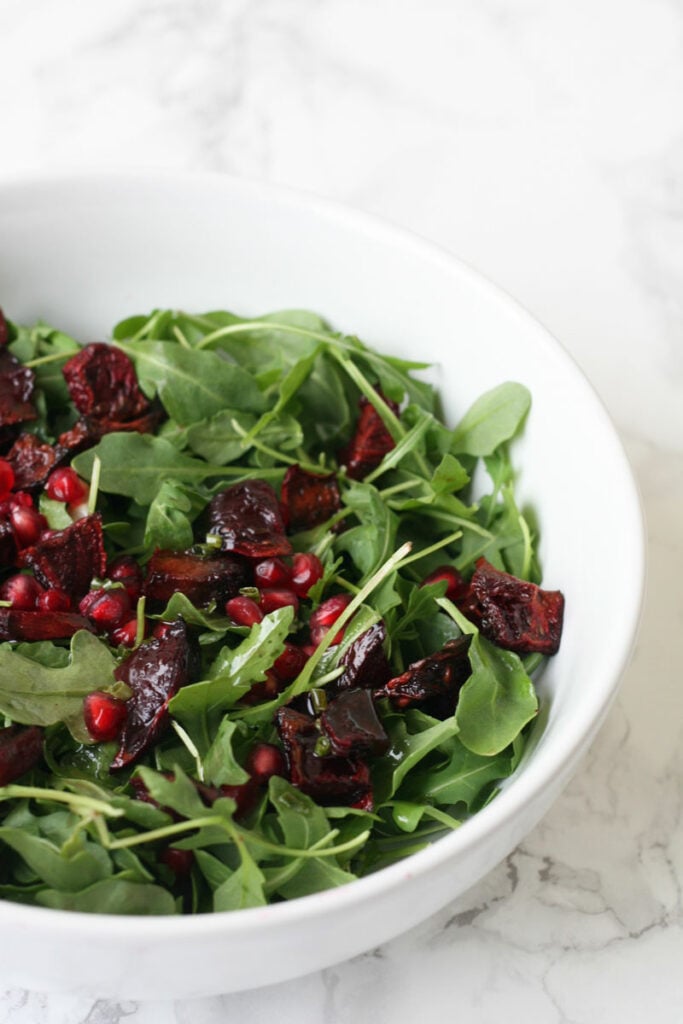 To round out the salad, I also used pomegranate which is a fruit that I'm always loving in the fall, and a homemade salad dressing. Ever since I had to break up with ranch dressing and other creamy mystery dressings, I've either just called it quits on salads, or have eaten salads without dressing. Which, lets be honest, if incredibly dry and boring.
Salad dressing is one of those things that I feel like we can overcomplicated, that needs to just be made simple. I learned as a teen helping my mom in the kitchen that dressing really just needs two things.. oil and acid, and the rest can be for flavor. Which is what I've done with this super simple dressing.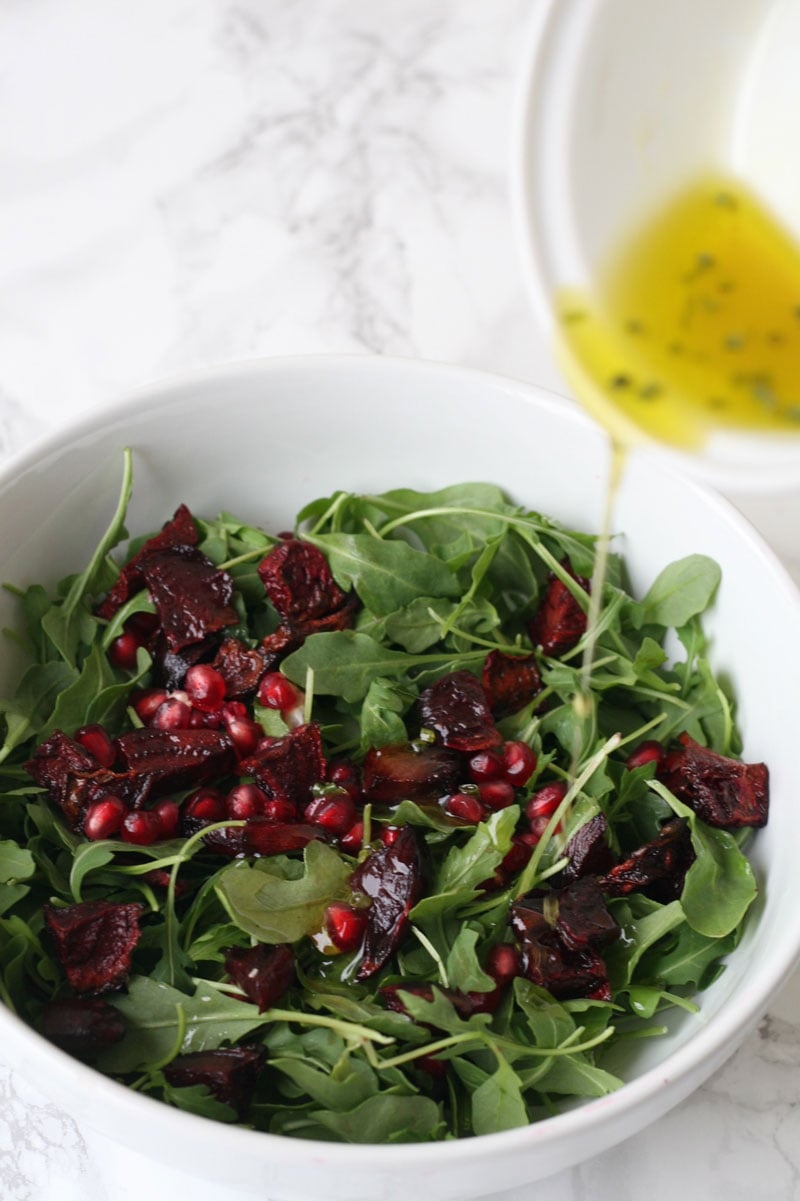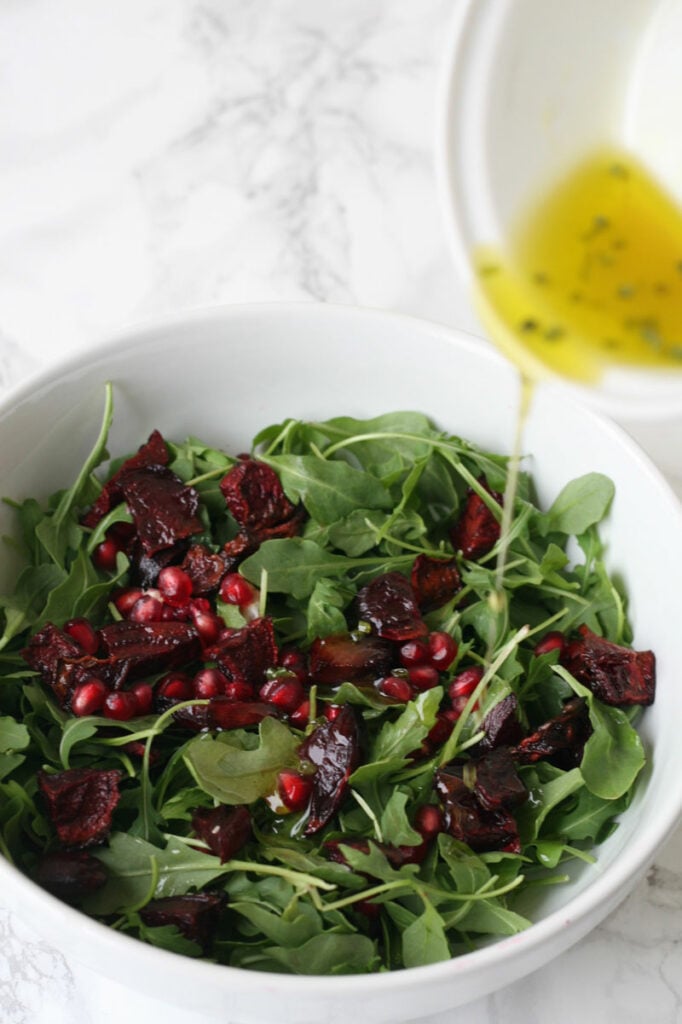 Print
Pomegranate Beet Fall Salad (AIP, Paleo & Vegan)
---
FOR THE SALAD
2 cups arugula
1 tbsp coconut oil or other solid cooking fat (for roasting the beets)
1 small/medium beet, peeled and cubed
3–4 tbsp of pomegranate seeds
1/2 tsp sea salt
FOR THE DRESSING
1 tbsp olive oil
1/2 tsp apple cider vinegar
1/2 tsp lemon juice
1/2 tsp chives (dried or fresh)
1/4 tsp salt
---
Instructions
Preheat the oven to 400 F
Add the beets to a baking sheet and top with cooking fat and salt
Roast for 35-40 minutes or until soft. Allow to cool.
Assemble the salad, and add the beets
For the dressing, combine the ingredients and whisk together
Add the dressing to the salad and enjoy!
Add protein like chicken, sardines, or salmon if desired, or eat as a side.
I hope you enjoy this simple fall salad, friends!
Remember… keep it simple, don't overcomplicate, and focus on what you do eat rather than what you don't.