Hidden Veggie Meatballs (Gluten free, Dairy free)
These hidden veggie meatballs are the best way to sneak in extra vegetables to your diet, or for kids! They're gluten-free and dairy-free.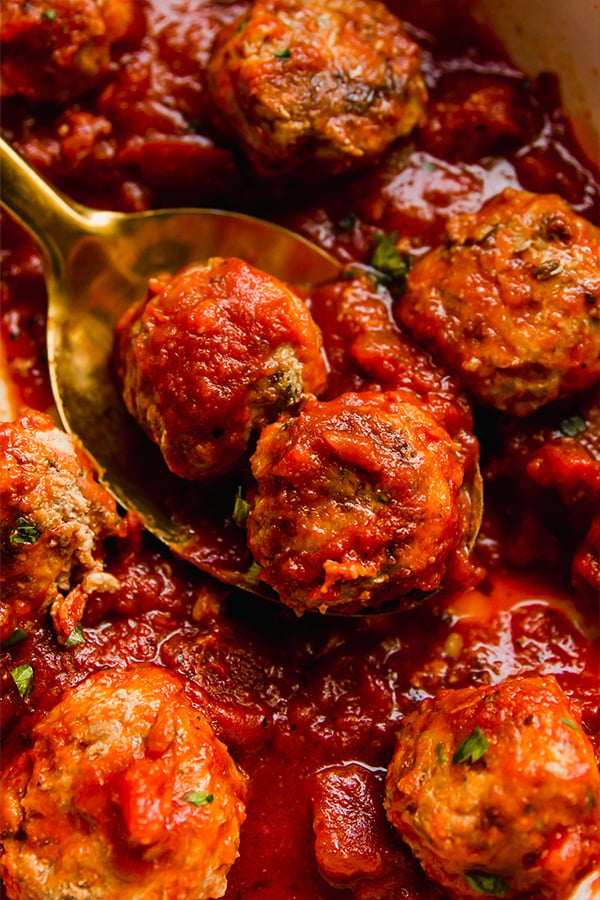 I'm always looking for new ways to squeeze extra veggies into my diet, and my sons! It's a great way to get more nutrients and fiber, and I find that it's an easy way to help picky eaters get used to the flavors of vegetables. My son loves meatballs, and I though it was a great opportunity to sneak in some veggies.
These meatballs are easy to make and nutrient-packed! Serve them like you would Italian meatballs with sauce and pasta, or as a main protein with a side of veggies.
Why You'll Love Gluten Free Hidden Veggie Meatballs
It's extra veggies! These meatballs are a great way to squeeze in extra veggies for anyone.
These meatballs are so flexible! They are great over pasta with sauce or serve with a side like rice, vegetables or a salad! These meatballs also freeze great.
The Ingredients for Gluten Free Hidden Veggie Meatballs
Pork & turkey. This is the blend that I like to use for meatballs when I want to switch it up. You can easily use ground beef instead of turkey, or all ground beef if you prefer.
Egg. You can omit for AIP and add extra oil, as noted in the recipe.
Zucchini, and Carrot. These veggies add extra fiber and nutrients to the meatballs and are a great way to squeeze in extra veggies!
Almond Flour. You can use coconut flour for an AIP version, see notes on the recipe.
Garlic Powder, Onion Powder, Dried Parsley, Dried Basil, Dried Oregano, Salt, and Black Pepper. These seasonings add some extra flavor to the meatballs.
Avocado Oil.
Pasta Sauce and Parsley. Optional for serving!
How to make Gluten Free Hidden Veggie Meatballs
Step One. Shred and squeeze out excess liquid from the carrot and zucchini.
Step Two. Combine all the ingredients for the meatballs and then scoop out into uniform sized meatballs.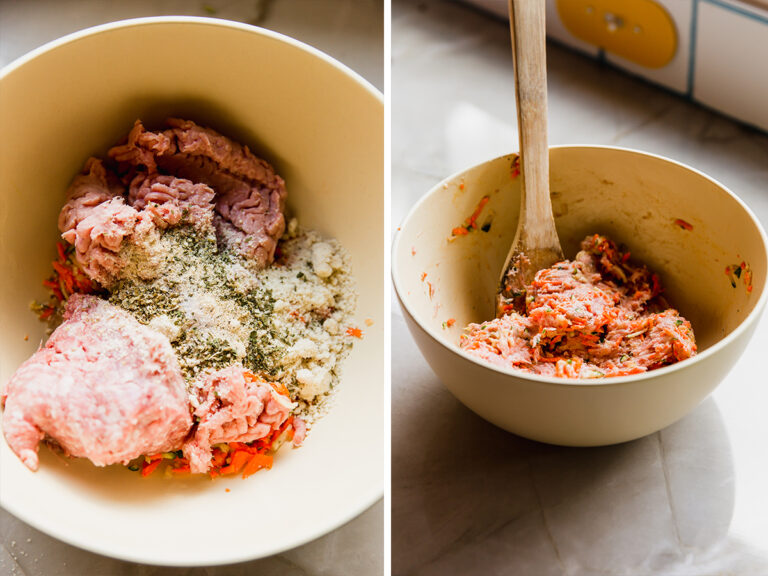 Step Three. Heat oil in a pan and then add the meatballs and allow to crisp on all sides.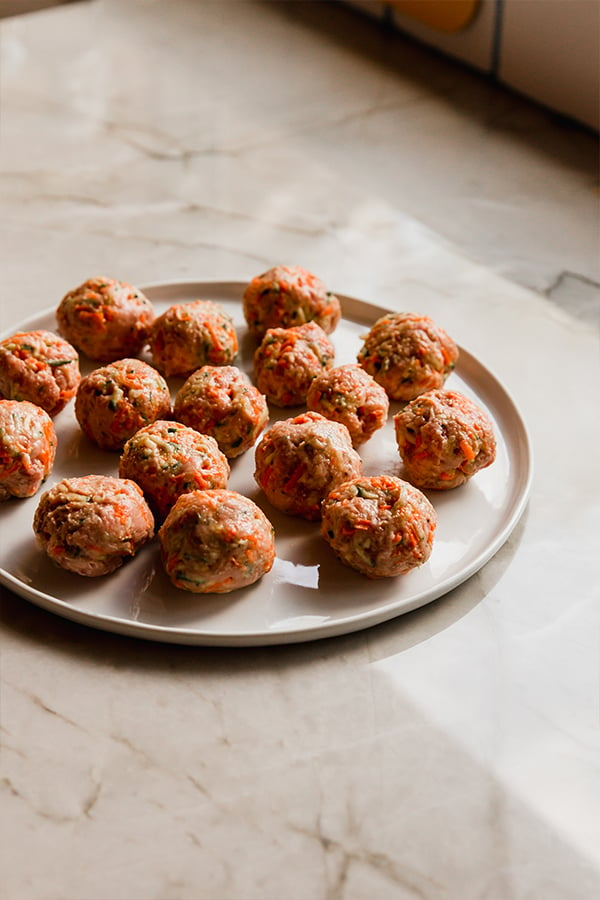 Step Four. If making with a sauce, pour sauce over the meatballs and allow it to simmer.
Step Five. If not making a sauce, transfer the meatballs to the oven to bake.
Step Six. Enjoy!
Tips & Tricks
Squeeze all of the water out of the vegetables! Zucchini in particular has a lot of moisture. Make sure you get it all out before adding it to the meatball mixture.
Use enough oil or a nonstick pan. Meatballs can definitely stick if you don't use enough oil. Make sure to add more if needed, or simply use a nonstick ceramic pan if you struggle with sticking.
Can you add different vegetables?
Another great vegetable option for this recipe would be very finely chopped broccoli florets! You can also experiment with sautéed and chopped spinach.
How do you serve these meatballs?
I've included two different options for serving the meatballs over pasta, or without a sauce. If you prefer to forgo the sauce, you can serve them with a side like rice, vegetables or a salad!
How do you store these meatballs? Do they freeze well?
Store the meatballs in an airtight container for 3-4 days in the fridge and reheat on the stove. You can freeze them for 2-3 months.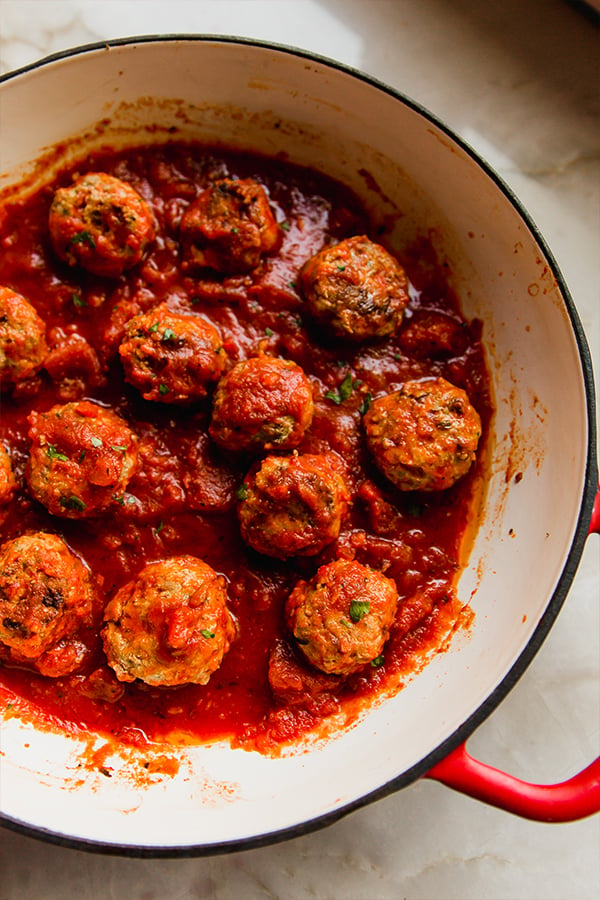 You'll also like…
Print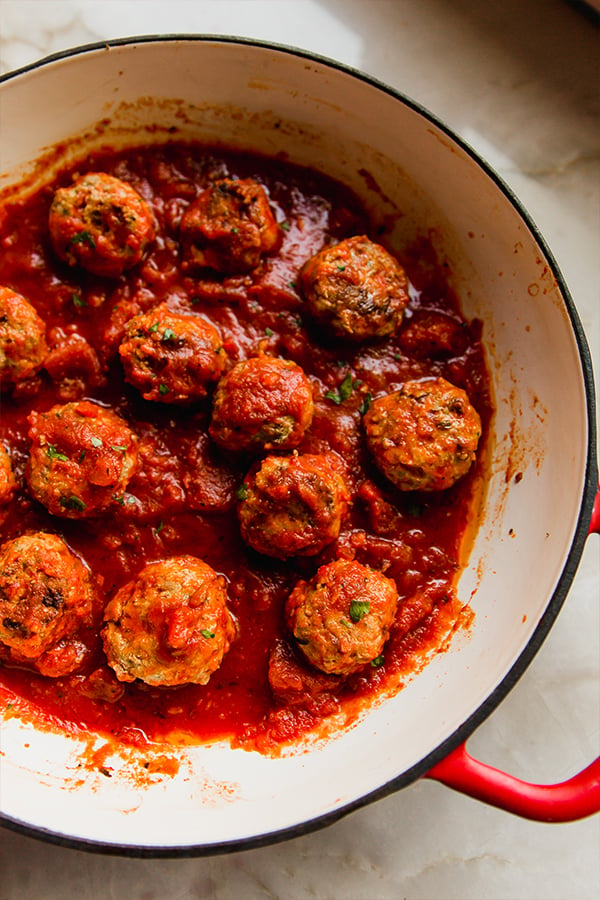 Hidden Veggie Meatballs (Gluten free, Dairy free)
---
Author:
Total Time: 40 minutes
Yield: 6 servings 1x
Diet: Gluten Free
4 oz zucchini (about half a large zucchini)
4 oz carrot
1/2 lb ground pork
3/4 lb ground turkey
1 egg (see notes for AIP)
2 tbsp almond flour (sub 2 tbsp of coconut flour for AIP, see notes)
2 tsp garlic powder
2 tsp onion powder
2 tsp dried parsley
1 tsp dried basil
1/4 tsp dried oregano
1 tsp salt
1/3 tsp black pepper (omit for AIP)
2 tbsp avocado oil
To serve (optional)
16 oz pasta sauce
1 tbsp parsley, chopped
---
Instructions
Using a food processor, finely shred the carrot and zucchini. Use a nut milk bag or clean dish towel to squeeze out the excess liquid.
Add the vegetables to a bowl along with the pork, turkey, egg, almond flour, and seasonings. Stir well to combine. Using a cookie scoop, scoop out the meatball mixture. Wet you hands and form into round, uniformly sized meatballs (about 1.5″ in diameter). Place on a clean plate.
Using a large, deep (oven safe) pan, heat the oil over medium heat. Once the oil is shimmering, add the meatballs. Allow to crisp on all sides until lightly browned and crisp.
To make without a sauce- Transfer the pan to the oven at 375 F degrees. Bake for 10-12 minutes or until the meatballs are 165 F.
To make with a sauce- Pour the sauce over the meatballs and lightly stir to coat. Bring the sauce to a low simmer for 15 minutes, or until the meatballs are 165 F.
Serve the metaballs over pasta and top with parsley, or with a side like rice and roasted vegetables.
Notes
If making the meatballs AIP, also add about 1 tbsp of olive oil to add extra moisture to account for being egg-free.
All nutritional information are estimations and will vary. Estimations do not include optional ingredients.
Prep Time: 20
Cook Time: 20
Category: Main Dishes
Method: Stove Top
Cuisine: Global
Nutrition
Serving Size: 1 serving
Calories: 267
Fat: 18.4g
Carbohydrates: 4.1g
Fiber: 1g
Protein: 19.7g
Keywords: hidden vegetable meatballs