Kombucha Jello Shots
When it comes to treating myself and indulging, I've always been way more inclined to chocolate-y treats and comfort food rather than alcohol. It's never interested me, and it's never made me feel good. But one thing I can't deny is that they sure make alcoholic beverages look fun, right? I don't even want the alcohol. I just want drinks served in ridiculous ways. Come one… I want to drink bone broth from a fish bowl and put paper fans in my green smoothies.
One thing that has always intrigued me was jello shots. I've never tried or made these, but always thought they looked fun. So I got to thinking… is there a way I could make alcohol free jello shots? Maybe with… kombucha? And yes… you can. Kombucha jello shots are your frat party dream with a real food twist.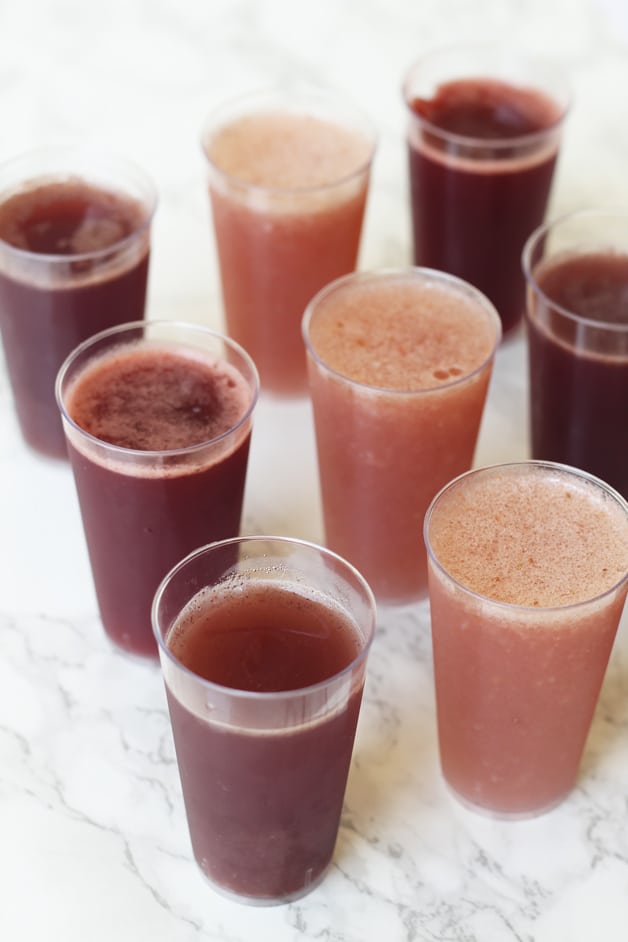 So, Why Kombucha?
If you've never had kombucha, it's essentially fermented tea. It's incredibly trendy right now, and though I still prefer things like sauerkraut, kombucha is popular for a reason. It's a good way to get in some variety of gut bacteria without actually thinking about it too much, all while having a yummy drink!
You guys know how important a healthy gut micro biome is and how much I focus on it, so I'm all for anything fermented. The only thing I will say is that kombucha is very high in yeast and histamine making it better to avoid for some who are sensitive.
Also, I'll always recommend kombucha over alcohol any day. Not only is it better for your gut, but I firmly believe you don't need alcohol to have fun.
Why Jello Shots?
Like I said, they're fun. Jello is just fun, okay?
Before I really understood gelatin, I always thought jello was just full of chemicals to give it the jiggly texture. Rather, gelatin is a healing food! When made from a pastured source (like Vital Proteins) gelatin can help support the gut lining, as well as hair, skin, and nail health.
So basically, they're non-alcoholic gut-loving shots. Win, win.
Though jello shots are often seen at parties and events throughout the year, I created these especially with the fourth of July in mind. I just didn't want to do another berry dessert or a watermelon salad. Though I'll clearly still have these at my own 4th of July BBQ this year, I predict that the kombucha jello shots which be a much bigger hit.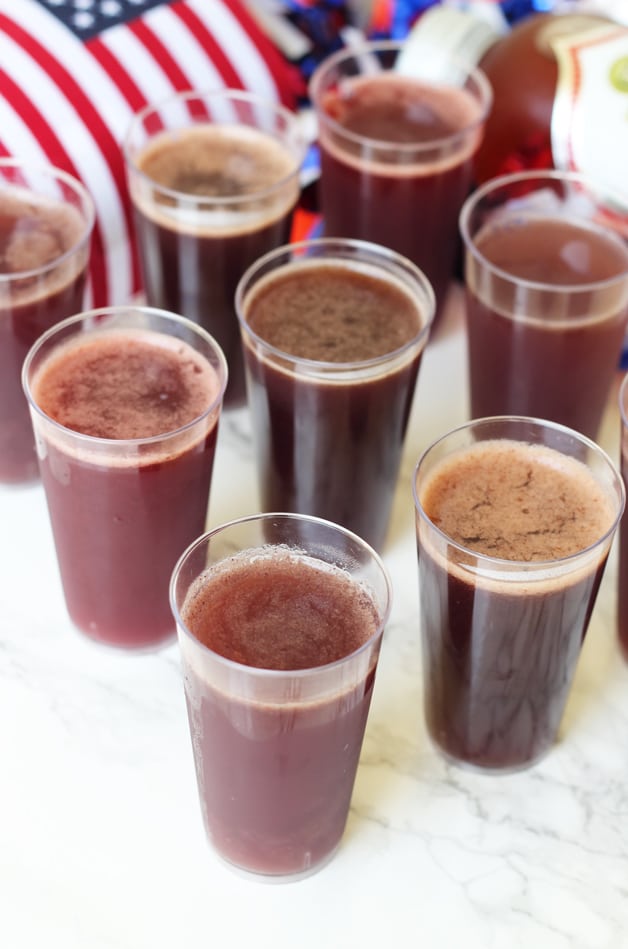 Print
1/2 cup water
1/2 cup kombucha (flavored or unflavored… your choice!)
1/3 cup frozen fruit (cherries or blueberries for the darker red, or strawberries for pink)
1 tbsp honey
1 tbsp gelatin
---
Instructions
Add the water and berries to a high speed blender and blend on high for 1-2 minutes or until thoroughly combined. You don't want any chunks or fruit skins visibly present.
Pour the mixture into a sauce pan and stir in the honey
Very slowly sprinkle in the gelatin to make sure it's evenly spread out and dissolves
Quickly whisk the mixture to combine the gelatin
Place the sauce pan on a stove top set to medium/low heat for 4-5 minutes or until the gelatin is fully melted
Pull off the stove and allow to cool for a few minutes
Once cooled, add in the kombucha
The kombucha will foam, so allow the mixture to settle for a minute or so, and then scoop off the excess foam with a spoon
Pour the mixture into shot glasses (you'll have 3-4 for tall shot glasses and 6-8 for shorter ones) and allow to set in the fridge for 45-60 minutes before enjoying
NOTE that the shots may harden to the point where it's difficult to pour out of a shot glass depending on the glasses you use and how long they were in the fridge. If this happens, simply just break them up with a spoon or straw!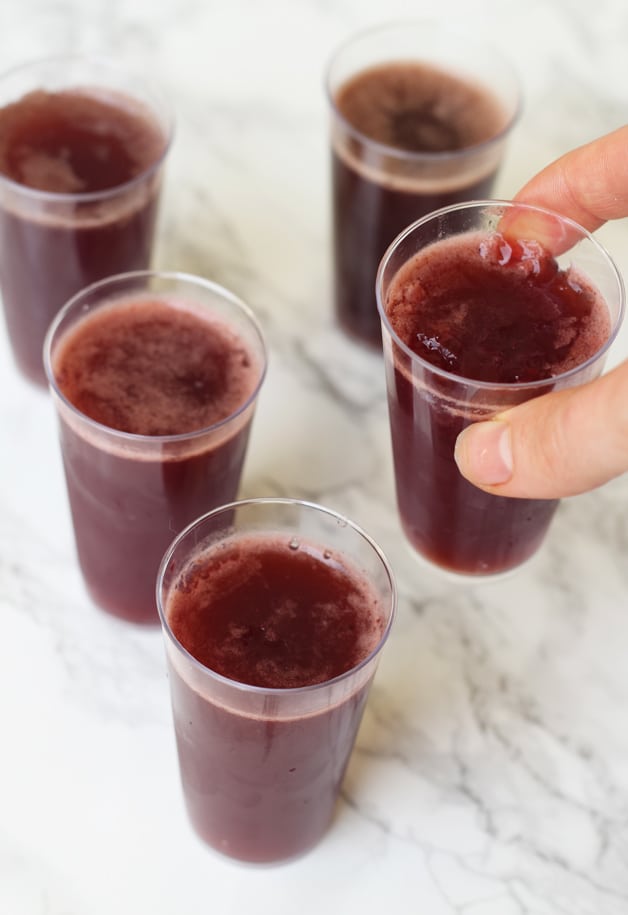 Like I said, you may find it challenging to use a glass shot glass. Jello shots are traditionally taken in very small plastic shot glasses because they're easy to bend and shoot out the jello. I may lose my hippie card for this, but no judgement from me if you go with the traditional plastic! It's easier, and the liquid is cooled by the time you add it to the plastic so you don't have to worry about it melting the plastic.
Have fun, be safe, and enjoy the heck out these Kombucha Jello shots this holiday, to all of my party people! I can't wait to see your versions at your own parties on social media!