Paleo Christmas Crack (AIP)
Nothing says "the holidays are here" quite like a yummy treat covered in red and green touches. Not only is it fun to eat decorated holiday treats, but it's just as much fun to make them. Decorating Christmas cookies or making gingerbread houses has always been one of my absolute favorite holidays traditions. However, it all of a sudden gets a lot less convenient when you aren't using frozen sugar cookies and store bought gingerbread house molds. How do you still have an easy to decorate treat that's also delicious and food allergen friendly? This AIP & Paleo Christmas Crack is all of that and more!
So, what the heck is Christmas crack? Traditionally, it's made with boxed saltine crackers, melted chocolate, and multi color sprinkles. Easy, and festive right? Sounds like the perfect little treat until you consider the crackers can be made with enriched wheat flour, soybean oil, cottonseed oil, and refined salt… just to name a few. You have to know your own limits, but for people like me with Hashimoto's disease, gut issues, and food intolerance, even a little bit of conventional Christmas crack will leave me feeling awful during one of my favorite holidays.
How do you replace saltine crackers with a paleo and AIP alternative? Yucan crunch! These crackers are made with 100% yuca, a grain free starch, and they make the perfect base for this Christmas crack. You don't have to make them from scratch, and you can easily get them on Amazon prime! Hello, convenience snack! So, let's talk about what else you need for this christmas crack…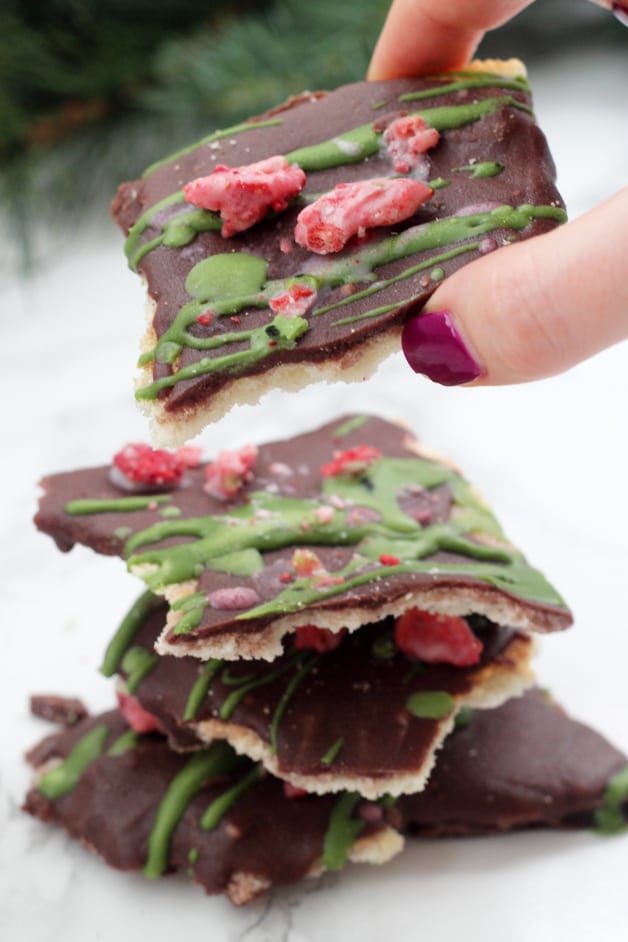 The Ingredients You'll Need For The Paleo Christmas Crack
Like I said, Yucan crunch is the best option for this Christmas crack. It's Paleo, AIP, and is only made with one ingredient. You can also use things like Simple mills crackers if you can tolerate almonds, or homemade paleo crackers, but yucan crunch is the best option.
Coconut butter and coconut oil
Coconut butter is also referred to as coconut mana, or coconut cream concentrate. These ingredients help recreate the chocolate coating that you'd get from melted chocolate, but they're full of healthy fats! You cannot sub nut butter like almond butter to get the same result.
Cocoa powder or carob powder for AIP
Cocoa powder works great in this recipe, or you can sub carob powder to make it AIP.
Honey or maple syrup
Both sweeteners work in this recipe.
Matcha powder and freeze dried strawberries
Here's where the Christmas-y decoration comes in! It's hard to make sprinkles that aren't loaded with mystery ingredients, and these options are more fun and flavorful anyway. The topping is optional, and you can read about how to actually make this work in the instructions below.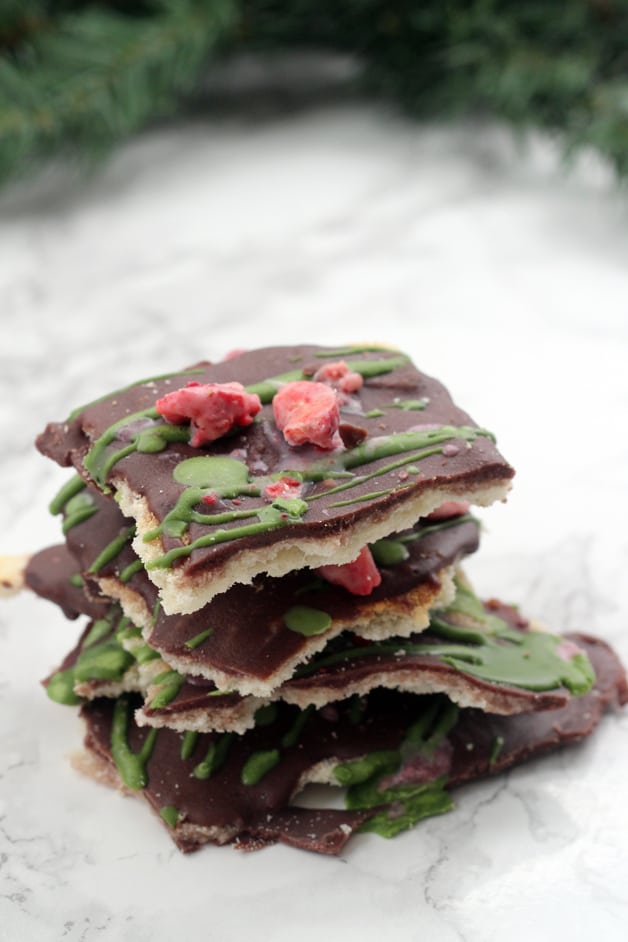 Print
Paleo Christmas Crack (AIP)
---
2 sheets of yucan crunch crackers (you can sub other paleo/ AIP crackers, but these work best)
1/2 cup coconut butter, melted
1/4 cup coconut oil, melted
3 tbsp cocoa powder (sub carob for AIP)
2 tbsp maple syrup or honey
1/2 tsp sea salt
FOR THE DRIZZLE & TOPPING
2 tbsp + 2–3 tsp melted coconut butter
1/2 tsp matcha powder
2–3 tbsp crushed freeze dried strawberries
---
Instructions
Prepare a baking sheet lined with parchment paper and set aside
Take two sheets of yucan crunch crackers (or 2-3 cups of the crackers that you're using) and break them up into smaller pieces. Lay them out on the parchment paper.
Combine the coconut butter, coconut oil, cocoa powder, and maple syrup in a mixing bowl and thoroughly combine until smooth. Pour over the crackers and thoroughly coat. Add more coating if needed. Top with sea salt.
Place the crackers in the fridge for 2-3 hours or overnight to set. Remove when coating has hardened.
For the drizzle, combine 2 tbsp of melted coconut butter with matcha powder and mix. Using a small spoon, lightly drizzle the matcha over the crackers
Next, combine 2-3 tsp of melted coconut butter with the crushed freeze dried strawberries and add them to the top of the crackers.
Place the christmas crack back in the fridge for an hour or so, or until the decorations are hardened and set
Serve chilled and enjoy!!
Notes
All nutritional information are estimations and will vary. Estimations do not include optional ingredients.
Nutrition
Serving Size: 1 serving
Calories: 203
Fat: 20.3g
Carbohydrates: 4.3g
Fiber: 0.6g
Protein: 0.5g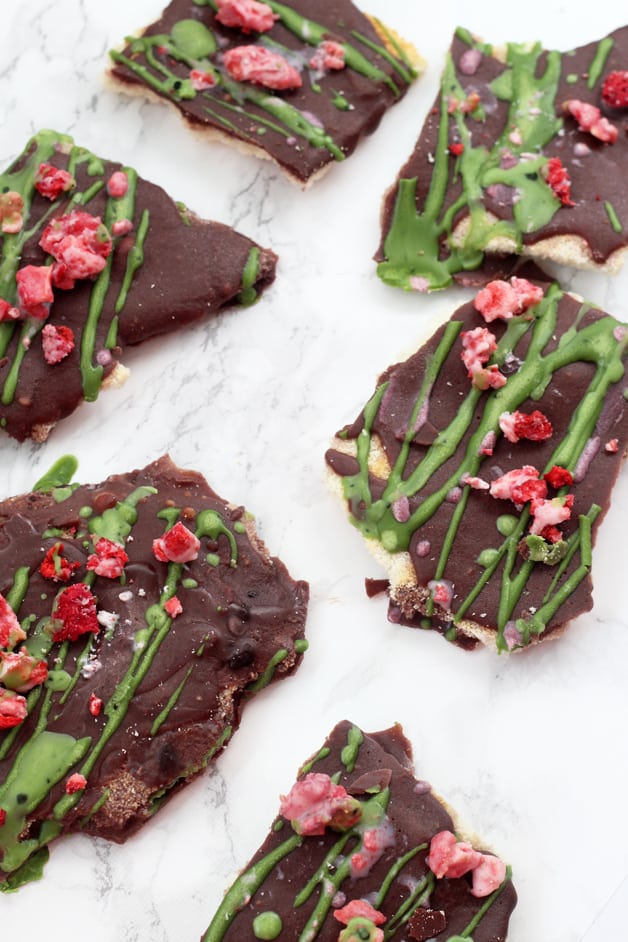 Isn't this stuff super fun? It's easy to make, fun to decorate, festive, and oh so delicious. I shared these with lots of folks who aren't at all paleo or AIP, and everyone was a fan!  They're great for sharing at parties or as edible gifts, and are perfect to let kiddos and the young at heart have fun with and decorate as they'd like.
I hope you enjoy this yummy treat! Be sure to tag me on Instagram if you try it!