Paleo Egg-free Pancakes with Almond Flour
This recipe contains affiliate links. Learn what that means, here.
Pancakes have always been a favorite in my family for special breakfasts. Whether it be birthdays, Christmas morning, or just a special Sunday, pancakes are the go-to. They're quick, easy to make, and just the absolute perfect breakfast comfort food.
There was a time where I was obsessed with protein pancakes when I first went gluten free to heal my Hashimoto's and leaky gut. Most of us who go gluten free go through that phase really. Who can resist pancakes as easy as banana, egg, and whey protein? Right? Well… though they served their purpose at the time, they just weren't really cutting it anymore.
After I realizing that whey protein and whole eggs were aggravating my gut and my autoimmune disease equally as much as the gluten in pancakes, I had to reshift my focus when it came to pancakes. I needed something egg free with high quality ingredients, and something that didn't always have to have the taste of banana or coconut. Sometimes I just don't want the overpowering tastes and textures of banana or coconut in my pancakes.
So I set out to make almond and cassava flour pancakes that are both egg free and banana free!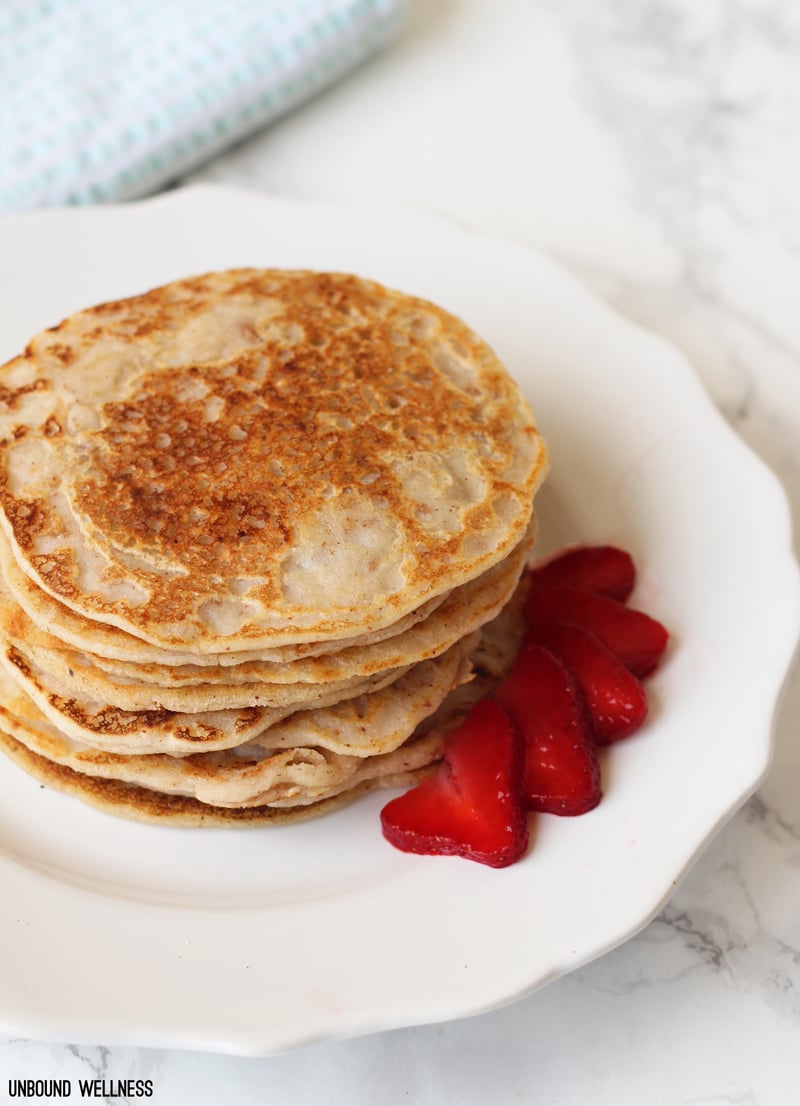 These pancakes are incredibly easy to make, satisfying, and in the words of my non-Paleo husband, "they taste almost like a snickerdoodle cookie"! They definitely don't feel like you're going without at all.
It's also important to note that though they may not be AIP, all they require is an almond reintroduction, and the rest of the ingredients are AIP friendly! As someone who's successfully reintroduced almonds, but not whole eggs (the whites still get me), these are perfect, and they're also great for just paleo folks who are egg free.
So, what binds these guys so well if there are no eggs or bananas? No it's not some weird gum and it's definitely not apple sauce either. It's actually almond butter! I make my almond butter homemade (but you can certainly use store-bought) and when you whisk it well enough, it makes the perfect binder and egg substitute in these pancakes. Plus, it meshes perfectly with the taste that's already there in the flour and isn't offensive like banana can sometimes be.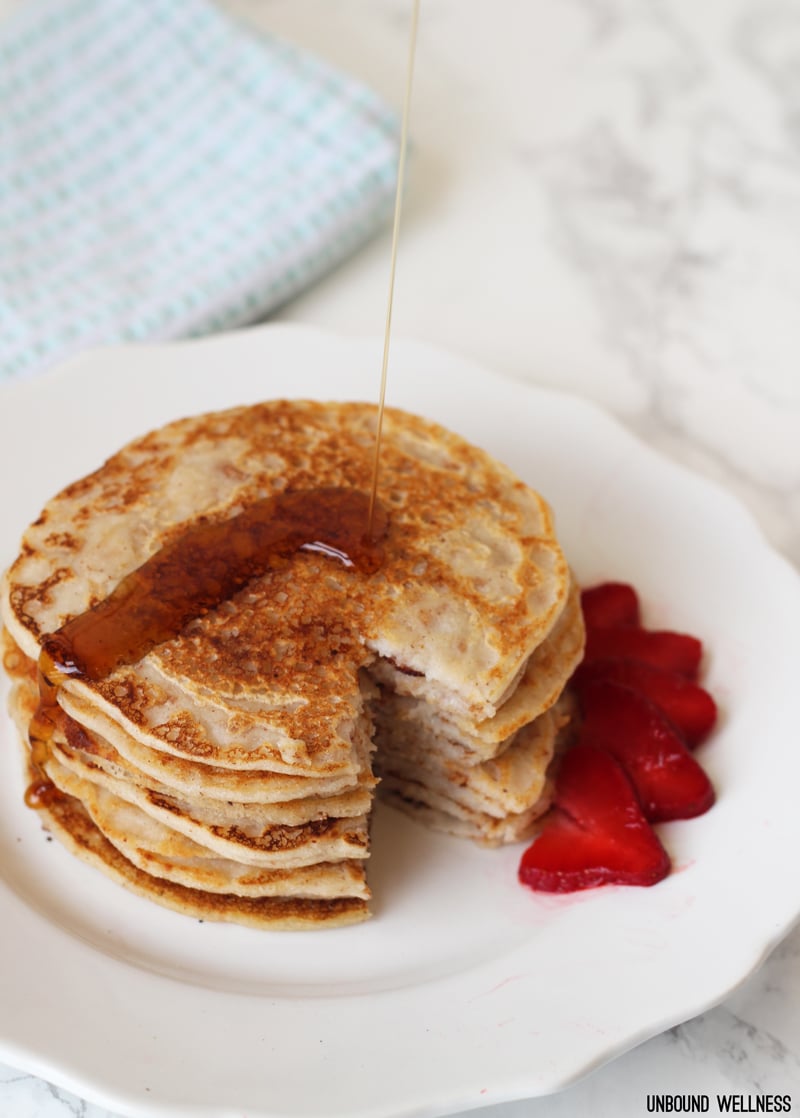 I love topping these with fruit and jam, and my husband is all about maple syrup! They're also great with a pat of ghee and a side of bacon for a more savory breakfast.
However, you choose to top them, they just straight up taste good.
Print
Paleo Egg-free Pancakes with Almond Flour
---
1 cup almond flour
1/2 cup cassava flour
1 1/4 cup almond milk (I use MALK organics)
2 tbsp almond butter
1 tsp raw honey
1/8 tsp baking soda
Ghee or coconut oil to grease the pan
---
Instructions
Combine the two flours in a large mixing bowl and stir
Add in the wet ingredients and the baking soda and stir well. You'll really want to make sure that the almond butter is broken down! Add another tbsp of almond milk if you'd like the batter to be thinner.
Heat a skillet (preferably something that doesn't stick) and melt about 1 tsp of ghee or coconut oil.
Add about 1/4 cup of batter at a time.
Flip the pancakes once the edges begin to brown. These pancakes don't truly "bubble" like traditional pancakes do.
Add another tsp of cooking fat, and repeat the process.
Continue the process until the batter is gone. You'll have about 8-9 pancakes to top with syrup, jam, or fruit, and enjoy!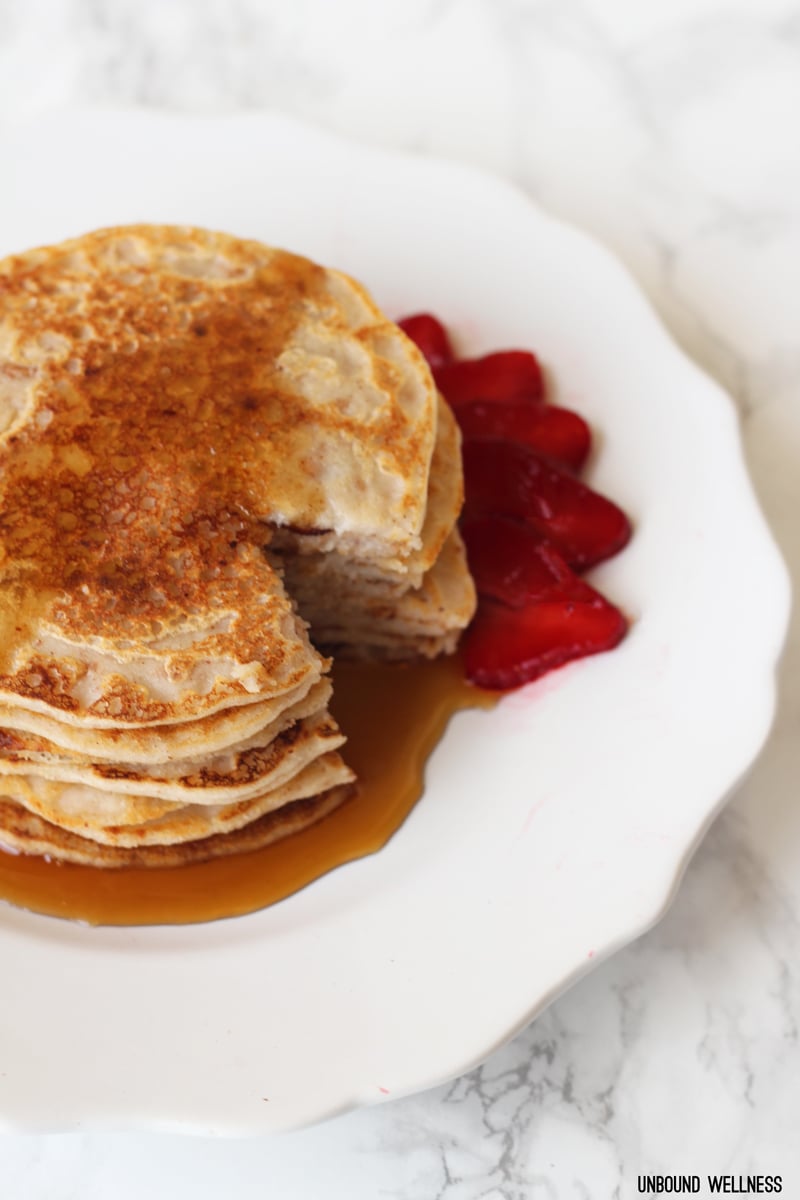 I hope you all enjoy these paleo pancakes!