Paleo Pancake Skewers (Vegan, Gluten Free)
These paleo pancake skewers are the perfect thing to serve at brunch! They're gluten free, grain free, egg free and vegan.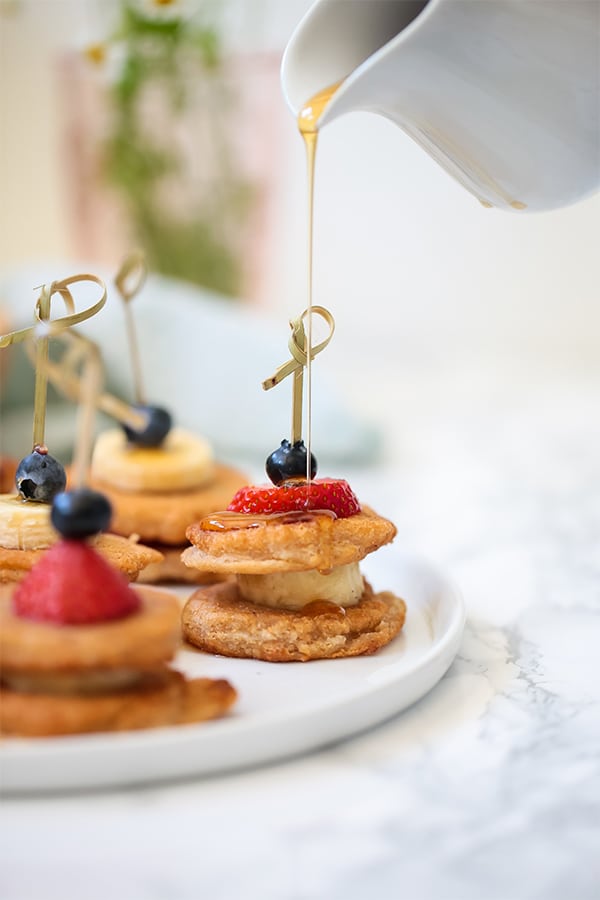 Nothing says brunch quite like pancakes. Pancakes have been present at pretty much every holiday in my house growing up, and most Sunday mornings. There's little you can do to make pancakes better than they already are… expect for make them into snackable little skewers!!
Of course, I love the nostalgia of sitting down to a nice personal stack of pancakes on my plate at breakfast. However, if you're trying to serve a large group at brunch, pancakes can take up a lot of space and a ton of plates and flatware! It's hard to really enjoy pancakes if you're milling around and talking to party guests at a brunch. That's why brunch items like pastries and bagels that are more grab and go are much more popular at brunches.
Making mini pancakes and placing them on toothpicks solves that problem of pancakes taking up too much room. They come with all of the pancake nostalgia you love, plus they're way cuter than bagels!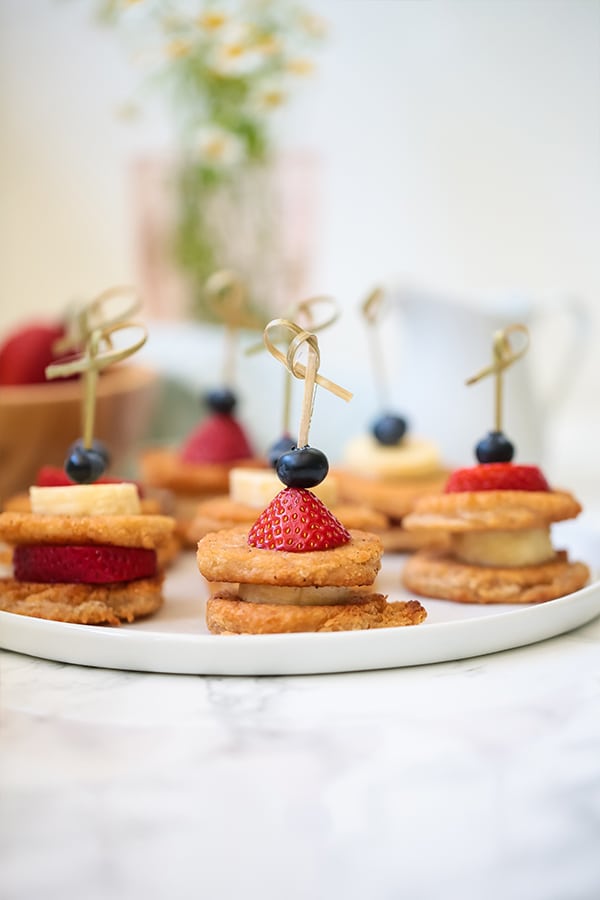 My husband and I actually had a brunch wedding, and I wish we would have had these! But I think we can all agree that they're perfection for mothers day brunch.
The Ingredients
Almond Flour
I tried tons of nut free options for these pancakes, but almond flour no doubt works the best.
Cassava flour
This flour makes the pancakes a bit more fluffy.
Almond Milk
Almond milk is thin enough to keep the pancake batter from getting too thick, which is what you want with good pancake batter. It will be thin, but not runny!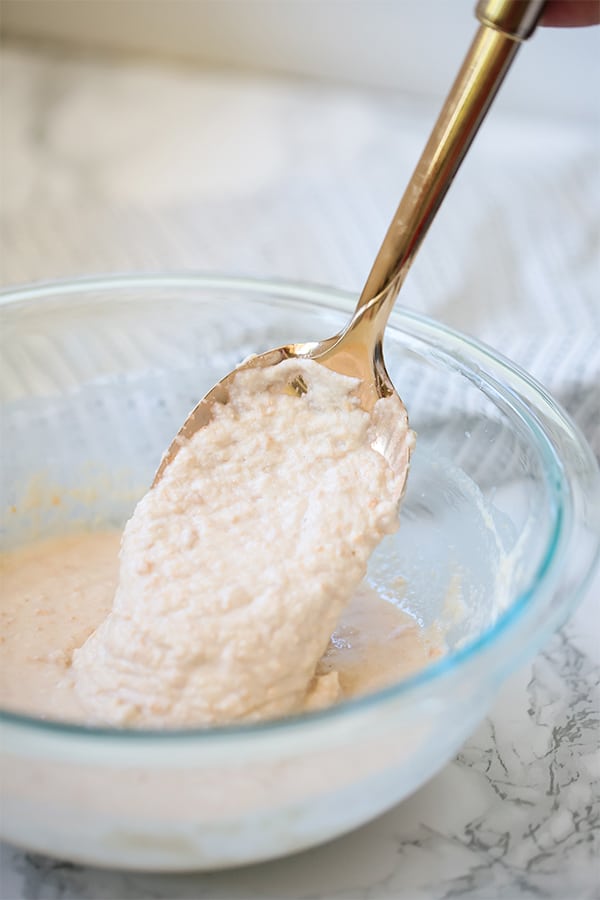 Almond Butter
This is the egg substitute in the pancakes that help bind them while also making them that much more rich and creamy.
Bananas, strawberries, and blueberries
These are the fruits that I used, but you can also use other berries like blackberries or raspberries.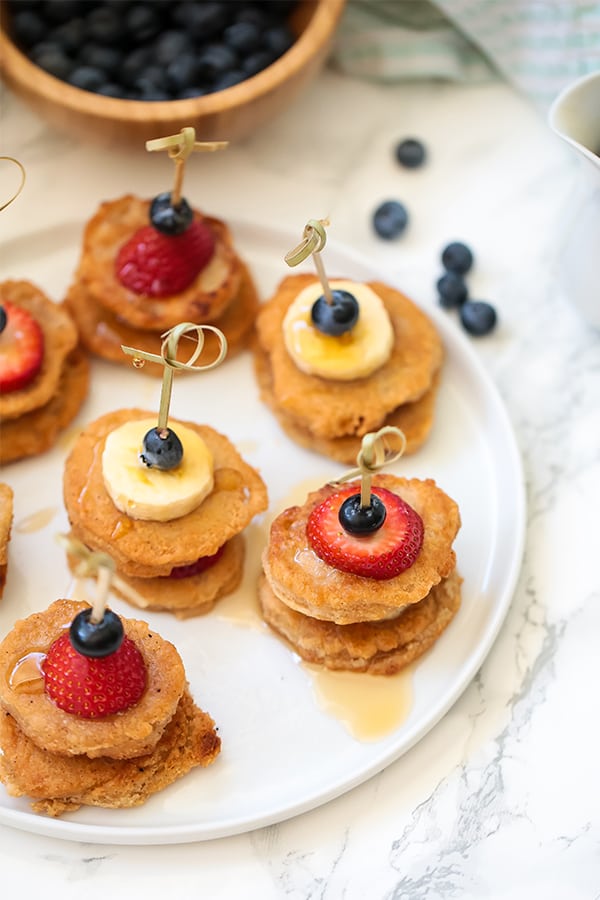 Can You Make these Nut Free and AIP?
Unfortunately, not with this particular. I went through 5-6 different failed variations and nearly an entire bag of tigernut flour trying to make these AIP and it just wasn't flying. This recipe is a take on my original paleo and egg free pancakes, just reimagined into a fun shape!
My main priority as a recipe developer is to give you amazing recipes that you won't believe are grain free, and healing. I had a vision for what I wanted with pancakes and it just wasn't working without almond flour and almond milk.
However, there are plenty of other AIP and nut free pancake recipes (like this) out there that I'm sure you can apply the same principle to! Plus, almond are the only AIP reintro in these pancakes. They're still grain free and egg free.
And trust me… I'm determined to eventually make AIP pancakes work for me!
Print
Paleo Pancake Skewers (Vegan, Gluten Free)
---
Author:
Total Time: 30 minutes
Yield: 10-12 skewers 1x
1 cup almond flour
1/2 cup cassava flour
1 1/4 cup almond milk
2 tbsp almond butter (melted, or creamy)
2 tsp maple syrup
1/8 tsp baking soda
Coconut oil to grease the pan
Sliced bananas, strawberries, and blueberries to assemble the skewers
---
Instructions
Sift together the two flours and baking soda in a large mixing bowl
Add in the almond butter and maple syrup, ensuring that the almond butter is creamy.
Pour in the almond milk and stir well. The batter should be thinner but not overly runny.
Using a large skillet (preferably cast iron or something that will not stick… this batter is very sticky) melt a tbsp of coconut oil on medium-low heat.
Using a TBSP measure, scoop one table spoon of batter at a time into the skillet, frying only 3 pancakes at a time. Fry on low heat until the edges begin to cook, and carefully flip the pancakes to finish cooking. Remove the cooked pancakes and set aside.
Repeat the process until batter is finished and add more coconut oil as needed.
To assemble the skewers, layer one pancake, one piece of fruit, one pancake and finish with more fruit. You'll have two-three pieces of fruit, and two pancakes per toothpick, and will have enough for 10-12 toothpicks. Top with extra maple syrup if desired and serve!
Notes
All nutritional information are estimations and will vary. Estimations do not include fruits or optional ingredients.
Prep Time: 5
Cook Time: 25
Nutrition
Serving Size: 1 skewer
Calories: 100
Fat: 4.3g
Carbohydrates: 6.1g
Fiber: 2.3g
Protein: 3.1g