My Paleo Wedding Crepe Cake & Wedding Recap
Though we've been legally married for almost a year (huzzah for court houses and impatience), it's been just over a month since my real wedding. My October 11th brunch wedding at White Rock Lake in Dallas, TX with all of my friends, family, and new family was an absolute dream. I don't think there's an un-corny way to describe how you feel on your wedding day, so obviously, que the, "I felt like a princess". But, really. My own little brunch fairy land featured a string quartet, antique creamers filled with coffee beans, guests with mimosas in hand, and even my own gluten-free, paleo eats and wedding cake with my champion AIP reintro, eggs. Before we get into the food, I wanted to share some more details.
First, hats off to my uh-mazing photographer, Jillian Hogan. If you're in Dallas and looking for a photographer do yourself all of the favors ever and check her out.
My dress was made by Alvina Valenta, and was actually the third dress I tried on. I always wanted a mermaid dress, so I instantly fell in love with this simple beauty.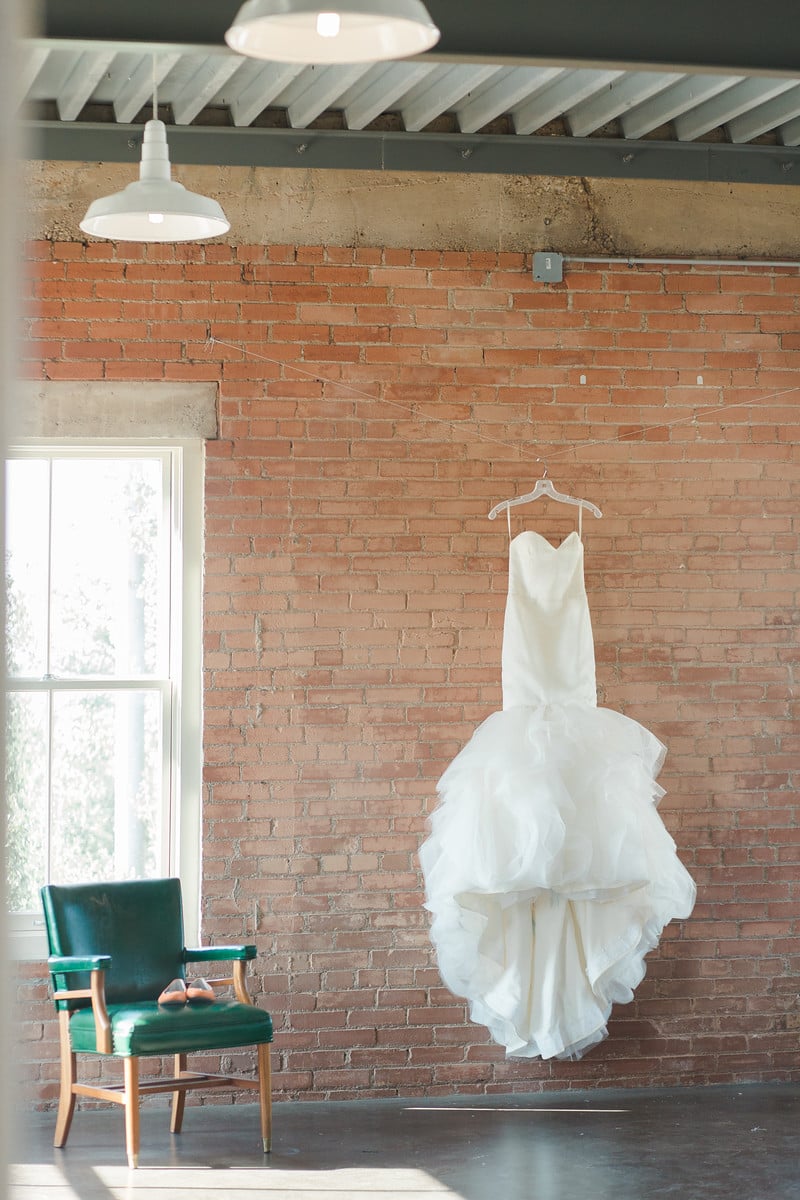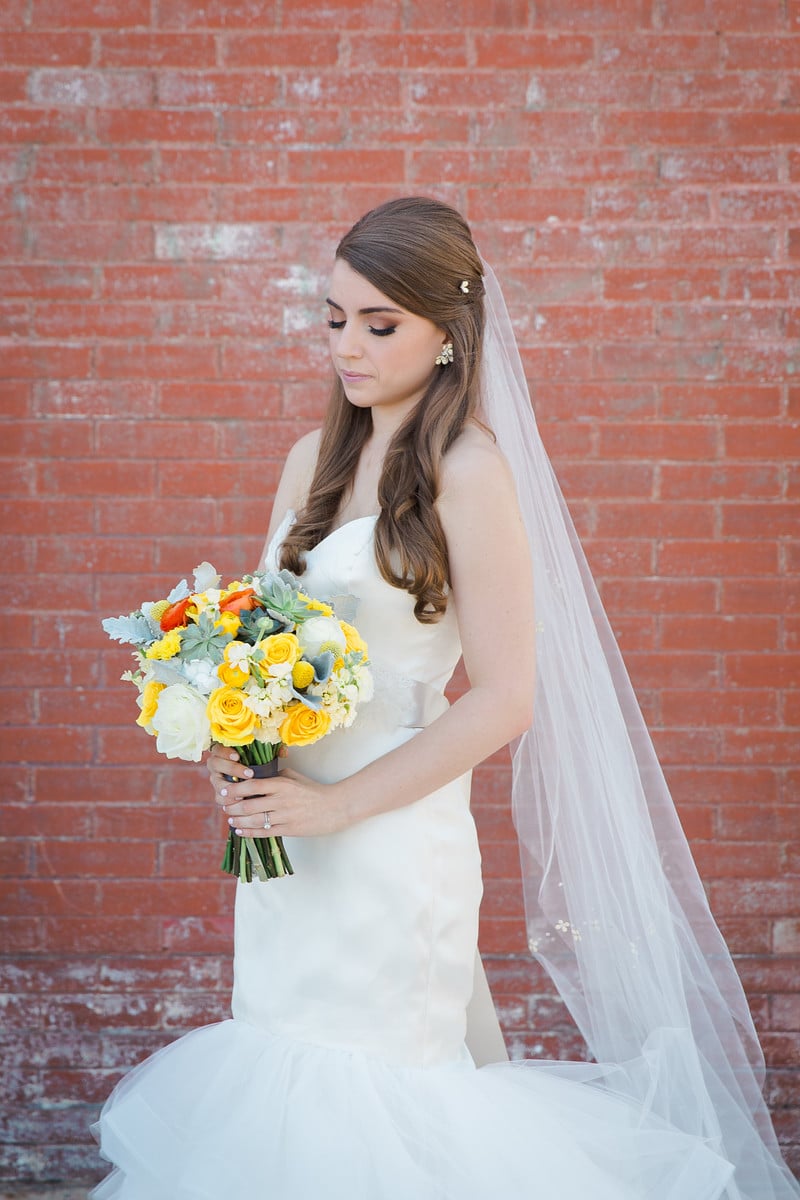 My accessories were custom painted yellow by Deborah Moreland. I got my dress at Stardust Celebrations in Plano, TX, and Deborah did a trunk show where she showed me sketches and pallets of how she could do my veils, earrings and hair pins, which was such a fun experience. I couldn't have loved my veil anymore.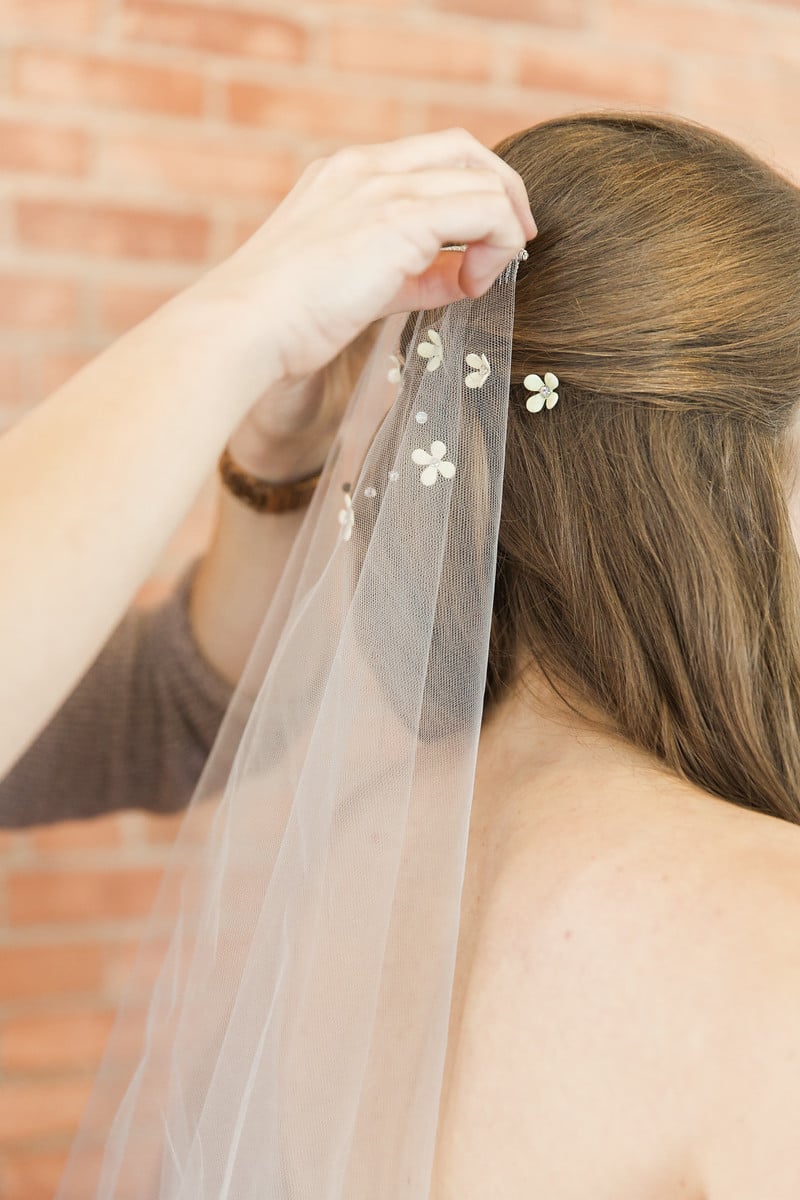 Daniel wore a black tux with a grey tie. He looked so handsome!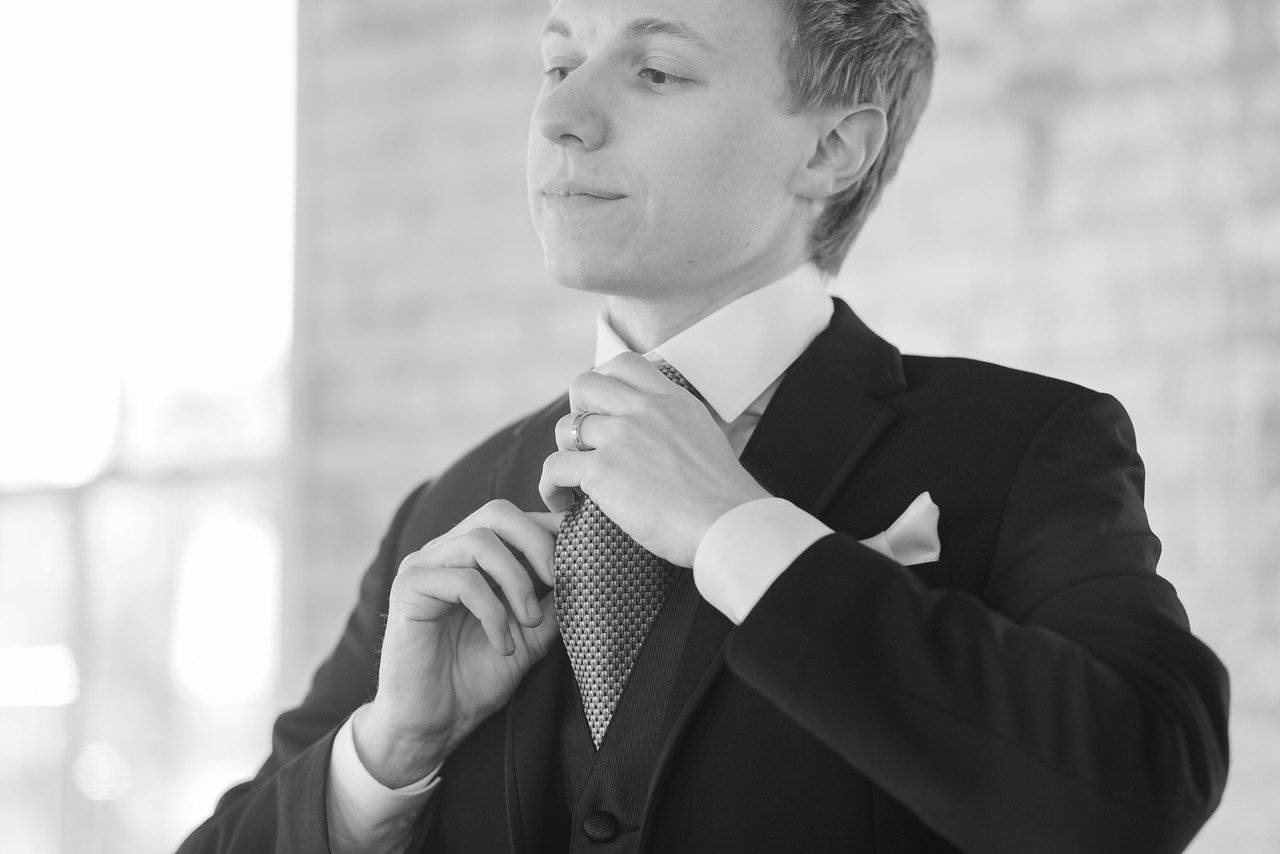 My florist was Lizze B's Flower Shoppe, but the actual decor was done entirely by my unbelievably creative in-laws. Yes, both my mother-in-law, and my father-in-law are that talented.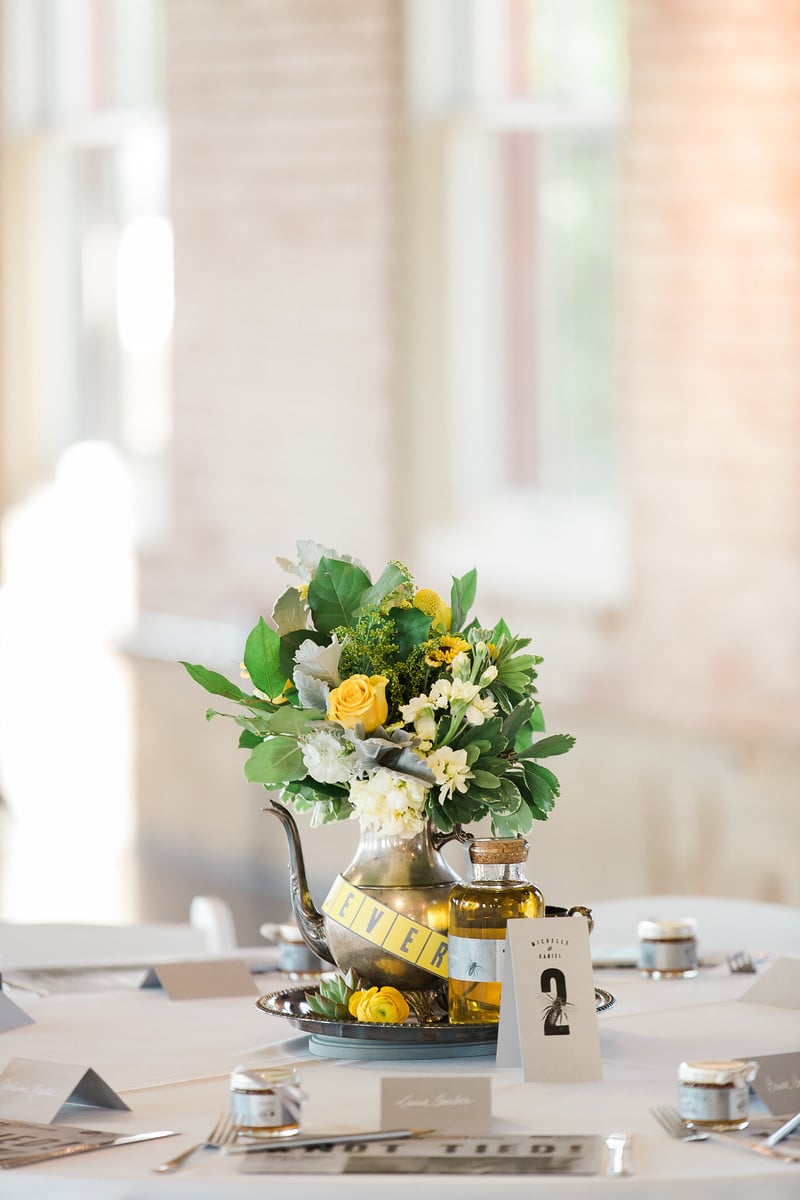 They even designed these custom newspapers with photos of Daniel and I as kids, articles, and a crossword. Ugh, those details though.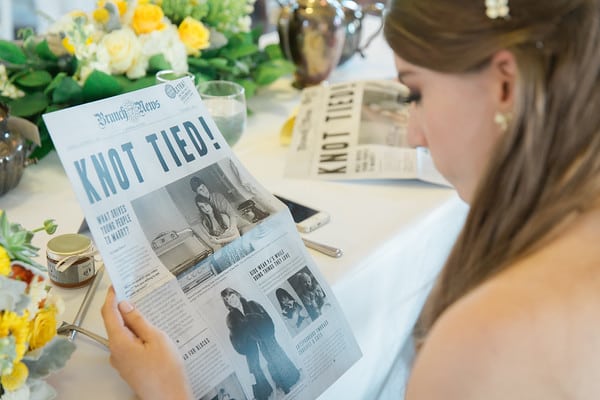 Onto the food! I found a great caterer to do brunch, and made a serious point to make sure I successfully reintroduced whole chicken eggs into my diet. As I've been following the AIP and have many other food intolerances, I still wanted to be careful and brought along a cooler with my own food for before the wedding. Call me a bit spazzy for this one, but I was not getting sick at my wedding.
My own plate was fruit, eggs, and coffee (AIP reintro). Perfect!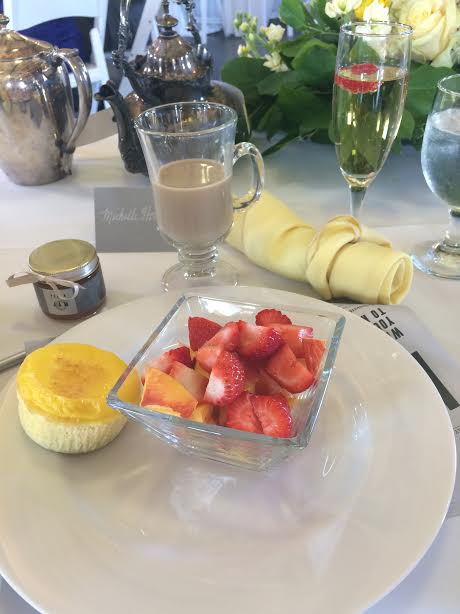 The brunch theme was the perfect opportunity to showcase my favorite kind of cake… a crepe cake. Layers upon layers of light fluffy crepes stacked high to make a cake, it would be the finishing touch my brunch wedding. Only problem was, I couldn't eat it. I wanted to go with the "wow" factor of a professional cake for the rest of my guests but needed a small gluten free, grain free, paleo option for myself. Thus, my paleo wedding cake made from paleo crepes was born.
I've made paleo crepes from plantains before, but these were a bit too dense for the actual cake. I turned to a great recipe from Empowered Sustenance for paleo crepes for the basic crepe. The crepes were so perfect… thin, yet stable just like conventional crepes. I just modified the recipe a little bit with things like Tin Star Foods Ghee (THE best), more milk and created a blueberry sauce. So delicious!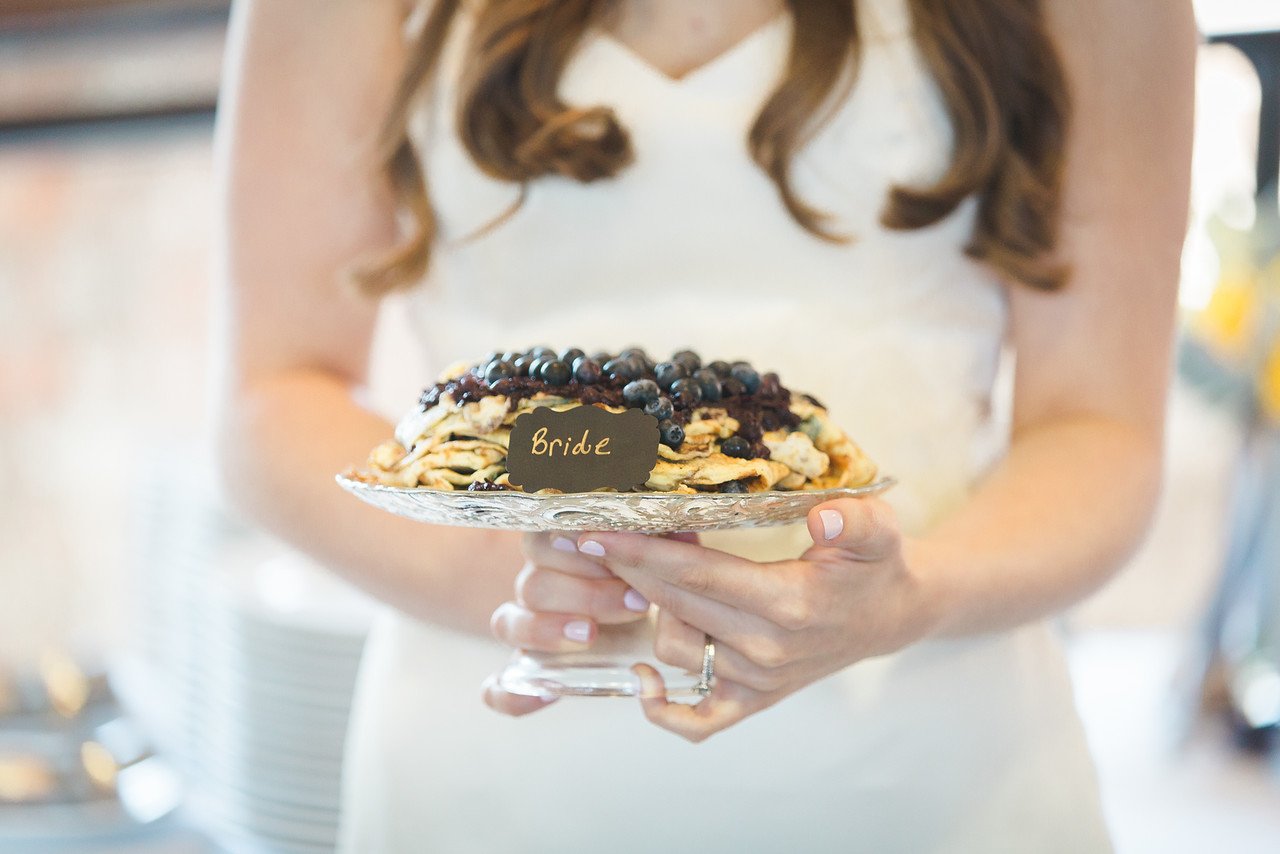 Print
My Paleo Wedding Cake : Paleo Crepe Cake
---
For the cake:
For the sauce:
1 1/2 cup of blueberries
3 tsp maple syrup or honey
1 tsp ghee
1 tsp non-dairy milk
---
Instructions
(TIP: Break up the batter by cutting it in half if you wish and cooking it in two batches… keep in mind this is for a larger cake!)
FOR THE CAKE:
Follow recipe for crepes as stated in blog post and set them aside.
When your sauce is done and cooled, spread the sauce between each layer of crepes, stacking them flat on top of each other one by one
Finish the top with a bit more sauce and extra blueberries
FOR THE SAUCE:
Add ingredients to a sauce pan and add to low-medium heat for about 5-8 minutes on until blueberries start to pop
Remove from heat and let cool
Use an immersion blender to blend the sauce
Taste and add more sweetener to your liking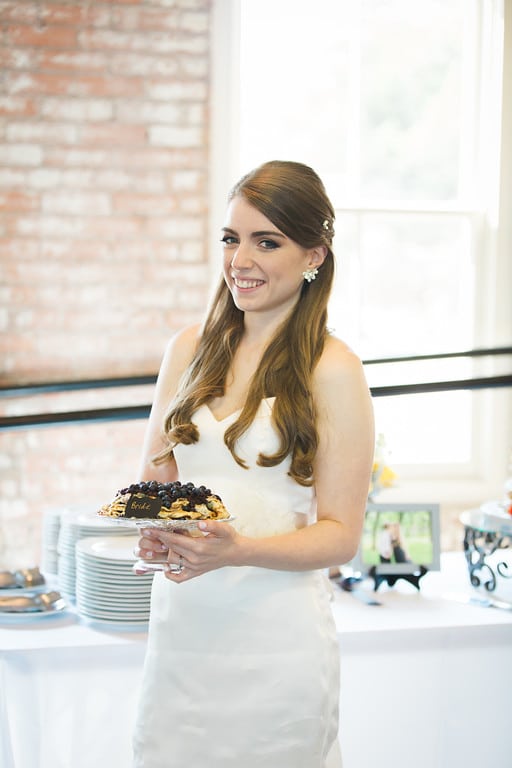 We had a few other gluten free guests at the wedding that I got to share my paleo wedding cake with, but I easily could've eaten this whole thing myself. Even though it was pretty dwarfed by our gluten-full cake for the rest of the guests, I really didn't care. I could enjoy cake without compromising my wellbeing and it was so, so delicious.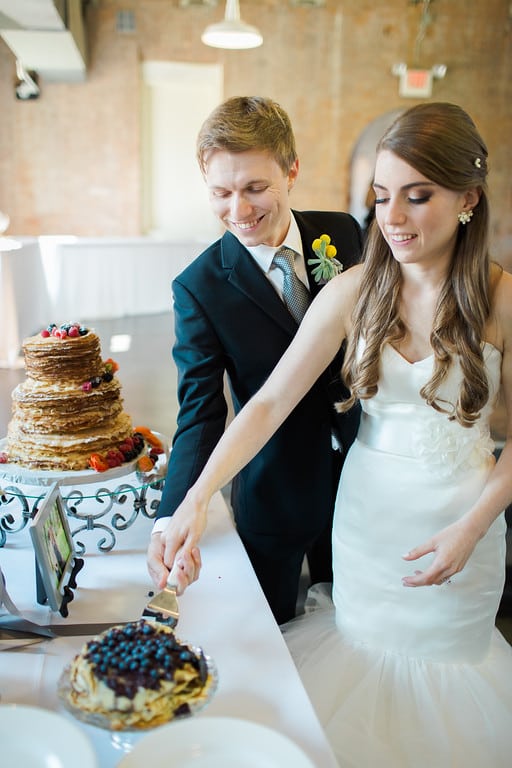 Thanks for letting me share details of our special day, friends! It was just a dream. God has blessed us so richly with incredible friends, family, and of course, each other.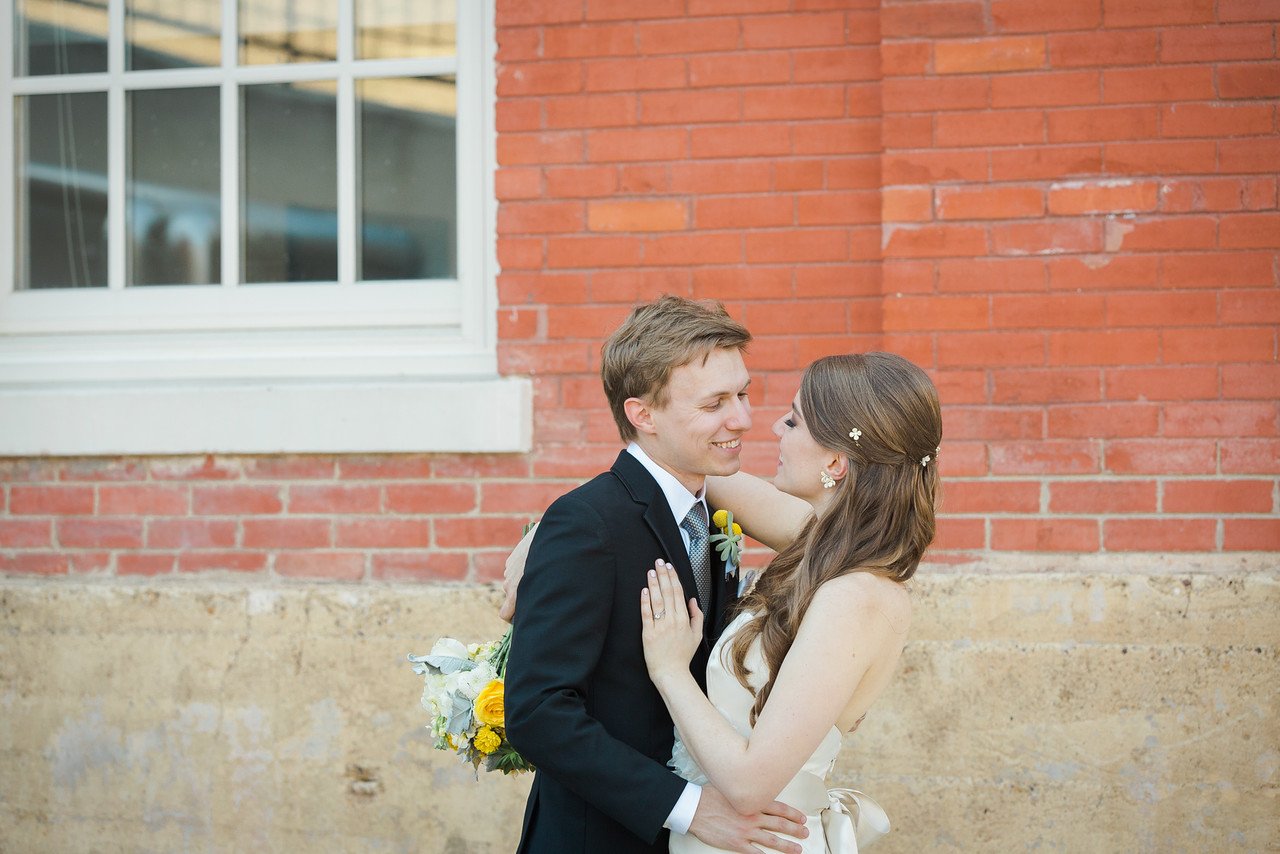 Love,
The Hoovers <3