Sweet Potato Latkes (Paleo, Whole 30, AIP)
These sweet potato latkes are perfect for Hanukkah! They're vegan, paleo, and AIP friendly.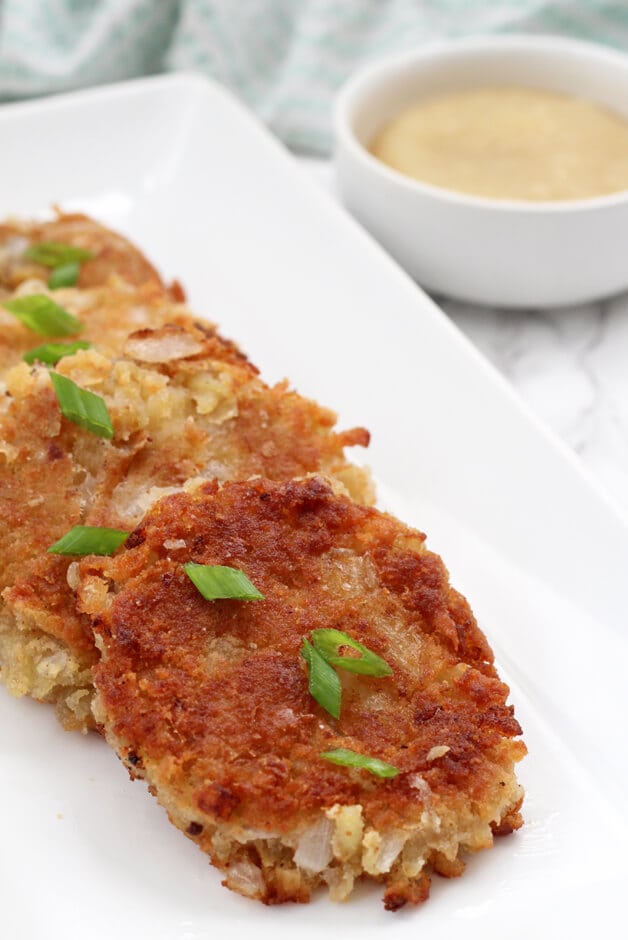 Happy Hanukkah, friends!! This holiday holds a lot of happy memories for me. I grew up celebrating both Christmas and Hanukkah… my dad was Catholic, and my mom was Jewish. As I grew up, I chose to become a Christian myself and don't really celebrate Hanukkah anymore, but Jewish still blood runs deep through my veins. Today, I still love traditional Jewish cuisine and look back on it as some of my all-time favorite food! Matzo ball soup, challah bread, knishes, bagels and lox, and of course… latkes!
One of the most classic Hanukkah favorites that everyone loves is latkes. Latkes are potato pancakes that can be eaten as sweet with apple sauce, more savory with sour cream, and can often be made with ricotta cheese as well.
As I got older, latkes had become more and more problematic for me to enjoy. Latkes are made with white potato, flour, eggs, onion, and other seasonings, and not only was I gluten-free, but I later became nightshade-free which meant that potatoes were out. I haven't even attempted latkes since I was a kid, but I really wanted to give it a try this year with these Sweet Potato Latkes that are Paleo, AIP, and Whole 30 Compliant! 
The Ingredients & Substitutions
White Sweet Potato
I used white sweet potato here to make it feel even more like traditional latkes. You can easily use orange sweet potato.
Coconut flour and arrowroot starch
These are the two flours that work for this recipe. Tapioca will also work in place of arrowroot starch.
Coconut oil
Coconut oil adds more structure to the latkes themselves and is good for frying.
Onion
Latkes traditionally have an onion for added flavor.
Salt, pepper, and green onion
These also help add more flavor to the latkes. You can omit the black pepper for AIP.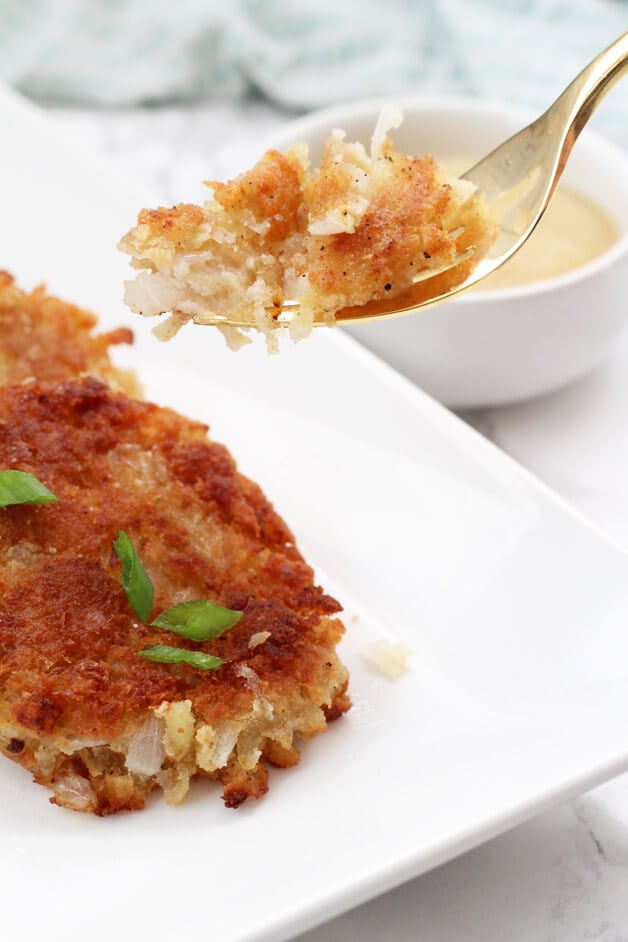 Print
Sweet Potato Parsnip Latkes (Paleo, Whole 30, AIP)
---
2 cups shredded white sweet potato (I use a cheese grater, or a food processor)
1/2 medium white onion, diced
2 cloves garlic, minced
1/4 cup coconut flour
1/3 cup arrowroot starch
2 tbsp coconut oil (solid) + 1/4 cup or more for frying
1/2 tsp sea salt
1/4 tsp black pepper (omit for AIP)
Green onion for topping & apple sauce or compliant sour cream on the side for dipping
---
Instructions
Using a large mixing bowl, add the sweet potato, onion, coconut flour, arrowroot starch, 2 tbsp of coconut oil, salt and pepper and mix well until combined
Next, use a large (and preferably deep) skillet to melt 1/4 cup of coconut oil on medium heat
Form the latke mixture into patties the size of the palm of your hand and lightly flatten them. You want them to be around 1/4″-1/3″ inch thick, so they're on the thinner side, but also don't break. You should have about 4-5 latkes.
Drop the latkes into the frying oil and cook about 1-2 at a time. Allow to fry for 3-4 minutes on each side, or until golden brown and flip with a spatula.
Once they're evenly browned, remove the latkes from the pan and allow to cool slightly.
Top with green onion and serve with apple sauce, and enjoy!
Notes
All nutritional information are estimations and will vary. Estimations do not include optional ingredients.
Nutrition
Serving Size: 1 latke
Calories: 254
Fat: 16.8g
Carbohydrates: 23.7g
Fiber: 4.2g
Protein: 2.3g
Nostalgic, easy, and delicious! They're full of all of the flavors you love without the ingredients that you don't. I was hesitant to make latkes without eggs, but they really worked!
Have a Happy Hanukkah!