US Wellness Meats Review
Thank you to US Wellness meats for giving me the chance to try their food! US Wellness Meats did send me products to try, but the opinions are my own. 
Growing up, food quality (especially protein quality) was never really a concern to me. I thought it was all created equal and that grass fed, organic, and other buzzwords were just an excuse to mark up prices. As I started to get into the real food/paleo space to heal my own Hashimoto's, I learned that my previous assumption was completely wrong. Food quality does matter, and US Wellness meats was one of the first retailers that I heard mentioned by other influencers.
After spending most of my life either avoiding animal protein or eating low quality conventional protein (hello, chicken nuggets from Wendy's) I didn't really even know what good quality meant or what it tasted like. When I first tasted US Wellness Meats and saw all of the amazing options on their website, I knew that it was something I could get behind!
I've partnered with US Wellness in the past for two different giveaways, I've recommended them to tons of my own personal clients, I've used it in my own home, I've partnered with them on their featured chef program, and today, I am so excited to share my full review with you all!
Why I love US Wellness Meats
1.Their products are properly raised
Having high quality meat that is properly raised is incredibly important for our health. Higher quality animal protein is higher in nutrients, healthy fats, and it tastes much better!
To quote their website – "Our animals don't need antibiotics or growth hormones to grow big and healthy. Our land doesn't need pesticides or artificial irrigation systems to develop rich, fertile biodiversity."
2. They ship across the US
Above anything else, I'm a huge advocate of eating local food as much as possible. However, not everyone has good options around them. And when it comes to giving recommendations for remote clients, or blog readers, I don't always have a local recommendation for them. That's why I love recommending US Wellness Meats. They ship across the US which makes it easily accessible!
3. They carry speciality items
Though most people can locate decent grass-fed beef around them, things like grass-fed liverwurst or bison roast can be harder to come by. US Wellness Meats has wild caught seafood, duck, lamb, organ meats, animal fats… the list goes on!
I was able to snag both a bison roast and beef bacon in one of my orders which were both delicious and incredibly hard to come by in Dallas.
Some of My Favorite Items (thus far)
I've only tried a handful of items from US Wellness meats, but here are my favorites as of right now…
Liverwurst
I first saw Alena of Grazed and Enthused eating their liverwurst, and I was immediately intrigued. She talked about how delicious it was, and I was excited to see the nutrient rich ingredients.
Organ meats are richer in minerals and healthy fats than muscle meat, and are such powerful healing foods. This liverwurst doesn't just have liver, but it's also made with heart and kidney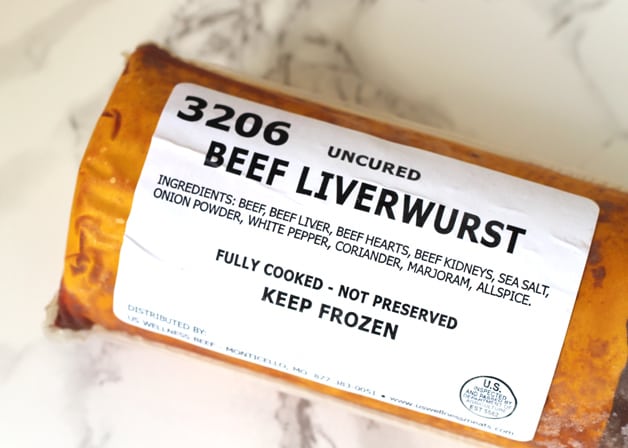 It can be hard to get in nutrient powerhouse organ meats like liver, and heart. They can easily gross people out, and it can take some finesse to make it taste good. This liverwurst is the perfect answer for those of us who are a bit iffy around organ meats.
It doesn't have that weird organ meat texture or flavor at all. I happily ate it in a lunch bowl and my husband enjoyed it on a sandwich and neither of us even blinked at it. I've eaten enough liver in the past couple of years to know when I'm eating it, but this liverwurst really masks the strong organ meat flavor. It's perfectly seasoned, and full of flavor!
Plus, it's already fully cooked, so all I really do to prepare it is brown it up a bit in a pan and it's good to go! Minimal effort for maximum nutrients.
Bacon
Good quality bacon can be hard to find. Toxins are stored in the fat, so conventional bacon is something that I avoid, and I'm definitely sensitive to nitrates as well. I first tried the US Wellness Meats bacon at Paleo f(x) and I was sold! It's everything bacon should be, and it's high quality.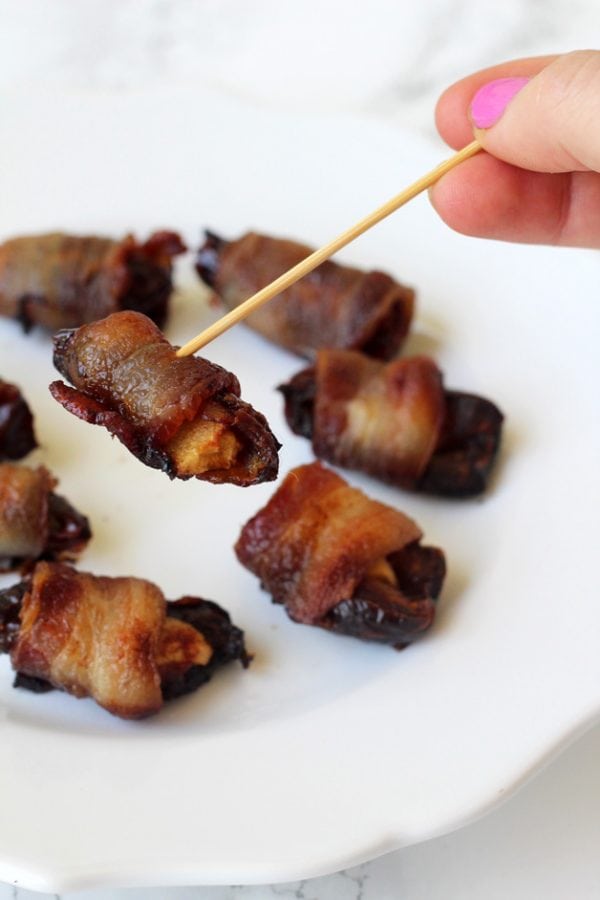 I've gotten tons of their bacon, and I used it in one of my featured chef recipes. You can get my recipe for bacon wrapped dates using their bacon here!
Pork Rinds
I was never much for pork rinds growing up. Why have pork rinds when you can just have pretzels and potato chips, right? 😉 Clearly I've changed my ways, but still like a crunchy snack every now and then.
Even if I didn't eat it, my husband loves snacks so I decided to give it a try. When I brought in our package after coming home from work, we literally ate the entire bag together in one sitting. They were so good! Of course it's a treat and not an everyday item, but man… what a treat it is. You can get them here!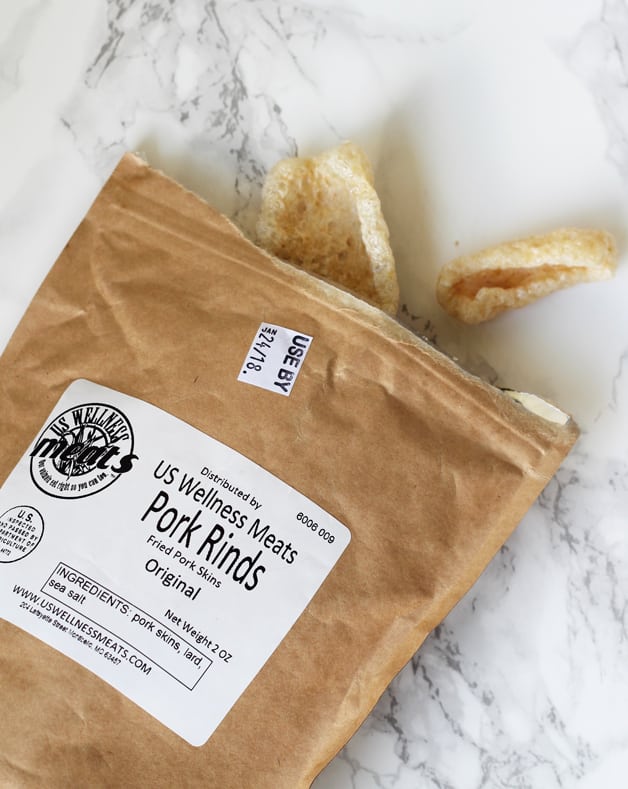 Vital Choice Salmon
Good quality fish can be hard to find. The fish industry is very loosely regulated, and pollution is a huge issue. Vital choice is one of the brands that I really trust, and US Wellness meats carries their products!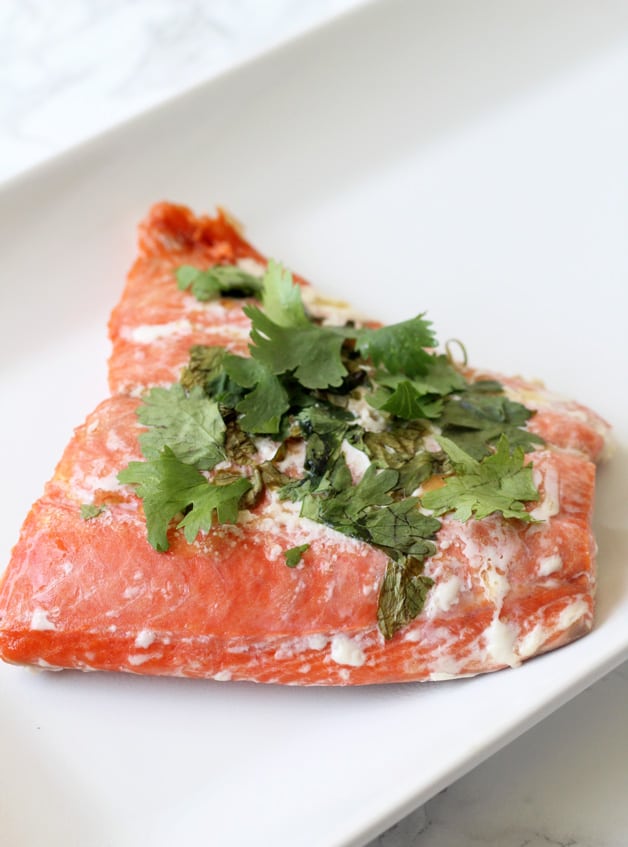 I used their salmon in one of my featured chef recipes as well! You can get my recipe for cilantro lime salmon with their salmon here.
I hope this review was helpful, and that you love US Wellness Meats as much as I do. I guarantee you can find something on their website that interests you 🙂