NYC Paleo Travel Recap
I was born and raised in Long Island, NY, a very long ways away from where I reside now in Dallas, TX. I had a lot of pride as a New Yorker and never saw myself staying in Texas for too long after I moved here in middle school. Then I went to college here, got married to a Texan, and bought a house. Not to mention I realized the enormous gap in cost of living of NYC versus Dallas. So, here I am in Dallas, TX!
However, I still love New York, and was ecstatic when we started planning a family trip with my parents and my husband to see my brother in a play in NYC. My brother is an actor in New York, and his play was the perfect opportuinity to visit the city, and show my husband where I grew up.
I am so excited to share this travel recap of restaurants, things to do, and shopping while I was in New York!
So let's start this little trip recap by talking about food…
NYC Paleo Restaurants
New York is incredible for a number of reasons. The sights, the culture, and of course the food! I was a full on gluten and sugar junkie when I was growing up, so this was my first time in NYC actually "Paleo" and have discovered my food intolerances. New York has tons of options for real food, and I only scratched the surface in my short two day trip!
Springbone Kitchen
Springbone was the highest on my list to visit, and it did not disappoint. It's essentially the Picnik Austin of NYC! They make housemade bone broth, smoothies, and have a great menu with allergen friendly options.
My favorite thing about Spring Bone? They cook with oils like coconut oil and beef tallow! Seed oils like canola and soybean are some of the hardest to avoid when eating out. They're highly inflammatory, and always leave me feeling gross. I didn't have to worry about that at Spring Bone!
Both times I went, I had the grass-fed burger with a paleo bun (from Know Foods) with guacamole that happened to be nightshade free, onions caramelized in beef tallow, and carrot fries fried in tallow.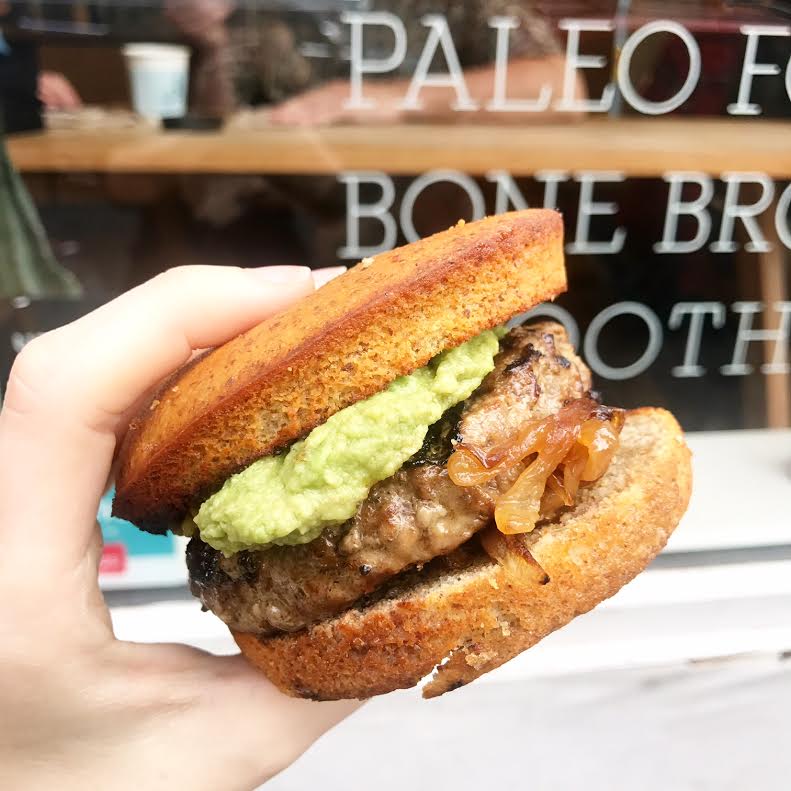 This was easily one of the best meals I've had in a long, long time!
Dig Inn
I saw Dig Inn described as "Chipotle for yuppies" which is a good description. It's essentially fast-er food with tons of locations around the city, but they also use higher quality oils like coconut and olive oil.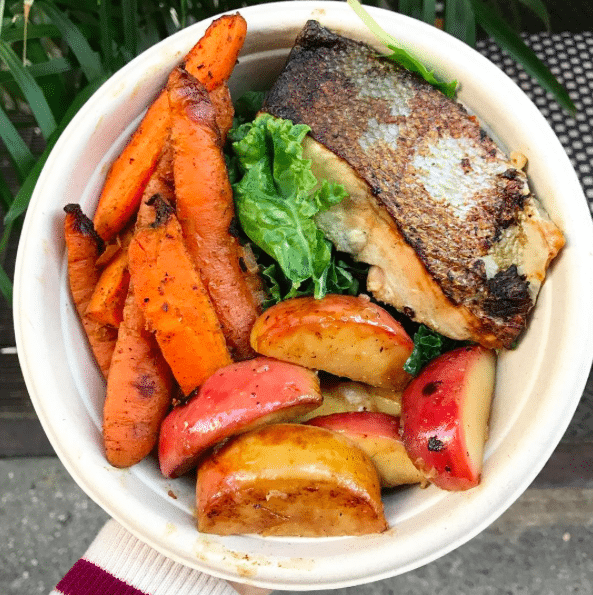 I got a bowl with a bed of greens, apples, carrots, and salmon. My husband and I both got bowls like this for $25 total, which is a steal in New York!
Pressed Juicery
Pressed Juicery is a juice shop that features their amazing pressed freeze. I've been waiting so long to have the pressed juicery freeze. So, so long! It's essentially a dairy free froyo made with frozen juices, almond milk, and sweetened with dates.
I got a chocolate freeze with berries, coconut, and an almond butter drizzle. Can they please open one in Texas??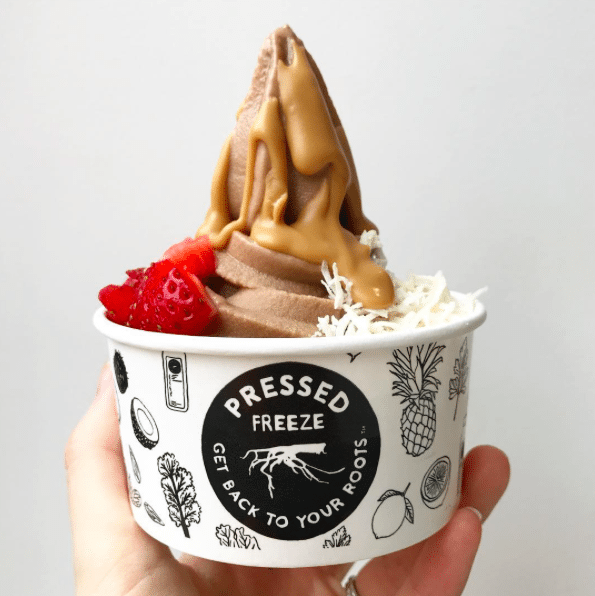 Restaurants that I didn't get to go, but had on my list…
Hu Kitchen
I can't believe I didn't get a chance to go to Hu Kitchen! Next time for sure. Hu Kitchen is super popular in the paleo space, and has lots of grain free, dairy free options.
The Little Beet
This was another one that lots of folks recommended to me, but I didn't make it out to.
Things We Did…
Theatre
I've never seen Wicked, so I immediately knew that I wanted to see it when we went to New York! The Gershwin is a great theatre, and we had great seats even sitting up in the Mezzanine. I highly recommend the splurge on Broadway if you're going to be in New York!
Sight Seeing
Being in the city really stresses me out. I guess you can say I really have become a Texan. We spent the bulk of our sight seeing energy in Brooklyn and Williamsburg, and it was time well spent! They've really cleaned up Brooklyn into a total Hipster dreamland filled with great restaurants, vintage shopping, and amazing art. Make time to stroll around here and you will not be disappointed!
Museums
As I was just recently in Washington DC with a friend, I was a little worn out of museums, so we didn't visit any of the big ones this time. However, we did go to the 9/11 museum which was powerful, moving, and incredibly heartbreaking. As someone who was in New York on 9/11, it brought back all of those feelings and there were tons of tears throughout the whole museum.
Drove Out to Long Island
We stayed in Kew Gardens, near Jamaica so we were really only an hour from my hometown, Hauppauge. My husband has never seen where I grew up, so I really wanted to show him my childhood home and take him to all of my favorite places. So, we rented a car for the day and drove out to Hauppauge, and stopped by Jones Beach. Though it was just a short day, I loved being able to show my husband my old stomping grounds!
Saw Family
Virtually all of my extended family is in New York, so it was a must to see them while we there! I haven't seen my extended family since my wedding two years ago, so I loved being able to catch up.
Vintage Shopping
If you follow me on instagram, you'll know that I have this weird little quirk where I dress like it's 1962 (when I'm not wearing that same nutrition nerd sweatshirt and yoga pants). I love authentic vintage and figured that New York was the perfect place to go shopping. I did tons of research, but wasn't entirely blown away by some of my finds. New York is incredibly expensive, and most of the vintage shops I visited were more 80's-90's, and I'm much more of a 60's-70's lover.
Awoke Vintage
However, my favorite was easily Awoke Vintage in Williamsburg. It wasn't all authentic vintage, but it had some amazing unique pieces and really great vintage!
They also sell online and update their Instagram often, so be sure to give them a follow!
Feng Sway
Feng Sway is a vintage clothing and exotic plant shop. Ummm?? Pinch me. You just can't find this in Dallas!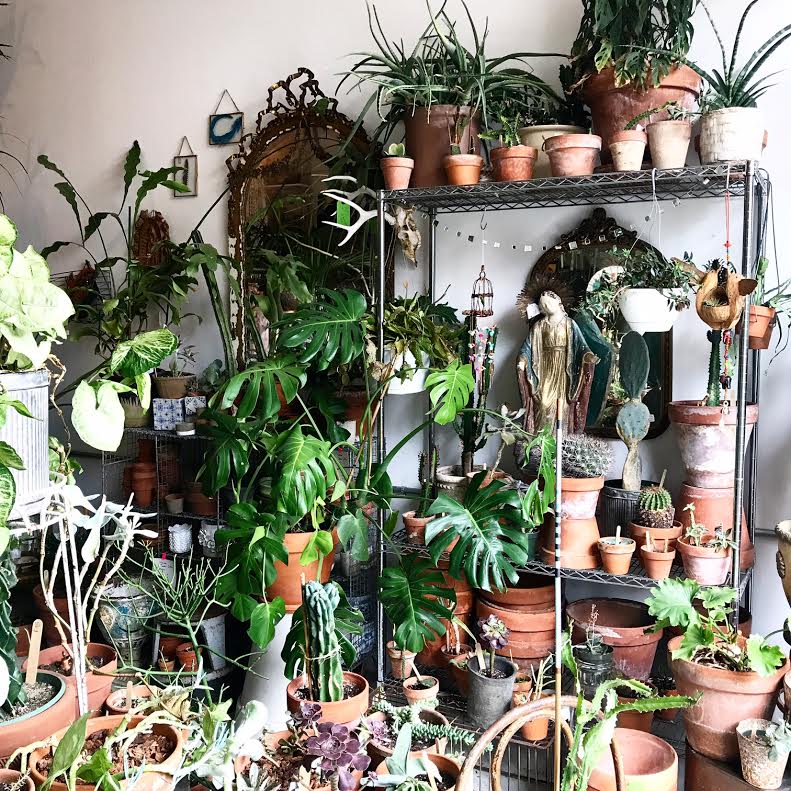 We had such a great time in New York, and I can't wait to go back! Do you have any NYC favorites? Let us all know in the comments!