Red White & Blue Watermelon Fruit Pizza (AIP & Vegan)
Can you believe it's almost fourth of July?! I literally feel like I was just Christmas shopping. I'm probably just getting old. Regardless, here in Texas, I may not be sure if I'm sweating or crying half the time it's so unbelievably hot here. Mostly crying. Having fresh, cold treats that are super easy to prep is just what I need. So, I decided to give a red white and blue face lift to one of my favorites… watermelon!
Though it may not be red white or blue, basil is a surprisingly amazing on watermelon, and totally still welcome at any Fourth of July BBQ. I honestly don't know if I've ever had it before. I've probably just seen it on Top Chef and logged it away for the rare occasion that I had watermelon and my husband and Daniel and I didn't just scarf it down. The flavors pair so well together, and taste so fresh and summery! Not to mention it just ties in the whole "pizza" thing really well.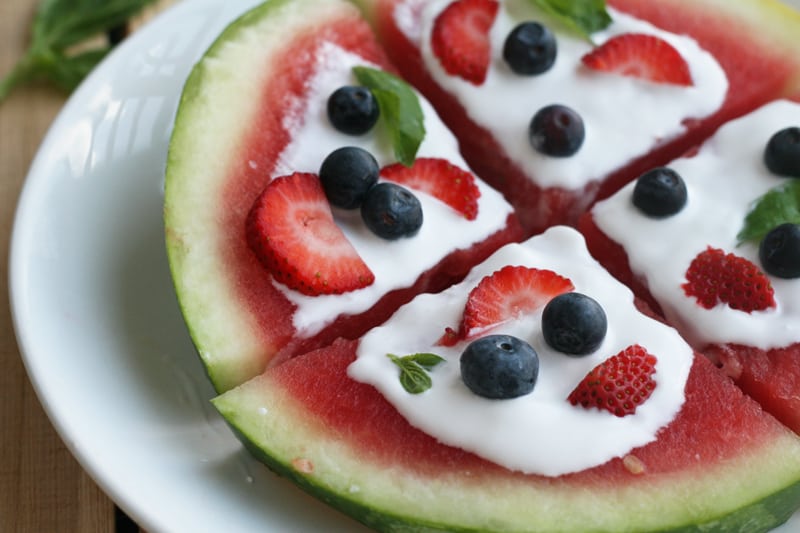 For the sauce/cheese of the pizza, I used coconut cream that happened to be partially melted on me at the time. Remember when I said it was hot? I wasn't kidding. A can of coconut cream in my air conditioned apartment legit melted. Save me.
Regardless of the consistency of the coconut cream at the time that you eat it, this is still super delicious! So, don't fret if you bring this along to a BBQ and the coconut cream melts a bit in the heat! It's tasty either way.
Finally, I used local Texas blueberries and strawberries for the topping, but you can get creative here! Grapes, raspberries, blackberries, and even shredded coconut are all great ideas here. Use what you have on hand and what you like, and you'll still have a tasty summer treat.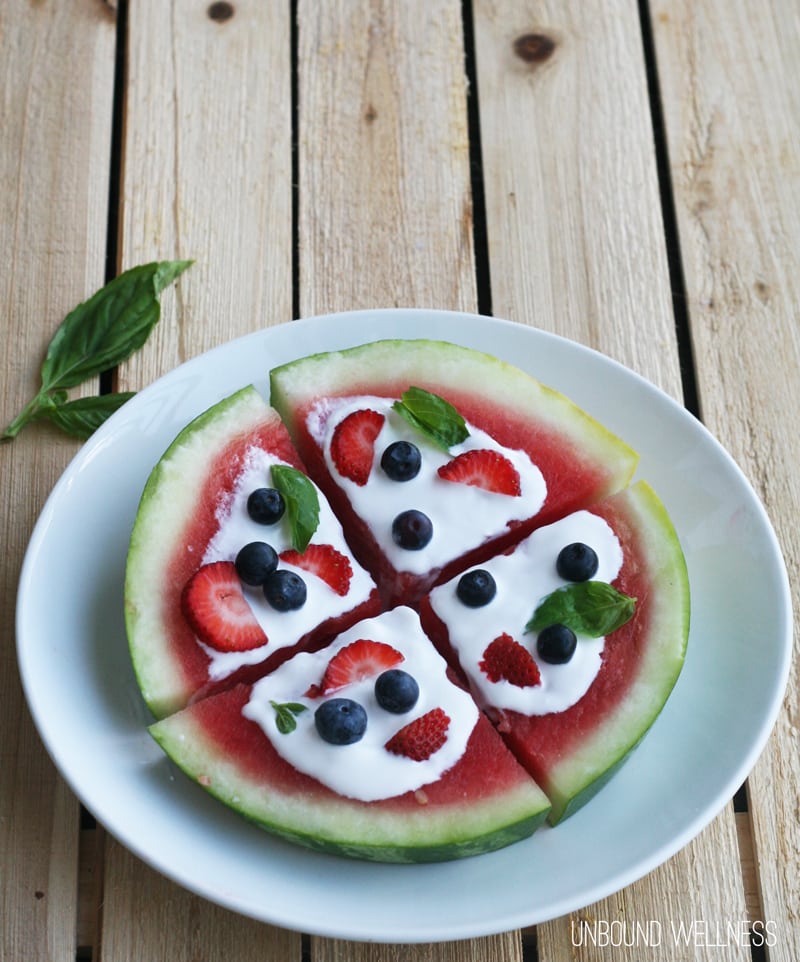 Watermelon Basil Fruit Pizza
INGREDIENTS
Note: Recipe makes one "pizza" or 4 slices. Scale the ingredients up for more if you're planning on feeding more people.
4 large, triangular slices of watermelon
4 tbsp coconut cream
Strawberries, blueberries, etc. for topping
3-4 small basil leaves
INSTRUCTIONS
Add about 1 tbsp of coconut cream to the top of each watermelon slice and evenly spread.
Top the watermelon slices with basil, and berries.
Serve and enjoy!