AIP Instant Pot Chili & The Paleo AIP Instant Pot Cookbook Launch
The past few months, I couldn't think I could keep a secret… but I did! And man was it a good one, and it's finally here! The Paleo AIP Instant Pot Cookbook which I so proudly got the opportunity to contribute my own recipe to including my speedy AIP Instant Pot Chili which I'm sharing here today!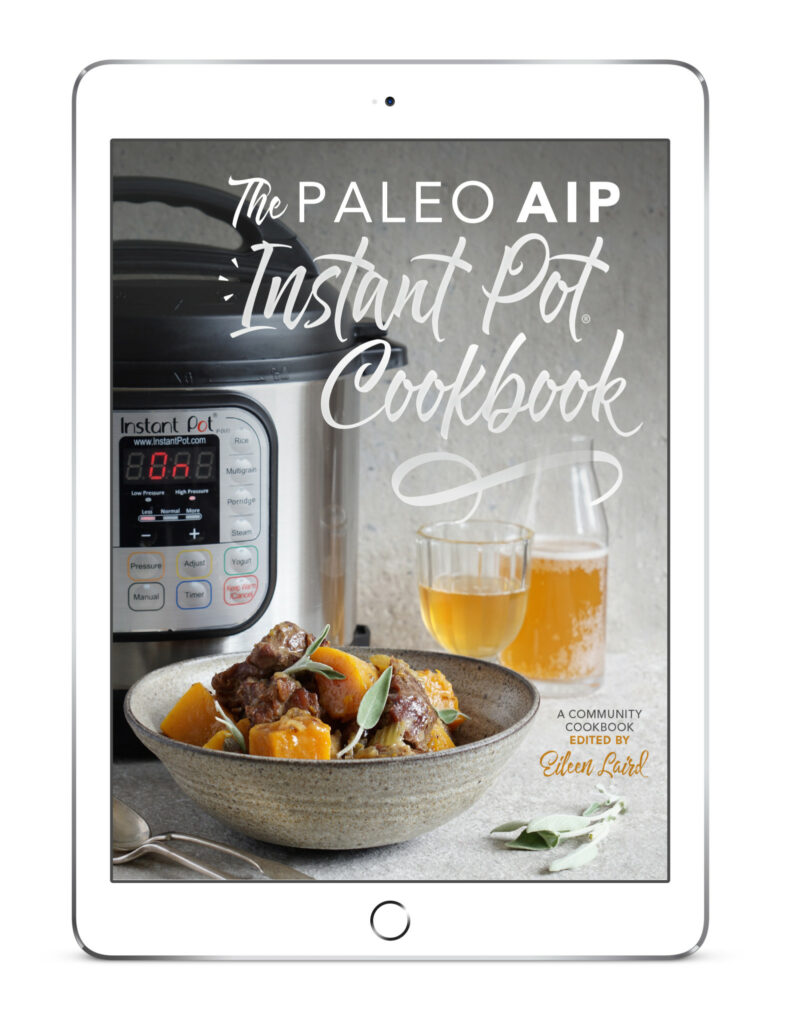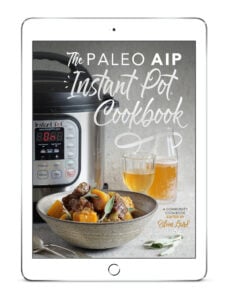 But, let me back up… several months ago, I was busy. The good kind of busy! I was in the midst of finishing up my nutritional therapy practitioner program, and buying a house. I didn't think I could take on one more thing until Eileen of Phoenix Helix reached out and asked me if I wanted to join in on the fun. I immediately jumped on board and got even busier in the kitchen. However, it was so worth it because the Paleo AIP Instant Pot Cookbook is the bomb and I am so excited to be a part of it!
The instant pot is a safe, easy to use electric pressure cooker that makes batch cooking and fresh dinners easy. With so much home cooking being done on Paleo and AIP, it's a great tool to be efficient in the kitchen!
The cookbook features….
Over 140 recipes
Recipe titles like…

"Chocolate" Cake
BBQ pulled chicken
Fish tacos
"Baked" Sweet Potatoes
And more…

Recipes from 37 Paleo/AIP bloggers (myself included, HI!)
Recipes for breakfast, lunch, dinner, soups, stews, desserts, veggies, broths… the list goes on!
Beautiful photography, easy instructions, and tips on how to use your instant pot
100% AIP and Paleo recipes with modifications!
Download the Paleo AIP Instant Pot Cookbook, here!
I've been AIP/Paleo for a long time to help heal my leaky gut and manage my Hashimoto's autoimmune thyroid disease and the healing that real food has brought me has been priceless.
With all of the batch cooking that I do, it's hard to not spend every waking moment in the kitchen, and it can get difficult to get creative after eating this way for so long!
That's why I love that the Paleo AIP Instant Pot Cookbook is full of creative, delicious recipes that are easy and quick to make!
A Preview Of My Favorite Recipe That I Contributed… AIP Speedy Chili!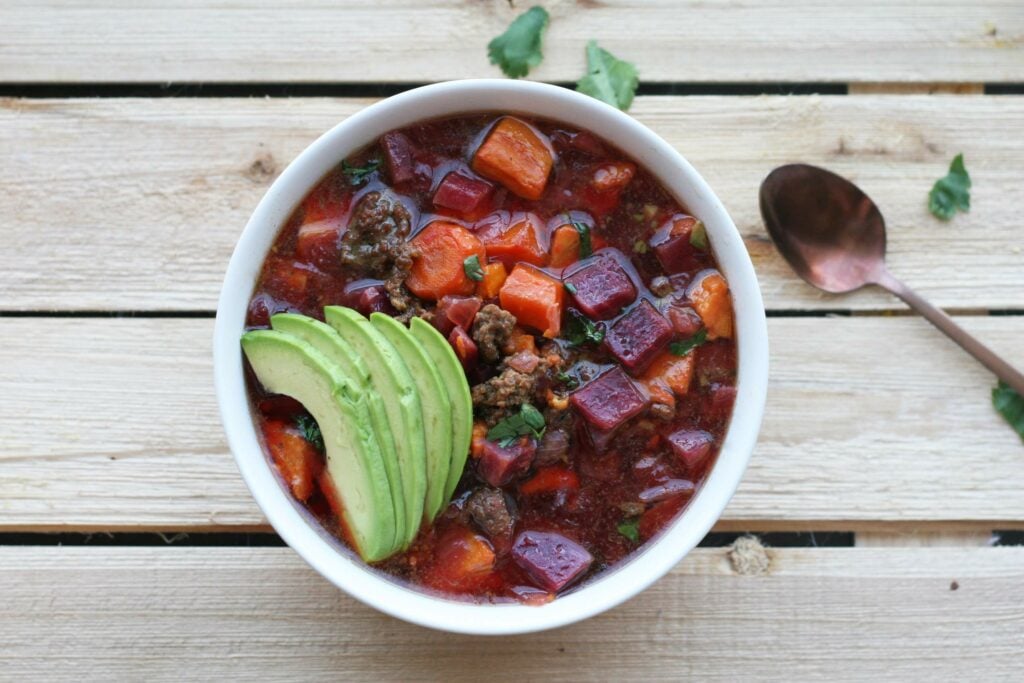 If you're anything like me, you also love broth, soups, stews and hearty comfort foods. Ever since I went AIP and stopped eating nightshades, I thought my days of enjoying chill were over.
I actually haven't had chili in years because I thought that it would be too complicated. Developing an AIP chili recipe for the instant pot was the perfect opportunity to make it easy! And boy is it easy…
Print
AIP Instant Pot Chili & The Paleo/AIP Instant Pot Cookbook Launch
---
Total Time: 55 minutes
Yield: 4 servings
– 1 lb grass-fed ground beef
– 3 cloves garlic, minced
– 1 medium/large sweet potato (about 2 cups), peeled and chopped
– 1 large beet (about 2.5 cups), peeled and chopped fine
– 3 medium carrots, peeled and chopped
– 1 medium onion, diced
– ½ tsp sea salt
– 1 tsp dried oregano
– 4 cups bone broth
– 2 tsp fresh cilantro for garnish (optional)
– 1/2 avocado for garnish, sliced (optional)
---
Instructions
– Set instant pot to saute and brown the beef.
– Once the beef is browned, add the remainder of the ingredients (reserving the fresh cilantro and avocado) and stir until combined.
-Place the lid on the instant pot and flip vent to sealing. Cook on manual for 35 minutes, and quick release the pressure.
– Remove the lid and serve with garnish if desired.
Prep Time: 20
Cook Time: 35
Category: one pot meals
Method: instant pot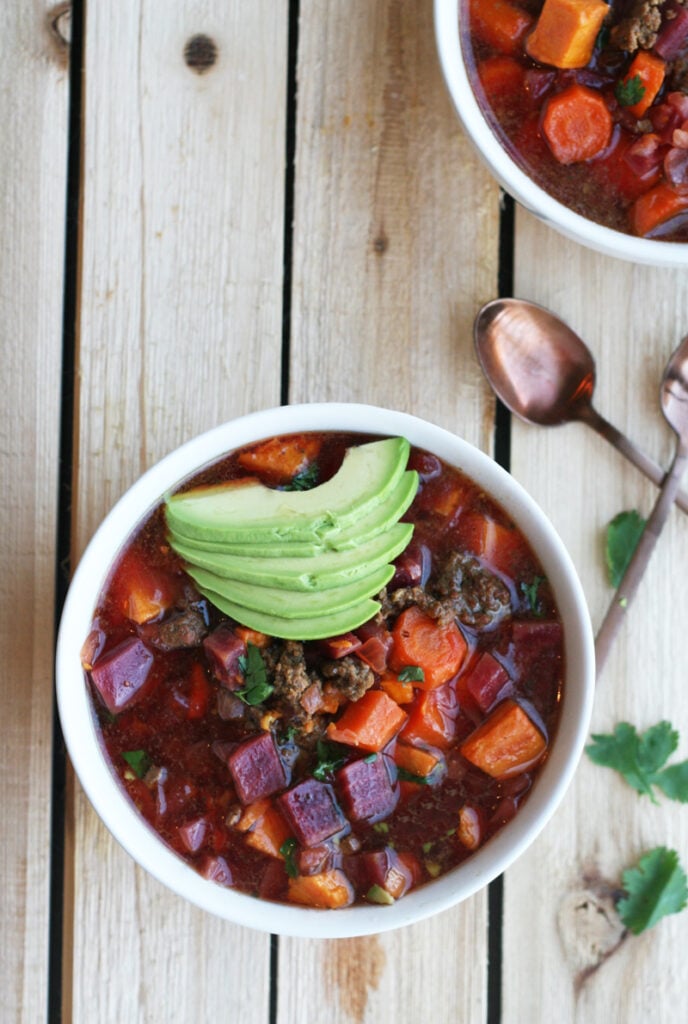 I'm pretty obsessed with this chili. Even my non-AIP nightshade loving husband likes it! And that's saying a lot for a man who thinks hot sauce is a food group ???? It takes under an hour to make and is great for batch cooking to enjoy throughout the week!
I've contributed two other recipes to the cookbook myself and that's among a total of 140+ recipes that are also super delicious and easy to make!
Save yourself hours in the kitchen and get creative with the Paleo AIP Instant Pot Cookbook ☺️
Download the Paleo AIP Instant Pot Cookbook, here!