Paleo Pumpkin Spice Latte Butter Coffee
The time has come… pumpkin spice everything season is upon us.
It gets more and more commercialized every year… pumpkin spice drinks, pumpkin spice baked goods, pumpkin spice candy, pumpkin spice beer. And let's face it… I eat up every second of it. I mean, I would get my cat pumpkin spice cat food if I could.
Pumpkin spice is just the perfect cue that summer is over, and a new season is here! There's something so special and exciting about a new season. Even though we experience this feeling four times a year for every year of our entire lives (unless you live in Texas like me and you're lucky to feel it twice a year) fall is just extra special, and pumpkin spice is extra special.
I went pumpkin spice latte crazy at about 19. A young, naive college student ready to take fall by storm with my leggings, knock-off Target ugg boots and blanket scarf. At the time, I had a lot of Starbucks and K-cup PSL's filled with sugar, caffeine and other mystery ingredients that left me feeling like junk every single time. Yet I did it again and again… until I finally came to a final breaking point.
In my 20's I said "goodbye" to the caffeine and drive thru windows, and started my healing journey with my Hashimoto's and gut issues. I made my very first AIP (autoimmune paleo friendly) pumpkin spice "latte" last year and enjoyed that as a nice treat while healing my thyroid and gut.
However, over the past year, I've been able to make even more strides in my healing journey to where I can enjoy ghee (clarified butter) and decaf coffee to make my own Paleo Pumpkin Spice Butter Coffee Latte!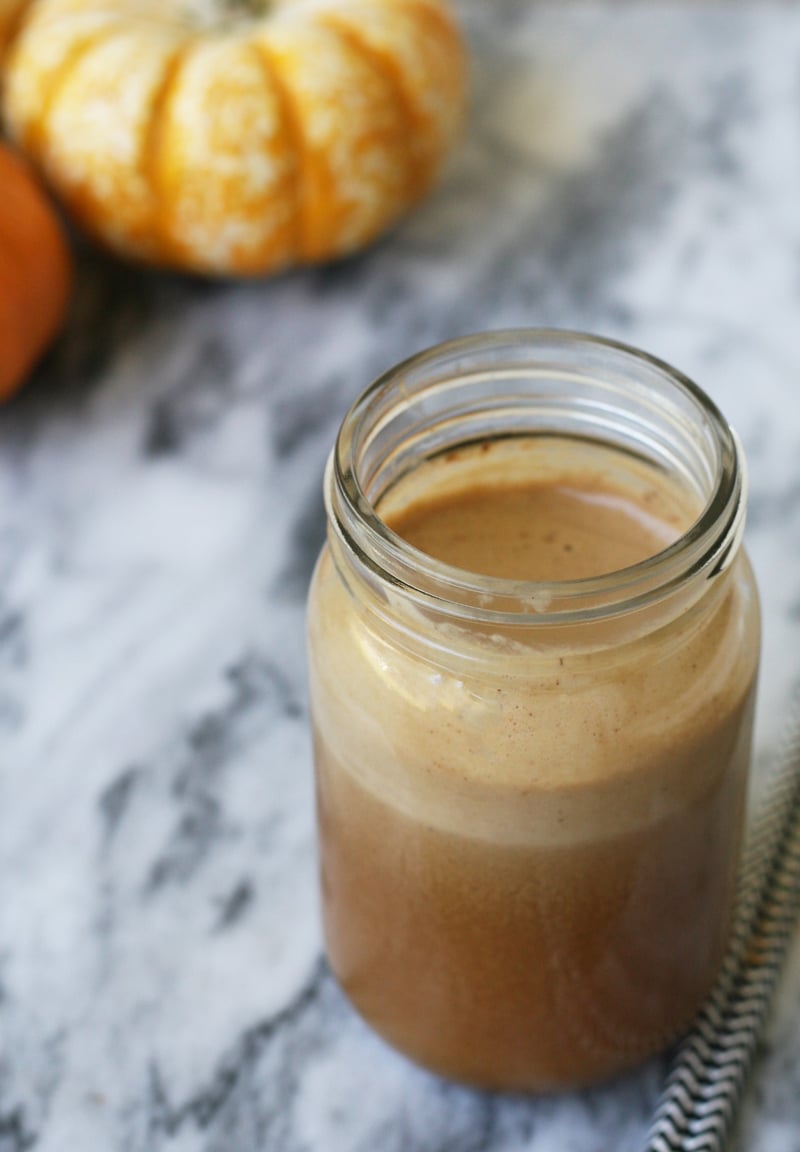 Why Butter/Ghee Coffee?
Butter coffee or bullet proof coffee is a big thing in the paleo world. However, let me start out by saying that I do not believe in coffee as a meal replacement and this is not intended to be that… it just makes it even tastier 😉
The added fat from the butter/ghee in this coffee allows it be more satiating and help balance your blood sugar from the little bit of caffeine and sugar. I always recommend making sure that you're pairing fat/protein with sugar, so adding butter/ghee to coffee is a great way to help that balance and make it taste even richer!
This recipe is made with ghee, not butter. Though you can sub grass-fed butter if it works for you, it still doesn't work for me. Ghee is clarified butter in which the butter is clarified to remove the milk solids and be made lactose and casein free. Thus, pure butter fat that often works as a great sub for those of us with dairy issues or autoimmunity.
Why Decaf?
Well, one because I'm a spaz and will lose it on a caffeine high if I tested this recipe with caffeinated coffee. Decaf still does have some caffeine, but it's much lower and I can tolerate it better.
Two, I know that the majority of my readers are dealing with some sort of chronic illness or health issue. Though coffee in any form still may not be a good idea, I prefer to recommend decaf as I just don't like to perpetuate regular consumption of caffeine. Though it can be fine in moderation, I recommend going without when possible. Caffeine is stimulating to the adrenals and causes a stress response. Knowing how many people already suffer from adrenal dysfunction, I don't recommend adding fuel to the fire when not needed.
Also, depending on caffeine daily to keep energy up is a sign that there's another underlying issue that's best to not ignore.
So what if you're a regular caffeine drinker? That's fine. Just because I don't like to recommend drinking caffeine on a regular basis doesn't mean that it's not a fine thing to have occasionally. Many of my clients are and I work slowly with them to cut back on it. However, when you can avoid caffeine and opt for a caffeine free drink, go for it it 🙂
Print
Paleo Pumpkin Spice Butter Coffee Latte
---
8 oz decaf coffee
1/4 cup coconut cream
1 scoop grass-fed collagen powder
1 tbsp pumpkin puree
1 tbsp ghee (sub coconut oil if ghee isn't tolerated)
1 tsp vanilla extra
1/2 tsp coconut sugar or honey
1/2 tsp pumpkin spice blend of choice
---
Instructions
Brew the coffee and add to a high speed blender like a vitamix
Add the remainder of ingredients and blend for 5-7 seconds of until coconut cream froths
Pour into a mug and top with a bit of pumpkin spice blend and enjoy!