Anti-inflammatory Iced Golden Milk Turmeric Latte (Paleo, AIP, Vegan)
This iced turmeric golden milk latte is the perfect anti-inflammatory drink! It's paleo, AIP, and vegan.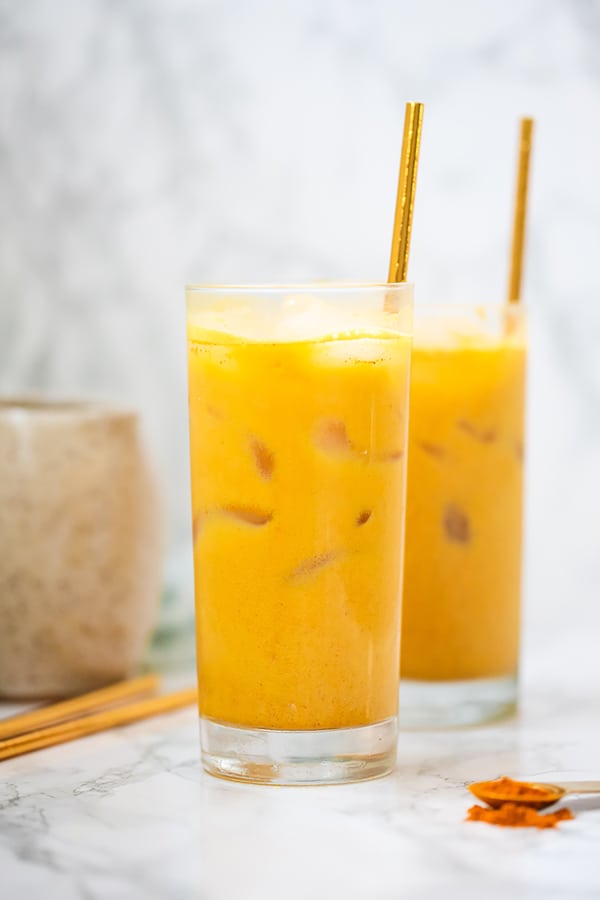 Turmeric is one of my all-time favorite ingredients! It has amazing flavor, beautiful color, and incredible anti-inflammatory qualities. I use it in soups, salad dressings, and of course, drinks. Hot turmeric tea is one of my secret weapon flu busters, and iced turmeric lattes are the perfect summertime drink.
The golden and orange color of turmeric is absolutely gorgeous, which is why it's often referred to as golden milk. The vibrant color makes this such a fun drink to make and serve. It gives off serious trendy coffee shop vibes, but is easily made at home, and is totally caffeine free.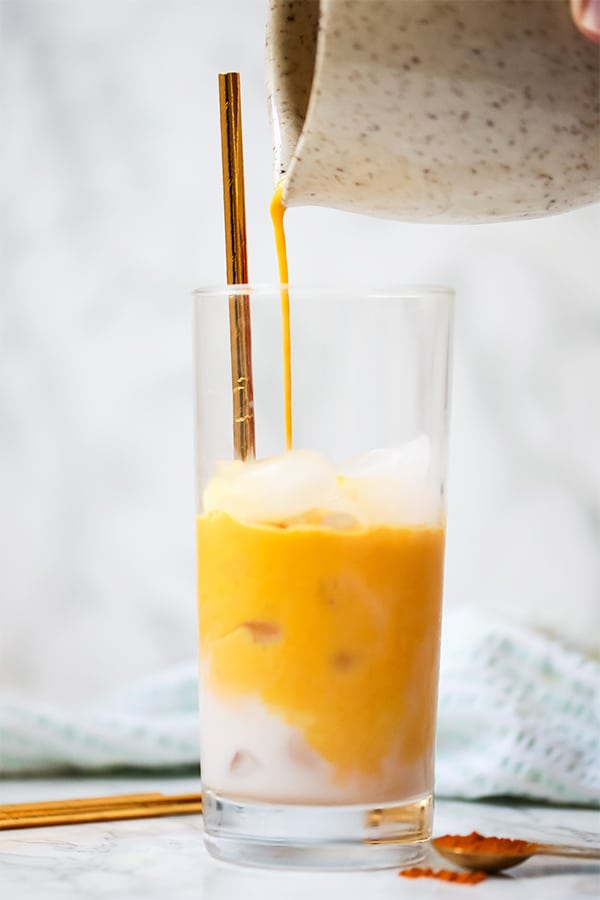 The Ingredients You Need To Make This Anti-inflammatory Iced Golden Milk Turmeric Latte
Almond Milk
Almond milk from MALK is what I always use for my lattes, but you can also use coconut milk.
Turmeric
Turmeric is the star ingredient in this latte, and for good reason! Turmeric is a powerhouse spice used in Ayurvedic cooking for thousands of years and is known the have the following benefits…
Supports immune health
Aids in anti-inflammation
Eases joint inflammation
Increases the antioxidant count in the body
Supports the health of the liver
Benefits of autoimmune healing (especially rheumatoid arthritis)
Supports anti-aging
and more!
It's important to remember that turmeric needs to be paired with black pepper to increase the absorption. This can be omitted for AIP, but it's preferable to keep it in. Just a pinch doesn't make the drink taste peppery.
And a quick turmeric tip! If you find yourself staining anything in the process of making this drink, remember that turmeric is photosensitive. You can leave anything that gets stained in direct sunlight for several hours to help wash the stain away.  It's a good trick to know when you're making this turmeric latte several times a week.
Ginger
Ginger gives the drink a bit of a kick.
Cinnamon
Cinnamon pairs very well with turmeric and adds some sweet undertones to the drink.
Vanilla extract (or vanilla bean powder)
This adds more of that trendy coffee shop flavor to the drink. Vanilla bean powder needs to be used for AIP.
Maple syrup
This drink has a lot of strong flavors, so maple syrup helps sweeten it. You can leave it out if you'd rather have it unsweetened, but I highly recommend it.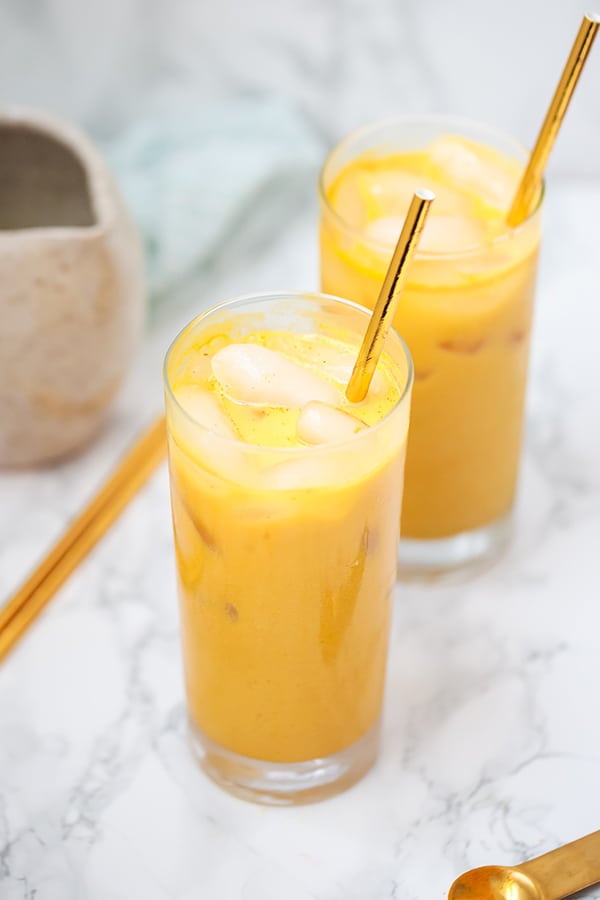 Print
Anti-inflammatory Iced Golden Milk Turmeric Latte (Paleo, AIP, Vegan)
---
Author:
Total Time: 10 minutes
Yield: 2 drinks 1x
Description
This iced turmeric golden milk latte is the perfect anti-inflammatory drink! It's paleo, AIP, and vegan.
---
2.5 – 3 cups almond milk (sub coconut milk for AIP)
2 tbsp maple syrup
1.5 – 2 tsp turmeric powder (use less if you're still wary of the turmeric flavor)
1/2 tsp ground cinnamon
1/2 tsp ginger powder
1/4 tsp vanilla extract (sub vanilla bean powder for AIP)
Pinch of black pepper (omit for AIP)
---
Instructions
Fill two 8 oz glasses about one-third of the way with ice, and add 1/4 cup of milk to each glass.
Using a blender, blend the remainder of the milk with the maple syrup, vanilla, and spices for 5-10 seconds or until evenly combined.
Pour the blended turmeric mixture over the ice (this creates the pretty marbled look when you pour!), stir, and serve cold.
Notes
All nutritional information are estimations and will vary. Estimations do not include optional ingredients.
Prep Time: 10
Category: drink
Cuisine: Global
Nutrition
Serving Size: 1 drink
Calories: 110
Fat: 3.7g
Carbohydrates: 17.7g
Fiber: 0.9g
Protein: 2.2g
Keywords: turmeric, latte, anti-inflammatory
How Often Should You Drink This To See Anti-inflammatory Benefits?
Everyone is different, but drinking this a few times a week (and even daily if you'd like) is a great way to add some anti-inflammatory turmeric love to your life. I've noticed it help with my overall inflammation, and it's incredible for emergency spot treatment like busting a cold or allergies.
If you'd rather mix it up, check out these recipes for more!