Asian Veggie Noodle Bowl (Whole 30, Paleo, AIP)
Recently, I was looking back in my TimeHop app (which shows you throwbacks in your social media trail online) and I came across one of my earlier real food recipes… a veggie Asian noodle bowl. This was back in the day when I was still gluten-full, pretty much refused to eat any protein other than egg whites, and no other fats that margarine. Yikes. My saving grace was that I loved Asian flavors paired with fresh vegetables! Asian Noodle Bowls were my jam, along with tons of other Asian cuisines, and an Asian Veggie Noodle Bowl was just what I needed at the time.
Back when I made this years and years ago, it was ways different than what I would eat today. I still used a soy-based sauce, I would sometimes use rice noodles, and my veggies looked like I chopped them with a lawnmower. Not to mention there may or may not have been Skippy peanut butter in some of them. I tried, okay? So I thought it needed a serious facelift!
This reimagined Asian Zucchini Noodle Bowl is fresh, super easy to make, full of flavor and packed with nutrient-dense veggies!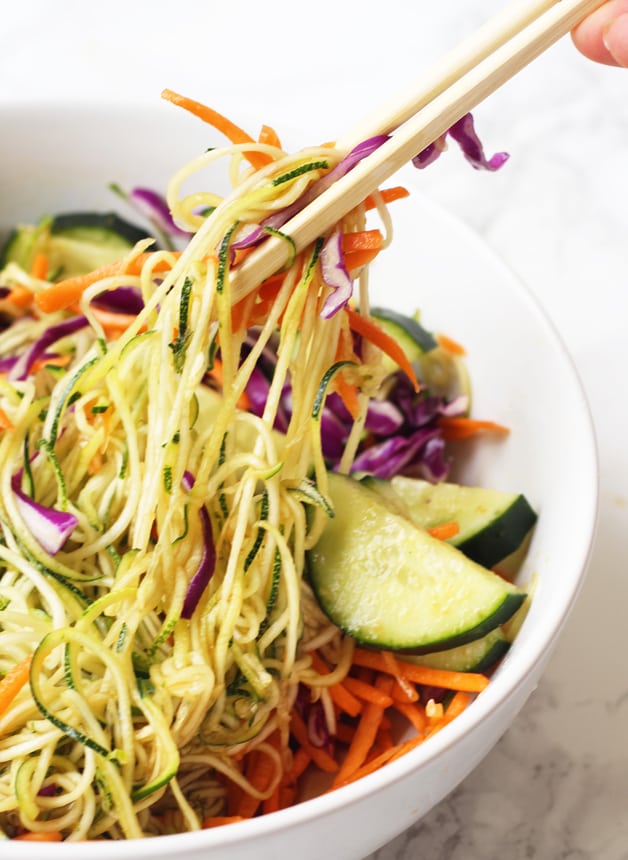 Let's Talk What You'll Need To Make It…
Zucchini, Carrots, Cabbage, Cucumber, and Green Onion
These veggies are the star of the show in this veggie noodle bowl! They pair well together and taste great in the bowl. You can indeed swap and add as needed, but I can't guarantee you'll get the same flavor results.
Coconut Aminos
This bowl is both gluten free and soy free, which means that it uses coconut aminos. If you've never used it before, it's basically a soy free, soy sauce made from coconut nectar. It's very easy to find in health food stores, and has even started popping up in Trader Joe's. This is the brand I like,
Veggie Spiralizer
Before I had a spiralizer, I used to try and do it by hand… which was insane and clearly didn't work. I used to have a hand crank spiralizer to turn my veggies into noodles and I hated it. It always left my veggies soggy and blah. I upgraded to this one, and I love it! Obviously, any one will work for this recipe, but that one in particular works great!
Print
Asian Veggie Noodle Bowl (Whole 30, Paleo, AIP)
---
2 medium zucchini's, spiralized
3/4 cup carrots, grated
1/2 cup red cabbage, chopped
1 medium cucumber, chopped into half moons
2 sprigs green onion, chopped
1 tbsp coconut oil
FOR THE SAUCE
2 tbsp coconut aminos
1 tsp ginger paste (or ginger powder)
1/2 tsp salt
1/2 tsp onion powder
1 tsp garlic powder
---
Instructions
Place a pan on the stove and set to medium/low heat
Melt the coconut oil in the pan
Add the zucchini to the pan and cook for 2-3 minutes. You want the noodles to be lightly sautéed to aid digestion, but still crunchy
Remove from heat and set aside to cool
Once cooled, add the zucchini to a bowl and combine with the other veggie ingredients
In a small mixing bowl, combine the sauce ingredients with a whisk
Pour the sauce over the noodle bowl and serve immediately