Avocado Chocolate Fudge Cookies (Paleo & AIP)
If you ask me on any given day what my favorite treat is, it's always going to be cookies! I've always loved warm gooey chocolate chips cookies, soft snickerdoodles, and colorful m&m sugar cookies. Gosh, did I love those stupid m&m cookies! Whenever I went into a deli growing up in New York, I always had to get a cookie. Needless to say, my obsession with sugar and processed carbs eventually caught up with me. These days, I still crave soft gooey cookies, but have turned to options with better ingredients like these Paleo Chocolate Avocado Fudge Cookies!
Cookies seem like the ultimate sugar bomb, and they definitely can be if they're just your run of the mill conventional cookie. However, if you're trying to be more careful around sugar and are grain, dairy, and egg free, there are options! Avocado is one of my favorite ingredients for making recipe creamy, and adding in lots of healthy fat. And if you're already thinking… "But doesn't your cookie taste like guacamole if there's avocado in it?", I assure you that when you pair avocado with the right ingredients in the right amount, the taste blends in perfectly!
These Paleo Chocolate Avocado Fudge cookies are super creamy, fudgey, soft, and so easy to make. I pretty much always have these ingredients in my kitchen! Plus, they're lower in sugar and carbs than your average conventional cookie and full of healthy fat.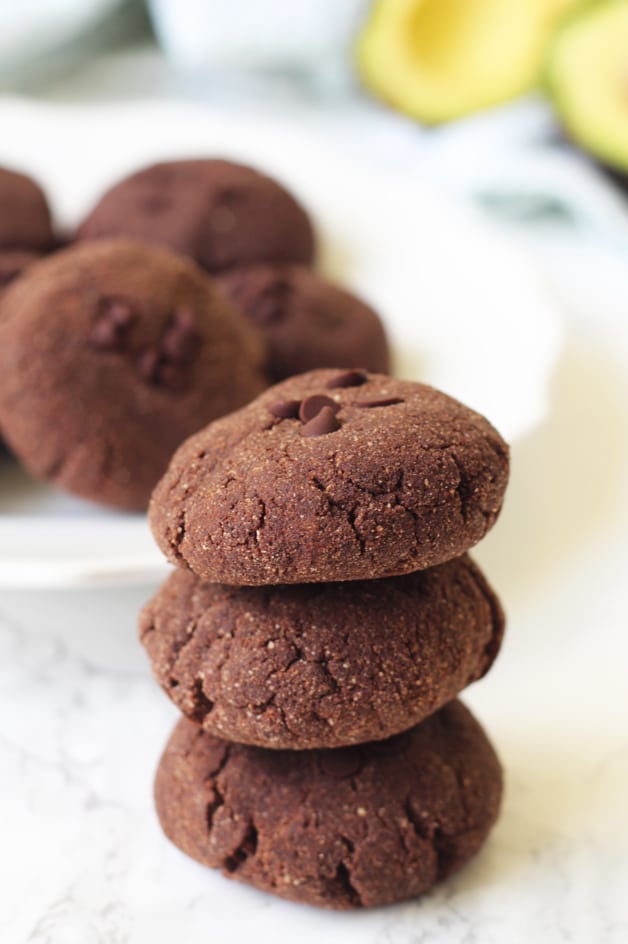 The Ingredients You'll Need For The Dark Chocolate Avocado Fudge Cookies
Avocado
The creamy, dreamy base for these cookies! You'll want a soft, ripe avocado that doesn't yet have spots, but isn't too hard to mash. It should be creamy and very easy to mash up thoroughly.
Coconut Flour
Coconut flour is my default for these cookies and it works well, however, you likely can sub almond flour or another grain free flour if you tolerate it. I haven't tested it, but it's worth a try.
Cocoa powder or carob powder
This helps give these cookies the chocolate, fudgey taste. If you're following the autoimmune protocol, carob powder subs easily in these cookies. If not, cocoa works as well.
Honey
Honey helps to further bind the cookies, and add some sweetness. You can sub maple syrup, but I wouldn't recommend subbing out the sweeter altogether. Without the honey, they'd be quite bitter.
Gelatin egg (or regular egg)
To help bind the cookies further, I use a gelatin egg (instructions are below) or a regular egg. You can also try a flax egg.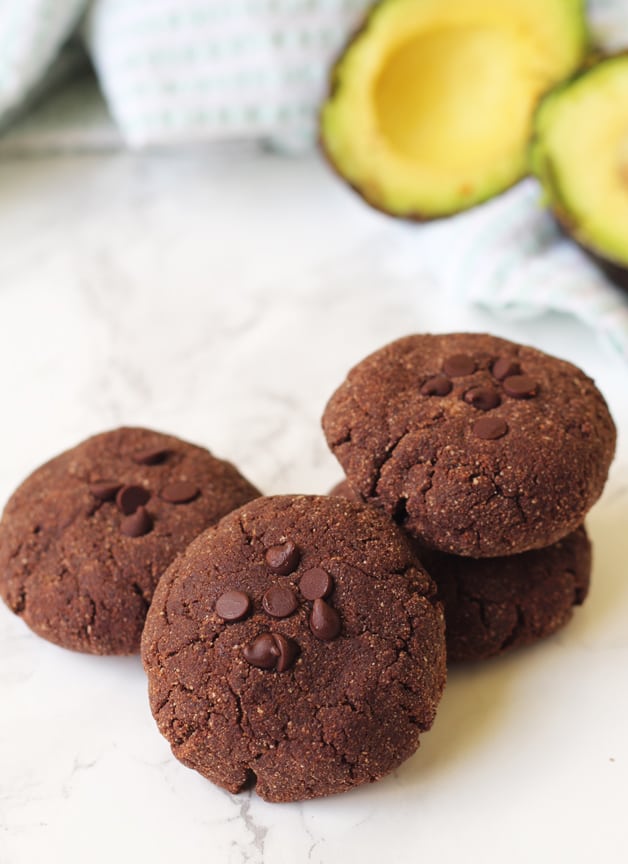 Print
Dark Chocolate Avocado Fudge Cookies (Paleo & AIP)
---
Scale
Ingredients
1/2 medium ripe avocado (about 1/3 cup)
1/2 cup coconut flour
1/3 cup cocoa powder (or carob for AIP)
2 tbsp honey
2 tbsp coconut oil or ghee
1/4 tsp baking soda
1 tbsp dairy free chocolate chips (optional, omit for AIP)
FOR THE GELATIN EGG
1 tbsp gelatin ( like this )
1/4 cup water
---
Instructions
Preheat the oven to 375 F and line a baking sheet with parchment paper lightly greased with coconut oil
Spoon the avocado into a mixing bowl and thoroughly mash
Mix in the coconut flour and cocoa powder and mix well to combine. Ideally, you don't want any big green clumps from the avocado!
Add in the honey, coconut oil, and baking soda and mix
If using a normal egg, add it in and combine.
Or, for the gelatin egg, add the water to a small sauce pot and slowly pour over the gelatin. Allow it to bloom over 2-3 minutes.
Place the pot on the stove and turn in on low heat. Slowly melt the the gelatin (this will take just a few minutes) and remove from heat.
Vigorously whisk the gelatin egg until it becomes frothy. Add the gelatin egg to the mixture immediately and combine the entire mixture.
Roll the dough into cookies (you'll have about 6) and top with a few chocolate chips if desired.
Bake in the oven for 10-12 minutes
Remove from the oven and cool
---