Carrot Cake Protein Cookies (Paleo, AIP)
These Paleo Carrot Cake Protein Cookies are perfect for dessert or snacks on the go!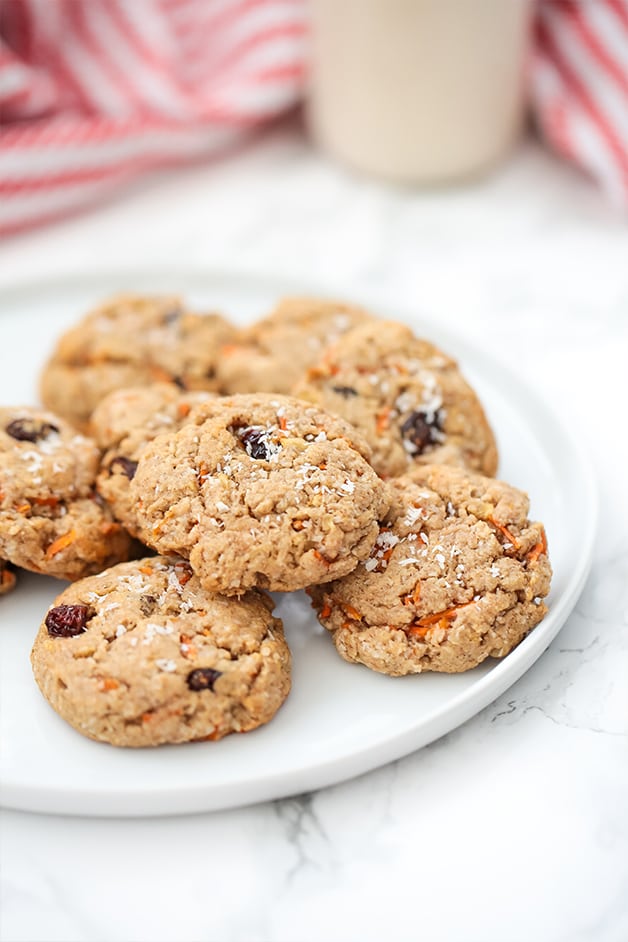 Would you believe me if I said that these are one of my favorite cookie recipes on my blog to date? I mean, I love my chocolate chip cookie recipe (and you guys do too!) but these cookies are something really special. I was never much of a carrot cake fan, but decided I'd try my hand at it in honor of Easter coming. I tested different versions of this recipe several times to no avail and was about to give up… until I finally made this one! These Carrot Cake Protein Cookies are beyond delicious.
They're paleo, AIP, nut free (with a non-nut free option) and you would never know any of that from the texture and flavor. They're pillowy, chewy, and taste incredible. So many things to love about these cookies.
Why I love These Paleo Carrot Cake Protein Cookies
They have added protein
A scoop of collagen peptides gives a protein boost to these cookies and makes them much more satiating.
They're perfect for snacks on the go
What I really love about these cookies is that they last a couple of hours outside the fridge. They don't melt, or lose shape, or anything like that. So perfect for bringing on trips or long days. Plus, protein really make these a well rounded snack.
Drum roll… they're sugar free!
I didn't think I could do it… cookies with no added sweeter that still tasted good? No way. But it happened. It really did. No coconut sugar, no honey, no maple syrup, and they still taste great! You do have the option to add some dried fruit, but you 100% don't need it.
The texture is on point
So soft!!!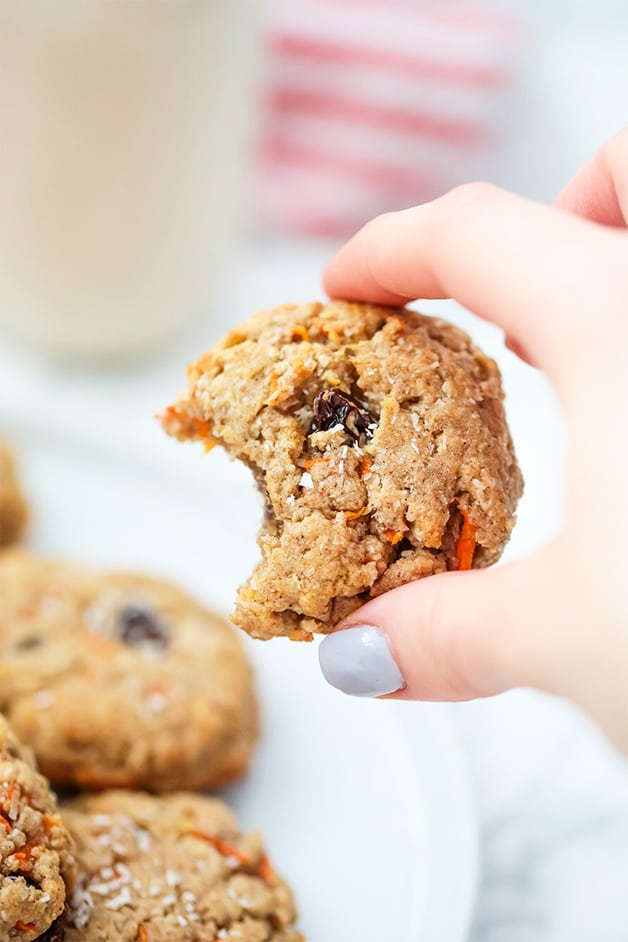 The Ingredients You'll Need For The Carrot Cake Cookies
Tigernut flour
A nut free, grain free flour (tigernut is a tuber, not a nut) that I love to bake with. You can try subbing almond flour if you can have nuts.
Shredded Coconut
This adds texture to the cookies and acts as a second flour.
Shredded Carrots
You'll need very finely shredded carrots for these cookies. I used shredded carrots from the store, and then shredded them even more in a food processor. Carrots too big won't cook through.
Shredded/diced apple
This is the main sweeter in the cookies and it has much less of an impact on your blood sugar than something like maple syrup.
Coconut oil
I have no tried other oils in this recipe.
Tigernut butter
This is the game changer ingredient! You can make it homemade, buy it pre-made here (so good!), or if you can tolerate nuts, you can do almond butter.
Collagen peptides
Collagen is the added protein element to these cookies!
Egg (sub gelatin egg for AIP)
Use one egg or a gelatin egg substitute for AIP. Do not sub more collagen in place of gelatin. Find the instructions below to make a gelatin egg.
Optional – rasins or cranberries
This is an optional component. Skip this if you want to be lower sugar.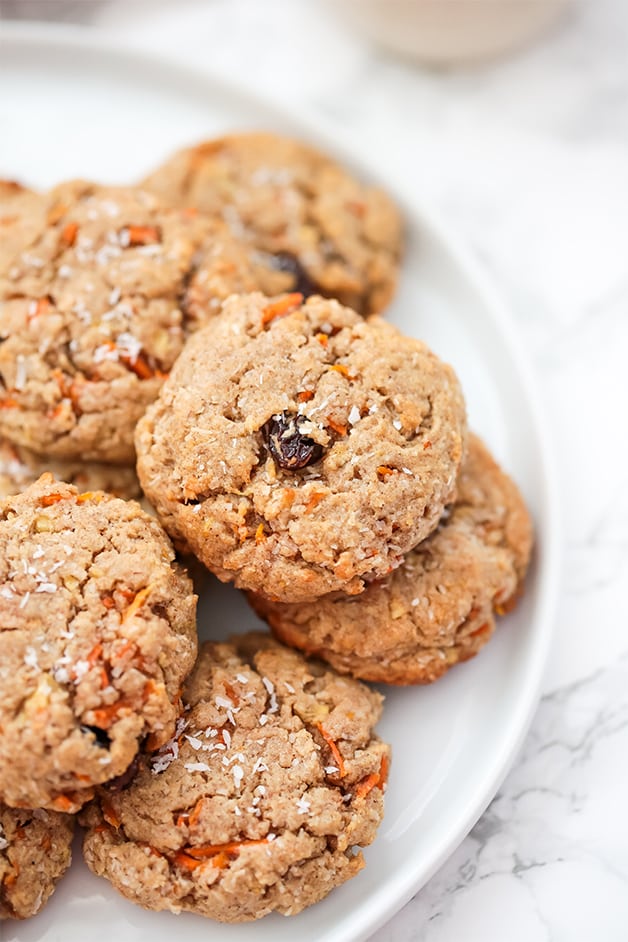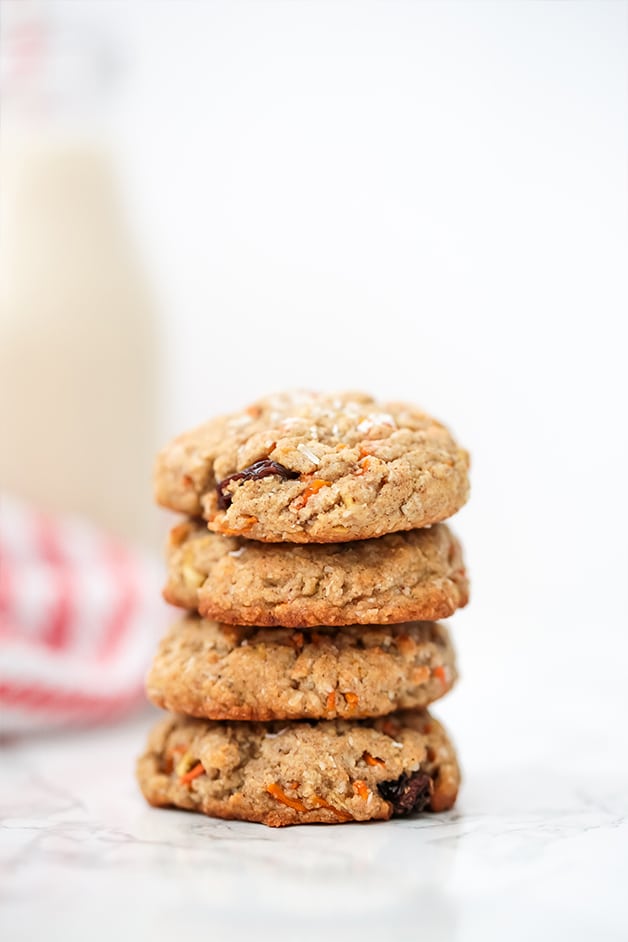 Print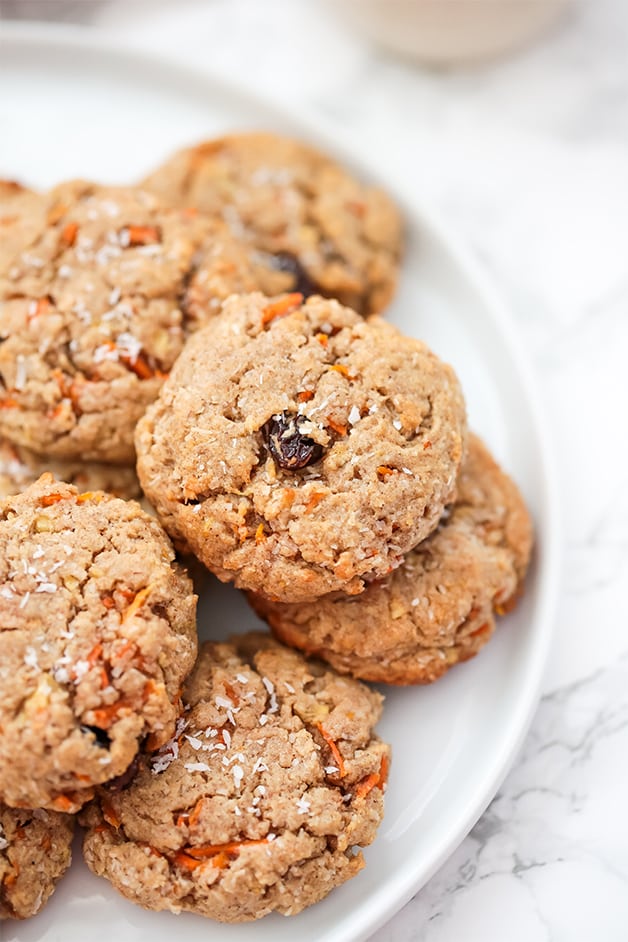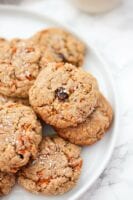 Carrot Cake Protein Cookies (Paleo, AIP)
---
Total Time: 20 minutes
Yield: 12 cookies 1x
Description
These Paleo Carrot Cake Protein Cookies are perfect for dessert or snacks on the go!
---
3/4 cup tigernut flour
1/4 cup + 2 tbsp shredded coconut (plus extra for topping)
1/4 cup apple, finely diced
1/2 cup carrot, finely shredded
2 tbsp collagen peptides ( I used Vital Proteins)
2 tsp cinnamon
1/4 tsp baking soda
1/4 cup coconut oil
1 egg (sub gelatin egg for AIP… see notes below)
Optional – 2 tbsp dried cranberries or raisins (omit for lower sugar)
---
Instructions
Preheat the oven to 375 F and line a baking sheet with parchment paper
Combine the tigernut flour, shredded coconut, apple, carrot collagen, cinnamon, baking soda , and optional dried fruit in a bowl and mix well
Next, stir in the coconut oil and tigernut butter
Finally mix in the egg (or gelatin egg for AIP… see notes)
Form the batter into cookies (you should have about a dozen) and space them evenly on the baking sheet
Bake for 15 minutes and place on a cooling rack for 15-20 minutes. Sprinkle with extra shredded coconut if desired.
Enjoy immediately or store in the fridge for 2-3 days
Notes
*For AIP, sub the 1 egg for 1 gelatin egg. Here are the instructions – FIRST, Add 1/4 cup of water to a small sauce pot and slowly pour over 1 tbsp gelatin. You don't want any large clumps, so lightly mix if needed. Allow the mixture to rest and bloom over 2-3 minutes. Place the pot on the stove and turn in on low heat. Slowly melt the the gelatin (this will take just a few minutes) and remove from heat. NEXT, Once removed from the stove, vigorously whisk the gelatin egg until it becomes frothy. If it's too watery, the cookies will not work. Add the gelatin egg to the mixture immediately and mix to combine. *
All nutritional information are estimations and will vary. Estimations do not include optional ingredients.
Prep Time: 5
Cook Time: 15
Nutrition
Serving Size: 1 cookie
Calories: 107
Fat: 8.3g
Carbohydrates: 4.4g
Fiber: 1.1g
Protein: 3.5g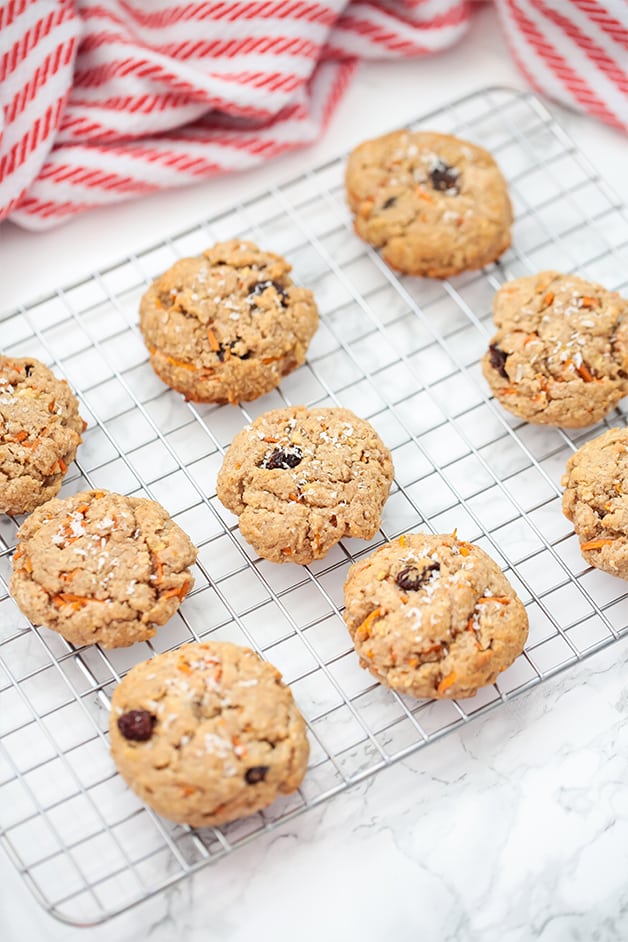 That's all there is to it! I am obsessed with these cookies for an on the go snack or just a little treat. I love how they're packed with protein and healthy fat and no added sweetner.
I hope you love them!