Thank you to ALDI for sponsoring this post! All opinions are my own. 
When it comes to eating a real food diet, preparation is always key. Even with following a paleo lifestyle for years, I was especially reminded of this during my Whole30 this past month. Throughout the past few weeks, I've had moments here and there where I wasn't as prepared as I should have been and would kick myself for having to waste time in the kitchen that could have been saved by preparing ahead of time. Quick lunches was one of the spots that I really struggled with at the start, so these Paleo Salmon Meal Prep Bowls were a total lifesaver!
These simple meal prep bowls are Whole30 compliant, paleo, and even autoimmune protocol compliant. They're easy to make, the ingredients are easy to find, and it takes so much guess work out of healthy meals in the moment.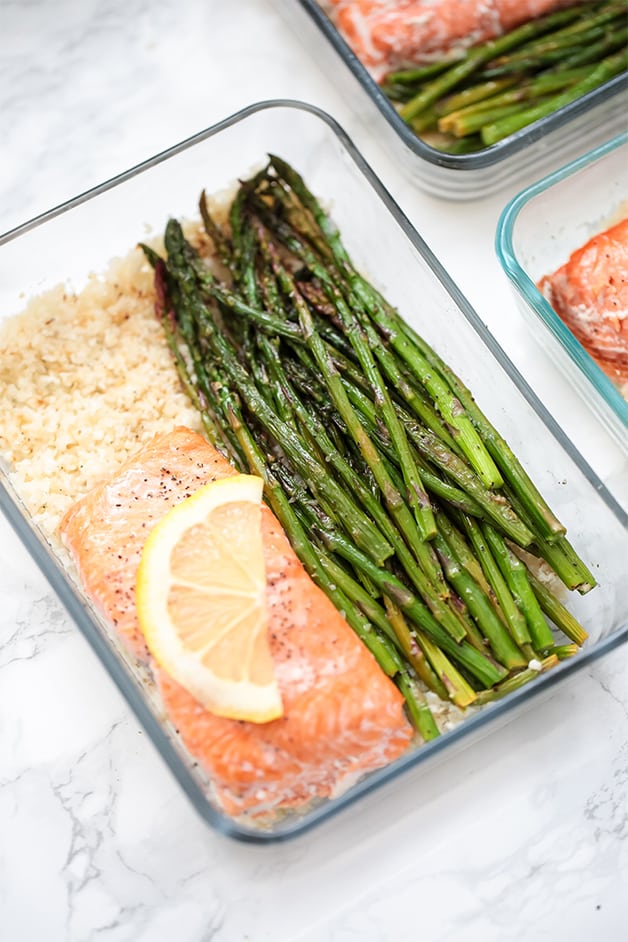 The Ingredients
All of the ingredients used in this dish are from ALDI, which I love! There are so many locations making it easily accessible for so many, and according to annual surveys of US consumers conducted from 2011 to 2017 by Market Force Information®, ALDI is one of America's favorite grocery stores. Even my husband (who hates shopping with me) would tell me how much he liked ALDI when we first started dating!
I found all of these ingredients easily, but please note that price and availability of certain products may vary from store to store. However, ALDI has a ton of options for organic, and paleo foods, so you can easily make substitutions. Check out where a store is located near you!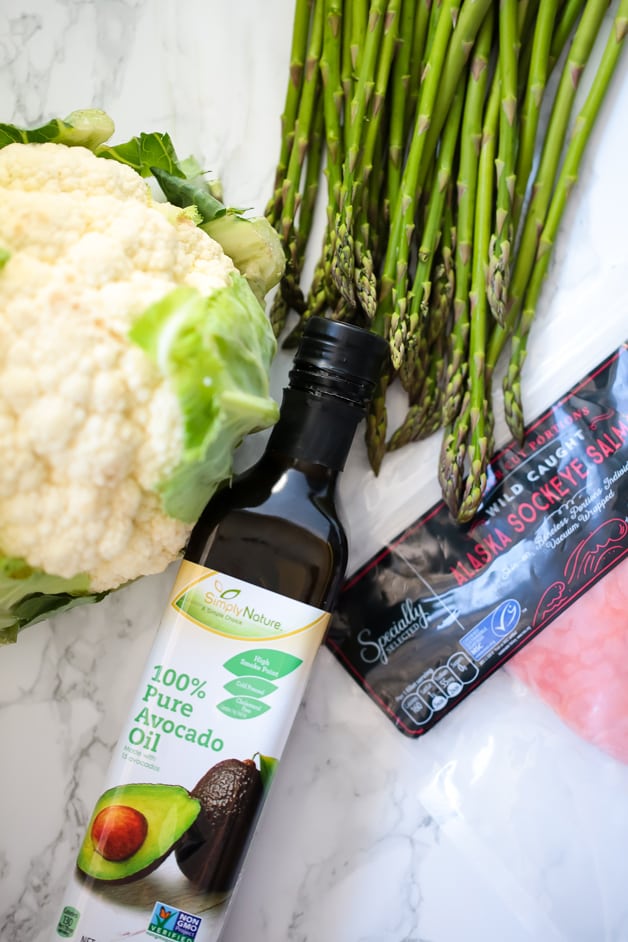 Salmon
I used Specially Selected Sockeye Salmon from ALDI, and it was so delicious! Salmon is a great source of both protein and healthy fat that keeps you satiated throughout the day.
Asparagus and Cauliflower
These are the two main veggies featured in this meal prep bowl, though you could easily mix it up with something like sweet potato, broccoli, etc.
The asparagus is roasted which gives it an amazing flavor and texture, and the cauliflower is riced to resemble actual white rice. I got a whole head of cauliflower from ALDI and just used my food processor to rice it!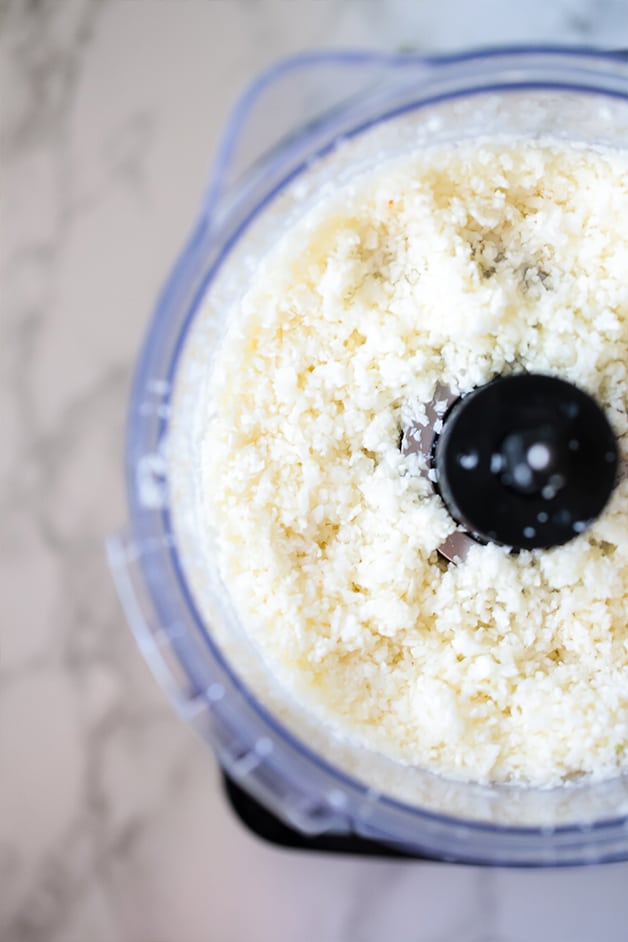 Avocado oil
I get a lot of requests to do coconut free dishes, and avocado oil is an amazing alternative to coconut oil. I used SimplyNature 100% Pure Avocado Oil from ALDI, which has an amazing flavor that doesn't overpower this dish. Avocado oil has a high smoke point which is perfect for roasting and sautéing.
Lemon, salt, and pepper
Simple flavors tie this dish altogether!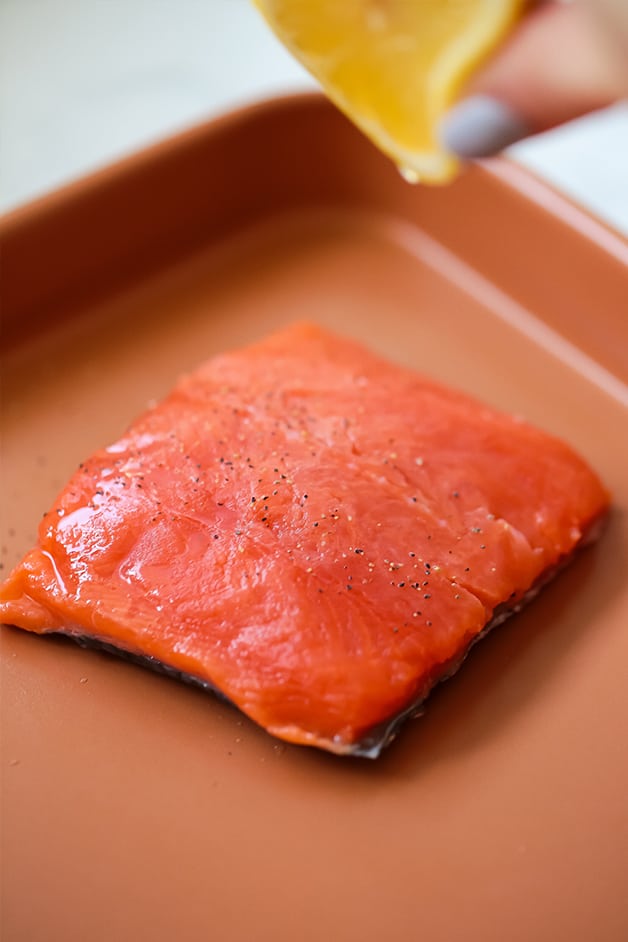 Print
Paleo Salmon Meal Prep Bowls (Paleo, AIP, Whole30)
---
Prep Time:

5 minutes

Cook Time:

20 minutes

Total Time:

25 minutes

Yield:

3 servings
Ingredients
FOR THE SALMON
3 filets, Specially Selected Sockeye Salmon (defrosted)
1 tbsp SimplyNature 100% Pure Avocado Oil
1 tsp Stonemill Sea Salt
1/4 tsp Stonemill Black Pepper (omit for AIP)
Juice of 1/2 lemon
3 lemon slices for garnish
FOR THE ASPARAGUS
1 bunch asparagus
1 tbsp SimplyNature 100% Pure Avocado Oil
1/2 tsp Stonemill Sea Salt
1/4 tsp Stonemill Black Pepper (omit for AIP)
Juice of 1/4 lemon
FOR THE CAULIFLOWER RICE
1 large head cauliflower
1 tbsp SimplyNature 100% Pure Avocado Oil
1/4 tsp Stonemill Salt
---
Instructions
Preheat the oven to 375 F and line two baking sheets with parchment paper
For the asparagus wash it well, and chop the thick white ends off. Place onto the baking sheet and top with avocado oil, lemon, salt, and pepper (omit pepper for AIP). Bake for 15-20 minutes or until asparagus is crisped to your liking.
For the salmon, place the defrosted salmon filets onto the baking sheet and top with avocado oil, lemon juice, salt, and pepper (omit pepper for AIP)
Roast the salmon in the oven for 15 minutes or until it easily flakes with a fork.
For the cauliflower rice wash the cauliflower well and chop it into florets.
Add the florets to a food processor and set to shred until the cauliflower is fully riced. Stop and stir throughout the process if needed to ensure it rices evenly.
Using a large skillet, heat the avocado oil on medium heat.
Add in the cauliflower rice, season with salt and sauté for 8-10 minutes or until lightly crisped.
To assemble divide the cauliflower rice evenly across three glass meal prep containers and layer on the asparagus, salmon, and extra lemon slices.
Store in the fridge and reheat either in a toaster oven, or under the broiler, and enjoy!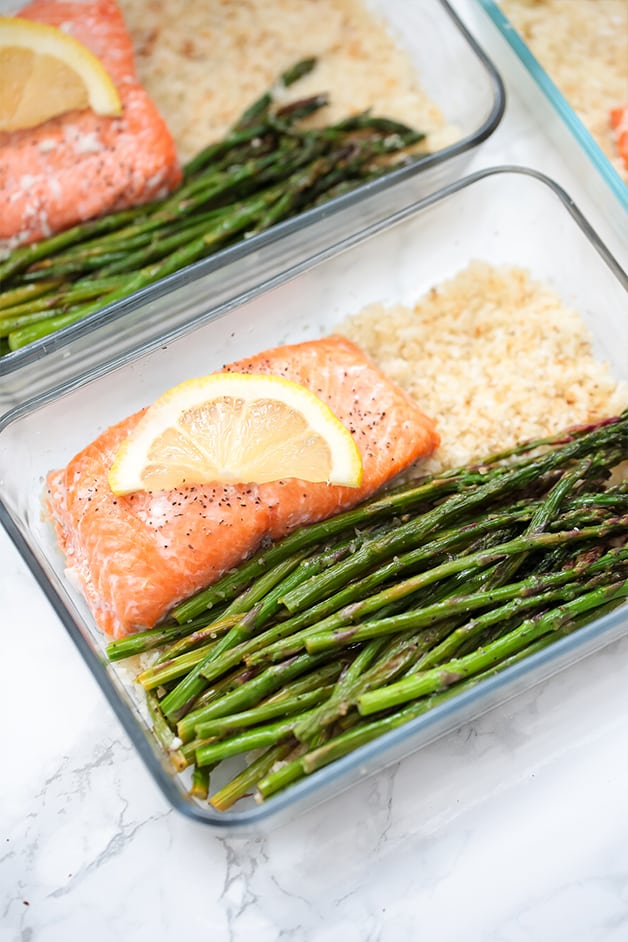 So easy, so healthy, and so delicious! Cooking once and having healthy meals for days is such an amazing way to make eating real food easier, and this is such a perfect dish to add to your meal prep regimen.
Enjoy, and be sure to let me know how you like it if your try it out!