Quick Pickled Onions (Paleo, AIP, Whole30)
Fermented foods are one of the foundations of a healing diet. Rich with probiotic benefits, ferments are so good for your gut! However, they take a bit of extra effort to make. Sometimes I find myself wanted a yummy fermented food topping for a meal but I don't have three days to wait for it. That's where quick pickled onions come in!
These quick pickled onions still feature probiotic benefits, but are made in a fraction of the time. They are so perfect for putting on burgers and have become a staple in my house over the past several weeks. They're made with apple cider vinegar and are paleo, AIP, and whole30 compliant. No corn-based vinegar here!

Why I love These Quick Pickled Onions
They're perfect for summertime and BBQ season!
These quick pickled onions are the perfect addition to your summer menu with recipes like..
They're easy to make
If you're hosting a BBQ or cookout, the last thing you need is more complicated things to do! These quick pickled onions are so easy to make, leaving you time to focus on other things.
They're packed with probiotics
It's just as important to consume healthy probiotics to feed our good gut bacteria. The apple cider vinegar in these onions in an amazing fermented food that you don't have to really think much about!
The Ingredients You Need For The Quick Pickled Onions
Red onion
Red onions are one of my favorite veggies! They're cheap, easy to find, and they're so wonderfully peppery. Spice is something I really miss not having nightshades and red onions are an amazing way to add spice.
Apple cider vinegar
Rather than using a white vinegar, this recipe uses apple cider vinegar. White vinegar is often made from a corn base which is no what those of us who are grain free want to be sneaking into our food.
Sea salt
The supplies
A 6-8 oz jar with a lid
Use a weck jar or canning jar for this.
A medium pot and strainer
This is for par-blanching the onions to make them softer and take away some of the bite.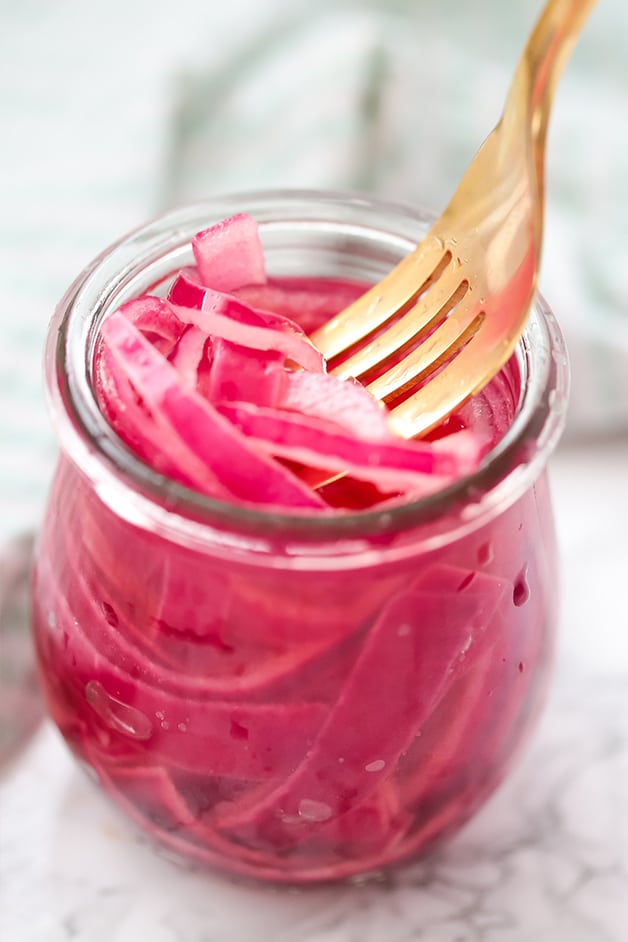 Print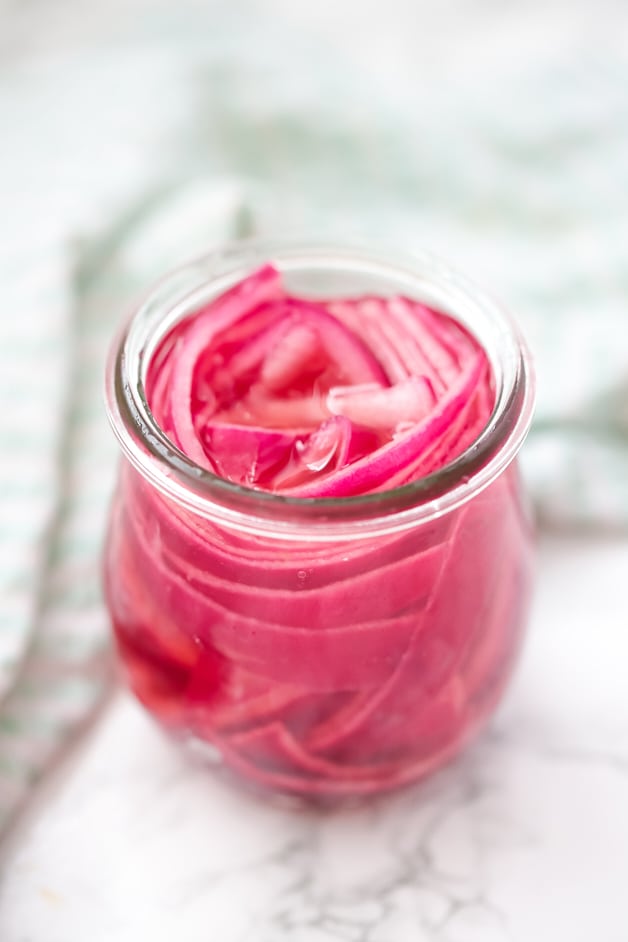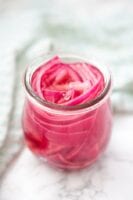 Quick Pickled Onions (Paleo, AIP, Whole30)
---
Total Time: 50 minutes
Yield: 4-6 1x
1 large red onion, thinly sliced
1/2 cup apple cider vinegar (varies depending on size of jar)
1 tsp sea salt
---
Instructions
Using a medium pot, bring 3 cups of water to a low boil. Place the onion slices in a strainer over the sink and slowly pour the hot water over the onion slices. Allow the onions to cool.
Next, combine the onion slices, apple cider vinegar and sea salt in a small jar (6oz-8oz weck jar or canning jar) and mix to combine. Push the onions down to submerge in the liquid.
Place an airtight lid over the jar and leave on the counter top for 45 minutes. Use immediately or store in the fridge for 1-2 weeks.
Notes
All nutritional information are estimations and will vary. Estimations do not include optional ingredients.
Prep Time: 5
Cook Time: 45
Nutrition
Serving Size: 1 serving
Calories: 14
Fat: 0g
Carbohydrates: 2.5g
Fiber: 0.4g
Protein: 0.3g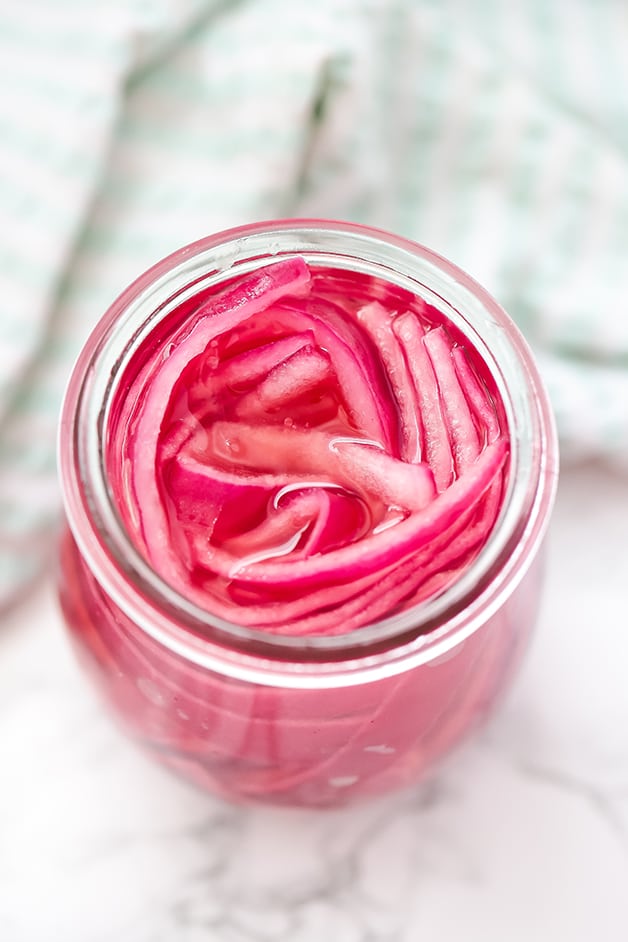 That's all there is to it! A quick and easy way to have a compliant topping for things like burgers, salads, and more. It's easy and cheap to make and is so versatile.
Enjoy this simple side!!