Paleo Chocolate Zucchini Brownies (AIP, Gluten Free)
These paleo chocolate zucchini brownies are a delicious treat with a veggie boost! They're gluten free, egg free, and easy to make AIP!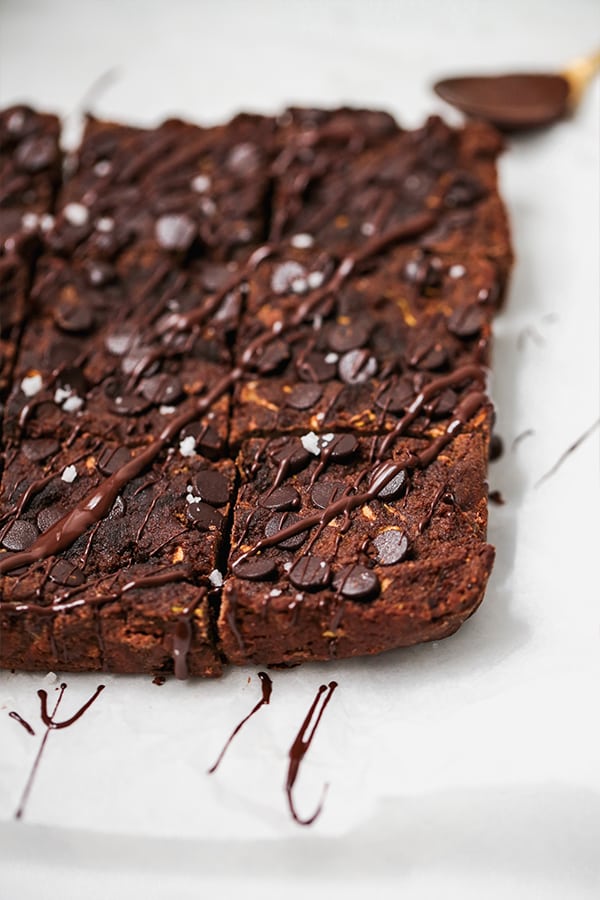 If you would have told when I was a kid that I would be eating vegetables in brownies, I would have laughed in your face. Veggies in dessert? With chocolate? I would have never dreamed of such a thing! Today, I cannot get enough zucchini based desserts… especially these paleo chocolate zucchini brownies!
These brownies are cakey, chocolatey, and taste absolutely amazing. Unlike other grain and egg free recipes, they hold together beautifully and don't get mushy. You'll have no idea that they're free of so many standard baking ingredients like grain filled flours, eggs, and refined sugar.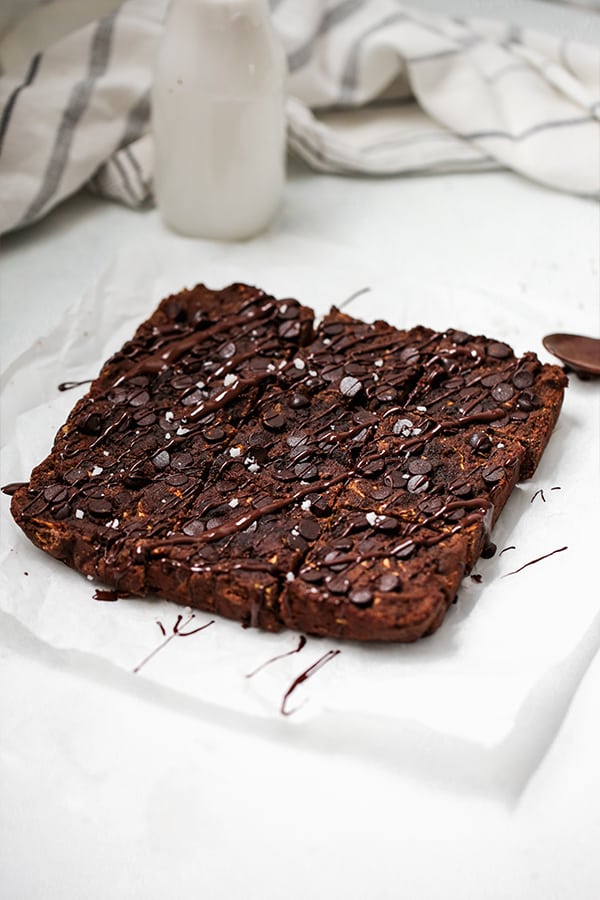 Why zucchini in brownies?!
Why zucchini of all things? Why not a fruit?  Zucchini is one of my favorite summer veggies and it is perfect for brownies!
Extra nutrients! Zucchini is nutrient packed and gives a lot of nutrient value to something that would otherwise be pretty nutrient void.
Fiber, fiber, fiber! Fiber is really important, guys. We get so fixated on healthy fats in this space, but we can't forget about fiber.
It tastes amazing. Zucchini has a really neutral flavor and texture when you put it in baked goods. You hardly even notice it's there!
One of my favorite thing about these brownies is that they keep really well in the fridge! A lot of baked goods get dry and gross in the fridge, but these hold up. You can make a big batch and save them for a few days to keep snacking on them.
The Ingredients You'll Need For These Paleo Chocolate Zucchini Brownies
Coconut flour
Coconut flour works to absorb excess water which is great for recipes with watery vegetables. I have not tried other flours for this recipe and can't make any other recommendations. However, I have tons of other recipes that don't use coconut flour if you can't tolerate it!
Zucchini
Star of the show!
Tapioca starch
This is another flour and binder in the recipe.
Maple syrup
You can also use honey for the sweetener.
Cocoa powder (sub carob for AIP)
Cocoa powder adds more stability to the brownies and is the chocolate component. You can swap it out for carob powder if you're AIP.
Chocolate chips
To up the chocolate factor, you can add chocolate chips like enjoy life!
Gelatin (sub regular eggs)
I use vital proteins gelatin to make gelatin eggs as an egg substitute. If you tolerate eggs, you can swap for those. I haven't tried a chia egg or a flax egg.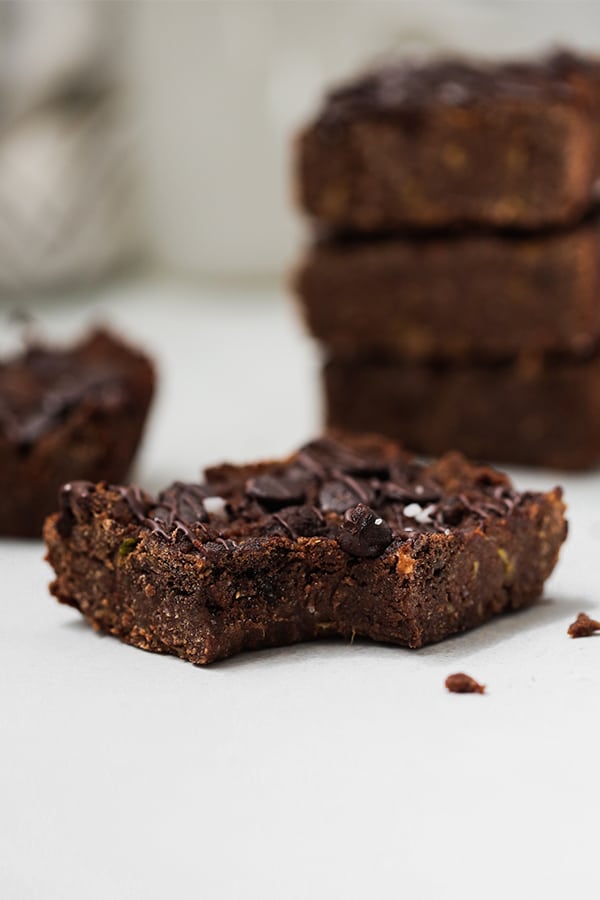 Print
Paleo Chocolate Zucchini Brownies (AIP, Gluten Free)
---
Author:
Total Time: 35 minutes
Yield: 9 servings 1x
Description
These paleo chocolate zucchini brownies are a delicious treat with a veggie boost! They're gluten free, egg free, and easy to make AIP!
---
2 cup shredded & peeled zucchini, squeezed to remove excess water
1 cup coconut flour
1/4 cup tapioca flour
1/3 cup cocoa powder (sub carob powder for AIP)
1/4 cup maple syrup
1/4 cup coconut oil, melted
1/4 tsp baking soda
1 tsp vanilla
For the gelatin eggs (sub 3 eggs)
3/4 cup water
3 tbsp gelatin
Optional toppings
2–3 tbsp dairy-free chocolate chips (omit for AIP)
Melted chocolate chips (sub carob mixed with coconut oil for AIP)
1/2 tsp sea salt
---
Instructions
Preheat the oven to 400 F and line an 8×8″ pan with parchment paper
Mix the shredded zucchini with the dry ingredients
Pour in the maple syrup and coconut oil and mix well until the batter is well combined and no clumps of zucchini or cocoa powder remain
To make the gelatin egg (sub regular eggs) pour the water into a small pot and sprinkle the gelatin over top. Let it sit for 2-3 minutes until the mixture hardens. Set the pot on a burner set to low for 1-2 minutes until the gelatin melts (be careful not to burn it). Remove the pot from the heat and vigorously whisk until the mixture becomes frothy. Immediately add it to the brownie batter.
Evenly spoon the brownie batter into the baking pan and top with chocolate chips (if using).
Bake in the preheated oven for 30 minutes or until brownies are baked through.
Remove from the oven and allow the brownies to cool completely before cutting into 9 pieces. Drizzle with optional melted chocolate and top with sea salt.
Prep Time: 5
Cook Time: 30
Category: Dessert
Method: Baked
Cuisine: American
Nutrition
Serving Size: 1 serving
Calories: 158
Fat: 7.8g
Carbohydrates: 18.7g
Fiber: 5.4g
Protein: 5.3g
If you like this recipe, check these out: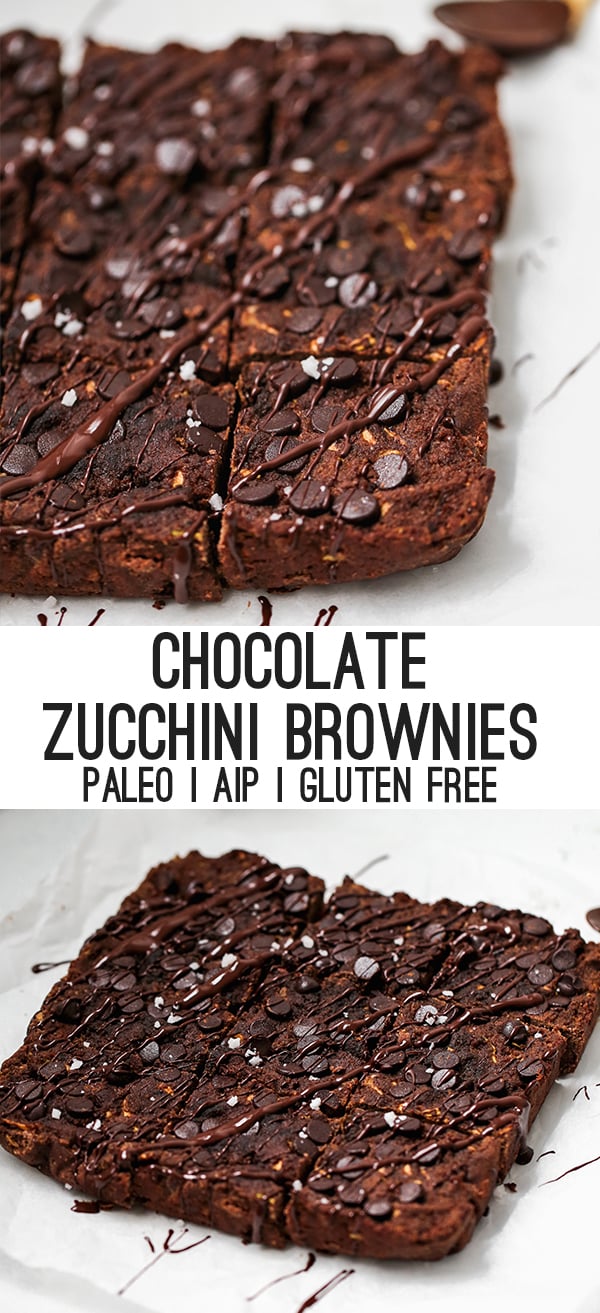 Note: This recipe contains affiliate links. Learn what that means here.