Cranberry Beef Jerky Bites (Paleo, Whole30, AIP)
These cranberry beef jerky bites are an easy protein snack on the go! They're made in the oven with only 5 ingredients and are paleo, whole30, and AIP compliant.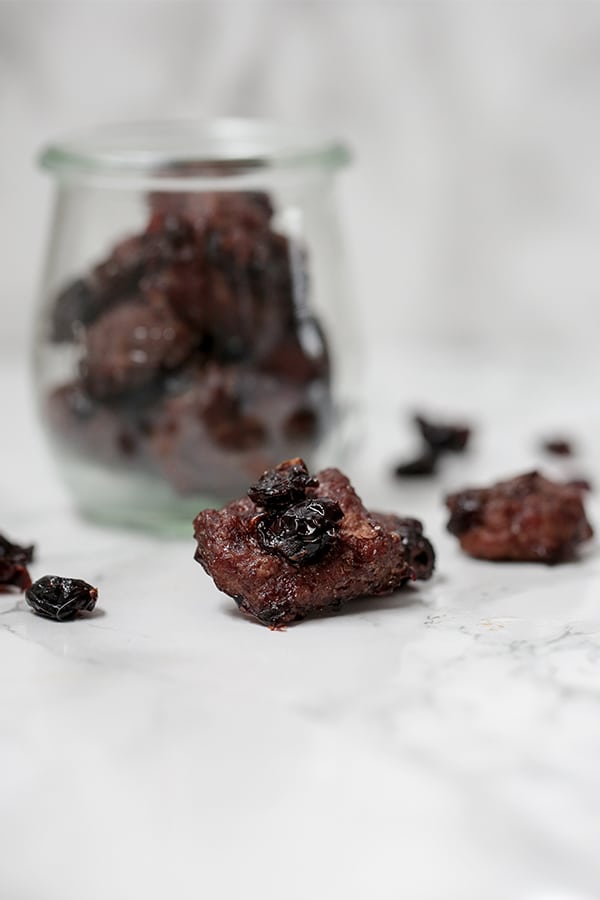 I have a confession to make… I have a serious thing for Epic bars. I mean, I am obsessed with these things. I truly think that one of the hardest parts of every whole30 I've ever done is giving the bison bars that have added sugar! I am forever grateful to Epic Bar for making such a great snack on the go. But, my addiction can be a bit expensive and add a bit more added sugar than I'd like. So, why not make my own?
These cranberry beef jerky bites are the perfect protein-dense snack with just a touch of sweetness! I was skeptical that they would really turn out that well, but I was so pleasantly surprised by how much I loved them! Between my husband and I, these guys were gone in less than 24 hours.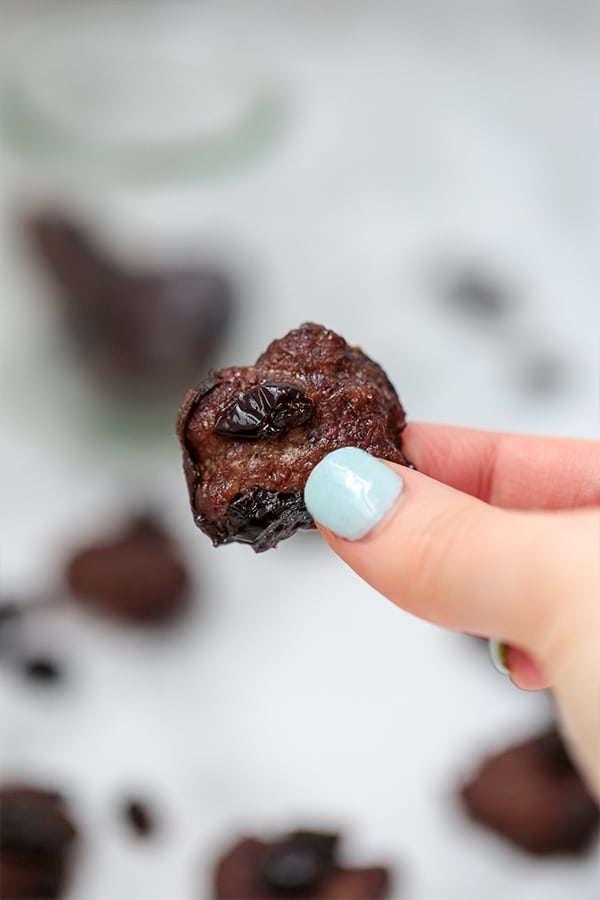 So, does my jerky bar addiction have competition? ABSOLUTELY.
Why I Love These Cranberry Beef Jerky Bites
They're cheaper than pre-made
Pre-made jerky bars can get pretty pricey. Making your own allows you to control the cost ingredients.
They're easy to make
Just slice them up, pop them in the oven, and forget about it until it's done! You don't need a dehydrator for this one.
They have less than 5 ingredients
Not only are fewer ingredient recipes arguably easier to digest, but it's also easier to make and far less fussy to shop for.
They taste delicious!
They're only naturally sweetened, but they taste awesome. Pre-made jerky bars usually have some sort of sugar, but you just don't need it here.
The Ingredients You'll Need for the Cranberry Beef Jerky Bites
Lower Fat, Fresh Ground beef
Fresh beef that wasn't previously frozen always works best for jerky! You want minimal moisture to allow it to dry quicker, and previously frozen always tends to have more moisture. You also want minimal fat as it helps it dry faster, so a lower fat cut on ground beef works best.
Yes, fat is still good, and you'll still get healthy fat from the beef! It just helps it cook faster.
Dried cranberries
You'll want dried cranberries that don't have any added sugars or oils, like this brand. Most dried cranberries that you get from the store have sunflower oil and sugar, so be careful to skip out on the unnecessary ingredients.
You can also use something like dried blueberries!
Coconut aminos
Coconut aminos is a gluten free, soy free alternative to soy sauce. You can buy this online or at most health food stores these days. It adds a bit of moisture, but it also adds just the right amount of flavor to keep the bites from being bland.
Salt & pepper
A good quality sea salt will work. Omit the pepper if you're AIP!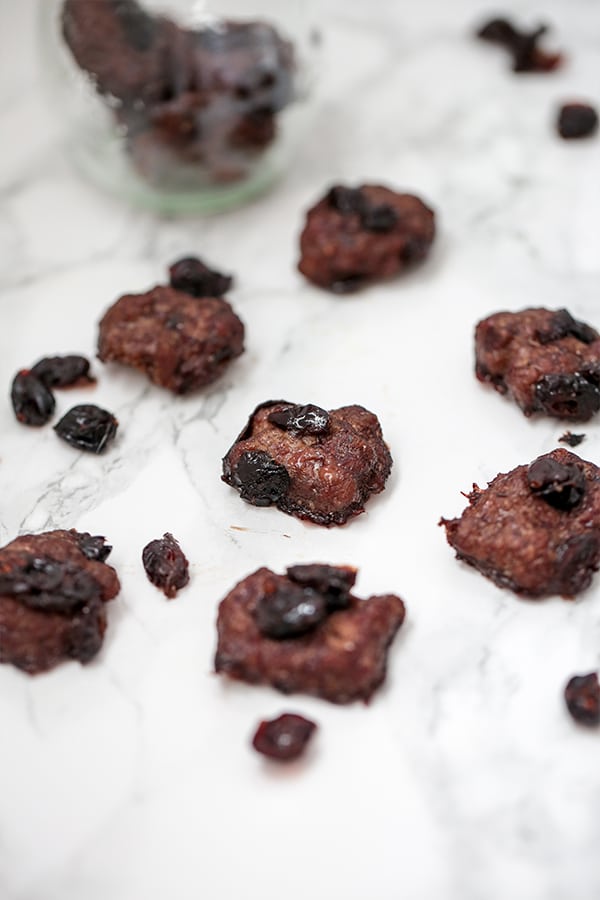 If you like this recipe, check these out…
Print
Cranberry Beef Jerky Bites (Paleo, Whole30, AIP)
---
Author:
Total Time: 52 minute
Yield: 4-5 servings 1x
1 lb ground beef (fresh, and lower fat to allow less moisture)
1 tbsp coconut aminos
1/4 cup dried cranberries (sugar and oil free)
1 tsp sea salt
1/4 tsp black pepper (omit for AIP)
---
Instructions
Preheat the oven to 180 F degrees and line a large baking sheet with parchment paper (two baking sheets may be necessary)
Add the raw ground beef to a large bowl and mix with the coconut aminos, cranberries, salt, and pepper.
Spoon out about 1-2 tsp of the ground beef mixture at a time and form it into small squares. Flatten the bites with your hand to about 1″x1″. You want the bites to be flattened, but not paper thin. Evenly space the bites.
Bake in the preheated oven for about 3-4 hours, flipping the bites at the halfway point. Check on the bites often as the cooking time will vary depending on the thickness of the jerky bites and your oven. Remove when browned on both sides and internal temperature reaches 160 F. Pat the bites dry of any excess fat.
Notes
All nutritional information are estimations and will vary. Estimations do not include optional ingredients.
Cook Time: 3-4 hr
Category: Snacks
Method: Oven
Cuisine: American
Nutrition
Serving Size: 1 serving
Calories: 141
Fat: 2.8g
Carbohydrates: 8.3g
Fiber: 0.6g
Protein: 19.9g