"Chocolate" Carob Easter Bunnies (AIP, Paleo and Soy-free)
This post contains affiliate links. Learn what that means, here.
Happy Spring, friends! Good lighting at dinner, and farmers markets are back, and Easter is almost here! The about sums up Spring, right? Well, that and entirely too much candy for about two weeks around Easter. Truth be told, I used to eat jelly beans by the handful. I didn't even like jelly beans, but I did. I did however, love all of the Easter chocolate and I ate even more of that. Those days have passed and rather than be sad for it, I decided to make an alternative… AIP "chocolate" Carob Easter Bunnies!
Seeing that it's technically a bean, chocolate can be irritating to many and is not AIP. Which is why this recipe calls for carob powder which you can get plain or toasted. I used plain for this recipe, but I recommend toasted as well. Carob powder is one of my fast favorites and a definite pantry staple.
Even if you're still having chocolate, you may or may also not be surprised to hear that one of the worst offenders in conventional chocolate is soy. Why even have soy in chocolate? Soy is a cheap emulsifier and found in most conventional chocolate. Not only is it just not AIP, but soy is phytoestrogenic and irritates the delicate balance of our hormones, and is harmful for those with thyroid problems. I know when I get soy'ed, and I highly recommend steering clear for all others with Hashimoto's disease. But I promise, you won't even miss conventional chocolate with these cuties.
Now that the details are out of the way, it's onto the cuteness!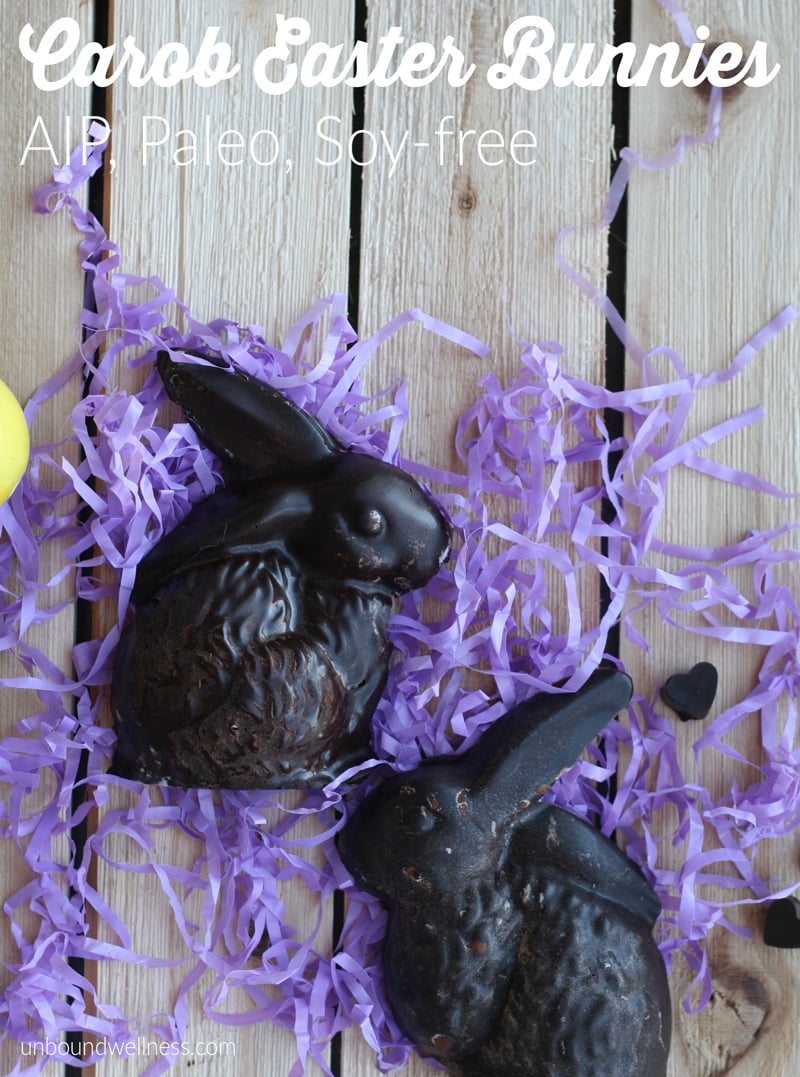 AIP "Chocolate" Carob Easter Bunnies ????
Ingredients (makes about two bunnies):
Instructions:
Melt coconut oil on low heat in a saucepan on a stove top
Remove when liquid
Add honey to the sauce pan and stir to combine
In a separate bowl, add the carob powder
Slowly pour in the liquid and stir to combine with the carob powder
Add vanilla and sea salt and stir
Pour the mixture into the Easter Bunny mold 
Refrigerate for at least ad hour
Carefully remove from mold and enjoy!
These guys are so cute and delicious. I don't have kids, but I guarantee kids would like them as much as I do 😉
Happy Easter, friends!